There are very few people who are arguing with the fact that Cisco is one of the best companies in the world, especially when it comes to networking technologies, software and solutions. Considering the current standing of Cisco as a company, it is safe to say that a huge number of organizations today use Cisco solutions. Therefore, if you wish to build a career as a networking professional, you must know how to work with various Cisco technologies and this is where Cisco credentials come in.
There are a number of credentials that PrepAway.com , but here we will be talking about CCIE Routing & Switching certification. This is the expert-level credential and having it basically means that you know literally everything there is about Cisco routing and switching.Moreover, it will help open up new avenues and career paths that will maximize your potential. Below is the complete guide on how to Become Cisco CCIE Routing & Switching Certified?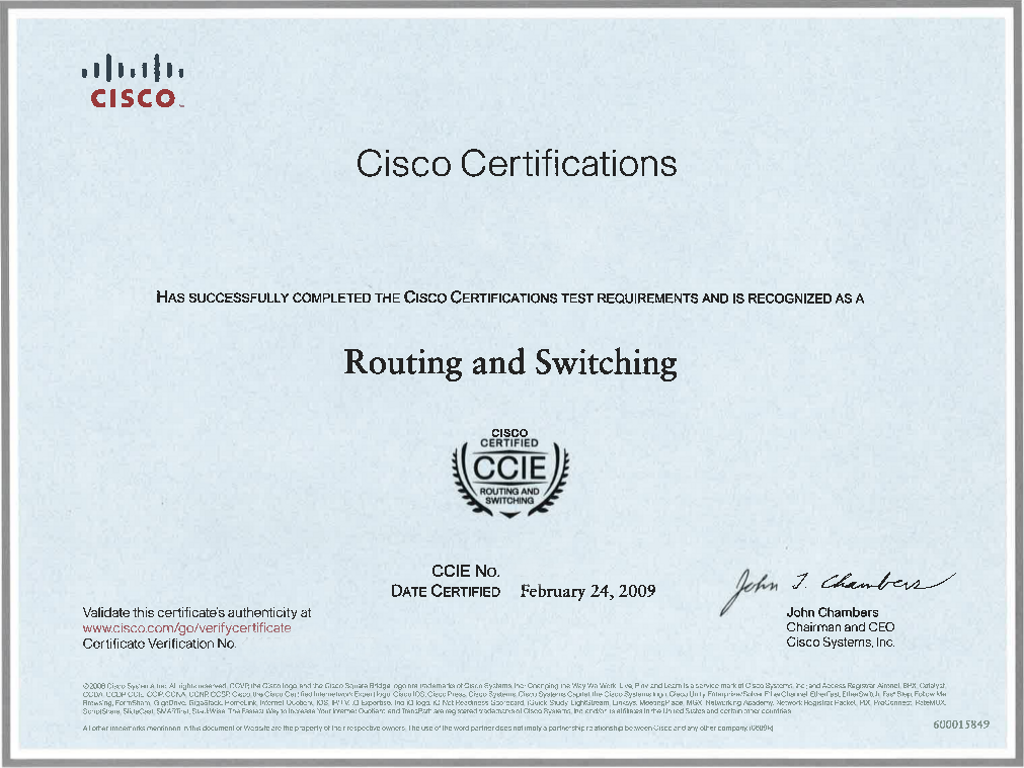 About CCIE Routing & Switching Certification
The first thing that you need to know about this certification is that it does not have any formal prerequisites. The candidates are not required to take any prior training courses or have any other professional certification in their name. Nevertheless, the candidates should possess comprehensive knowledge in the field of routing and switching to be able to pass certification exams. In order to enhance your technological background, it is recommended to first attain CCNA (associate) and CCNP (professional) R&S credentials.
To get a hold of CCIE certification, the candidate needs to pass 2 exams. One is a written exam and the other is a more hands-on Lab exam.
Written Exam
The first test that you need to pass is written 400-101 CCIE exam. This test contains around 90-110 questions which the candidate is required to answer in 120 minutes. There are various topics that are part of this exam and you need to have good knowledge of these areas to pass 400-101 successfully. The topics are as follows:
 – Evolving Technologies v1.1
 – Infrastructure Security
 – VPN Technologies
– Infrastructure Services
 – Network Principles
– Layer 2 Technologies
 – Layer 3 Technologies
Lab Exam
The next test that you need to pass is the Lab exam. This is an eight-hourassessment that tests the candidate's hands-on skills required to configure the network and their expertise in troubleshooting using actual equipment. This exam consists of 3 modules which are Troubleshooting, Configuration and Diagnostic.
Extremely Important Information
Each candidate is required to make the first attempt at CCIE Lab exam in the first 18 months after passing the written exam. If a candidate does not pass Lab exam at the first attempt, they need to retake the exam within the next 12 months for their written exam to remain valid. However, if the candidate fails at the Lab exam for a period of three years after taking the written exam, the written exam will also become invalid and the candidate will have to start the certification process all over again.
How Can Prepaway Help with Preparation?
It is obvious that in order to pass CCIE Routing & Switching exams, you need to prepare for them first. Training for 400-101 CCIE and CCIE R&S Lab Exam will not be easy as there are a lot of topics to cover. However, you can make things a little simpler by using Prepaway.
Practice makes perfect, hence, one of the first things that you can readily find on Prepaway are practice tests for 400-101 written exam.There are a number of practice questions that you can find online, but none of them offer what Prepaway has to offer. The questions provided by Prepaway areway better than many materials you will find online becausetheyhave been prepared by experienced and certified expertsin the IT industry.
Prepaway also offers the VCE Exam Simulator which is undoubtedly one of the best exam testing engines. The exam simulator that Prepaway provides is definitely ahead of the competition. The website offers VCE files that you can load into this simulator and start practicing for the exam. These VCE files are packed with quality practice questions along with explanations. So, when you attempt this practice exam using this software, the VCE Exam Simulator will also tell you about your score. You can use this score to learn about your weaknesses and start working on them.
Many websites promise their users high quality IT training courses, but a huge number of these websites fail to actually deliver on their assurances. However, Prepaway is exceptional in this aspect because it actually does offer high quality IT training courses. All materials are available at a very good price, which allows the candidate to make an easy purchase.
Conclusion
Routing & Switching is a pretty exciting field and it also pays well. The only catch is that you need to possess the right credentials to show to your potential employers. Your university education will probably be insufficient in preparing you completely for such a specialized field and hence it becomes vital for aspiring individuals to get their hands on relevant certifications.
Taking all of the above into consideration, it is a good idea to go for CCIE Routing & Switching certification. This credential not only supplies you with priceless knowledge of the field but also greatly increases your chances at landing your dream job.