Twenty-five days since the horror was unleashed on non-TMC non-Muslim Bengalis by Mamta Banerjee's political goons. The night of 3rd of May,2021. Her communal army has undermined the constitution and state of India since the day she called illegal migrants legitimate citizens of India. What is surprising is the reaction of opposition and numbness of the Bhartiya Janta Party that watched this butchery spinelessly.
If hypocrisy has to personify itself, it would be Mahua Moitra who moves the sentiments of leftover foot soldiers of our colonial past reminding the communist version of the idea of India, while simultaneously shaming the Indic narrative as bigoted, hateful and communal, but it's neither of these. The lady of fiery parliamentary speeches went blind to the breakdown of constitutional machinery in her state, the torchbearer of feminism for woke Bengalis went mute on the atrocities on women when they were beaten, dragged, gang-raped under the rule of a female chief minister, the saviour of democracy went deaf to the desperate cries for help by her fellow Bengalis. This incident has been an eye-opener to the fact of how we are moving towards the abrahamisation of our diverse society and democratic values, how oppressors make bogus claims of being the real victims and how they continuously harm our culture, livelihoods and dignity.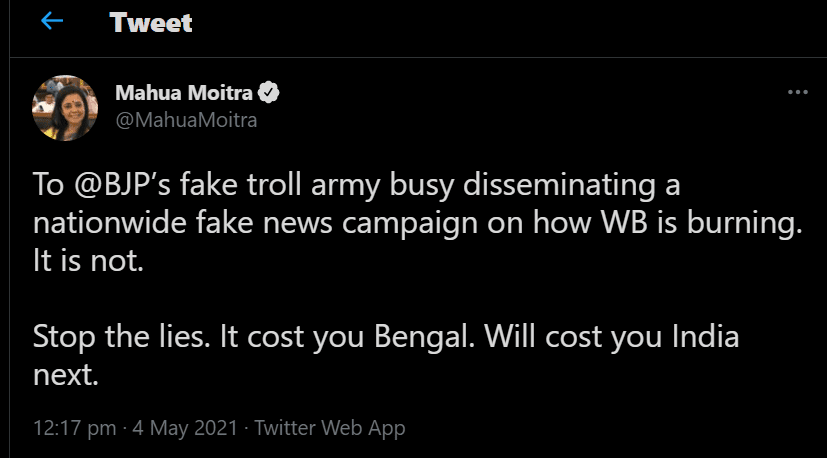 The real shock is the denial the elite Bengali population is in. They continuously focused on the per cent of the fake videos while remaining mute or even going to the length of justifying the politically violent culture of Bengal. They tried to create a narrative that it is BJP that is not able to handle the defeat and it is like any other riot in the country. This argument is flawed at the very fundamental level for the very obvious reason that post-poll Bengal violence was politically motivated targeted slaughter based on political and ideological differences. Also, BJP has lost many states including Kerala and Tamil Nadu this year, but violence broke out only in Bengal facilitated by the state by the party workers of the alleged Messiah of secularism.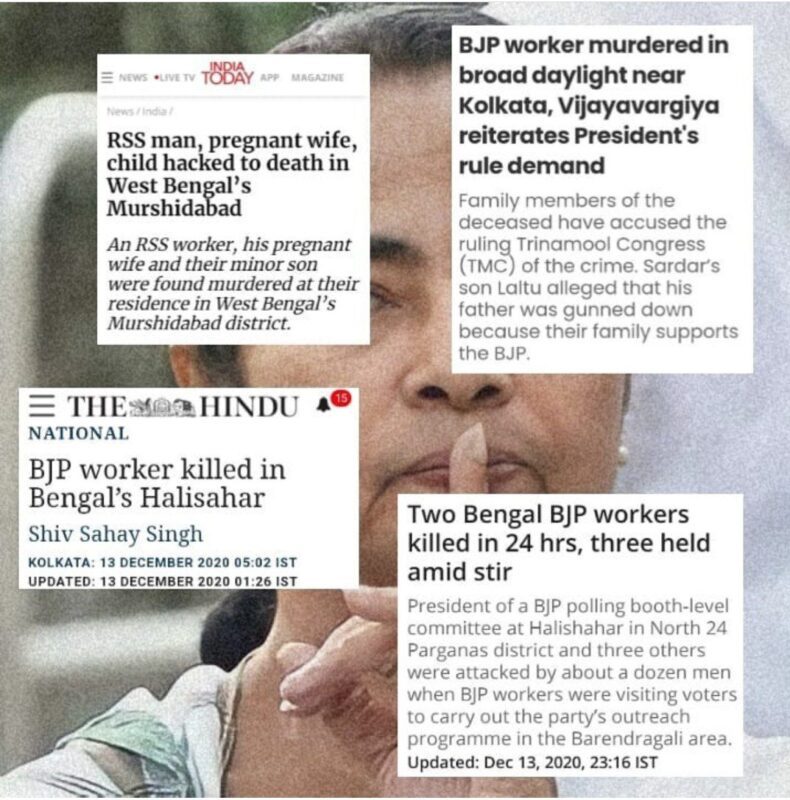 Many people kept quiet because they took pleasure in what was happening to BJP Karyakartas. Some insensitively called it karma and some just desired to watch while Bengal burned. From Instagram to Facebook people dismissed the screams, the bloodshed because it came from a particular party. "Sab Yaad Rakha Jayega." gang disappeared, the Indian youth reading the preamble of the constitution on the streets some time back did not care to even highlight the obvious murder of the same constitution book they propped up with for the drama. Ironic, isn't it? Not just this. Even the congress and left party workers were murdered and tortured but all this seems to be the cost of seeing BJP workers bleed that the rest of the country kept mum.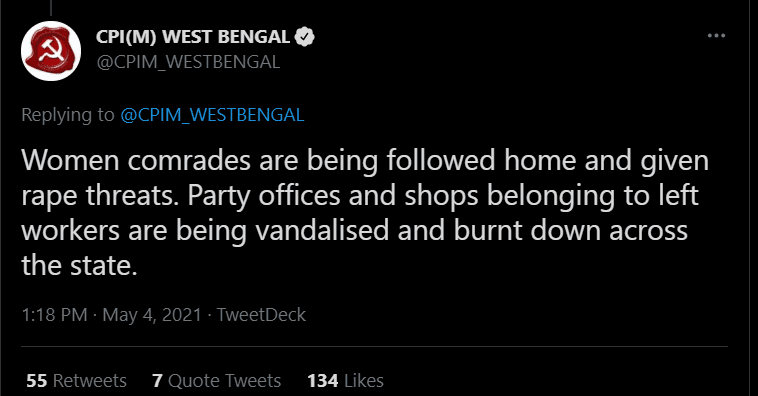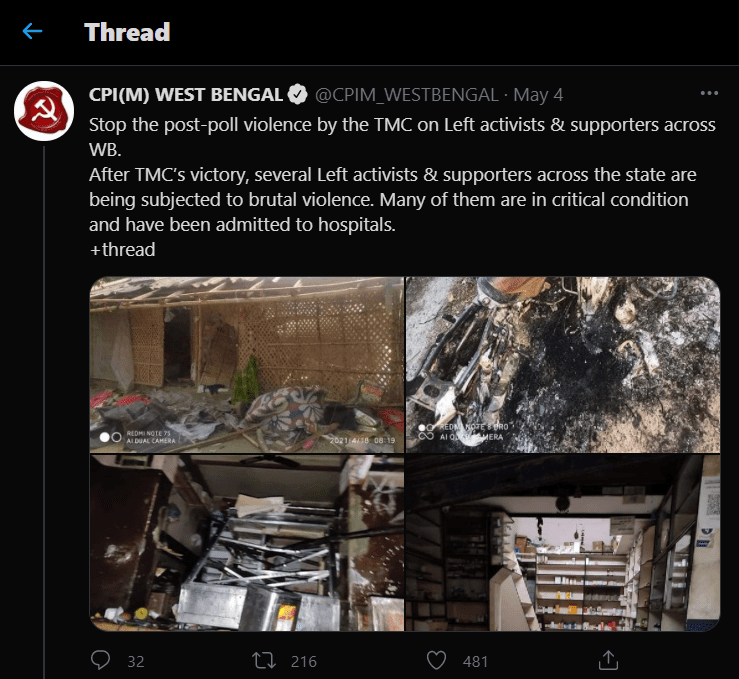 Even after Sitaram Yechury, Swapandas Gupta and Shashi Tharoor spoke up for their party workers and non-TMC Voters, they failed to gain the supporters that they could easily gain if BJP was the culprit.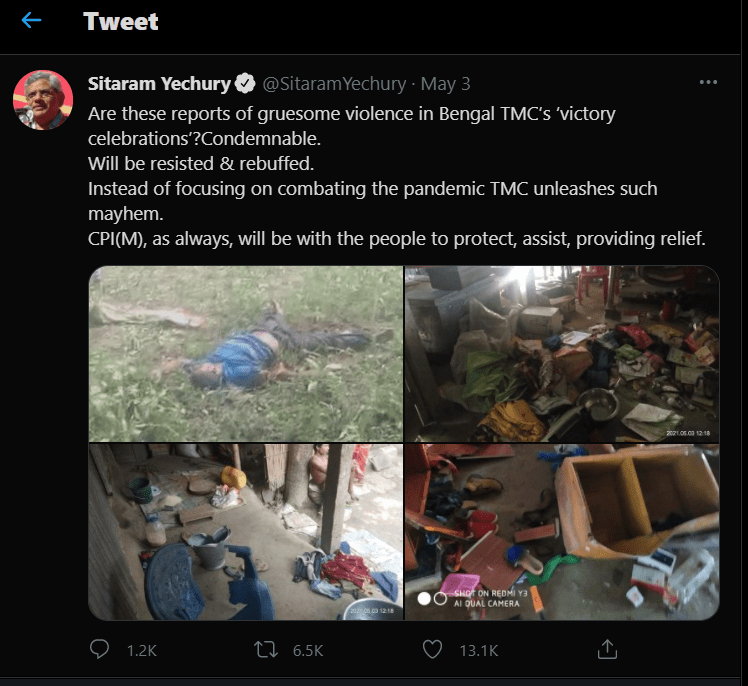 Instead, they were given insensitive replies dismissing the reality of this tragedy.
Governor of Bengal, Jagdeep Dhankhar, visited the victims in violence-hit Cooch-Behar. He broke down as the people pleaded for their lives and offered to even change their religion to survive in Bengal. Has Bengal started transforming into Bangladesh already? This was the first kind of case after the Kashmiri Pundit Exodus of 1990 where the governor of an Indian state found himself to be so helpless, powerless and hopeless in the face of Hindu genocide.
"We Must Bring Violence To An End", Says West Bengal Governor Jagdeep Dhankhar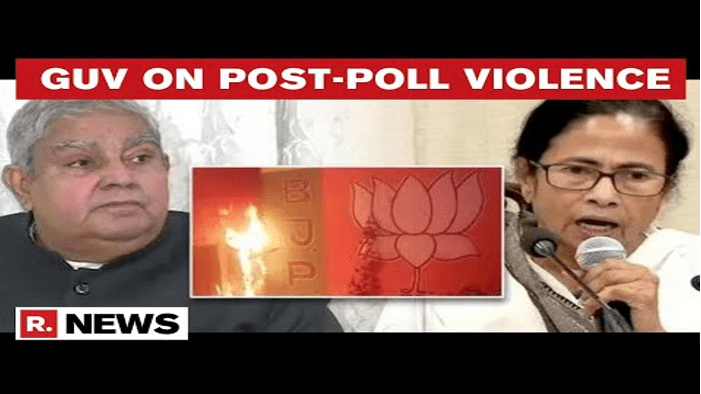 He continues to be haunted by the plight of Bengali refugees in Ranpagli Camp, Dhubri, Assam. The country that has visited constant persecution of the native people of this land has somehow normalized it over the years. They do not seem to care about the radical Islamists, illegal immigration, degradation of cultural values or even the lives of their fellow citizens if by chance they stand on the other side of the political spectrum. The country, especially the Bengalis have not woken up to this changing reality. They take pride in abusing Lord Rama and support the politicians who let men rape women forcing them to chant 'Jai Shree Ram' while they rape, making it a point that not even their Gods can save them.
Even when Assam's CM confirmed that there are around 800 families that have taken refuge in Assam after being targeted by TMC goons, there was no outrage from otherwise the most vocal voices on social media. The Social justice warriors did everything in their power to suppress the truth. And some even denied it for days. If it were not for social media and the leaked videos, the actual victims would have already lost the narrative battle. Let us not forget, when Kashmiri pundits were forced out by radicals, no one stood for them, not even the hon'ble Supreme Court of India which otherwise hear the pleas of terrorists at midnight also. This is the reality of Hindu persecution in Hindustan.
The National Commission for Scheduled Castes (NCSC) and National Commission for women have taken cognizance of the matter and admitted that rapes, molestation, threats are real and politically motivated. There is no effective rehabilitation scheme for women in distress and women are unaware of the welfare schemes launched for them by the central government. There is a need for conducting awareness programmes about schemes of central government at the district level," NCW noted. Also, it said, "The team received information about many stranded victims, who left their homes because of violence, are currently forced to stay in a shelter home. The team was informed by the victims that they were physically assaulted and their homes were vandalized and set ablaze by TMC goons." Now, these are some bodies that are given enough attention in our country every time except when their actions are not favorable to the political interests of opportunistic leaders and their sadist blind followers.
A video went viral where a 20-year-old girl, Saswati Jana from Medinipur was dragged out of her home. the video was later taken down but some handles are still circulating it on Instagram.
The difference in the coverage of any such assault in BJP ruled state vs non-BJP state is appalling. This is enough to prove that for Indian media, even reporting on crimes is politically motivated and selective.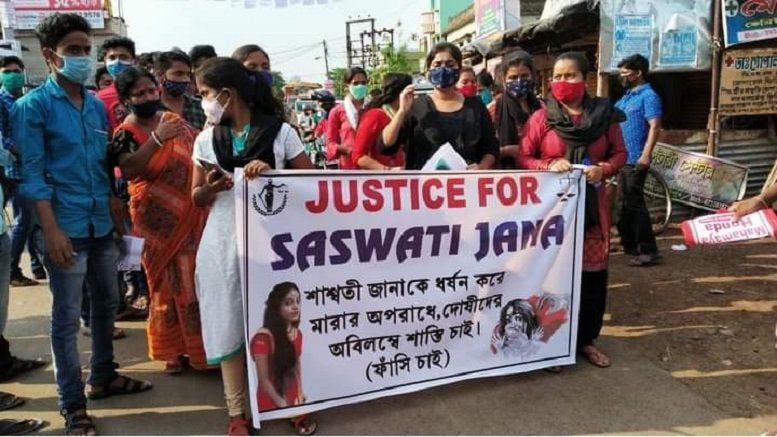 BJP received enough criticism from its supporters who trended #spinelessBJP on Twitter for its inaction and failure to protect its party workers. Unlike the left, the non-left in India is still diverse and critical when it is needed the most. BJP's call for dharna was met with sarcastic comments by its followers who asked, "Did we give you 303 seats for satyagraha and dharna?" J Sai Deepak, a Supreme Court lawyer, who has also filed a petition in Supreme Court which states that the state machinery failed to protect the life and liberty of its citizens and that the members and supporters of the opposing political parties have been systematically murdered in cold blood in broad daylight, with their houses and personal properties being destroyed in the presence of police personnel. "There have been instances of heinous crimes including the bombing of localities, murders, violations against the modesty of women, riotous looting, kidnapping, arson and destruction of public property,". Here is J Sai Deepak in conversation with Abhinav Prakash on Urban Chatterati YouTube Channel.
J. Sai Deepak on Anarchy and Breakdown of State in Bengal – Urban Chatterati
The Supreme court has agreed on Friday, 21st of May, 2021 to hear a PIL filed by social worker Arun Mukherjee that seeks to prevent state-sponsored violence in West Bengal and constitution of SIT committee to investigate the matter and take action against the culprits. The system is slow and no citizen of this country deserves to flee in fear of damage to life and property only because he or she voted for a particular party.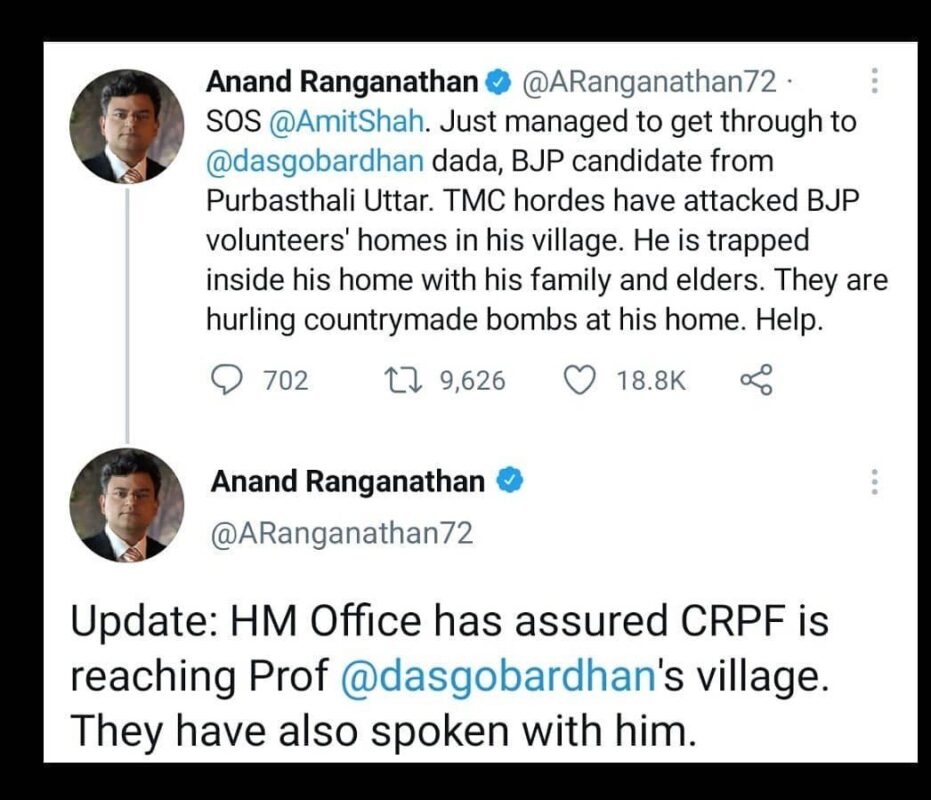 Let us not forget what Mahua Moitra keeps suppressing in her bold speeches. The history of political and communal violence in Bengal has exposed it to degradation on a cultural and moral level. Mamta Banerjee has failed in her promise to make the state worthy of investment by big companies.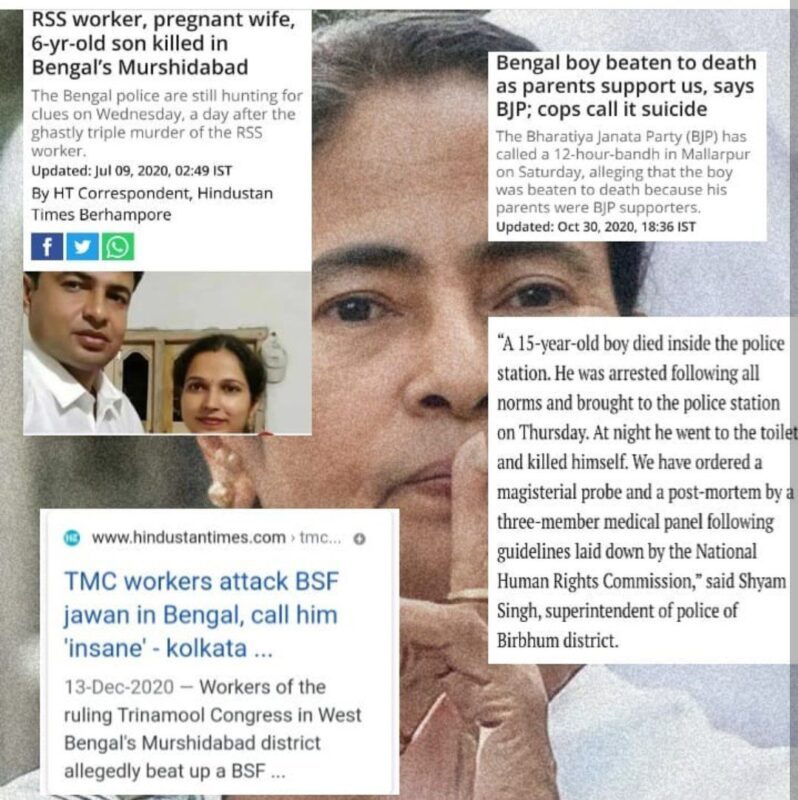 She has continuously pampered the Muslim population and played insider-outsider politics to separate the state from the rest of the country. Nothing that other regional leaders do not do to retain power. But Bengal and Punjab have suffered due to partition and persecution far more than other states. They have become ground for Naxalites and Khalistanis respectively because of the patronage of local leaders.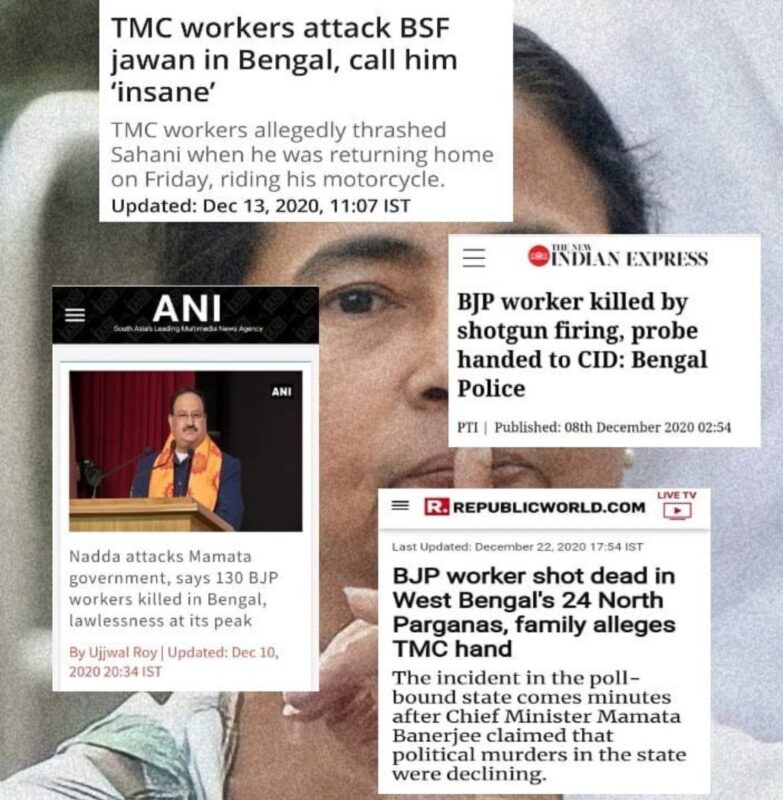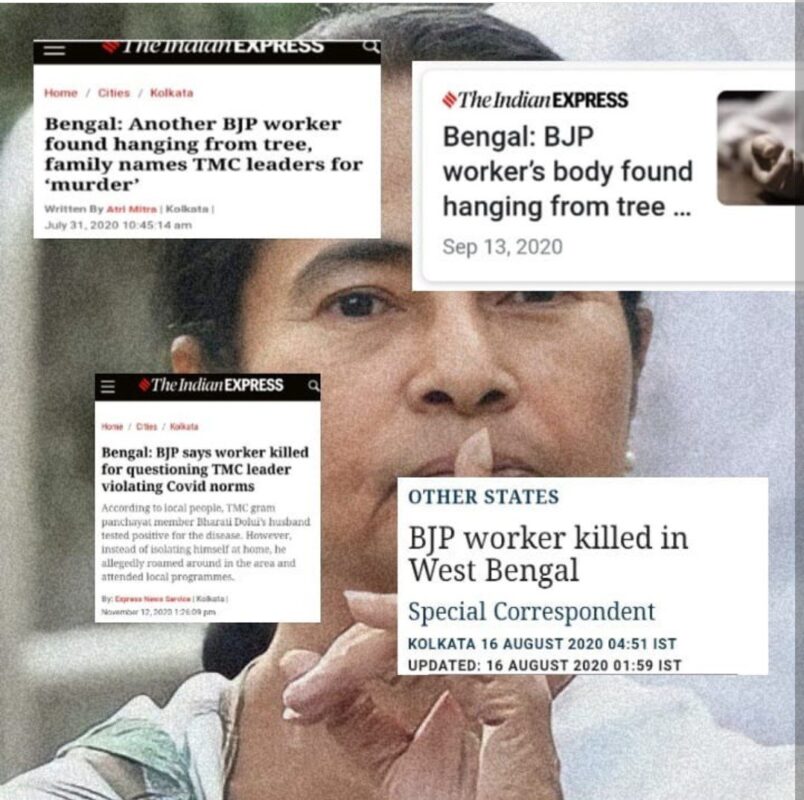 Unless Bengalis and Punjabis do not stand up for themselves collectively, they will continue to suffer. The electoral process is a temporary but effective way to tackle what truly is harming their communities and putting the lives of fellow citizens at risk. Also, they should not fall for false equivalences. What is happening in Bengal has a layer underneath political interest.