#DidYouKnow – This River in UP can wash away your good deeds (Punya)
Yes, you heard it right. This river can wash away your good deeds and does exactly opposite to holy river Ganges which is believed to wash away your sins. The Karmanasa River does exactly what its name suggests.  The word Karmanasa is made up of two words Karma and Nasa (destroy) which means to destroy the Karma or religious merits.
The Karmanasa River is a tributary of the Ganges. It originates in Kaimur district of Bihar and flows through the Indian states of Uttar Pradesh and Bihar. Along the boundary between Uttar Pradesh and Bihar, it has the districts of Sonbhadra, Chandauli, Varanasi and Ghazipur on its left (UP side) and the districts of Kaimur and Buxar on its right (Bihar side).
There are several legends about the river. According to one legend, the sage Vishvamitra acquired the power to create a whole new universe through penance(Tapasya). When he set out to create a new universe it created anxiety in Lord Indra, King of Gods. However, Vishvamitra continued and after creating a copy of our universe, he started creating people. He first created Trishanku and decided to send him to rule his new universe. Indra tried to stop Trishanku and Trishanku ended up suspended head down in mid-air. It is said that the Karmanasa river was originated out of the saliva dripping from his mouth.
Karmanasa river is known to be cursed. People believe getting in touch with that river water may ruin their plans and may bring bad luck to them.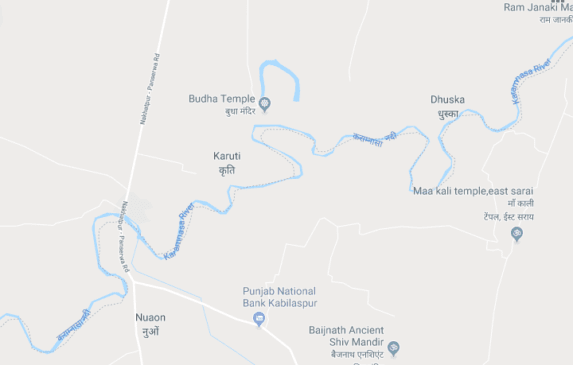 The origination point of the Karmanasa river is located at a height of 350 meters on the northern face of Kaimur Range near Sarodag in Kaimur district of Bihar. The river flows in a northwest direction through the plains of Mirzapur and then creates the boundary between Uttar Pradesh and Bihar states and finally joins the Ganges river near Chausa. The length of the river is 192 kilometers, out of which 116 kilometers lies in Uttar Pradesh and the best stretch of 76 kilometers forms the boundary between Uttar Pradesh and Bihar.