Dollar to Indian Rupee conversion rate is reaching an all-time high, and it is the best time to send money to India from the USA.  There are an array of options available to remit your money.  In this post, we are going to discuss the best options to transfer your money to India. We will also check the promo codes and referral programs so that you can get the best amount in Indian rupees. The conversion rates for various remit platforms like Ria Money Transfer, Remitly, Placid, Remit 2 India, WorldRemit, Pangea money transfer, and InstaRem keep changing so I will suggest you check rates on all below sites for the best rates and values.
1. WorldRemit – Get $20 credit on your first transfer of $100 or more
The WorldRemit online money transfer service provides a $20 WorldRemit Voucher Code to both parties when you participate in the WorldRemit Referral Program.
WorldRemit is an online money transfer service that lets people send money overseas conveniently and without having to pay high transfer fees. WorldRemit users can send money from 50 countries to more than 120 countries around the world, with even more destinations to become available in the future. WorldRemit offers money transfer services, bank deposit, cash pick-up, Mobile Money along with Airtime top-up for various mobile service providers in India. Transactions can be completed through a computer, smartphone, or tablet, making the process of sending money abroad quicker and more secure.

How does the Worldremit referral system work?
a. Share your unique referral code or link with as many friends as you like. You can get your referral link from here if you are eligible for the referral program.
b. Your friends sign up using your referral code or via your unique link
c. Once they've sent 100 USD, you'll each be emailed a 20 USD WorldRemit voucher code
Don't forget to use promo code FREE to avoid any fee on your first transfer. You can sign up for WorldRemit here to get 20 USD rewards on your first transfer of 100 USD.
2. Ria Online Money Transfer Service – Get $10 welcome bonus on your first transfer
Ria Money Transfer is offering its new customers $10 welcome bonus ($10 Amazon gift card) on their first transfer. They do not charge any Transfer Fee when you use a bank account to send. You can sign up here.
They also have a referral program where you can get $20 bonus when you refer your friends and family.
Tell a friend about Ria Money Transfer and get a $20 Amazon.com Gift Card after your friend registers and completes their first money transfer.
You will receive your gift card within a week of the date your friend transfers.
NOTE: You can only qualify for a gift card if the friend you refer has never registered before. Your friend also must use the share link that will be sent to them in order for you to be eligible for a gift card.

About Ria Money Transfer
Ria Money Transfer is one of the largest money transfer companies in the world. With more than 317,000 locations in 146 countries around the world and an easy to use online dashboard, Ria is convenient for both the sender and receiver.
Founded in New York in 1987, Ria began with the simple goal of providing simple, reliable remittance services to people sending money back home, with an emphasis on friendly service. Over the years, Ria has grown into a global company as it has expanded (and continues to expand) its location count across the world.
In addition to remittance services Ria Money Transfer also offers bill payment, mobile top-ups, prepaid debit cards, check cashing, money orders and more. With a strong presence in almost every continent around the world, Ria is a brand that millions of people trust. Finally, as a company that puts a high value on its customers' security, you know your money is always in safe hands.
3. Xoom – Get $20 Amazon egift card on your first transfer of $400 or more
Recommend 
Xoom
to a friend. If their first transfer is $400 or more (transaction fee excluded), you'll both get a $20 Amazon eGift card.
Xoom, a PayPal service, is a digital money transfer provider based in San Francisco, CA. Xoom offers a convenient way to send money, reload pre-paid mobile phones, and pay bills for family and friends around the world in a fast, secure, and cost-effective way, using your mobile phone, tablet or desktop computer. Using Xoom, customers can send money to over 60 countries, including Mexico, India, the Philippines, and throughout Europe, Asia, and Africa.

Since 2001, Xoom has been a leading force in transforming the remittance industry. Xoom was one of the first companies to spearhead the move from brick-and-mortar remittance services to a digital experience; then came the platform shift from desktop to mobile channels. Whether it's expanding its country footprint to serve more recipient countries, directly partnering with local banks and utility companies, or innovating new product features, Xoom has been steadfast in its commitment to making international remittances easier, more secure, and more affordable for people.
Today, Xoom offers one of the fastest money transfer services to India. Payments can be funded by a U.S bank account in the debit cards, and credit cards. The money is sent directly to the bank accounts of the recipients. Non-Resident Indians can directly transfer their money to the NRE (Non-Resident External) and the NRO (Non-Resident Ordinary) bank accounts in India.
You Can find your Xoom referral code 
here
.
You can sign up for Xoom
here
to get 20 USD Amazon e gift card on your first transfer of 400 USD (transaction fee excluded) or more.
4. Pangea  – Get $20 Bonus Credit from Pangea on first transfer of $20 or more
The Pangea money transfer service allows you to send up to $999 per day for a flat fee of only $4.95 per transfer from the U.S.A. to Latin America and Asia.
Also, new customers can use Promo Code VG7060 to get a Free $20 Bonus Credit from Pangea (or sign up here) in extra money to send when you complete your first money transfer.
On the second transaction use promo code INDIA17 to receive $10 additional if you are sending money to India.
On third transaction use code as Bonus and transfer fee will be waived off.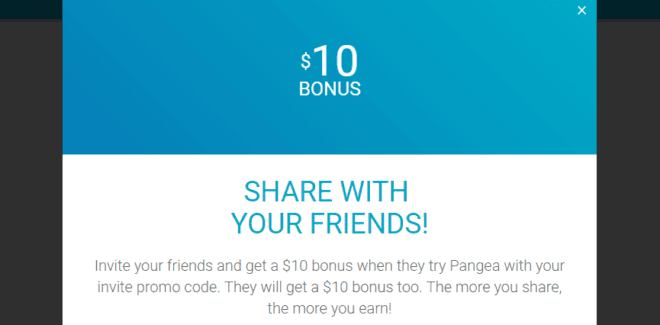 Additionally, you can earn a $20 bonus credit for each new customer that you refer who completes a transfer via the Pangea refer-a-friend program.
Pangea Money Transfer is a groundbreaking money transfer company that is providing fast, easy and secure transfers to 15 countries across Asia & Latin America including India, China, Mexico, and the Philippines. Based in Chicago, Pangea offers competitive exchange rates combined with low flat fees that don't increase based on your sending amount. Pangea users enjoy the flexibility of being able to send from their computer, or from their phones and tablets on the go.
Pangea began in 2014 with the mission of making money transfers easier, safer and affordable. While they began with Mexico, they have expanded to other countries in Latin America and now in 2017, have welcomed 9 Asian countries to the Pangea family.
They pride themselves on offering their users money transfers that can be completed within 30 seconds, without the hassle of filling out large amounts of information. You can pay for your transfer with any US debit card and your beneficiary can receive their money directly to their bank account, debit card, or as a cash pickup at more than 17,500 locations across Asia & Latin America.
Enjoy real-time transfers to banks in India such as Axis Bank, Indian Overseas Bank, Bank of India and many more. Senders to Mexico enjoy 24/7 bank or debit card deposits to any bank account or debit card in Mexico. All cash pickup locations offer instant availability for your receiver unless further processing is needed.
Pangea has an industry-leading referral program where you can earn $20 per friend that you successfully refer, with no limits.
5. Remitly – Get an amazing promotional exchange rate on your first transfer!
Do you send money to India? Try Remitly. Their great rates and low fees are hard to beat.  You will get an amazing promotional exchange rate on your first transfer!
Sending money with Remitly is easy, affordable, and safe. Remitly strives to be the world's most customer-focused payments company and has helped thousands of hard-working people send money back home. Remitly is based in Seattle, WA, USA and licensed money transmitter currently operating in over 45 states (including D.C.).  Remitly is backed by leading investors including the CEO of Google, CEO of Amazon, and Founder of Capital One Bank.
Remitly has partnered with YES Bank and HDFC in India to give us access to every bank in the country, including ICICI, HDFC, SBI, Axis and more. We promise great rates, low (or no!) fees, world-class 24/7 customer service, and fast deposits.

Our online service uses the latest technology to eliminate the forms, codes, agents, extra time, and fees tied to the traditional money transfer process. You can use your US bank account, debit or credit card and transfer money directly into your recipient's Indian bank account (including NRE & NRO accounts).
Remitly enables users to easily make international money transfers from the United States and Canada. By offering modern solutions and allowing their customers the ability to send money from any device, anywhere, Remitly builds the foundation for stronger, trustworthy relationships with remittance users around the world.
$10 PER REFERRAL
Get $10 in credit for every successful referral. The more you share, the more you can earn!
Referrals must be new Remitly users and must not live at your same address for rewards to apply.
you can check Remitly referral program 
here
.
6. InstaRem – Get Bonus 475 Instapoints (worth about $12) on your first transfer
Do you want to the maximum value for your forex conversion, try InstaRem and you will get bonus 475 Instapoints (worth about $12) on your first transfer.  They are also running a referral program where you and your friends both will get 400 Instapoints when your friend joins InstaRem and make their first transfer.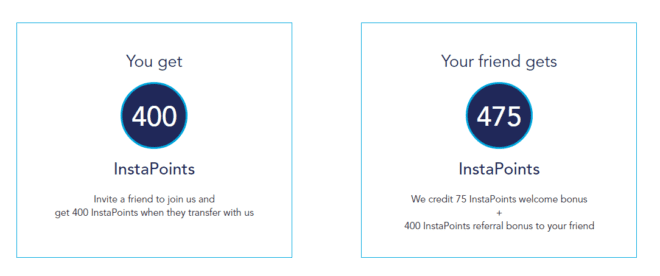 Also, they will give 75 Instapoints as a welcome bonus to new members.  So your friend will get 475 Instapoints and you will get 400 Instapoints. you can redeem your Instapoints while making transfers, 40 Instapoints are worth $1 while redeeming.
Do you any other promo codes and deals for the USA to India money transfers, please share with us in the comments section below.