A single phase inverter is a device that converts direct current (DC) into alternating current (AC). It is used in a variety of applications, such as powering AC motors, charging batteries, and providing power for AC loads. Single-phase inverters are available in many sizes and power levels, from small units that can power a few lights to large units that can power an entire home or office. In this article, we'll explain how single phase inverters work and discuss some of the applications they're used for.
What is a Single Phase Inverter and how does it work?
The single phase inverter converts the DC into a single phase AC with variable frequency. Here the electricity flows through a single wire, unlike a three phase inverter where three wires are active. Single phase inverters are divided into two types, i.e., full bridge inverter and half-bridge inverter.
Single phase inverters and three phase inverters are used for their own roles according to the different requirements. If you want an inverter for your residential homes, then single phase is the right fit for you.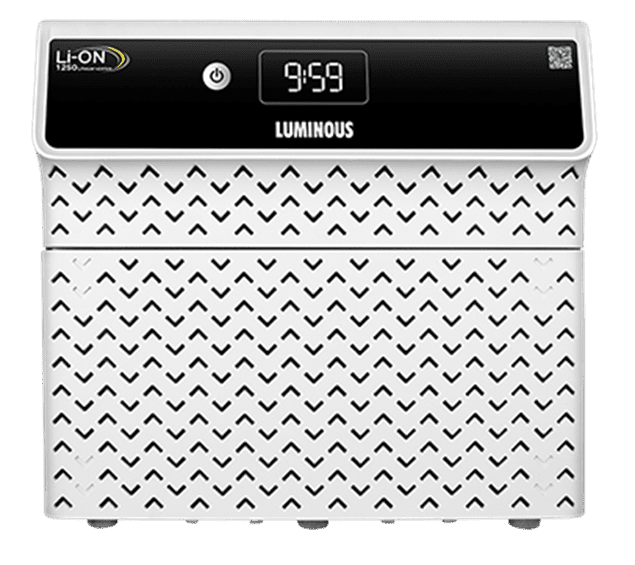 Image source: Luminous India
Advantages of single phase inverters:
Suitable for residential homes and power supply that are required domestically.
Useful for multiple appliances requiring less power, such as television, lights, fan, heaters, etc.
It is portable and easy to maintain and install.
Usually have a compact design and are lightweight in nature.
The current is low, which ensures the efficient performance of the single phase inverter.
It is comparatively low priced and cost-effective.
Here are a few budget-friendly and efficient single phase inverters by Luminous:
1. Home UPS Zolt 1100
This is an affordable pure sine wave inverter with 900VA capacity and rated power of 756W. It comes with a warranty of 24 months on a single battery.
It offers a 32 bit DSP Processor and is an intelligent Home UPS unit. LCD display is provided to show the status of battery percentage and charging time. It is extremely safe and reliable for sensitive appliances. Additional safety is provided by MCB that protects from input mains. Harmonic distortion produced is low; hence the output is smooth and noiseless.
2. Home UPS 2 KVA Cruze+
This unit is a high-capacity and sine wave inverter with 2KVA capacity and a rated power of 1680W. As it is a high-capacity inverter, it supports two batteries. With two months of warranty, it is a safe and reliable option.
The inverter is safe for sensitive appliances and has MCB for additional protection. You can use this inverter to run appliances with heavy loads such as geysers, petrol pumps, AC, photocopiers, etc. It has an auto-overload handling capacity. This feature makes it a suitable option for homes and offices. The intuitive display shows the battery percentage, charging time, and availability of mains.
Adaptive Battery charging control system technology (ABCC) is available that increases the battery's shelf life by 70% and offers faster charging. In addition, the device is armed with a bypass switch. In case of any fault, this bypasses the UPS and switches to the mains without changing the wires.
The inverter supports all kinds of batteries, such as flat plate, tubular & VRLA (SMF).
3. Optimus 1250
Optimus 1250 is another pure sine wave power inverter, with a capacity of 1100VA and 924W of rated power. It supports a single battery of 12V, and the inverter supports a wide range of batteries, including tubular, flat plate, SMF, etc.
The device comes with 24 months of warranty. In addition, an advanced LCD display is available, showing the battery status and performance statistics.
The sine-wave output minimizes the harmonic distortion and results in a smooth, reliable, and noiseless product.
All these single-phase inverters are cost-effective, efficient, and reliable. You can explore these different options and choose the right fit for you according to your budget, requirements, and capacity of your appliances.