Father's day is a day of honoring our father. We always make a fuss about mother's day and not about the father's day. It is good that we do many things for our mothers but it is equally important to appreciate our father for everything that he has done or is doing for us. So, here are some father's day gift ideas that you can give to your father this year for all his love, affection and care that he has given to us.
1. Best Dad trophy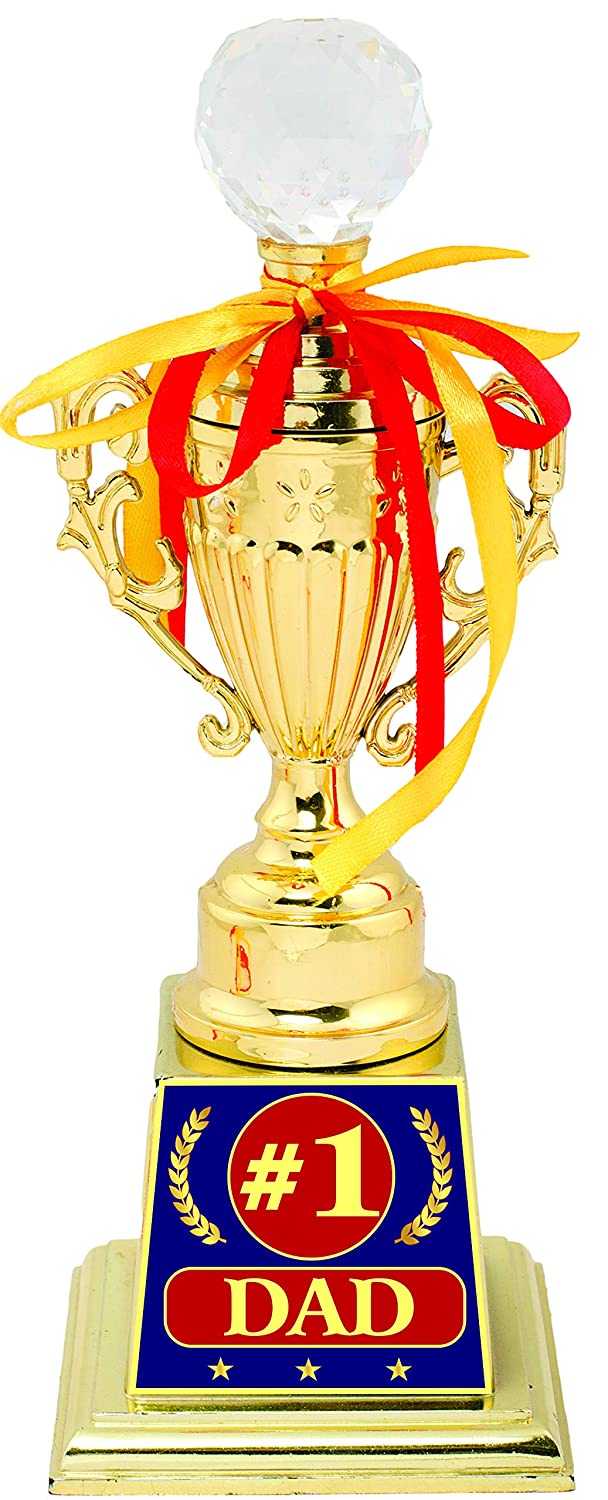 Price- 590/-
Our fathers do so much hard work every day only for their family so that their all needs are fulfilled and all of them remain happy. So we should also give him something that will make him happy. The best gift you can give him this father's day is a trophy for being the best dad and this also give him a message that how much you appreciate him and his hard work.
Buy Now!
2. Personalized engraved photo frame
Price- 380/-
Becoming a father can give a great sense of completeness, pride and also act as a great source of motivation. He takes care of us and teaches us many important things in life. Hence, by giving this engraved photo frame you can show him how much care about him as well. This frame also comes with a metal rod so that you can also use on a table top.
Buy Now!
3. Keychain
Price- 399/-
This father's day you can give him this keychain which can be a very useful accessory for him. He can use it for anything or for things that is important to him like his car or any vehicle keys or for his office bags etc. Just a small gesture shows that you love your father so it doesn't matter if it is a big gift or not and thus this a great gift for your father.
Buy Now!
4. Best Dad designer cushion
Price- 299/-
We should make an effort to say thank you to our father for all the love and affection he has showed us and for understanding and appreciating us. So, for all the love and caring you can give this best dad cushion which will give him immense happiness.
Buy Now!
5. Jar with reasons why he is the best dad
Price- 299/-
Show your father how much he means to you by buying this jar and decorating it like adding a mustache and writing happy father's day or anything you want. You can put some notes inside by writing in each note why he is the best dad or you can write in each notes his qualities. You can also add his favorite food items or anything he likes.
Buy Now!
6. Father's day card
Price- 349/-
Everybody deserves a medal especially our dad. Thus, give him this medal along with this card by writing a special message for him and you can also decorate it if you wish to.
Buy Now!
7. An album full of memories
Price- 317/-
An album which is full of memories is a very ideal and thoughtful gift for your father. It will take him back to the moments that he cherish or back to his old days or the time when you were born etc. You can paste all the memorable photos and write little and perfect comments on the side.
Buy Now!
8. Design bamboo cutting board
Price-499/-
A hardworking gift for the hardworking father. Designing a bamboo cutting board may take some time but it is so worth it in the end. In the end you will feel satisfied and your father will be full of happiness.
Buy Now!
9. Personalized photo frame collage organizer
Price- 699/-
Personalized photo frame collage organizer is the best gift you can give your dad. This will be a reminder of all the happy times and great memories you have had as a family. It sure will be the trip down the memory lane whenever you will look at this.
Buy Now!
10. Designer printed cup
Price- 449/-
Whatever your father likes to start the day with whether it is a tea or coffee, this printed mug will remind him of how much he means to you and will be a constant reminder of your appreciation and love for him. So, gifting him this cup is a good idea so that he drinks it with a smile on his face.
Buy Now!
11. You're my hero dad t-shirt
Price-599/-
This father's day surprise your dad with this you are my hero t shirt and this will also show your unconditional love for him and will also tell him that you consider him as your hero and that he will always stay the one.
Buy Now!
12. Wooden engraved pen
Price- 399/-
Wooden engraved pen is the good gift idea for this father's day. He can use it at his workplace or signing documents or writing poems etc. Nonetheless the pen will always remind him of you and will give him the feeling of encouragement and love whenever he needs it. It is an amazing way to make him feel special.
Buy Now!
13. Wallet
Price-549/-
Wallet is important accessory for everyone. It is used to keep all the money or cards or any other essential things in it which makes it easier to carry everything with ease. So, you can gift your dad this wallet which looks pretty amazing.
Buy Now!
14. Beer Mug
Price- 599/-
Many fathers likes to drink and for them beer mug can be the good gift. So make your beer loving dad feel special by gifting him this beer mug.
Buy Now!
15. Watch
Price-2,195/-
Watches are a very practical gift and it's something that your father will surely be able to use in his daily life. This will be a constant reminder that you are with him all the time and will also show your gratitude for him.
Buy Now!
All these gifts are a token of appreciation for what your father does and how much hard work he puts to make sure that your family is well supported. It shows your love and care for him and how much you value his presence in your life. So this father's day show your appreciation towards your father through some of these amazing gifts.