We know, "Laughter is the best medicine". Bollywood has given us so many hilarious comedy movies. These top-rated Bollywood comedy movies will bring you instant smile on your face. The best part of the comedy genre is you really don't need to put up your brain into the movie & you can simply relax with Comedy movies, be it the tiredness of the office, or you simply want to enjoy the time with your friends.
If we look at comedy movies in Bollywood, Amol Palekar has started the trend with his simple yet funny movies along with Utpal dutt. Movies of Amol palekar was more of situation based comedy with nonsense high budget dramas and obviously who can forget the movie Golmaal where Bollywood started the double roles first time. Later in the 90s, Govinda along with johny Lever and Kader Khan starred together in many best Hindi comedy movies which even saw the no.1 movie trend likes of Collie no 1, anari no 1 etc.,
If you love watching comedy movies Bollywood, here we have created a list of the best Hindi Comedy movies which will take you on a laughter riot. This list has all the Bollywood classics comedy movies, from old Golmaal to the 3 idiots. It has a perfect blend of critically acclaimed Hindi comedy movies with comedy movies with Bollywood success & some are underrated Bollywood comedy movies which you might not have heard of, but can make you laugh. What are you waiting for?
List of Best Hindi Comedy Movies –
1. Andaz Apna Apna (1994)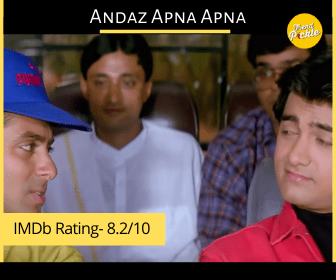 Amar and Prem, played by Aamir Khan and Salman Khan respectively, are two middle-class guys who have no idea of their future. Both individually, without the knowledge of the each other decide to take matters into their hands and find ways to get rich quickly. Both decide to win the heart of the daughter of Ram Gopal Bajaj who is a millionare. But this is not where the chaos stops. The twin brother of Ram has assumed his identity. And as a reslut, has taken over the estate of the Bajaj family.
Director – Rajkumar Santoshi
Star Cast – Aamir Khan, Salman Khan, Raveena Tandon, Karishma Kapoor
IMDb Rating – 8.2/10
Watch Comedy Scenes from Movie:
2. No Entry (2005)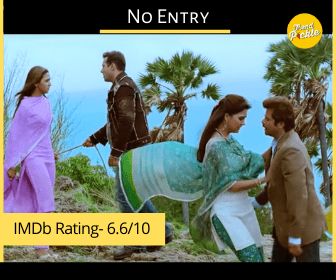 Kishen is a newspaper baron married to Kaajal, a housewife who suspects her husband of having numerous non-existent affairs. Pooja is the wife of the philandering businessman, Prem. Kishen and Prem are close pals. Sanjana falls in love with Prem's loyal photographer Sunny and they get engaged. Kishen, tired of his jealous wife, decides to have an affair with a call girl named Bobby. Due to circumstances, Bobby is introduced as the wife of Kishen at Sanjana's wedding. Also, she is introduced as Sunny's wife to Kaajal. This bundle of confusion entangles even more when all three couples meet.
Director -Anees Bazmee
Star Cast – Salman Khan, Anil Kapoor, Lara Dutta, Bipasha Basu, Fardeen Khan, Esha Deol
IMDb rating- 6.6
Watch No Entry Trailer:
3. Mujhse Shaadi Karogi (2004)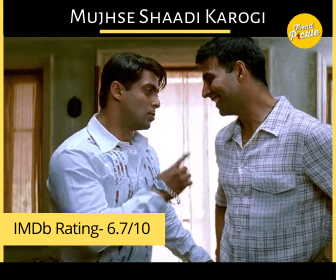 Sunny rents a room in Goa. His room-mate is Sameer, a guy who fools around with women. He eventually falls in love, but gets dumped. Sad and disheartened, Sameer also has many misadventures. But now Sameer has fallen for his neighbor, Rani. However, Sameer still has two problems to overcome in order to win Rani. The first is to eliminate his competitor Sunny, who is also in love with Rani; and the second is Rani's father, ironically the same man who he had slapped earlier. Will Sunny end up getting married to Rani, leaving Sameer to repent for the rest of his life?
Director – David Dhawan
Star Cast – Salman Khan, Akshay Kumar, Priyanka Chopra
IMDb rating- 6.7
Watch Mujhse Shaadi Karogi Trailer:
4. Hungama (2003)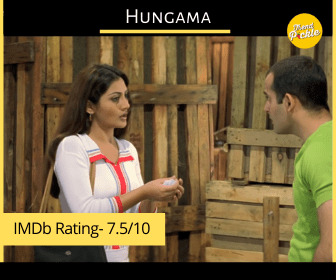 The story of a bunch of misfits whose misconception about each other's backgrounds end up in a series of chaotic, yet comic outcomes.
Director – Priyadarshan
Star Cast – Aftab Shivdasani, Akshaye Khanna, Rimi Sen
IMDb rating- 7.5
Watch Comedy clip from the movie:
5. Hulchul (2004)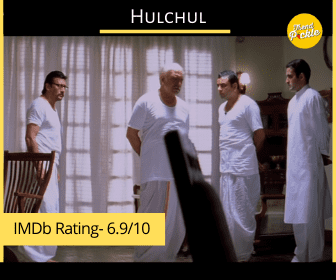 A man and woman from feuding families each pretend to fall in love, as part of a revenge plot. Chaos ensues when their fake romance becomes a reality.
Director – Priyadarshan
Star Cast – Akshaye Khanna, Kareena Kapoor, Amrish Puri
IMDb rating- 6.9
Watch Comedy Scene from the movie:
6. Dhamaal (2007)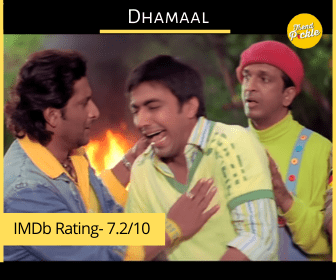 Four lazy slacker conmen buddies who are jobless, homeless and broke learn about the secret of a hidden treasure from a dying thief and later embark on a race against time to find the mobster's buried treasure and claim it while being pursued by a determined police inspector who is hellbent to get the treasure all by himself.
Director – Indra Kumar
Star Cast – Arshad Warsi, Riteish Deshmukh, Sanjay Dutt
IMDb rating- 7.2
Watch Dhamaal Trailer:
7. Chup Chup Ke (2006)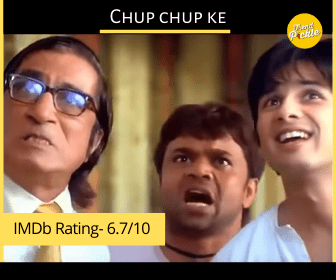 A young man named Jeetu finds himself in debt with his father receiving harassing visits from money-lenders. Although his father is questioned daily by money-lenders for the repayment of their money, his mother and his fiancée Pooja believe he can successfully fulfill his task and live happily. However, burdened with high debt, Jeetu believes suicide as his only way out of the situation (insurance money for the family). Unfortunately for him, diving off a dock into the ocean doesn't kill him. He awakens in a boat with two very interesting characters, Gundya and his servant Bundya. In the cost of putting Jeetu in a hospital and saving his life, Gundya and Bundya believe Jeetu owes them a debt. Already in much debt, Jeetu decides to play a deaf and mute guy. But things get worse when he is mortgaged to a wealthy man, Prabhat Singh in return for Gundya's confiscated boat. As a result, he is compelled to serve as a servant boy at a mansion in Kolkata.
Director – Priyadarshan
Star Cast – Shahid Kapoor, Kareena Kapoor
IMDb rating- 6.7
Watch one comedy scene from Movie:
8. Garam Masala (2005)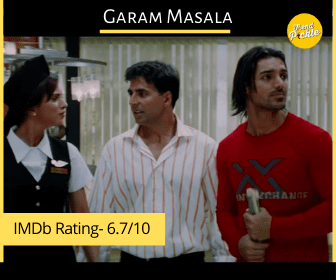 A rib-tickling tale of two flirts who constantly flirts with women despite one of them had engaged. Chaos ensues when the fiancee finds that her to-be bride is cheating on her.
Director – Priyadarshan
Star Cast – Akshay Kumar, John Abraham, Paresh Rawal
IMDb rating- 6.7
Watch Comedy Scene from Movie: