We are stuck in a fast-paced world with little time for self-pampering. But self-pampering need not be hard.
Indulging yourself in something as basic as a facial may seem a luxury, but with a hydrafacial at home, you can continue to care for your skin.
Sure, you may not be able to turn your space into a temporary oasis of aromatherapy or use righty positioned finger strokes of your favourite facialist. But you can give yourself a refreshing and soothing experience in the comfort of your home with a hydrafacial.  Here is a beginner's guide on how to do hydrafacial at home. Read on!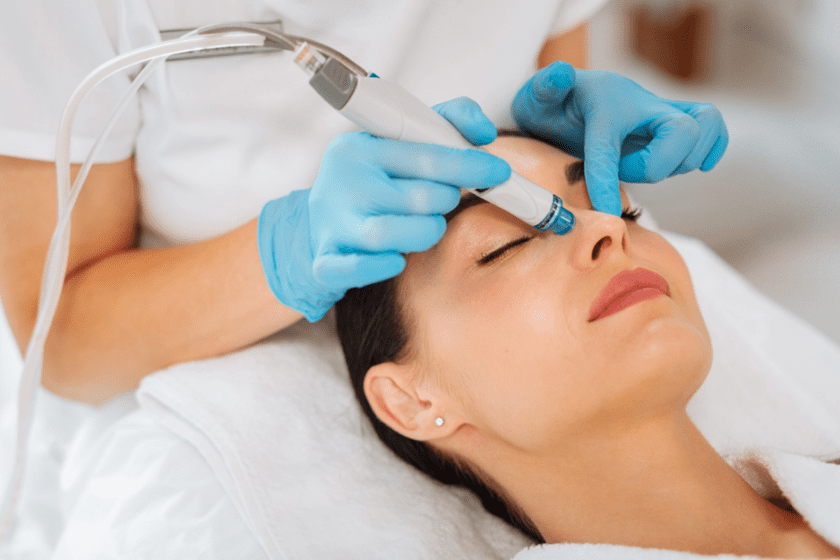 Remove makeup from your skin
Kick off hydrafacial at home by removing makeup from your skin. You obviously don't want to leave anything behind = that will get smeared later. For that, we suggest using an oil-based cleanser, giving yourself a massage, and enjoying the experience.
Deep cleanse your skin
Now that you've removed your makeup, it's time to deep cleanse your skin so that all the further steps have a better chance of performing. You can use your everyday face wash.
Make sure to wash your face a little longer than normal, and don't miss out on cleaning the neck and ears.
Physically exfoliate your skin
Exfoliating your skin with light and repetitive strokes is the key to experiencing hydrafacial-like effects.
One of the major goals of hydrafacial is to swiftly remove dead skin and reveal a new skin layer.
Wondering why removing dead skin is important? This is because the new skin layer will be more receptive to the hydrating elements and chemical exfoliants. Don't miss the small areas of your face and target them too with a face scrub. When done, rinse your skin well.
Chemically exfoliate your skin
When doing hydrafacial at home, you also need to use chemical exfoliants. They help loosen the debris inside the pores and your old skin cells so that they can be washed away.
Now you may not have the chemical solutions available with professionals. But you can surely recreate the formula with an AHA/BHA solution.
Let the chemical solution sit for 5 minutes, and then rinse.
Physically exfoliate your skin once again
If you are especially doing hydrafacial for acne, you don't want to let the junk sit on your skin that got freed up using chemical exfoliants.
For that reason, you need to re-exfoliate your skin. Gently clean your skin with your tools and products. Be careful; don't overdo it!
Remove extractions
Who hates blackheads and whiteheads?
We all do, and now is the time to get rid of this congestion. Use a tissue and gently press on either side of the blackhead/whitehead with the pad of your fingers.
You can also use a vacuum head extractor for oilier areas to get an amazing hydrafacial experience.
Hydrate your skin
To pamper your baby-fresh skin and retain its glow, you must hydrate your skin. Use a water-based lotion along with a peptide-filled serum.
Now, seal the deal with a sheet mask of your choice.
Seal it in
Remove the sheet mask. Your skin is now fully hydrated. Unfortunately, water tends to evaporate. So, to seal it in, finish your hydrafacial at home with silicone cream. Its waterproof formula will seal in the moisture without making your skin too oily.
Our top tip – Use half a pea-size amount of the cream for your entire face.
Now that your skin feels baby smooth, it's time to take a power nap. But if all of this feels like a humongous task, feel free to hand it over to the professionals. The expert team at skinnsi offers effective solutions to make your skin feel pampered.
Best part? They offer hydrafacial for men too! So bid adieu to those oily creams, rough scrubs and lifeless skin. Explore the skinnsi website and book your appointment for glowing skin today.