Have you ever got embarrassed because of your dog barks or jumps on your guests? The reason why dogs jump is that they get excited to see something. They want to greet us by jumping. But sometimes this natural tendency of your German shepherd to jump to show his love can hurt your guests or get you embarrassed in front of someone.
So today I am going to share some ways by which you can Train your German shepherd not to Jump.
How to Stop German shepherd from Jumping on You?
The key to stop your dog from jumping is to teach him what he should do instead of jumping, that is, in this case, is to keep all his paws on the ground when he wants to greet someone. You need to offer him an extra behavior to replicate the bad behavior that you want to eradicate. If you are interested in how to train your dog with a dog shock collar visit DogMyLife guide.
I would advise that your dog should first master the sit behavior so it's easy for you to divert jumping behavior to sit behavior as he already knows it. I hope you getting my point.
Move away from your dog and click before they jump. Treat your dog from below by bending so that he gets to know that treat is coming from down and not above.
If he keeps jumping on you, just get aside and try that he would not be able to keep all his paws on you when he jumps and does not give him any treats. Keep commanding your dog to 'Sit' using sit command and wait for him to stop jumping on you and sit or stand in front of you.
It is important for you to ignore your dog's behavior and do not encourage his jumping behavior, instead of ignoring it. Say 'no' or 'down' when he keeps jumping on you.
Now that you have told your german shepherd to keep all his paws on the ground instead of jumping, he has an alternative behavior as well. Let's move on to the other step.
Proof the Behavior – 
Proofing is training your dog not to jump in jump invoking situations. You need to set up training sessions where your dog will be tempted to jump and then you would train him not to jump so that he won't jump even when he is tempted.
Proofing is very important in this case as the dog's behavior is context-bound. This means that dogs behave differently at different places. So if you teach your dog not to jump on you to greet you, he may not do the same with guests at your home and will jump on them to greet them and say his 'hello'.
Hence proofing finds its place here to make challenges more challenging and at different situations to make your dog think that he has to repeat the good behavior everywhere.
I learned how to proof a dog's behavior using Secrets to Dog Training program recently.
How to Proof No Jumping Behavior – 
Generally speaking, proofing is simple as all you have to do is just rinse and repeat the same steps in different areas and sometimes with different people. But let's elaborate it and give you some in-depth ways.
In proofing, you have to be a little more creative and think of more different permutations which can better train your dog for anything leave aside only jumping behavior.
In the beginning, you need to click and reward every time your dog does not jump in jump provoking situations. Once you think he is doing great with it, increase a level up and do the same with some kind of distraction. You may place a soft toy near to him so he gets attracted to it rather than you.
Remember, that if in any case your dog just gets too distracted, use some calmer distractions by replacing the first ones. Also, if he keeps jumping on you, get aside and do not let him jump on you and ignore his behavior.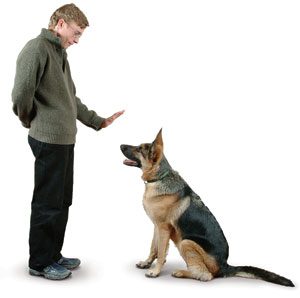 Maintain a happy voice while training so it encourages your dog to listen to you.
Quick Recap on How to Train a German Shepherd from Jumping on you – 
– Teach your dog to Sit when he wants to Jump by using 'Sit' command.
– Move away from your German Shepherd
– Reward before they Jump
– Always put the treats on the ground instead of putting them in his mouth.
– Delay the clicks until your dog puts all 4 paws on the ground.
– If he jumps, ignore that behavior and do not reward him for that.
– Proof the jumping behavior in other places as well.
– Be creative and think of different jump provoking situations and training sessions.
– You can use toys to create distractions.
Do you know any others tricks to train your German shepherd so that it doesn't jump on you, let us know in the comments section.