Most of us already know about the Grand Canyon of America which is a national park located in Arizona state. The grand canyon is a steep-sided canyon carved by Colorado River. With a length of 446 km and width up to 29 km, the canyon is so grand that it completely mesmerize the viewers. The grand canyon is said to have formed about 5-6 million years ago. Do you want to visit Grand canyon but does not enough time and money? Yes, you have come to the right place. Have you heard about the Grand Canyon of India?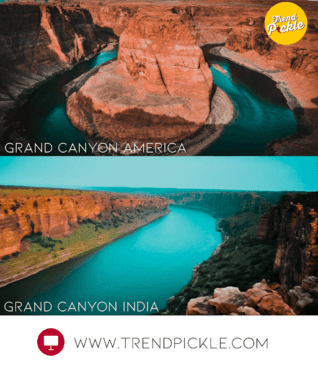 Did you know India has its own Grand Canyon which has been completely forgotten? It may not be as majestic as Grand Canyon, Arizona but it provides a very spectacular view of the gorge. The hidden grand canyon is located in Gandikota village which is 15 km from Jammalamadugu in Andhra Pradesh.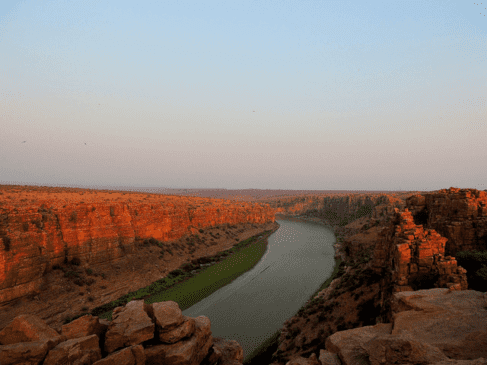 The gorge of Gandikota is formed by river Pennar and is known as grand canyon of India. A gorge is a valley created between tall slabs of steep rocks by a source of water (like a river ) flowing through it.  Gorges are formed when erosion of rocks happen over a long period of time. In fact, A gorge is a valley between mountains carved by the river over the centuries.
Gandikota gorge is formed between the Erramala range of hills which are also known as Gandikota hills. The Pennar river flows at the foot of gorge. The village got its name because of the gorge (In Telugu gorge is called as gandi and "Kota' means the home or "Nivasam" and hence the name Gandikota). The continuous flow of the Pennar river has eventually cut a channel through landscape exposing many layers of rocks and thus creating a mesmerizing site that we can witness today.
Gandikota fort is located near the gorge. The fort was strategically built at such a location so that gorge could provide natural defence from three sides. Gandikota was ruled by powerful Pemmasani Dynasty and was one of the most prominent forts in the country.
Gandikota was established by the Kappa King in 1123. Built by the Kappa king during the 13th century, this fort has played a vital role during various phases of history in Kakatiya reign, Vijayanagar reign and Qutub Shahi period.  This fort was made well protected and secure against any invasion that it was known as one of the impregnable forts of the country. Later the Nayaka dynasty took over the control of the fort and ruled the fort for 300 years.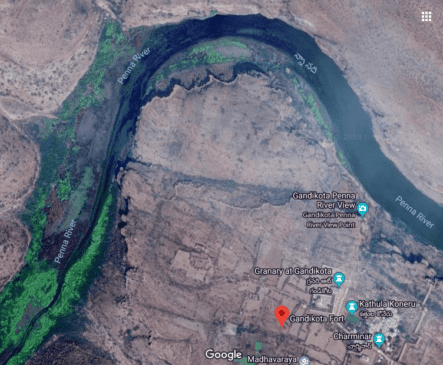 Grand and dense forests are there around the fort. There are also huge stacking of red coloured granite boulders around the fort. River Pennar is flowing at only 300 ft of distance from this fort. This fort has survived various attacks of Vijayanagar Empire, Qutub Shahi, and Golkonda. This fort has played a vital role in Andhra Pradesh history. The fort has a large Mosque and two old temple and huge entrance gates. Inside the fort, there is another structure called "magazine"  which was used for attacking the enemies. Cannon is still present in the fort. On the bank of river Pennar, Paribagh garden is located and a small waterfall is located near the garden. In this area, there are various historical structures but the maximum of those have become debris or ruins.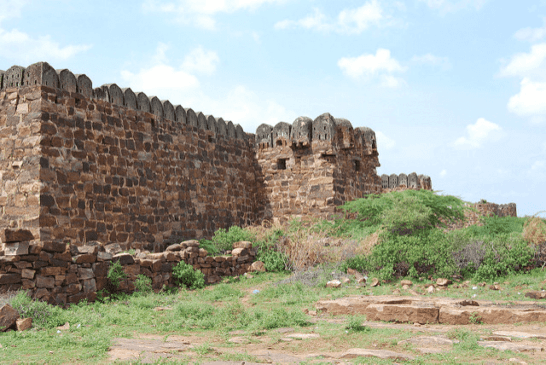 Gandikota gorge and Gandikota fort are must visit place !!
How to reach Gandikota?
The nearest airport is Bangalore airport. The nearest town, Jammalamadugu is 15 km far.
There are buses available from Jammalamadugu Old Bus Stand to Gandikota.
The nearest railway station is 26 km away at Muddanuru in Kadapa District. There are a number of trains from Gooty Junction.
If you know about more such interesting places, please let us know in the comments section.