We all know that everyone is not blessed with good skin. Most of them facing many problems because of many issues related to their face may be the reason is pollution, dust, bad eating habit. Every face problem is different from another because people have different lifestyles.
But whenever any article which is related to this kind of skin problem we think it will be only for women because they deal with this kind of skin problem which is not correct. Most of the men are also facing similar issues but because of the side-effects, they don't trust such products.
After analyzing all the problems and conducting various surveys we came up with the product of Nature Sure Pores & Marks Oil with 100% natural made product with zero harm, for all the skin types.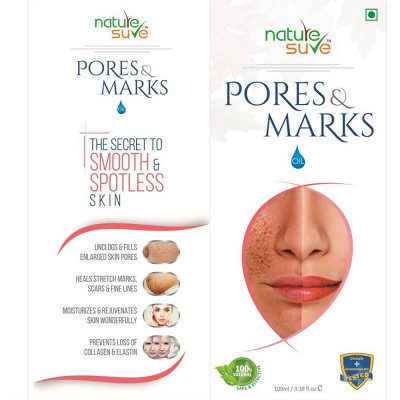 PRODUCT DESCRIPTION:
Nature Sure Pores and Marks oil is made up of 100 percent natural ingredients which are cold-pressed oil extracted from Moringa Oleifera. It also contains vitamins A, B, C, D and E, Copper, Iron, Magnesium, Silica, and Zinc. Its oleic acid content is as high as 72% which makes it the best skin moisturizer. It's 100% natural & clinically and dermatologically tested.
This product is very helpful for moisturizing your skin and healing your skin from inside. It has many benefits. It Unclogs and fills Enlarged skin pores. It also Heals stretch marks and fine lines. The product is based on ancient Beauty secrets of countries like India, Greece, Egypt, and Rome. Pores and Marks are from the Wet and Dry Personal care group. It works on the skin from pores within and gives it smooth and spotless skin. It makes your skin relaxed.
How to Use Pores and Marks Oil-
Wash the affected area and apply a few drops of Nature Sure Pores and Marks twice a day. Massage in a circular motion with clean hands until it is fully absorbed. Use it as a natural Sunscreen while going outdoors.
SHADE, CONSISTENCY & FRAGRANCE:
The oil is quite different from what you expected it to be. It is a lightweight and quiet moisturizing oil that doesn't feel greasy or heavy. It definitely moisturizes the skin and keeps it feeling smooth and relaxing. It does make your skin tone even and improves the skin texture in no time. The consistency is smooth and it gets easily absorbed in the skin. The oil has a sweet scent to it. It is definitely a pleasant smell and you wouldn't mind it.
PROS:
Unclogs & fills enlarged skin pores.
Heal's stretch marks.
Fades age spots, blemishes & scars.
Highly effective.
Works on hyperpigmentation.
Works on dark spots and dark circles.
Brightens up dull skin.
Easily available.
Useful for Acne scars and pimple scars.
100% Natural.
Has no side effects.
CONS:
Little Expensive
Not easily available in the market.
REVIEW:
We have been receiving a very good review of Pores and Marks Oil. I personally liked the product. It does remove my acne on my face and gives that extra glow to my skin. It's very good for women with scars and fine lines. I apply it on my skin twice daily. It does give a Spotless skin.
Buy Now!
RECOMMENDATION-
I highly recommend this product and also want you all to try this once if my review will be helpful to you.
THANK YOU