The choked movie released on 5 June 2020 in the Hindi language. This drama film is directed and co-produced by Anurag Kashyap, written by Nihit Bhave, and jointly produced by Netflix and Good Bad Films.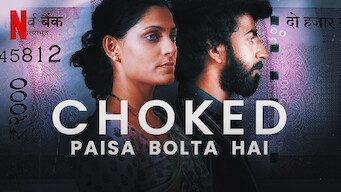 STAR CAST- 
Saiyami Kher as Sarita Pillai
Roshan Mathew as Sushant Pillai
Amruta Subhash
Rajshri Deshpande
Tushar Dalvi
Upendra Limaye
SYNOPSIS-
Choked a drastic movie by Anurag Kashyap is gaining more popularity among middle-aged audiences. This movie is based on the reality of our middlemen who somehow are not willing to pay their bank loans due to a lack of money or dealing with some financial issues at the time of demonetization.
Demonetization "Kuch Yaad Aaya" this one word changed the whole economic lookout over one night. When our PM Shree. Narendra Modi declared the country's currency notes were declared worthless?
I was in Delhi at that time with my family and we were watching TV and chilling with each other. Suddenly we heard about this news of Note Bandi. From the very next day, there was so much news of fraud and corruption becoming the front news of each and every channel and newspaper. People across India literally died standing in queues at the bank. Everyone in this nation was suffering from this drastic change. But on the other hand where few people are struggling to hide their funds from the government, basically "Jugaad" was the right word for them, also there were some people whose life totally came to an end and they felt hopeless and unsecured in their own nation. 
After four years of Demonetization, here is the film which shows the transformation of money turned to paper. This film is full of suspense drama that gives insight into the lives of many people who unknowingly fell into a ditch during demonetization. At the end of the day, all that matters is how much money you have.
This movie is the story of a middleman family, the Pillai's. Based on a middle-class marriage who always bears the burden of financial issues; it's the law of our society. They stay at a worn down building in the suburbs of Mumbai near the airport. Sushant Pillai (Roshan Mathew) is a struggling musician who is jobless and above all in debt.
Sarita is a working woman with a good-for-nothing husband. One The house is run on the sole income of his cashier wife Sarita (Saiyami Kher). Sushant talks big while Sarita knows the struggles that go to keep three people alive, including their son, Sameer (Parthveer Shukla). 
Shushant is a carefree person who doesn't want to take any responsibility at this point in time because he lost his money because of his neighbor Dinesh. Because in the past Dinesh and Sushant collaborated for one business venture but all the money of Sushant went down the drain. Sushant and Sarita undergo a strain in their marriage over their monetary problems.
One night, Sarita finds money from a clogged drainpipe in her kitchen sink which is full of excess water and dirt. Sarita fixes this issue as she does this daily, then suddenly rolls of cash tightly wrapped in plastic comes up to her through that Kitchen drain every night. Sarita is shocked at these developments and cannot believe that she came into money. This pay-out is life-changing.
Then, immediately she walks towards the bank for the inquiry of whether they were authentic or not On hearing that the notes were authentic she goes on a spending spree. Her husband does question her about the sudden burst of money but she does not find it important to tell him.
But suddenly the shocking news of Demonetization came to the top of the news. Sushant felt very happy because all the black money went underground and he started celebrating with his colony's children. But on the other hand, most of the people were very disturbed by this law because still in India many people are surviving on the basis of daily cash transactions and sudden news of Note Bandi has affected most of the people's lives.
The title, Choked, plays a wonderful meaning in everybody's life with different meanings. We aren't only discussing the choked kitchen drain that brings money into Sarita's life and solves her biggest worry but it also acts as a device of suffocation post the demonetization announcement.
Sarita represents the women of our country and inspires other women as well. Those who go to work, run the house, care for their families, and in the process get no appreciation. In India, women tend to forget their dreams in the process of fulfilling the dreams of their families. Sarita is no different. Her passion for singing becomes so bleak that it can't be seen anymore. Her unemployed husband and to top it off demonetization just make matters worse for her. But Reddy knows how to make the best of a situation and lures her into a deal that has questionable morals.
Watch Trailer:
REVIEWS:
Apart from all this, we all know Anurag Kashyap is brilliant towards his direction and implementation which definitely makes the movie more authentic and watchable. Many companions praised Anurag Kashyap's ability to get good performances from the cast but said that the film fell short from his previous filmography. Mixed feedback from most of the other members "Choked might not be up there with the filmmaker's finest, but it's his most unusual movie since.  Choked looks at how differing worldviews — in their case: accepting and moving on versus not letting go — can put a heavy strain on relationships.
RATINGS OF IMDB-
A bank employee weighed down by her jobless husband's debts – and her own broken dreams – find a secret source of seemingly unlimited cash in her home.
This movie is rated 3.5/5.
The best platform to watch this movie with great picture quality and a good soundbox is Netflix.