We grew up watching Doordarshan tv serials which are always close to our heart and we want to watch them again and again. These days there are so many channels, and we have the option to watch so many TV series but none can replace the joy of watching these old Doordarshan TV comedy serials which used to make us laugh and we used to forget all of our school tensions while enjoying these shows. Most of the shows are available on YouTube and you can relive your memories. Are you ready to laugh out loud? Watch these best Doordarshan TV sitcoms. Here is the list of best Hindi sitcoms.
1. Tu tu, main main
Tu-Tu Main-Main is an Indian sitcom television series which originally aired on DD Metro and later STAR Plus (after 1996) directed by Sachin Pilgaonkar (Husband of Supriya Pilgaonkar). The series was first premiered on Doordarshan's DD Metro Channel which became an instant hit. Thereafter it was taken up by STAR Plus in 1996.
The series starred Late Reema Lagoo and Supriya Pilgaonkar in lead roles, Reema Lagoo played the role of the dominant mother in law and Supriya Pilgaonkar played her daughter in law. The story revolves around the arguments and relationship of love and hate between these two. Whether they love or hate each other, they make sure you laugh all the time.
Watch episode:
https://youtube.com/watch?v=ADR3XfS-0UM
2. Dekh Bhai Dekh
Dekh Bhai Dekh is a Hindi sitcom which premiered on Doordarshan's Metro channel i.e. DD2 on 6 May 1993. It was created, developed, edited, directed by Aanand Mahendroo and produced by Jaya Bachchan under the banner of Saraswati Audio Visuals Pvt. Ltd (now merged with Amitabh Bachchan Corporation). It starred Shekhar Suman, Navin Nischol, Farida Jalal, Bhavana Balsavar, Deven Bhojani, Sushma Seth, Vishal Singh and Natasha Singh in lead roles.
The story revolves around three generations of the Diwan family, who live as an extended family in an ancestral bungalow in the suburbs of Mumbai. The show takes the family through relationship troubles, business problems, annoying parents, and in-laws. This joint middle-class family will definitely give you some good time.
Watch the First episode:
https://youtube.com/watch?v=rw38Ty_2vbw
3. Zabaan Sambhalke
Zabaan Sambhalke is a Hindi sitcom directed by Rajiv Mehra. It is the Indian version of the popular British sitcom Mind Your Language (1977). The show followed Dekh Bhai Dekh in prime time in 1993. The show ran successfully for two seasons, first in 1993–1994 with 54 episodes on DD Metro Channel, and later in 1997–1998 with another 52 episodes on Home TV. The show featured actors Pankaj Kapur, Viju Khote, Shubha Khote and Tom Alter.
The Story is about Mohan Bharti (Pankaj Kapur) who is an engineer who is forced to teach Hindi in a language school. His students are people from all corners of the country as well as the world. All Students and their teacher created hilarious situations which made us laugh.
Watch the First episode:
https://youtube.com/watch?v=8KvlETkQ1Q8
4. Wagle Ki Duniya
Wagle Ki Duniya is a popular comedy sitcom which premiered on Doordarshan channel in 1988. It was produced by Durga Khote, directed by Kundan Shah, and was based on characters created by noted cartoonist, Late R. K. Laxman, especially "the common man" about the issues of a common middle-class Indian man. It starred Anjan Srivastav as a confused sales clerk in a multinational company and Bharati Achrekar as his wife. The series was hit and made Anjan Srivastav a household name. Later, He appeared in many TV series and Bollywood movies.
The series was set around every day struggles of nervous sales clerk played by Srinivas Wagle, who lived with carefulness of a middle-class person of the time. You will enjoy every day of Wagle.
Watch the First episode:
https://youtube.com/watch?v=6EHDz30Sjbk
5. Mungerilal Ke Haseen Sapne –
Mungerilal is small time clerk stuck between his Boss and his bossy wife at home. On top of that, there is Mugerilal's father in law who never spares a chance to showcase his achievement as a great police inspector. To counter all, Daydreaming is the only weapon of Mungerilal where he can take revenge on his wife, boss, and father in law. Laughter is guaranteed when you jump into dreams of Mungerilal.
Mungerilal Ke Haseen Sapne is a popular Hindi TV comedy serial directed by Prakash Jha, noted film producer, actor, director and screenwriter who has directed many successful Bollywood movies like Gangaajal, Apaharan, Raajneeti, Aarakshan, Chakravyuh, Satyagraha and Jai Gangaajal. The show revolved around the life of Mungerilal, played by Raghubir Yadav. The serial was written by Manohar Shyam Joshi.
Watch the First episode:
6. Flop Show
Flop Show is an Indian television sitcom that first aired on Doordarshan in 1991. The show was written and directed by satirical and humorist Late Jaspal Bhatti, one of the best comedian of our time who also played himself as the main character. His wife Savita Bhatti produced the show and acted in all the episodes as his wife. The sitcom was a satire on the socio-cultural problems faced by the common man in India at the time. Although only 10 episodes of the show were ever produced, the show remains in our heart.
The various characters played by Jaspal Bhatti will burst you into waves of laughter.
https://youtube.com/watch?v=NxdHTPmIruk
7. Nukkad
Nukkad (which means street corner) is a popular Hindi TV serial that aired on the Indian television channel DD National in 1986–87. It was directed by Kundan Shah and Saeed Akhtar Mirza. it was written by Prabodh Joshi and Anil Chaudhary. The show featured actors Dilip Dhawan, Pavan Malhotra, Rama Vij, Sangeeta Naik and Avtar Gill in lead roles. The serial received tremendous response from the viewers and some of the characters such as Khopdi, Kaderbhai, and Ghanshu Bhikari became household names. The first season of the series was aired from 1986 to 1987. The season had total 40 episodes and each was based on an everyday issue of lower-income people and often revolved around one or two specific characters. Some episodes ended with hope and positive conclusion while some had a sad but realistic conclusion. The treatment was based on simplicity and reality, making the episodes close to our heart.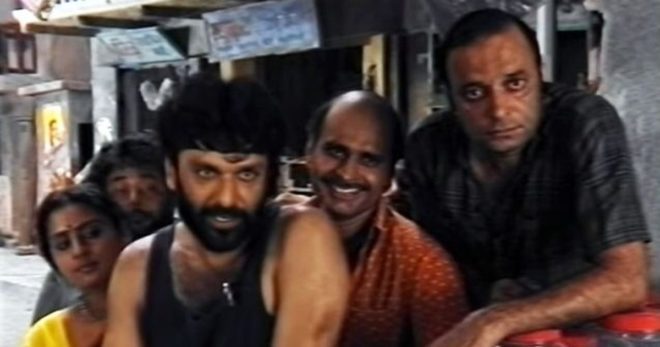 8. Yeh Jo Hai Zindagi
The episodes revolved around funny happenings in the lives of Ranjit Verma (played by actor Shafi Inamdar) and Renu Verma (played by actress Swaroop Sampat), who play a married couple along with Renu's unmarried and unemployed younger brother Raja (Rakesh Bedi). Chachi's daughter who plays the character of Rashmi. Other characters were Ranjit's boss (Tiku Talsania), his Bengali neighbors (actors Vijay Kashyap and Sulabha Arya), etc. The funny situations will take you on a laughter ride.
Watch the First episode:
https://youtube.com/watch?v=wcgb2KBEpdM
This was our list of popular Hindi sitcoms. Which one of these was your favorite? Tell us in the comment section below.