Because of the rising popularity of trading applications, trading is now simpler and more practical than ever in today's highly competitive world. You can now purchase and sell stocks, cryptocurrencies, and other assets virtually anywhere at any time with only a few clicks on your smartphone.
However, selecting the most suitable trading app for you can be difficult because there are so many on the market. Because of this, we've compiled a list of the 30 top trading applications accessible in 2023, based on elements like user experience, security, costs, and the variety of trading assets. Whether you are an experienced trader or a novice, this list will assist you in locating the best trading application for your requirements.
Best Trading Apps for 2023 –
1. Robinhood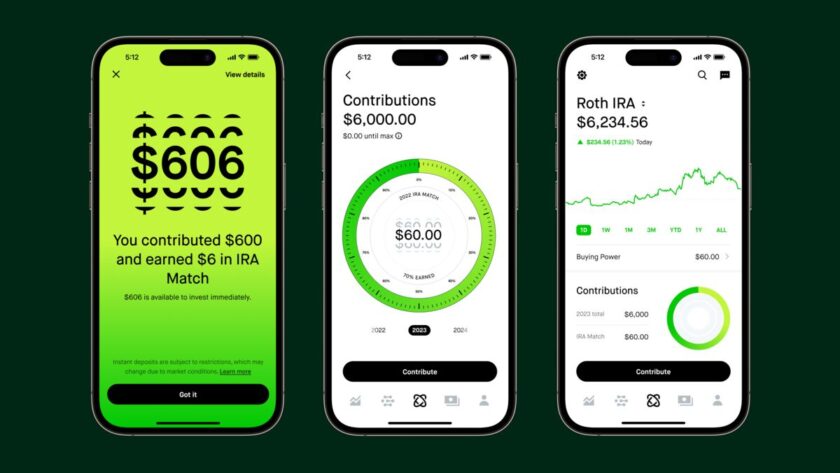 About:
Customers of the commission-free trading application Robinhood can purchase and sell stocks, ETFs, options, as well as virtual currencies. Vlad Tenev and Baiju Bhatt launched the business in 2013, and its goal is to democratize access to financial markets by providing investment available and inexpensive to anyone.
2. E*TRADE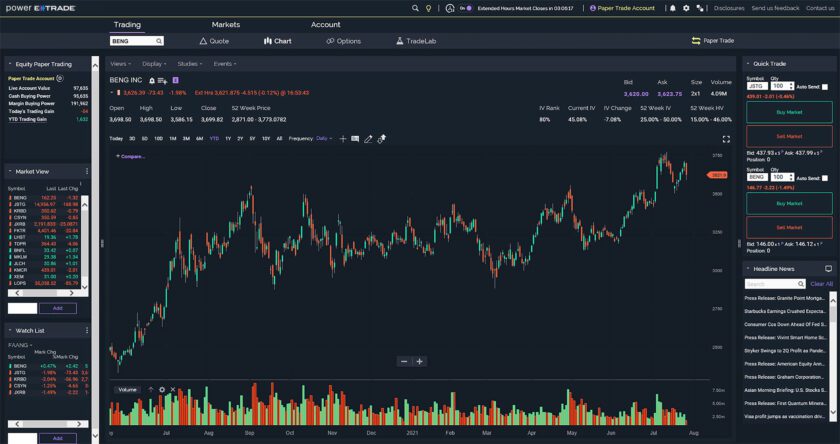 About:
Online brokerage and other financial services are offered by the financial services corporation E*TRADE to individual investors as well as traders. Its main office is in New York City, established in 1982.
The organization offers banking services, retirement planning, portfolio management, and online trading of stocks, mutual funds, options & ETFs, among other things. The platform from E*TRADE also provides a selection of tools and educational materials to aid users in making educated investment decisions.
3. TD Ameritrade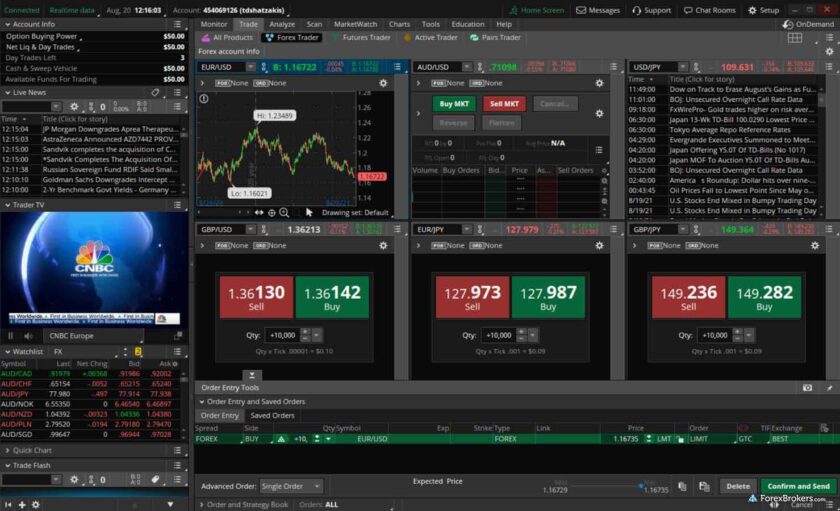 About:
Online brokerage and other financial services are offered by the financial services provider TD Ameritrade to individual investors as well as traders. The company is headquartered in Omaha, Nebraska, and was established in 1971.
The thinkorswim trading platform from TD Ameritrade is well-known for providing sophisticated charting and technical analysis features for aggressive traders. The business additionally provides a robo-advisor service called Essential Portfolios, which charges a minimal fee for automated portfolio management using algorithms.
4. Charles Schwab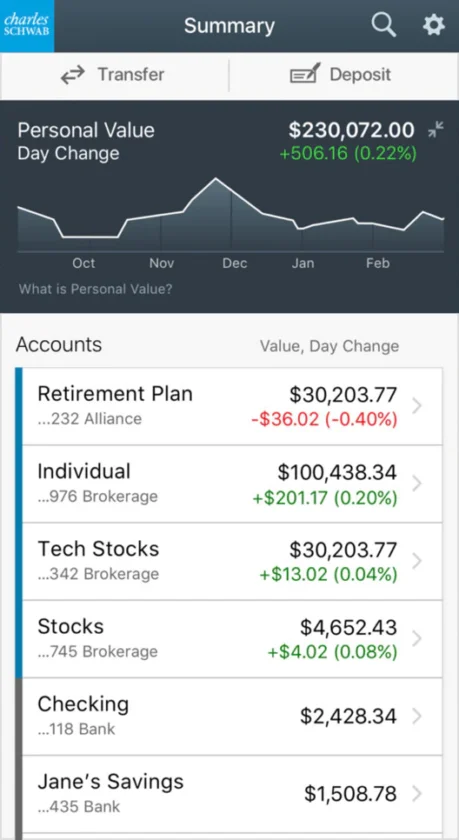 About:
Charles Schwab offers online brokerage and other related financial services to private investors and traders. Its headquarters are in San Francisco, California, where it was established in 1971. The firm is renowned for its affordable brokerage services and wide range of investment alternatives.
5. Fidelity Investments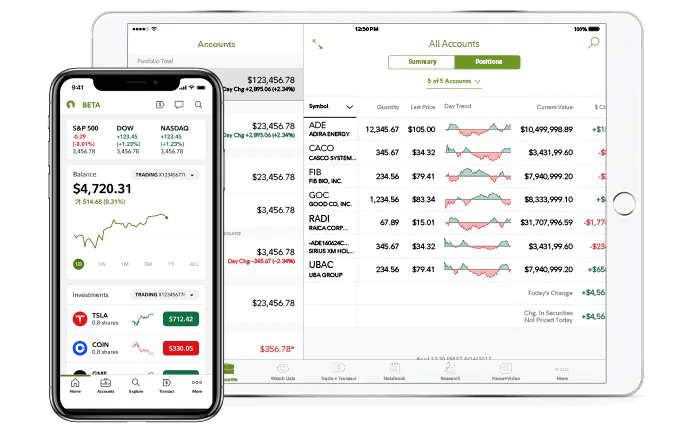 About:
Online brokerage and other associated financial services are offered by Fidelity Investments, a provider of financial services, to individual investors, organizations, & financial intermediaries. Its main office is in Boston, Massachusetts, established in 1946.
Fidelity is renowned for its robust offering of investment products and its research capabilities. The business provides clients with access to a large selection of mutual funds and exchange-traded funds (ETFs) from different providers. It has a staff of analysts that provide research papers and insights on various investments.
6. Webull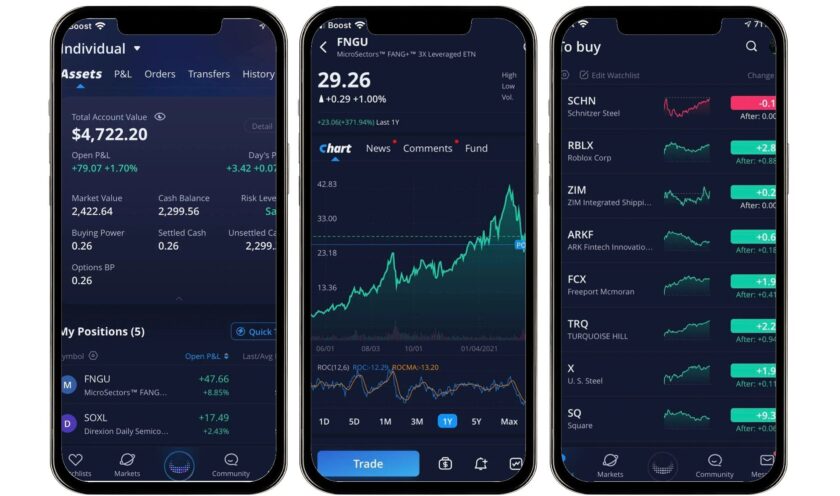 About:
Customers can trade stocks, ETFs, options, & cryptocurrencies on the commission-free trading application Webull. It was established in 2016 and had its main office in New York City.
Webull's business strategy resembles Robinhood's in that it also makes money on order flow and interest on cash balances. Yet, the firm distinguishes itself by providing a wider choice of investing possibilities, including trading in cryptocurrencies, and longer trading hours.
7. Betterment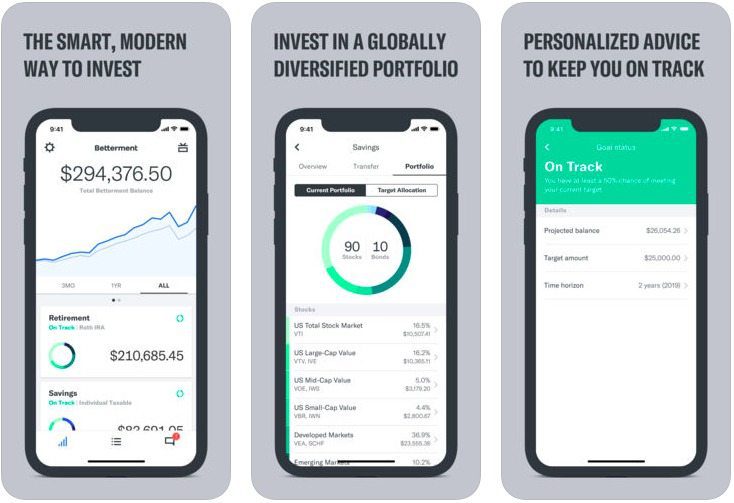 About:
Individual investors can receive computerized investment management services from Betterment, a robo-advisor. Its main office is in New York City, established in 2008.
By employing algorithms to construct and oversee portfolios depending on each customer's investment goals & risk tolerance, the firm's services are intended to increase investing's accessibility and affordability for individual investors. To assist clients to optimize their after-tax profits, Betterment provides a variety of investment options, like stocks, bonds, & ETFs. It also employs tax-efficient tactics.
8. Stash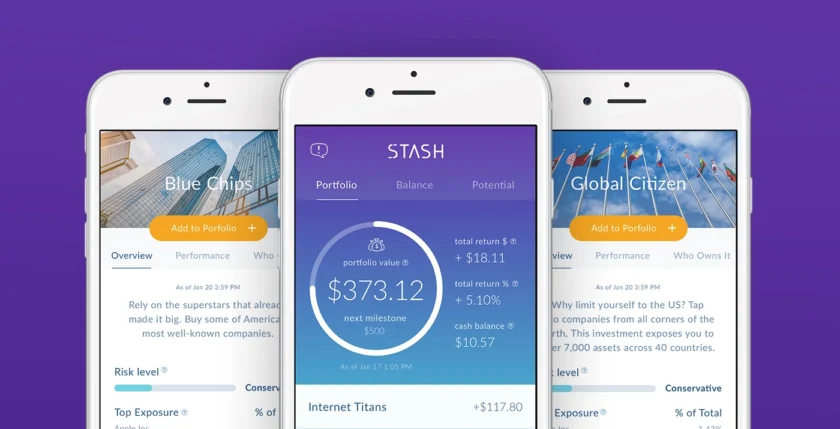 About:
Stocks, ETFs, & cryptocurrencies can all be traded in fractional shares on the mobile trading application Stash. Its main office is in New York City, established in 2015. The platform offers a variety of investment opportunities with low minimum standards and no account fees, is user-friendly, and is approachable to new investors.
9. Acorns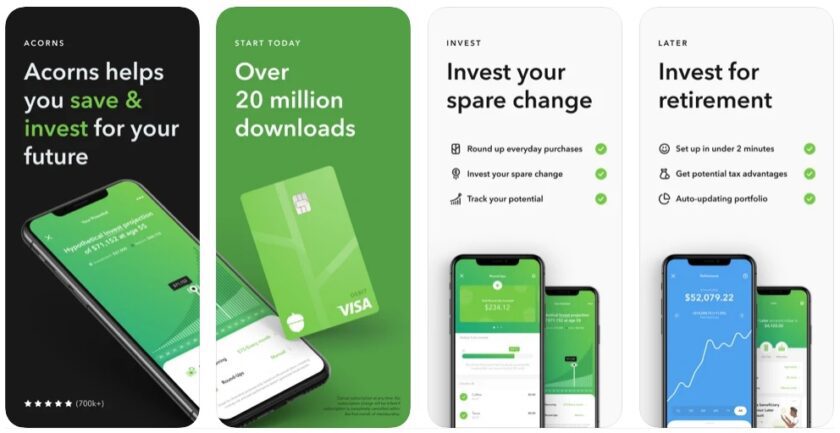 About:
Clients can deposit their extra change from regular purchases on the robo-investing website Acorns. It was established in 2012, and Irvine, California serves as its corporate home.
When a customer links their credit or debit cards to their Acorns account, the platform automatically invests the "round-ups" from every purchase into a diverse investment portfolio. Also, consumers may establish one-time and recurring investments in a range of ETF portfolios tailored to their investment objectives and risk tolerance.
10. M1 Finance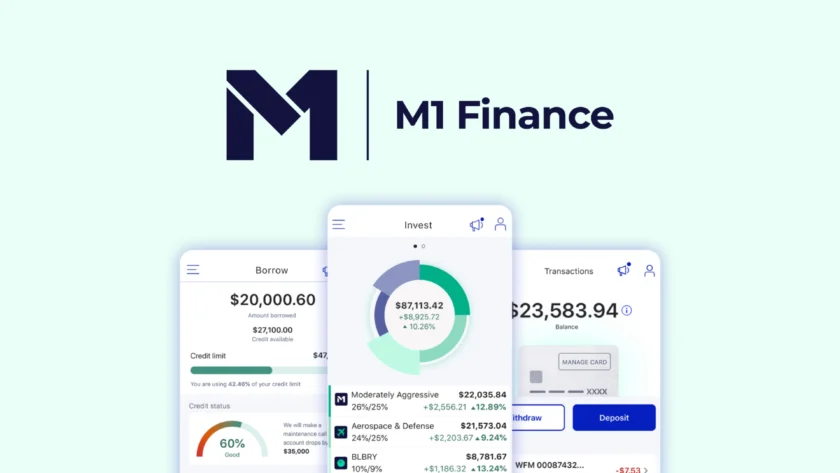 About:
M1 Finance is a hybrid robo-advisor and internet brokerage that provides self-directed investing options and computerized investment management services on a single trading Application. The company is situated in Chicago, Illinois, and was launched in 2015.
The site's visitors can build and configure stock and ETF portfolios, and the platform employs algorithms that automatically readjust portfolios & reinvest dividends to assist clients to meet their investment objectives.
11. Stockpile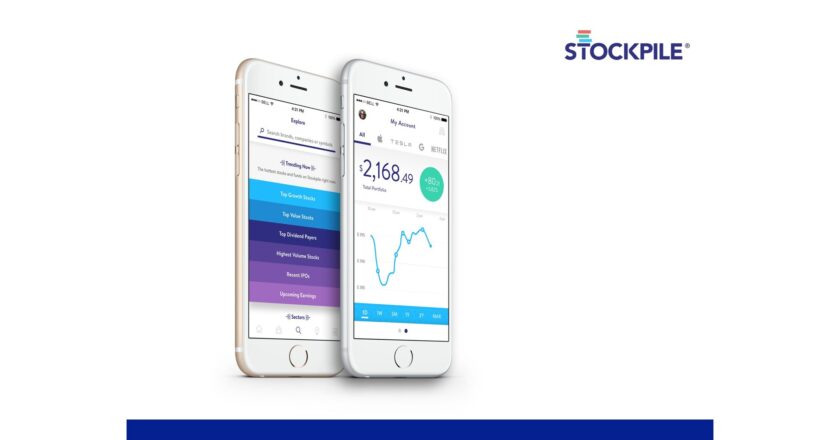 About:
Online trading application Stockpile focuses on partial share trading & stock gift cards. Its main office is in Palo Alto, California, where it was formed in 2010.
By using the site, consumers can invest in pricey stocks sans needing to purchase a whole share by buying fractional shares of stocks & ETFs. Also, Stockpile provides a selection of gift cards for stocks that may be bought in amounts as small as $1 and given as presents to friends and family.
12. Interactive Brokers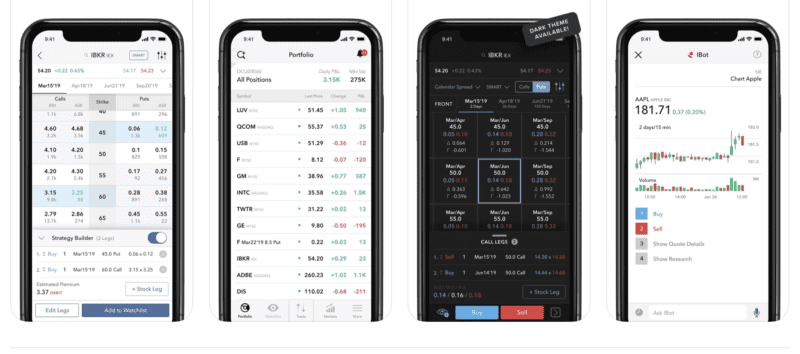 About:
The 1978-founded online brokerage trading application Interactive Brokers offers trading services for a variety of financial assets, such as stocks, futures, options, currencies, & bonds. The business has offices all around the world and its main office is in Greenwich, Connecticut. The platform offers cutting-edge trading instruments and platforms with minimal commissions & margin rates because it is intended for seasoned and active traders.
13. Ally Invest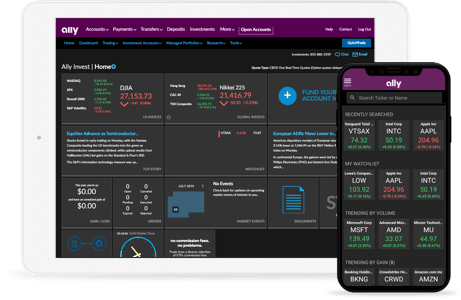 About:
Online brokerage Ally Invest, established in 2005, provides trading services for a variety of financial instruments, such as stocks, ETFs, options,& mutual funds. The firm has its headquarters in Charlotte, North Carolina, and serves as a subsidiary of Ally Financial Inc. The platform provides a range of trading instruments and platforms, including a smartphone application, a web-based trading application, and a dashboard that can be customized.
14. TradeStation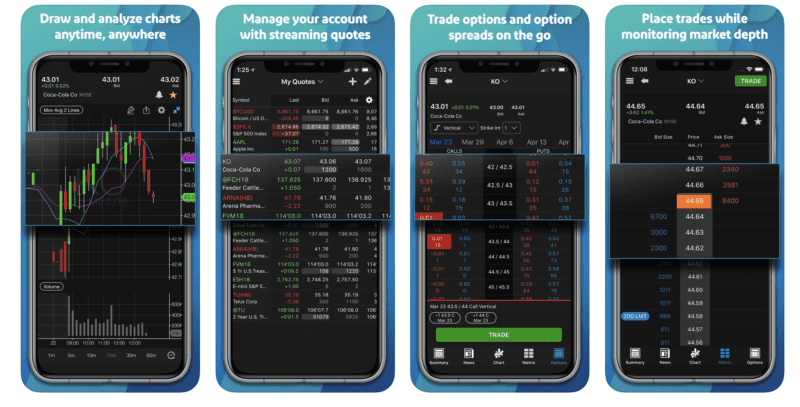 About:
An online trading application called TradeStation gives users access to trade in stocks, futures, options, and cryptocurrency. Its main office is in Plantation, Florida, established in 1982.
TradeStation provides a variety of tools for professional traders in complement to its trading application, such as institutional-grade data analysis tools, a proprietary trading platform, and cutting-edge risk management capabilities.
15. Merrill Edge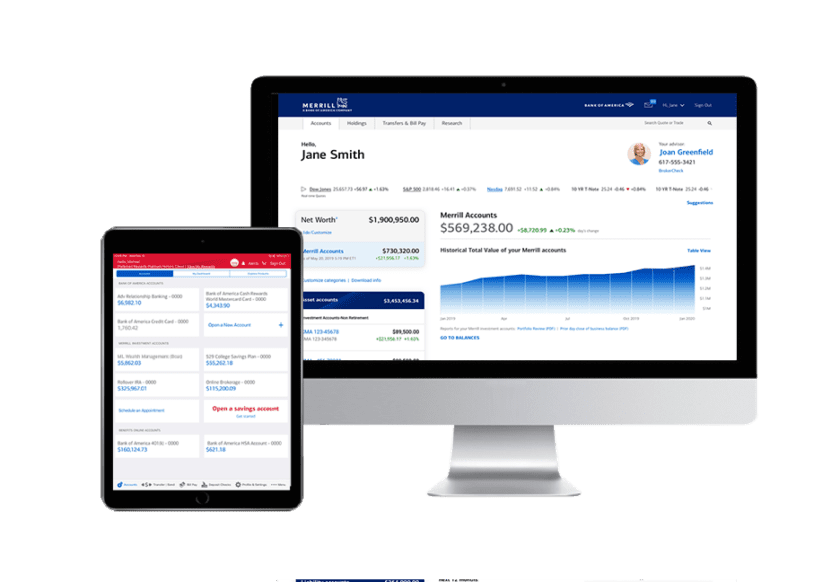 About:
The online brokerage platform Merrill Edge serves as a gateway to trading in bonds, exchange-traded funds (ETFs), stocks, mutual funds, and options. It was established in 2010 and is a division of Bank of America Merrill Lynch.
A user-friendly trading platform with sophisticated charting and analytical tools, mobile trading applications, and exposure to a team of financial advisors are just a few of the investment tools and resources Merrill Edge provides.
Also Read:
16. Coinbase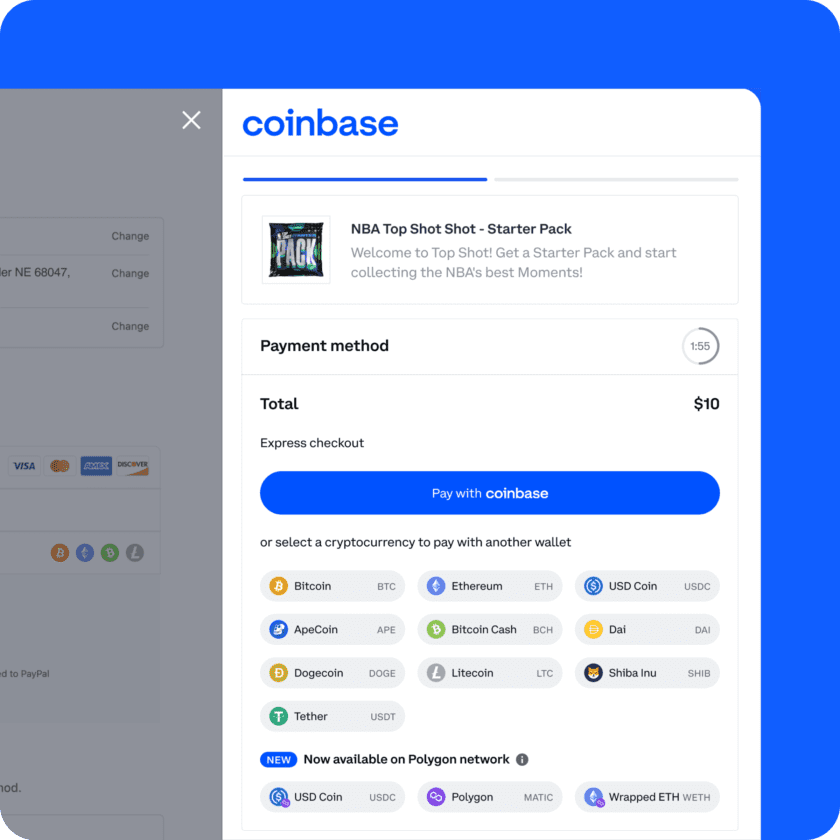 About:
Coinbase is a platform for exchanging digital currencies that enables users to purchase, trade, and store different cryptocurrencies including Bitcoin, Ethereum, & Litecoin. San Francisco, California acts as the trading application's base of operations. Besides its many payment choices, mobile apps, and strong security mechanisms that guard customer cash, Coinbase offers a wide range of functions.
17. Kraken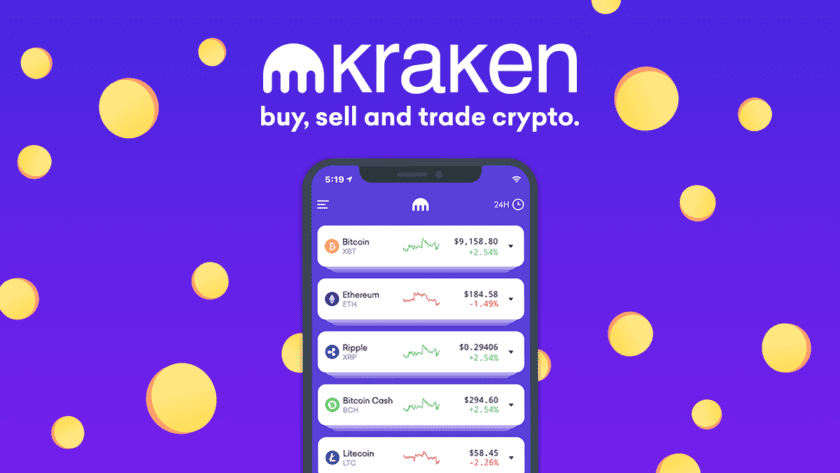 About:
Margin trading, futures trading, & OTC trading are some of Kraken's technical trading options. The trading application is a well-liked option for traders worldwide because it offers a large variety of cryptocurrency pairs & allows numerous fiat currencies.
Together with its trading system, Kraken provides several cutting-edge tools and features for users, such as real-time market data, and sophisticated charting tools, including order book depth research.
18. Bitstamp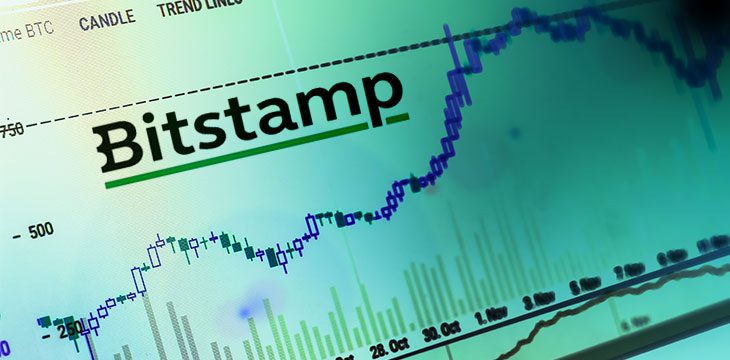 About:
Bitstamp is a well-liked option for both new and seasoned traders due to its user-friendly layout and easy trading process. The platform makes it simple for customers to deposit and withdraw money by supporting a variety of fiat currencies, such as USD, EUR, & GBP.
Bitstamp places a high priority on security and has put in place a variety of safeguards to protect user funds, like encryption, two-factor authentication, and cold storage of cash.
19. Bitfinex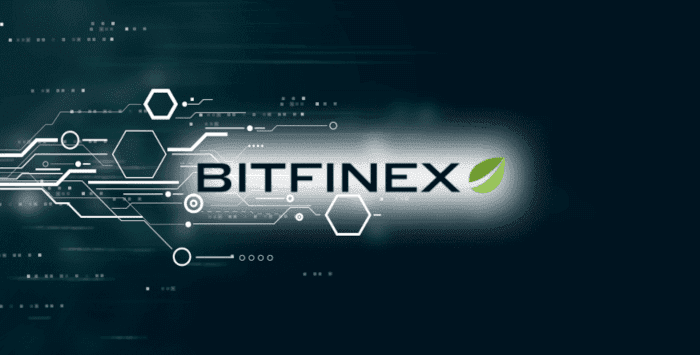 About:
Bitfinex was established in 2012 and has its headquarters in Hong Kong. It is renowned for its sophisticated trading capabilities, such as lending and margin trading, and it is also known for providing developers with access to an API to create unique trading tools.
20. Poloniex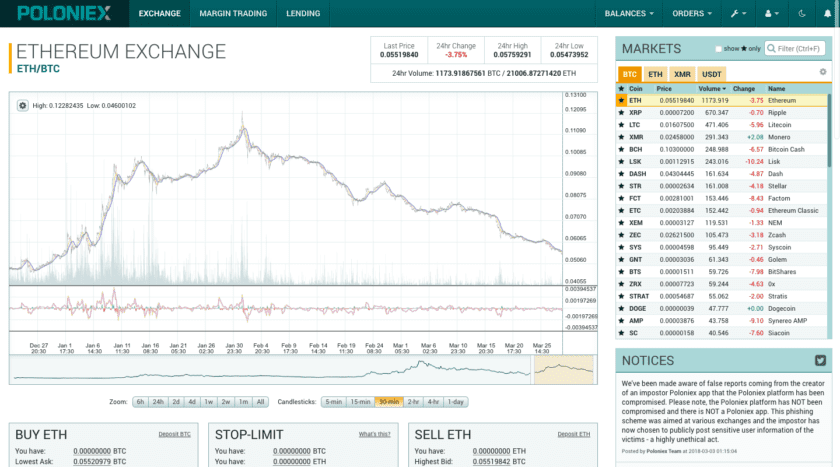 About:
A platform for trading cryptocurrencies, Poloniex was established in 2014 and is situated in the US. The advanced trading options Poloniex include loan and margin trading, and it also provides API access enabling programmers to build their trading tools. For trading, while traveling, it also provides a mobile application.
21. KuCoin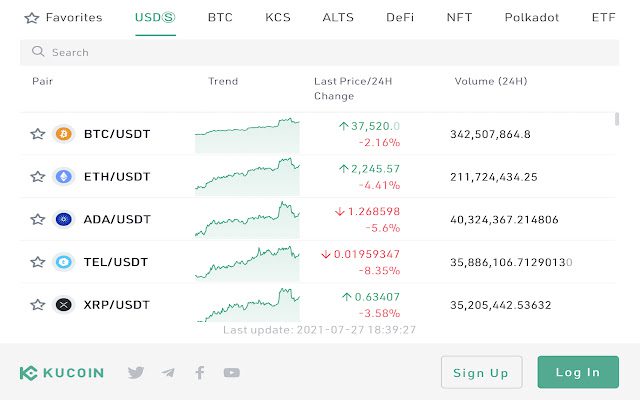 About:
KuCoin is a Singapore-based cryptocurrency exchange business that was established in 2017. KuCoin's native currency, KCS (KuCoin Shares), which customers can hold to gain a piece of the site's trading fees, is one of its distinctive characteristics.
22. OKEx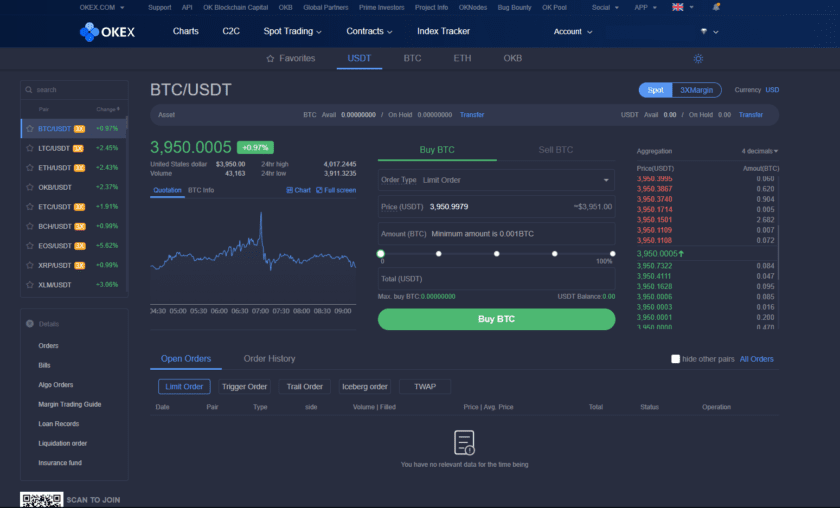 About:
The Malta-based company OKEx was established in 2017. KEx contains a native token called OKB that may be utilized to accomplish various things on the platform, including paying for trading commissions, getting access to premium features, and taking part in token sales. For investors seeking a stable and dependable cryptocurrency trading application, OKEx is a well-liked option.
23. Bittrex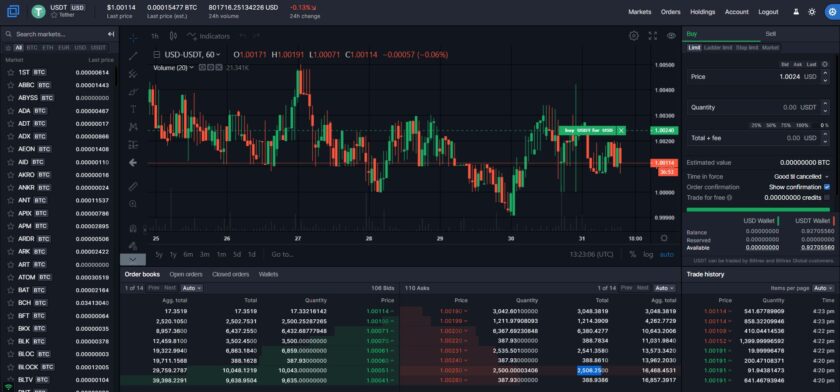 About:
Bill Shihara, Richie Lai, & Rami Kawach established the cryptocurrency exchange platform Bittrex in 2014. It has its headquarters in Seattle, Washington, and also is renowned for its innovative trading features, security, and efficiency.
Bittrex's emphasis on security is one of its standout characteristics. The trading application safeguards user accounts and funds using multi-factor authentication, cold storage, as well as other security methods.
24. Huobi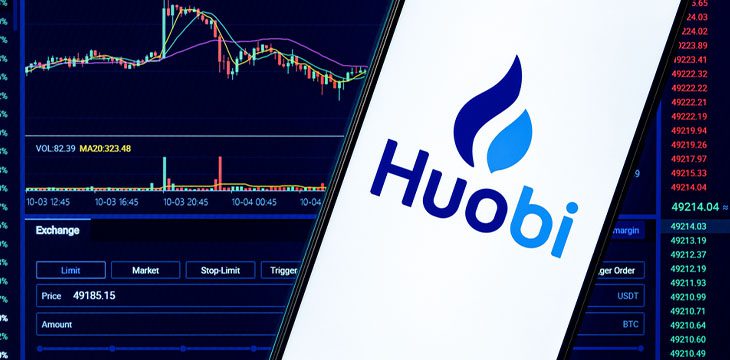 About:
In 2013, Huobi was established in China. Since then, it has grown to become a global company with offices in several nations, including Singapore, Japan, South Korea, as well as the United States.
Huobi is famous for its user-friendly layout and cutting-edge trading tools. A variety of charting & technical analysis tools are available on the site to aid traders in making wise choices.
25. Voyager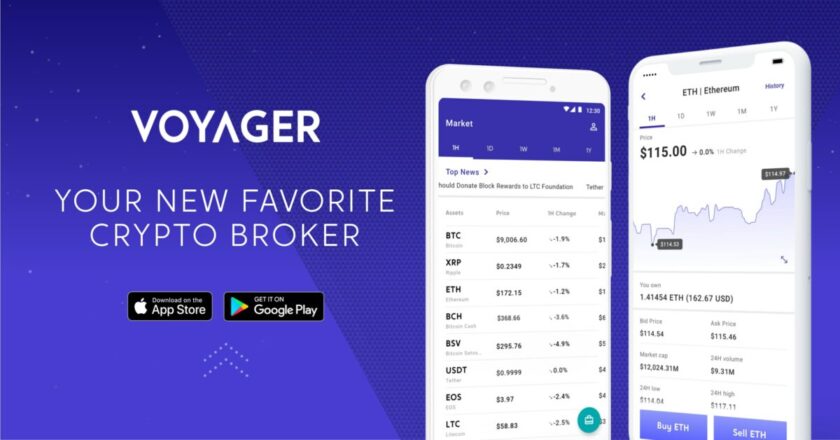 About:
In 2018, Voyager was established in New York, USA. Additionally, the trading application offers consumers several benefits like commission-free trading, immediate deposits, and withdrawals, & high levels of security. Voyager's connection with other exchanges, which enables customers to get liquidity from many sources, is one of its standout advantages.
26. TradingView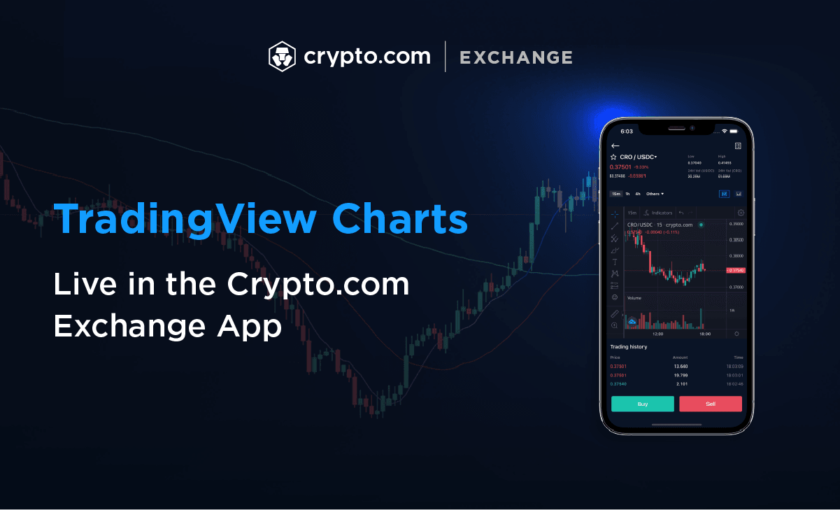 About:
Traders may create and share trading strategies, communicate with several other traders, and utilize several markets & trading instruments thanks to the tools that TradingView provides.
Using the trading application's in-house programming language, PineScript, users can also design their trading techniques and indicators. One of TradingView's standout features is its intuitive user interface, which makes it simple for traders to personalize charts and do technical analysis.
27. Stocktwits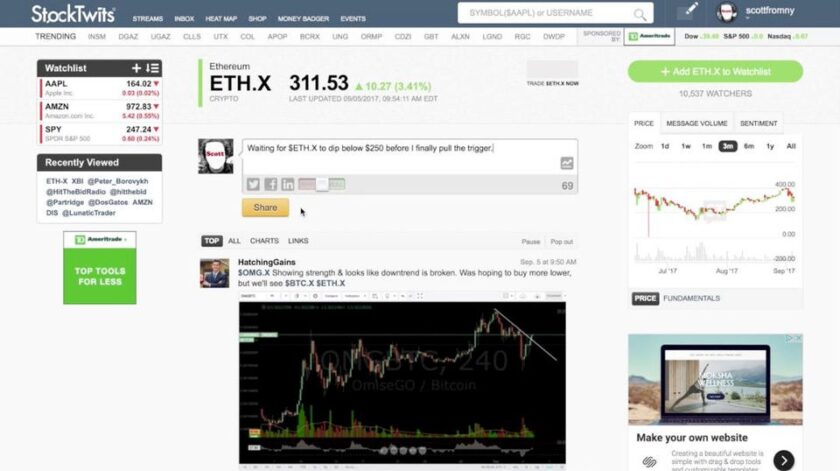 About:
StockTwits is a 2008 startup with US headquarters in New York. One of Stocktwits' standout attributes is the way it integrates with different brokerage houses and financial news services, giving users access to real-time market information and news. Charting and price notifications are just a couple of the technical analysis tools available on the trading application.
28. Binance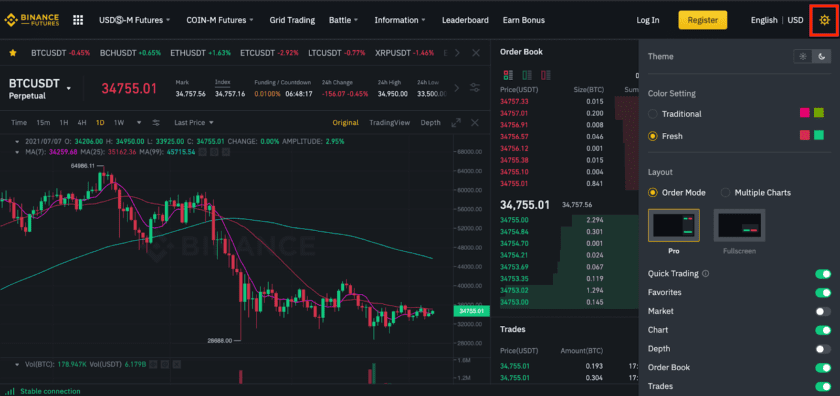 About:
Changpeng Zhao launched Binance in 2017. One of Binance's distinguishing characteristics is its emphasis on security, which includes cutting-edge security methods including two-factor authentication, cold storage for funds, as well as routine security audits.
Moreover, Binance has a native coin called BNB that can be used on the site for several things, including paying for trading commissions and unlocking premium services.
29. Gemini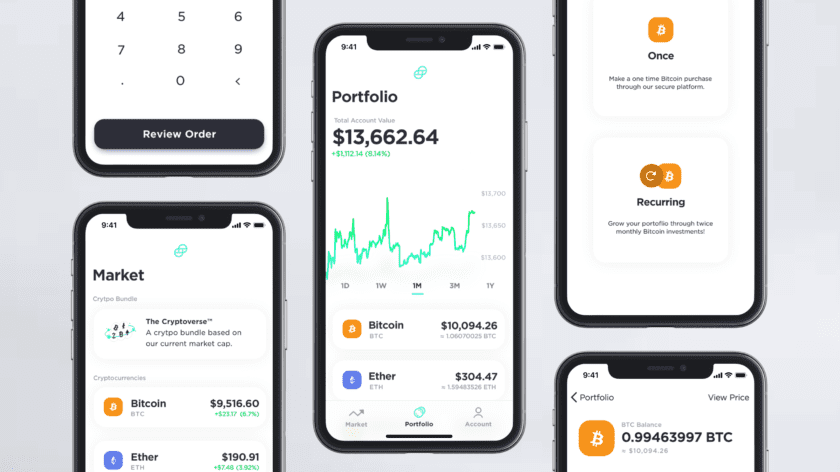 About:
In 2014, Cameron and Tyler Winklevoss started Gemini. It is governed by the New York State Department of Financial Services and has its headquarters in New York, USA. For the storage and administration of cryptocurrency assets, Gemini also provides its institutional-grade custody solution, Gemini Custody.
30. Blockfolio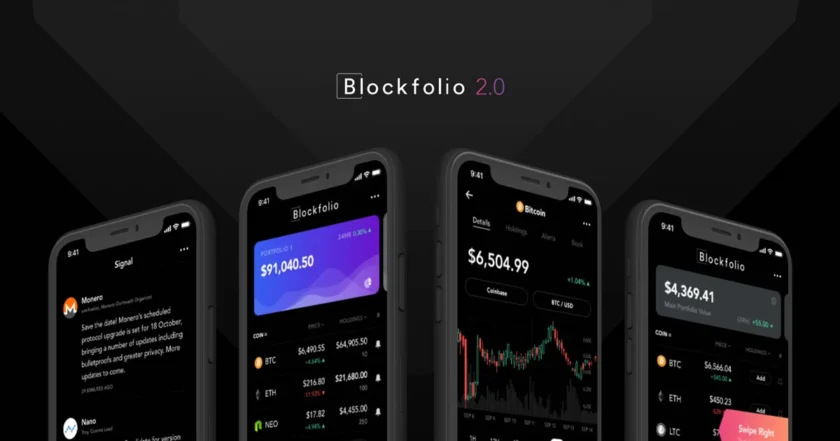 About:
Blockfolio can keep track of their bitcoin assets and keep an eye on market changes in real-time. Since its establishment in 2014, it has grown to be a well-liked option for cryptocurrency traders and investors.
With Blockfolio, users can build a personalized portfolio of their bitcoin holdings, monitor their performance, and get news and price alerts in real-time. Also, the trading application provides traders with several features, including charting, technical analysis tools & trading pairings.
Your Turn!
There is an application out there that can match your demands, whether you're searching for a straightforward and user-friendly platform for the stock purchase and sale or a more sophisticated trading device with in-depth market research and technical indicators.
When choosing a platform, it's crucial to conduct your own study and carefully assess each one because several applications might be more appropriate for various sorts of traders. No matter wherever you happen to be or what hour it is, you can keep up with the markets and decide on your investments with the correct trading application in hand.
Tell us which application you liked the most after trying it in the comment sections!