In the era where your shoes decide your personality, improves your foot health, increases the access to educational and job opportunities, and boosts up your confidence, it automatically becomes an integral part of your life. This is the basic need of the time, but what's more essential is owning a formal pair of shoes. Be it a job interview, an evening party, or office work, the first thing that people notice to judge you is your shoes. To ease down your burden here we provide a proper guide to the buy formal shoes for men online. To begin with, let's first start with what all one needs to keep in mind before buying them.
Things to take care while buying formal shoes for men:
Fit – No matter how attractive a shoe may look but before jumping to the superficial part one must take care if the fit of the shoe is perfect or not or else along with your amazing looking pair, the shoe bites will also follow you everywhere. To check it first put on the shoes, always with socks, then scrutinize your walk and observe the pressure on your feet.
Fabric- Even if the shoe fits you and the material is not right you will still suffer. So make sure to look for a good quality of leather or suede. Always go for natural over synthetic. Fabric can also depend on the function of the shoe that you want to serve for you.
Type- Though shoes are mostly preferred in formal occasion or semi formal occasion yet there are many types among which you may need to choose. For this you need to scroll down a bit more to this article.
Types of Formal Shoes For Men:
Oxford Shoes:
Oxford Shoes, considered to be the most formal design is fit for any occasion be it your evening dine, official function, or a formal get together. The shoe mainly consists of a vamp, the front of the shoe with upper section covering sides and back, a low heel, and a facing sewn under with eyelets sitting there. 
Styling tips:
Owing to the minimalistic approach and more formal appearance you can team it up with any suit, or trouser without much hassle.
For everyday purpose choose from different colours ranging from brown to green which won't get soiled easily.
For business purposes, you can rely on a dark brown pair, cordovan, English tan, or the classy black leather.
To look best in your tuxedo always team it up with the classy black pair.
Derby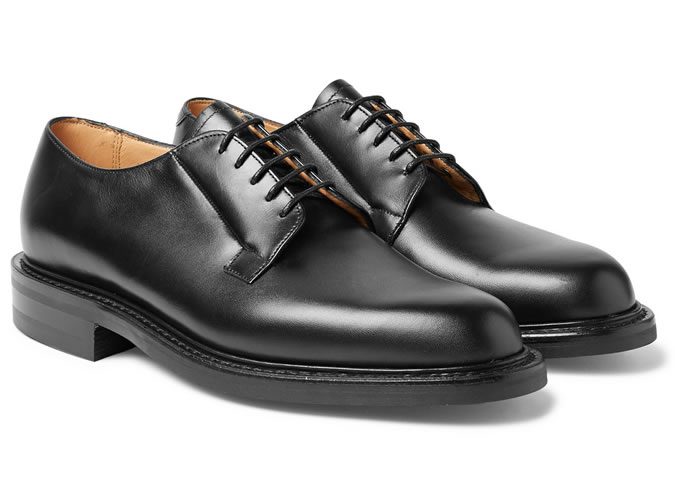 This form of shoe is comparatively less formal than Oxford with an exposed ankle. Though at times it is mistaken as Oxford owing to the same streamlined shapes. But you can differentiate between the two as Derby's facing is attached on top of the vamp, unlike the former one.
Styling tips:
If you are a person who likes experimenting with various style then go for a dark brown or reddish-brown pair, as it serves a versatile purpose.
For formal attires like day, suit choose plain Derby without failing
With blazers and trousers all types of Derby will match given to the colour; choose a pair that goes with the colour of your blazer.
Monk Strap: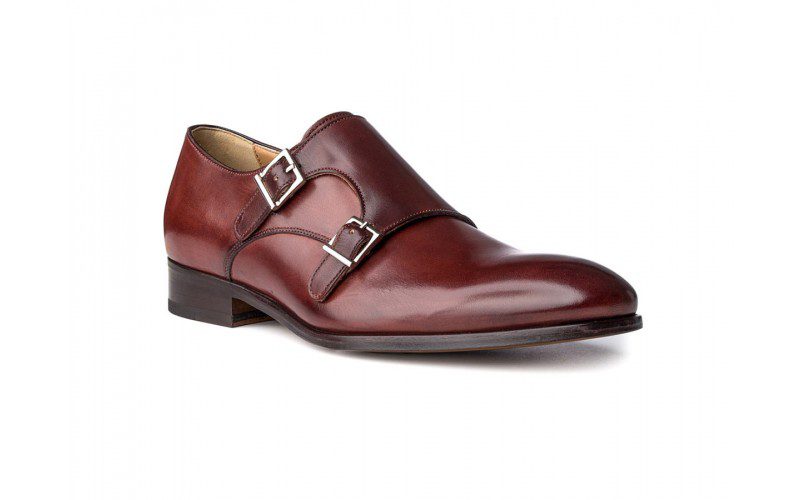 This laceless shoe appears to be more formal than Derby but less than Oxford. It can be distinguished by looking to closed buckle that other types lack. The buckles come in variant shapes, thickness, and sizes. 
Styling Tips:
For versatility choose the classic Brown Monk, as it looks elegant with any formal wear.
If you like black then pairing it up with a grey suit will look sleek and classy, or else you can go for lighter shades of brown.
On double monk you can leave one strap unbuckled to give it the same effortless appearance that comes when you leave the chain of a jacket open.
Loafers: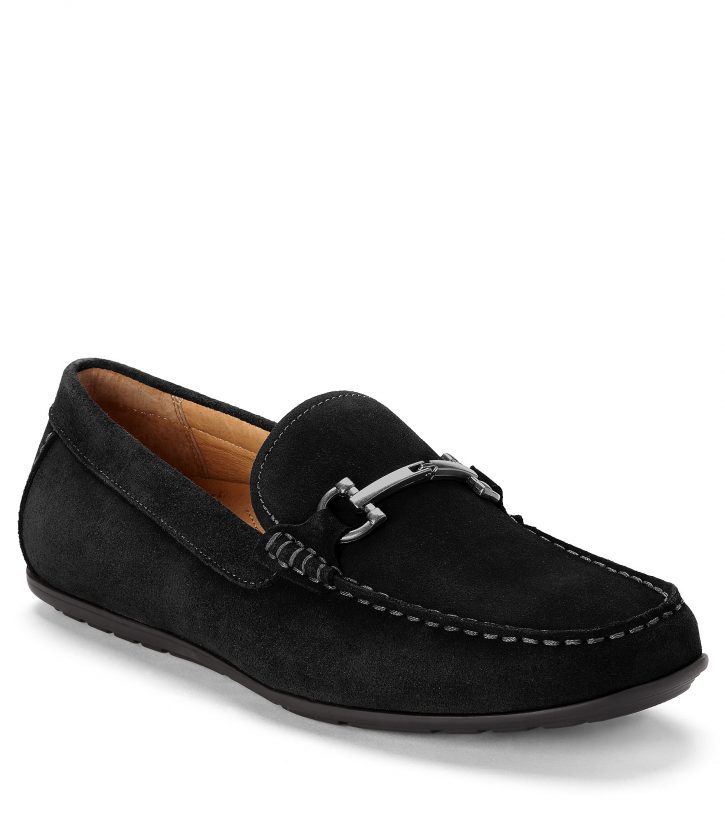 Having a moccasin construction and aided with a slip-on style the loafers are the go-to option if you like things easy, away from the hassle of lacing, or buckling and yet want to look formal. These shoes are characterised by a saddle ( a decoration), or a metal ornament. The minimalist loafers have exposed vamps with no embellishment necessarily having an elevated seam running along the toe.
Styling Tips:
You can pair tassel loafers with chinos and blazers. For a bit more formal look go for black coloured loafers with a navy blue blazer or brown trousers.
With Chinos, flannel pants, or corduroys always opt for Belgian loafers for a perfect look.
To carry the most formal and elegant look you can always trust Gucci loafers in black leather paired up with a formal suit.
Thus, in formal and important places, one needs to completely take care of what and how they are pairing up their formal shoes for men to match the function and fashion.