Who doesn't love a good mystery? Add a grisly murder to it and the mystery consequently darkens and manages to make the audience slide to the edge of their seats with bated breath…waiting for the next scene to appear on-screen and assuage their curiosity. Bollywood has seen a number of movies being created in such a genre from the earliest times. This is a list of best murder mystery movies in Bollywood that are going to get you hooked to this genre (if you aren't already). Brace yourselves, for you might encounter the unexpected that leaves you mulling over the crimes that the human mind can think of.
These Bollywood murder mystery movies will keep you hooked till the end of the movie. If you like being on the edge of suspense, what are you waiting for?
Best Bollywood Mystery Movies List –
1. Badla (2019) ; IMDb – 8.1/10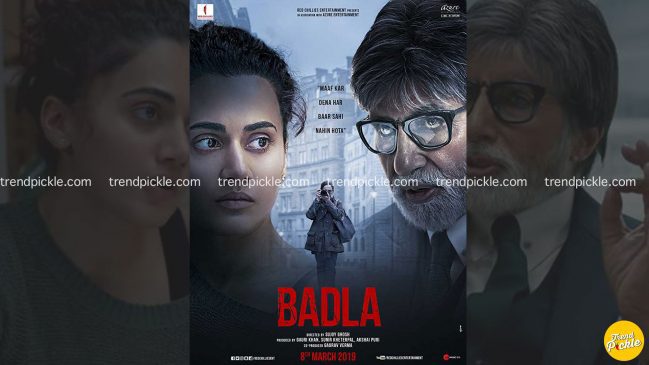 Directed by Sujoy Ghosh, Badla is a movie that repeatedly changes its time frame from present to the past. It's the story of a young and successful entrepreneur, Naina Sethi (Taapsee Pannu) who has been charged with murder of her secret lover, Arjun (Tony Luke). She seeks the help of her lawyer, Jimmy (Manav Kaul) who hires a prestigious defense attorney, Badal Gupta (Amitabh Bachchan) who proceeds to draw out the entire story from her in order to defend her in court.
The movie begins with Naina recounting the incidents on that fateful day when her perfect life with her perfect family ended. As she begins her tale, it almost becomes too much to wrap our heads around everything that's going on. After a certain point it becomes impossible to empathize with Naina when it is revealed that she actually might be the killer. All in all, it's a topsy-turvy ride that makes you question the motives and identities of all the characters. With every passing minute you become engrossed in the mystery of the murder. How can Naina be proven innocent when she was the only one in the room with Arjun with all the exits bolted from the inside? This impossible question makes it impossible for the audience to tear their eyes away from the screen.
Even though it is a remake of the Spanish thriller The Inivisible Guest (2016) with the difference being the flipped protagonists, it is a must watch. The acting of the entire cast is to the point and they are extremely convincing in their roles. Amrita Singh (Rani) plays the role of a grieving mother flawlessly. Your heart goes out to her. The locations are shot in U.K. and they aid in making the movie a visual treat for the audience.
2. Ek Ruka Hua Faisla (1986) ; IMDb – 8.4/10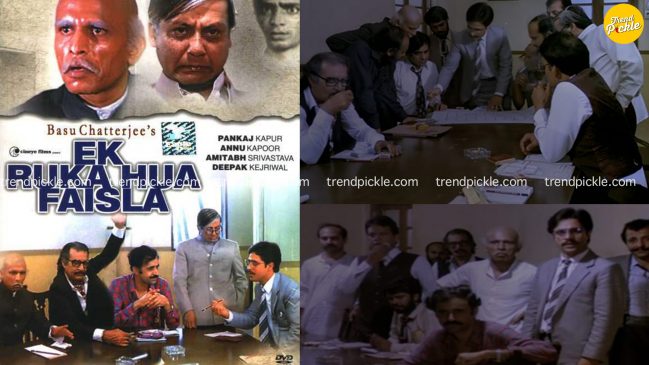 The film, directed by Basu Chaterjee is a remake of the Golden Bear winning American motion picture 12 Angry Men (1957). It is a courtroom drama film and begins as such. A teenage boy from the city slum is on trial for stabbing his father to death. The final closing arguments have been presented and the jury is instructed by the judge to decide whether the boy is guilty or not. Inside the jury room it is evident that all the jurors except juror no. 8 (K. K. Raina) have already labeled the boy guilty. They want to get their job over with by presenting their verdict. The difference in opinion of juror no. 8 annoys the rest of the jurors. The rest of the film revolves around the difficulty of reaching a unanimous verdict and how juror no. 8 manages to convince all except juror no. 3 (Pankaj Kapur) about the boy's innocence. In the end, juror no. 3 lets go of his bitterness about his son that was clouding his judgment on the case and weeping, votes the boy 'not guilty'.
The film brings out the volatility of human emotions. The characters change color as the strongest break and reveal their vulnerability while on the other hand, the seemingly weak hold their own and remain strong. It is a brilliant analysis of human psychology and showcases how the fears, beliefs and even prejudices tend to influence our decisions. The minimalistic setting leads to the absence of unnecessary superficiality and wraps up the entire film perfectly.
3. Drishyam (2015) ; IMDb – 8.3/10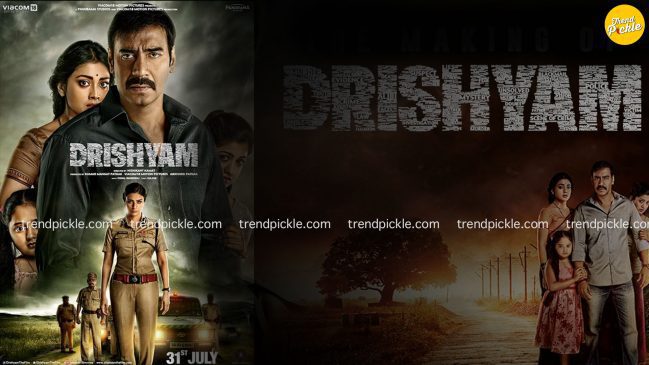 Directed by Nishikant Kamat, Drishyam is a remake of the Malayalam movie Drishyam (2013) directed by Jeetu Joseph. The film unfolds with the nuances of a contented businessman who runs his own cable TV service, Vijay Salgaonkar (Ajay Devgn) and his family. He has a happy life with his wife Nandini (Shriya Saran) and 2 daughters Anju (Ishita Dutta) and Anu (Mrunal Jadhav). He is famous in his little town for helping out others even though he dropped out of school after 4th grade, and following that, has only gained knowledge from watching films. A shadow is cast over the joys of this family as Anju is blackmailed by Sameer "Sam" Deshmukh (Rishabh Chaddha) who has a recorded mms of Anju showering when they went to a nature camp as respective representatives of their schools along with many other students.
He blackmails her for sexual pleasures and asks her to meet him. What follows is begging and pleading on a mother's part to protect her daughter's dignity. As the minutes tick by, in an effort to get rid of the mms, Anju, in a state of desperation, hits Sam with an iron rod accidentally, leading to his death. What follows next is the family's race to survive and hide their crime from the entire police force of Goa headed by the Inspector General of Goa Police, Meera Deshmukh (Tabu), Sam's mother. Even though the family provides solid alibis, she doesn't buy them and leaves no stone unturned in the investigation of the disappearance of her son. It is a nerve-wracking chase which gives us a glimpse into an almost perfect crime.
The investigation becomes a game between Vijay and Meera. The perfect nature of the crime makes it impossible for the police department to prove anything even though they know that Vijay is the culprit. The police torture the entire family to get the truth and finally little Anu breaks and reveals the location where she had witnessed Anju and Nandini bury Sam's body. But the poice are unable to find the body at the said place and hence no murder is proved. Where did the body go? Will the police ever be able to find it? Will Vijay and his family be acquitted or be proven guilty of Sam's murder? This film is one of a kind in its genre and is worth a watch to find the answer to such and many more questions.
4. Talvar(2015) ; IMDb – 8.2/10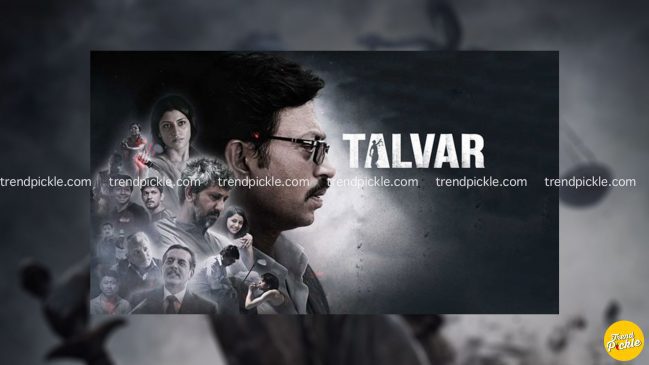 Directed by Meghna Gulzar, Talvar is a thriller drama film based on the 2008 Noida double murder case involving a teenage girl and her family's servant. The film follows the investigation of a case from 3 different perspectives: if the parents are guilty or innocent of the murder charges by the police investigation, the first CBI probe and then a different probe by another CBI team.
This film was conceived by Vishal Bhardwaj, the script writer and producer, after he met some of the police officials who were investigating the case. 2 years worth of research of all the nuances of the entire case were put into effect when this film came into creation.
The film begins with the visuals of a gruesome murder of 14 year old Shruti Tandon (Ayesha Parveen) who is discovered by her parents, Ramesh (Neeraj Kabi) and Nutan (Konkona Sen Sharma). The investigation begins with a clearly incompetent police team who don't know the basics of a criminal investigation. They search for Khempal, the household help and discover his decomposing body on the terrace. After talking to Kanhaiya, Khempal's close friend, the police ascertain that Ramesh might have had an extra-marital affair and Khempal might have been involved with Shruti. The police label it as a crime of honour killing and arrests Ramesh after building their case. The following press conference and the consequent marring of Shruti's character leads to public outrage and the case is given to CDI Aswin Kumar (Irrfan Khan) and ACP Vedant Mishra (Sohum Shah). Kumar is contemptuous of the previous investigation and believes that they had done a fine job of botching up the crime scene. He has a firm belief that the father is innocent and methodically builds a case piece by piece in his favor and against his wishes, leading to the parents' exoneration and release of Ramesh from jail. As Kumar is about to close the case, the changing senior officer leads to a change of heart in ACP Vedant. His greed for a promotion fuels him to work against Kumar which leads to an ugly altercation between them. The CDI gives the case a new investigation team headed by Kumar's previous superior, Paul, who concludes that the parents are guilty. Both the investigative teams make their cases in front of the CDI chief which results in a decision against the parents, charging them with a double murder. When the case is presented in court, due to lack of sufficient evidence, the parents aren't prosecuted even though they are considered prime suspects. The Tandons file a protest plea against the CDI report. The judge rejects the plea. The trial begins on 8 June, 2012 and the parents are convicted of the murders several months later.
Irrfan Khan plays a familiar character type in this movie as the typical world-weary detective. But his performance consists of numerous little nuances that are absolutely new and unfamiliar. Talvar is a film that slashes the sugar coated and frenzied media coverage of the murders. It brings out the dark and grisly psyche of the parents who are seen committing a double murder and gives the audience goose bumps. All in all, the film does justice to one of the most widely covered murder cases the country has ever seen.
5. The Stoneman Murders(2009) ; IMDb – 7.4/10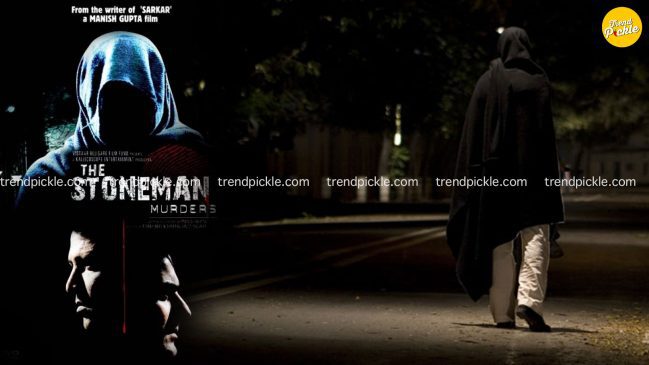 The Stoneman Murders is an Indian suspense thriller film directed by Manish Gupta, based on the real life Stoneman killings that made headlines in the early 1980s in Bombay. The victims of the 'killer who was never caught', were the street dwellers. They were stoned to death in their sleep. There were many questions regarding the case and this film is a fictitious twist to the original story which attempts to answer some of those questions.
The movie begins with the harsh truth that the Stoneman Murder case is of no apparent importance to the police even with victims piling up with the 5th one being recent. But to suspended sub-inspector Sanjay Shelar (Kay Kay Menon), this killer is the key to him getting his job back. With the secret help of his patronizing superior AIG Satam (Viren Gokhale), he takes up the arduous job of catching the killer. He takes help of his trusted aide, Kamble (Virendra Saxena). The official police investigator of the case, Kedar Phadke (Arbaaz Khan), turns out to a staunch opposer of Sanjay. All the people in the street suspect Mohammed, a taxi driver, to be the Stoneman. Sanjay decides to send his wife to the village because he is scared for her safety after their house was stoned and his investigation house was painted vermillion. When Sanjay reaches the station with his wife, he encounters the Stoneman but before he can catch him, he is shot by Kedar who made him to be the Stoneman. He suspects the killer to be a policeman and asks Kamble to inform AIG Satam about the evidence. In the climax, Mohammed turns out to be deployed by Kedar and Kamble turns out to be the Stoneman Murderer who attempts to kill Sanjay twice. He is apprehended in his 2nd attempt and is shot dead in an encounter. The end scenes show that a man in Kamble's village with a voice similar to Satam is performing rituals and asks a person to begin killings in Calcutta to appease his need for offerings. The story ends showing killing in Bombay and Calcutta in 1983 and 1987 in the credits. Sanjay is shown to be old in the present day settled with his wife and daughter.
6. te3n(2016) ; IMDb – 7.2/10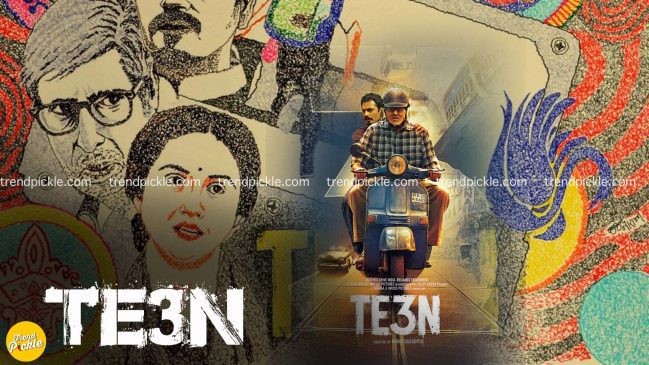 Te3n is a 2016 Indian Hindi thriller film written and directed by Ribhu Dasgupta. This remake of the South Korean film, Montage (2013), has been praised for the acting of the respective stars and a strong storyline but has failed to be a commercial success at the box office.
John Biswas (Amitabh Bachchan) is a 70 year old grandfather who relentlessly visits the police station to find the abductor and killer of his granddaughter Angela (Aarna Sharma) and seeks to reopen an 8 year old case gone cold. Despite having personal problems and discouragement from all those around him, John slowly and steadily finds evidence and constructs a trail to the culprit. He is aided by Father Martin (Nawazuddin Siddiqui) who was the original inspector on Angela's case. One day, Rony is kidnapped in the same way that Angela was resulting in an investigation beginning with Inspector Sarita (Vidya Balan), Father Martin and John. Manohar (Sabyasachi Chakrabarty) is apprehended by Inspector Sarita when he tries to flee with the ransom asked for Rony's abduction and he refuses to confess that he had abducted his own grandson. As the story progresses, it is revealed that after piecing together the evidence, John figured out that it was Manohar who had abducted Angela to procure money for her daughter's heart surgery and to exact revenge on him, John kidnapped Rony. He confronts Manohar about Angela's murder and he reveals that it was an accident when Angela, in an attempt to flee the clutches of Manohar, fell from a height on to a moving car and died. The car was driven by Father Martin who was also injured in the accident.
Far from a glitzy and glamorous backdrop, the old world charm of Kolkata manages to comfort as well as creep out the audience. The dark alleys, street corners and lanes are places that one might visit on a regular visit but the performance of the actors makes such common places come alive. The crumbling plasters and the buildings in dire need of a repaint seem to almost reflect on the septuagenarian who is caught in a web of grief and an urgent need for closure. Amitabh Bachchan, as usual, is on top of his game and delivers a powerful performance. The sarcasm of Father Martin is understood and brought out beautifully by Nawazuddin Siddiqui which makes his role a tad bit eccentric. It is perfect for the actor who has been cast into the limelight because of his flawless execution of an entire range of eccentric roles. The pace of the entire movie is unhurried. It is not a bite-your-nails-off-in-anticipation thriller but one that showcases the human psyche and peels it back one layer at a time.
7. Ghajini(2008) ; IMDb – 7.4/10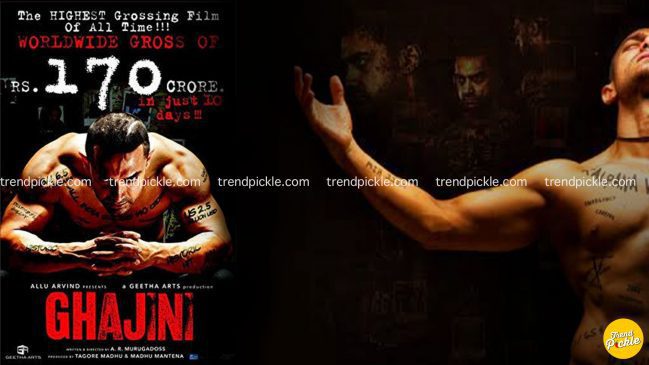 Directed by A. R. Murugadoss, Ghajini is an Indian action-thriller. It is a remake of Murugadoss's own Tamil film Ghajini (2005) which was in turn inspired by the films Memento (2000) and Happy Go Lovely. It follows the story of a businessman who develops anterograde amnesia after being in a violent encounter in which his love interest, a model is killed. He tries to find her killer with the help of photographs taken by a Polaroid Instant Camera and permanent tattoos on his body. The climax was altered from the original plot and was rewritten by Aamir Khan.
The film begins with Sunita (Jiah Khan), a medical student working on a project involving the human brain who wants to pursue the strange case of Sanjay Singhania (Aamir Khan) who suffers from anterograde amnesia; a case which is still under criminal investigation. She decides to investigate it herself. Slowly, it is revealed that Sanjay loses his memory every 15 minutes and to aid him, he uses photographs, notes and maps. He is on a mission to systematically eliminate the people leading up to Ghajini Dharmatma (Pradeep Rawat), a notable person in the city who is directly responsible for Sanjay's mental condition and Kalpana's death. The investigating officer, Inspector Arjun Yadav (Riyaz Khan) traces the clues and ends up in Sanjay's apartment. They get into an altercation and he knocks him unconscious. He finds 2 diaries dated 2005 and 2006. He begins reading the 1st diary. We are transported into a flashback where we see Sanjay to be the CEO of AirVoice Company. What follows are misunderstandings and a disguise that leads to an unlikely friendship between Sanjay and Kalpana. Coming back to the present, Sanjay wakes up and and beats up Inspector Yadav. Sunita enters his flat and discovers his plan to kill Ghajini.
As soon as Sanjay returns, unable to recognize either Yadav or Sunita, he chases after Yadav. Sunita takes both of his diaries and chases behind them. The chase ends with Yadav getting run over by a bus. With the new found information, and ignorant of Ghajini's reality, Sunita tells him about Sanjay. Ghajini abducts Sanjay and destroys all the tattoos on his body as well as all the notes, maps and photographs to leave him with nothing to recover his memory. Meanwhile, Sanjay finds out about Sunita informing Ghajini about his motives and he goes to her dormitory to kill her. Sunita reads the 2006 diary and finds out that Kalpana got romantically involved with Sanjay and was tragically killed when she dared to cross Ghajini by saving the girls he was trafficking when she was on her way to Goa for a modeling assignment. Sunita visits Sanjay in the hospital and tells him about his past which leads to him starting a one man hunt for Ghajini.
He fights off his goons with super human strength but in the process forgets about Ghajini. Ghajini takes advantage and attacks him. He taunts him and begins recreating Kalpana's murder with Sunita as the victim this time. Sanjay, letting his anguish pour forth, overpowers Ghajini and kills him. The frame takes a leap of 6 months where Sanjay has been reinstated as the CEO of his company and is volunteering at an orphanage in Kalpana's name. Sunita gifts him a present that is a reminder of Kalpana and he sees her beside him. The movie ends with a serene smile on his face as he sits on a bench alone.
8. Ittefaq(2017) ; IMDb – 7.2/10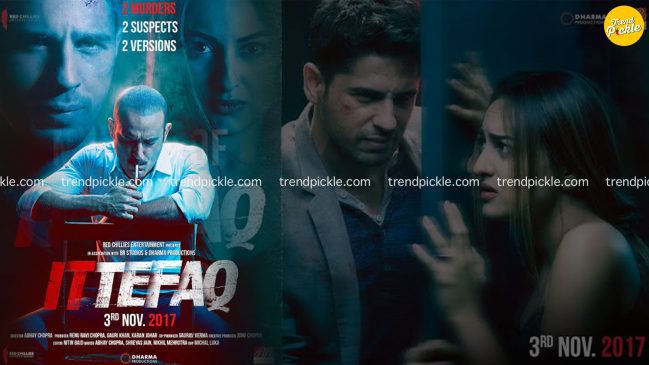 Ittefaq is an India mystery-thriller film, directed by Abhay Chopra.
Vikram (Sidharth Malhotra) is an acclaimed British author of Indian descent. On the launch party of his 3rd book, he discovers his wife, Katherine, lying dead in her hotel room. The police suspect him of her murder so he flees. Consequently, he gets into an accident and rushes to a nearby apartment to take shelter and nurse his injuries. Maya (Sonakshi Sinha), on hearing police sirens, rushes outside to see what the commotion is. The police find Vikram next to the body of Shekhar (Samir Sharma), Maya's husband and burnt remains of photographs in the trash. The investigating officer, Dev Verma (Akshaye Khanna) questions Vikram and Maya. What follows are 2 accounts of the same incident from 2 differing perspectives.
Vikram recounts that he fled his hotel room because he was scared that he would be arrested for his wife's murders and that his wife had taken medicines for her heart ailment. On reaching Maya's apartment, she invited him in and tried to seduce him. When Chirag (Pavail Gulati) rang the doorbell, she introduced him as her husband. But he caught on to her lie as he saw her husband's picture on her PC. As he turned, Chirag hit him on the head with a candlestick and he was knocked unconscious. When he woke up, he saw that he was lying next to Shekhar's body. Here, Vikram is shown to be removing a shoe as if it was pinching his toe.
On the other hand, Maya recounts that she found an injured Vikram on her doorstep who was in desperate need for help. Upon entering her flat, he overpowered her and began going through various documents. She turned away Chirag with whom she has an extra-marital affair. When Shekhar returned home in the middle of the night, Vikram overpowered and murdered him when Maya rushed out to call for help.
What follows is an investigation that leads to the unearthing of various connections that results in things to appear as they are not. The police believe Vikram's version that is supported by the evidence and arrests Maya and Chirag. On his way back to London, when Vikram is waiting to board his flight, he gets a call from Dev. Vikram confesses to having killed Katherine as well as Shekhar. They were going to sue him for being the cause of Sadhna, a rape victim, committing suicide. Vikram had leaked her identity to the media to increase the ratings for his 3rd book. Thus, it became necessary for him to eliminate them. But it is too late to apprehend him. Before the police are able to stop him, he gets on the plane and leaves the country.
Throughout the film, the quintessential question is who is telling the truth. The audience questions which character to believe. And the revelation in the end is unexpected. The camerawork of Michael Sebastian Luka was on point; the close-ups, the shooting in semi-dark rooms with a golden glow increased the mystery component exponentially. This unhurried suspense thriller is brought into a cohesive unit by the crackling acting of Akshaye Khanna. Sidharth Malhotra and Sonakshi Sinha deliver credible performances as well.
9. 36 China Town(2006) ; IMDb – 5.6/10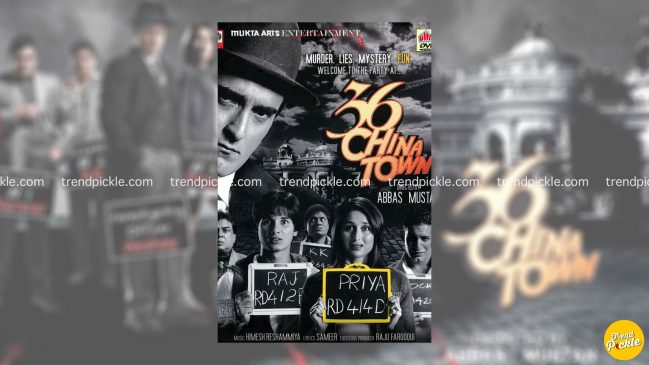 Directed by Abbas-Mustan, "36 China Town" is an Indian comedy murder mystery film. It is an official adaptation of the American film Once Upon A Crime (1992) which in turn is a remake of the Italian film Crimen (1960).
Raj Malhotra (Shahid Kapoor), a cash strapped wannabe Bollywood actor meets Priya (Kareena Kapoor), a runaway jilted girl with her heart broken by her gold-digging lover. Neither of them have an inkling about the kind of mess they would be stepping right in. The duo find a baby who is the lost son of Sonia Chang (Isha Koppikar), the multimillionaire casino owner of Goa. Tempted by the reward money, they contact Sonia and let her know that they have her baby as she contemplates changing her will. Meanwhile, Raj falls for Priya. It is complete one-sided though. Soon they reach Goa but find that Sonia has been murdered. They are scared to death and in a desperate attempt to flee, they are caught by Inspector Karan (Akshaye Khanna). The circumstantial evidence points towards the duo as the culprits but Karan knows that there are missing puzzle pieces. With a multitude of interesting characters who seem to have some or the other motive to murder Sonia, will the killer ever be caught?
10. Talaash: The Answer Lies Within(2012) ; IMDb – 7.3/10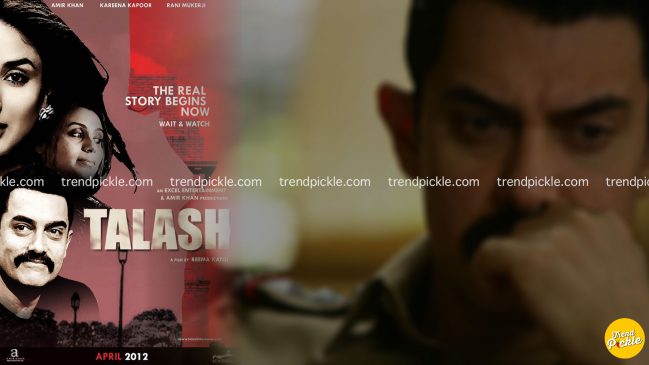 Talaash is an Indian supernatural psychological crime thriller film co-written and directed by Reema Kagti.
The film begins with the an accident occurring late at night on a deserted road of a well known actor, Armaan Kapoor (Vivan Bhatena), who loses control of his car for no apparent reason and plunges into the sea. The police officer called to investigate the case, Surjan Singh Shekhawat (Aamir Khan) is himself reeling under the guilt and grief over the recent death of his son. He discovers that Armaan was carrying cash with him which was missing. Armaan had given the cash to Shashi (Subrat Dutt) for performing a cover-up for him a few years ago. One night, Surjan is proposed by Rosie (Kareena Kapoor), an escort. Though he declines, he asks her to become an informant for him and finds out about Shashi's connection to the case. Shashi was blackmailing Sanjay (Armaan's partner) in the cover-up and Sanjay had him killed.
The police discover his body along with the blackmail money and a DVD that incriminates Armaan , Sanjay and their friend of having links with prostitutes. Rosie reveals that she was the girl who was picked up by them 3 years ago. The 3rd partner, Nikhil was brain dead and was of no help to Surjan. Sanjay is arrested by Surjan when he is able to link him to the murder of Shashi. Sanjay confesses that Nikhil and the girl were in an accident which led to the girl's death. As Surjan drives Sanjay to the police station, in a re-enactment of Armaan's accident, they see Rosie standing on the road. The car plunges into the sea. Sanjay dies and Rosie saves Surjan. He decides to rule Armaan's death an accident on the advice of his superior. He discovers the remains of Rosie and gives her a proper funeral. He gets closure and reconciles with his wife after gaining peace and forgiving himself for his son's death.
The puzzle is set out quite well. The 2 facets of the film: the investigation of an actor's murder and the own personal demons of the investigating officer makes it a compelling watch.