Sanjay Mishra is one of the actors who has waved his own path towards success. His life, full of struggle is inspiring for Bollywood. He has never failed us by his acting, whether it's a comedy movie or his performance in a serious role. He earned his living by selling omelettes and washing dishes. But his determination was beyond everything. This made him a successful person. We respect him!
1. Ankhon Dekhi
Year – 2013
IMDb – 8/10
I was glued on the seat for exactly two hours of the movie. What a masterpiece it was. He adds emotional touch to the movie and even wins Best Actor at the Filmfare. He, being the central character in the movie follows a rule of "Ankhon Dekhi". He believes the stuff he sees from his own eyes. This policy comes out as an enlightenment to the movie. The movie shows the complications occurring in the daughter-father relationship. The movie also pose a question on existentialism. Sanjay Mishra's work as Bauji is beyond praise.
2. Kaamyaab
Year – 2018
IMDb – 8.1/10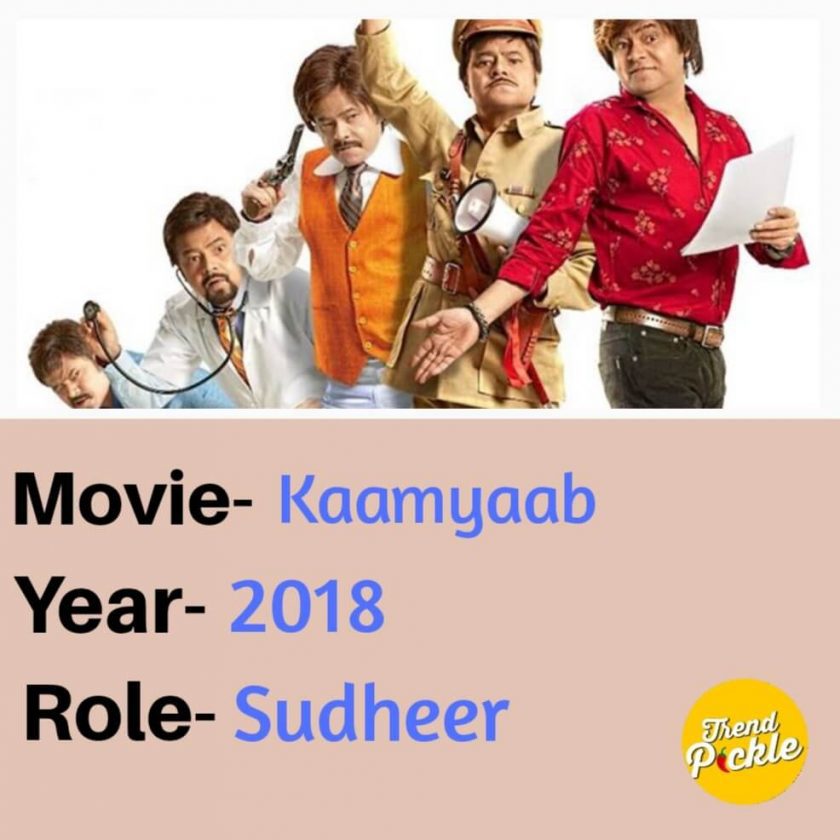 The movie Kaamyaab is different from all the other movies of Sanjay Mishra. This one will always remain close to his heart as the movie is nothing more but his own life. The lead role is played by Sanjay Mishra, who wants to surprise audience by his comeback in the film industry in order to complete a record of performing in 500 movies. The movie showcases the hard story of side-actors who had been wiped out from the movies. Sanjay Mishra as Sudheer is fab. He makes us emotional and our hearts to cry. The movie without the side actors will always remain incomplete. It is a tribute to many actors of the Hindi Cinema.
3. Masaan
Year – 2015
IMDb – 8.1/10
Here comes a movie on a serious issue. It pictures the love of a father who struggles day and night to save the dignity of his daughter and his family. Sanjay Mishra as Vidyadhar faces financial crises so he takes on other measures to rescue her daughter. She has been caught with a boy in a hotel room and the policeman demands bribe. He gives the new shape to the film with his super intense acting. The movie is known for its mind-blowing story and Mishra Ji's acting. The movie is appropriate for all ages.
4. Dhamaal
Year – 2007
IMDb – 7.3/10
Another comedy movie where we see Sanjay Mishra as a thief who threatens one of the protagonists of the movie. The story of the movie is different where Roy, the protagonist ditches Sanjay Mishra and other people to own the treasure themselves. His dialogues and body language is filled with humour. He performs a supporting role but gets enough attention due to his talent and presence in the movie. Audience become the fan of his actions and deportment. Watch this movie if you haven't already.
5. Phas gaye re Obama
Year – 2010
IMDb – 7.5/10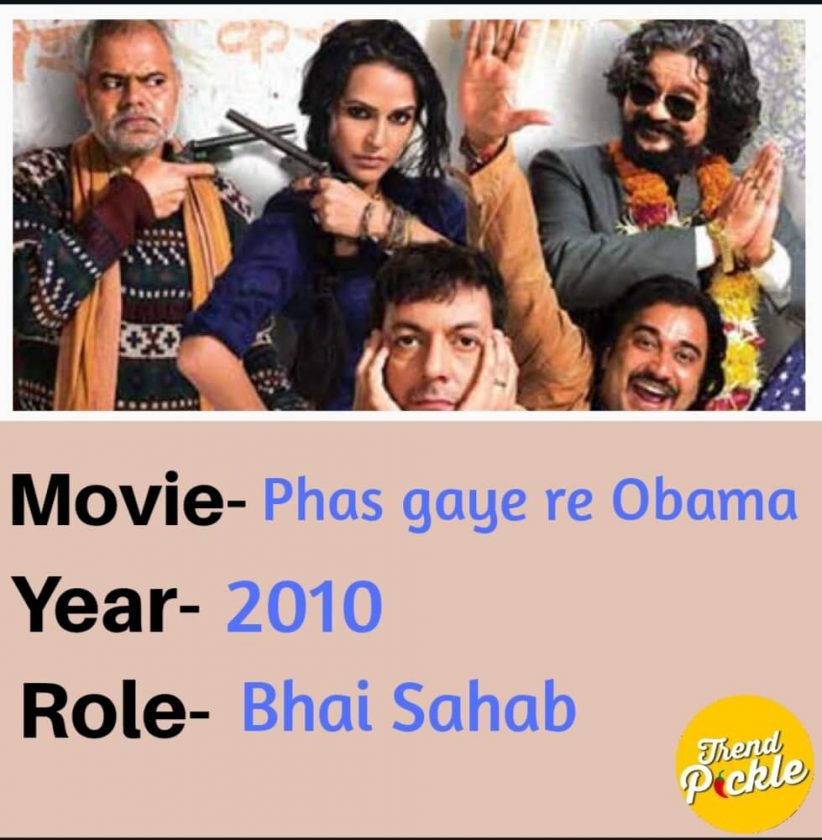 The movie highlights an issue of recession of 2009 in US and then it also came down to India. The movie shows a contradictory view that Obama, being a skilled Prime Minister is unable to control such a situation. The role of Sanjay Mishra is of a gangster who kidnaps an NRI with a dream of making money. The movie on a whole presents the scene of crime and punishment with the use of dramatic Hindi language, puns on Obama's speech –"Yes, We can" and humour created through the use of English language. Sanjay Mishra is greatly appreciated for his humoristic approach.
5. Dum Laga k Haisha
Year – 2015
IMDb – 7.5/10
Chandra Prakash Tiwari in Dum Laga K Haisha portrays a figure of a true Indian father who is tensed because of his son's marriage. His role can be seen everywhere in India and it is one of the reasons why people have liked Sanjay Mishra a lot. Without his charm, the movie would have not been this successful. In spite of his role as a strict father, he doesn't fail to surprise us through his talent in comedy. His presence on the screen is unique and exclusive.
6. Satya
Year – 1998
IMDb – 8.2/10
This movie is no exception. Sanjay Mishra, known for his talent and hard work is recognized by all. A must watch movie with well-deserved actors.
7. Golmaal- Fun Unlimited
Year – 2006
IMDb – 7.4/10
The series of Golmaal made Sanjay Mishra a hit-actor. Though his character had been overshadowed by others, he manages to entertain us by just few scenes. He is seen as Babli Bhai in the movie who plans to rob the blind couple but fails at last. It is an epic moment when Madhav and his folks try to save the couple. He is seen as an under confident criminal in the movie. A must watch film!
9. Jolly LLB
Year – 2013
IMDb – 7.5/10
Jolly LLB is a legal, comedy movie. Sanjay Mishra is the one adding pieces of comedy in the movie, thus making it light. Though Sanjay Mishra is not a lead in the movie, his performance is impactful. The movie deals with the struggles of a common man and a lawyer who face pressure while fighting in the court and at their own homes. We can say that Sanjay Mishra doesn't get a great role in the movie, but he makes us feel his existence with his dark comedy. He plays an important role in setting the path of a movie.
10. Kadvi Hawa
Year – 2017
IMDb – 8/10
Kadvi Hawa is one of the best movies of Sanjay Mishra. He surprised us with his scintillating performance. The motion picture is based upon the grim situation of the farmers, their condition in India and the dangers posed due to which they take their own lives. Deaths of the farmers are a common problem in the village. An alliance is formed between Gunu Babu, an agent and the old man, Heda to save his son. The movie is to see if anyone gets aided by this pact or not. At some places, you can watch a humorous side of Sanjay Mishra. The movie was able to gather a pool of audience. A worth watch film! .