The last thing that Karthyani Amma of Nedumudi saw was her house been absorbed by the raging water and apocalyptic rain showing her fate. "It seems God has forsaken us," she said this while helping other 200 people in a relief camp. Here is everything you need to know about Kerala floods 2018.
Kerala is coping with a phenomenal flood added to that the fragile flood management by the state that worsened the situation.
Locals believed that the Periyar river would turn violent during monsoon but it's quite unlikely for her to turn this unpredictable during this southwest monsoon period. The cherudhoni dam- a part of Idukki reservoir comprising the cherudhoni,Idukki arch dam and kulamavu dam filled up in almost two months which was very unlikely but tremendous rain since July did that part.
While Kerala government is blaming Tamil Nadu for the flood as it claims the sudden release of water from the Mulaperiyar dam which though is located in Kerala but is under the regulations of Tamil Nadu government. The statement came as such that the sudden discharge of water by opening all 13 shutters to Idukki downstream was the main cause which forced the operators to release more water from the Idukki Dam.
Rs.500Cr was sanctioned against the demand for 2,000 by the state government and added to that Home minister sanctioned Rs.100 to the flood relief which sums to Rs.600Cr aid to a disaster where the loss was of Rs.20,000 cr. States like Neighbouring Tamil Nadu (Rs 10 crore) and Andhra Pradesh (Rs 10 crore), Puducherry (Rs 1 crore), Jharkhand (Rs 5 crore), Maharashtra (Rs 20 crore), Gujarat (Rs 10 crore), Punjab (Rs 10 crore), Telangana (Rs 25
crore), Bihar (Rs 10 crore), Himachal Pradesh (Rs 5 crore), Uttarakhand (Rs 5 crore),Chattisgarh (Rs 3 crore) Madhya Pradesh (Rs 10 crore), Karnataka (Rs 10 crore), West Bengal (Rs 10 crore), Manipur (Rs 2 crore) and Tripura (Rs 1 crore) announced as part of donation. Various businessmen and actors like NRI M A Yusuf Ali donated 5 cr. and Kamal Hassan, Suriya contributed Rs 25 lakh each and Dhanush added 15 lakhs to the distress fund.
While the new addition to the streak has been the "Aid by UAE" story. While many criticized the Central Government for not accepting the donation especially the Kerala CM office and even targeted them for their Anti-South action during the Kerala flood rescue mission. However, it is quite weird to note that no such official announcement has been made by the UAE government.UAE Ambassador Ahmad Albanan said that his government only set up a national emergency committee to provide relief assistance to the flood victims. Moreover, the central government announced to provide more 320Cr to Kerala as disaster relief fund 2018-2019 which is excluded from the 600cr which was released by the government as an immediate relief which sums up to 920Cr. to the Kerala flood against the 4000cr. sanction to Kumbh Mela,3755 cr to BJP's publicity which is questionable.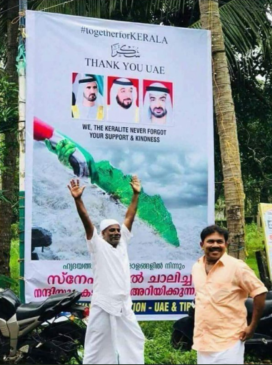 While many critics lament over why Kerala floods haven't been termed as "National calamity" they are possibly quite unaware of the Disaster Management Guidelines that there is no such provision for declaring a disaster as the national calamity and is only an expression used in general parlance. The government has categorized the disaster as the L-3 level disaster under the Disaster Management Guidelines.
With death toll reaching 400 and dozens missing and dead bodies flowing like dead ants and thousands sheltering in some 5000 relief camps around the state.3,500 medical camps and the people of Kerala pulling their socks up to rescue others and helping prevent another devasting scenario.
Keeping everything aside, are we trying to politicise a natural disaster? While BJP and Congress are playing a blame game on Pinarai Vijayan Government for the deluge and lack of foresight that caused the havoc. While the Kerala State Electricity Board defended by its statement that the water from dams was released only after prior notice. Playing a tug of war between what is the actual cause of the flood, many blame the government for not being alert enough and termed it as "man-made flood" against the statements of the state government's defense that the flood was caused due to heavy rain. Well, let's see what pops out of the shell.
Amidst all these chaos, Kerala is now dusting off the mud and blood and has geared to clean the houses and the public places which were damaged by the unpredicted rain. Televisions, furniture, and other household things lie upside down and damaged. Certificates, ration cards, aadhar cards will be freshly renewed by the state as they have lost their train in the water. But what's a cause of worry is the shortage if clean and safe drinking water. Mud and drains have contaminated the water and the pipeline supply of clean and purified water need to be done by midnight. Though water is receding slowly but places like Kuttanad and areas near riverbanks are still submerged. Among all the worst hit was Ernakulam having around 5 lakhs people in 850 camps.
Featured Image credit – NDTV