Many times it happens that we cook something but it becomes surplus and isn't consumed altogether. We store it in the refrigerator and eventually either forget about it or don't want to eat the same thing again but you also don't want to throw away and waste food. In this series, we bring you a variety of recipes to give your leftover food a twist and makeover and bring out something different out of it. In this way, you won't have to eat the same food again and again and also minimize the wastage of food. To start with here is how to make delicious Upma balls with leftover Upma.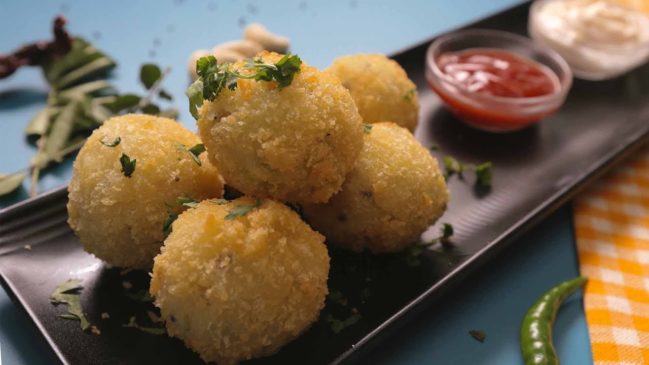 Makeover of Upma – Upma Ball
How to make Upma balls?
Upma Balls Ingredients :
3 Cups leftover Upma
1 Cup Besan (Gram flour)
3-4 Green Chillies finely chopped (adjust the number of chilies according to your taste )
1 Medium sized onion finely chopped
1 tablespoon salt
2 tablespoon Red Chilli powder
2 tablespoon Chaat Masala
Pinch of Ajwain (Carom Seeds)
1 tablespoon Lemon juice
1 tablespoon Maggi Masala
Oil for frying
Also read – Here are 7 ways to trick your brain into loving vegetables.
Method to make Upma balls:
1. Take besan, salt, and ajwain in a bowl. Slowly add water, little at a time and make a smooth batter. The batter should not be too runny or too thick.
2. Now take the Upma in a bowl,  add all other ingredients except oil.
3. Incorporate all the ingredients properly and mix. Knead the Upma mix just as you knead atta so that it doesn't separate out while frying. Make sure the Upma is tight inconsistency.
4. Heat oil in a deep kadhai.
5. While the oil is getting hot, take the Upma mix and make medium sized balls. Slightly press them to give a flattened shape.
6. Once the oil is hot enough, dip the Upma balls in the besan batter, coat both sides with the batter and fry in the oil in medium heat.
7. Fry both sides till golden brown.
8. Serve hot with chutney of your choice or sauce.
Have you ever cooked Upma balls with leftover Upma, let us know your Upma balls recipe with us in the comment section.