"We choose to go to the moon in this decade and do the other things, not because they are easy, but because they are hard, because that goal will serve to organize and measure the best of our energies and skills, because that challenge is one that we are willing to accept, one we are unwilling to postpone, and one which we intend to win."
-JOHN F. KENNEDY  Human beings have made so much efforts to explore it. So here some of the space exploration accomplishments made by them.
1. FIRST MAN IN SPACE –
April 12,1961:
After creating history with Sputnik-1, it further achieved success by sending YURI GAGRIN to space in 1961. Gagrin was took to the space in Vostok 1 and it orbited the Earth at a maximum altitude of 187 miles. The journey lasted for one hour and 48 minutes. After this historic feat, Yuri Gagrin instantly became a world wide celebrity. Valentina Tereshkova became the First woman to fly in space via Vostok 6 in 1963.

2. FIRST HUMAN ON THE MOON:
Apollo 11 is humankind's most momentous moment in space. NEIL ARMSTRONG, BUZZ ALDRIN & MICHAEL COLLINS ended the space race on July 20th 1969. Armstrong's first step onto the lunar surface is one of the most iconic moments. Aldrin joined him 19 minutes later. Armstrong and Aldrin planted the American flag before leaving the moon. Apollo 11 is a giant leap for mankind and it still sets the benchmark for space exploration.

3. FIRST SPACEWALK –
March 18,1965:
Having put the satellite, man, and woman into space, the Soviet Union is also responsible for the first spacewalk. ALEXEY LEONOV became the first-ever man to conduct a 12-minute spacewalk. Leonov left the VOSKHOD-2 spacecraft in March 1965. Though the mission was a success, in the end, there were endless problems. His spacesuit inflated too much to use the chest camera and caused difficulties to return to the ship. The first spacewalk is indeed a dangerous affair. This mission is also proved to be problem-solving masterclass.this is one of  15 space exploration accomplishments.

4.SPUTNIK-1, THE FIRST ARTIFICIAL SATELLITE:
SPUTNIK-1, successfully launched by the SOVIET UNION on October 4, 1957, is the first artificial Earth satellite. The 184 pounds satellite orbited the Earth every 98 minutes travelling at 28,968 km/h.SPUTNIK-1 emitted back signal to Earth for 23 days, until October 27, 1957. It travelled for 92 days until January 4,1958 when it eventually burned up re-entering Earth's atmosphere.this mission involved in the space exploration accomplishments.

5. SALYUT-1: THE FIRST SPACE STATION
SALYUT 1, launched on April 19, 1971, by the SOVIET UNION, was the world's first space station. The first mission of the cosmonauts attempting to dock with Salyut 1 was aborted due to the design issue. During the second attempt, three men Soyuz 11 crew were able to complete docking and they remained on board for 23 days. However, the mission ended in tragedy due to the smoke from the control panel killing all three crewmen.

6. NEW HORIZONS
New Horizons flyby of Pluto began its approach phase towards Pluto on January 15,2015. It became the first-ever spacecraft to fly by Pluto getting as close to 7,750 miles and collecting never before seen images and data of Pluto. In 2006, it passed the orbit of Mars and tracked a small asteroid for 2 days. It also photographed Jupiter and the journey didn't stop at Pluto. The mission is extended to observe Kuiper belt.
7. THE START OF THE SPACE SHUTTLE ERA:
The Start of the Space Shuttle Era tool place on April 12th 1981. The space shuttle program was America's ticket to stars for 30 years. Five shuttle fleet of Atlantis, Challenger, Columbia, Discovery, Endeavour flew of combined 135 missions. The vast majority of shuttle missions were success but there were two tragic events. A combined 14 astronauts were killed during the Challenger and Columbia disasters. When the Atlantis landed for the last time in July 2011, it was the end of an era.

8. THE VOYAGERS PROGRAMS:
The Voyagers Programs started with two crafts, launched on August 20th 1977 and September 5th 1977, sent to explore Jupiter and Saturn. Even after four decades since launch, Voyager 1 and 2 are still out in space exploring unknown. The probes have visited all of the outer planets of our Solar system and 48 moons. Both are now far beyond Pluto. Voyager 1 became the first spacecraft to enter interstellar space in August 2012.

9. HUBBLE SPACE TELESCOPE –
April 24,1990:
The Hubble Space Telescope was named after the American astronomer Edwin Hubble. Since its launch in 1990, Hubble has travelled more than 3 billion miles and has taken more than 1.2 million observations. The data collected from Hubble Space Telescope has helped us to estimate the age of our universe to be 13.7 billion years old. It also helps us to broaden our knowledge about black holes.

10. MARS EXPLORATION ROVER –
June 10th 2003 & July 7th 2003:
Mars Exploration Rover involves two rovers: SPIRIT and OPPURTUNITY. Since its launch the twin rovers have exceeded their targets. The rovers are designed to analyze soil and rock samples to determine whether there is , was or ever could be life on Mars. The Mission of SPIRIT ended in 2011 as it lost its contact in 2010. While OPPURTUNITY was active until 2018. Images and data sent back by OPPURTUNITY have proven vital and humankind's quest leaving us to learn more about Martian history. It also hopes future for manned missions.

11. FIRST CREATURE ON SPACE-
November 3,1957:
The Soviet Union once again stunned the world with the launch of Sputnik-2. On board was a dog named Laika but Laika died in few hours due to overheating. The first living creatures to sustain a space flight is Able andBaker. Able, a female rhesus monkey and Baker, a female squirrel monkey , were sent into space by the US on a Jupiter missile.and one of the space exploration accomplishments.

12. SPACESHIPONE:
THE FIRST PRIVATE SPACECRAFT:
The first non-governmental manned spacecraft, SpaceShipOne , launched on June 21,2004. It flew 62.5 miles above Earth's surface to reach the boundary of space. SpaceShipOne was 28 feet long. The fuselage was about 5 feet in diameter and could carry a pilot and two passengers.this is one of  space exploration accomplishments.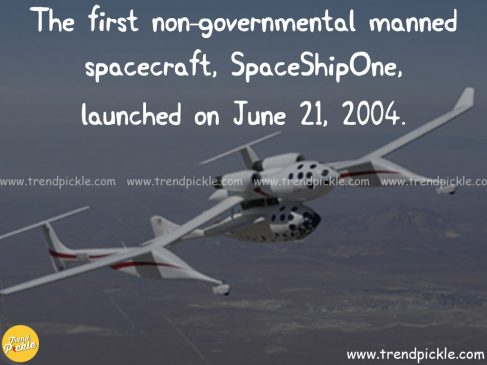 spaceshipone
13. EXPEDITION-1:
EXPEDITION-1 was the first long-duration stay on the International Space Station. A crew of three person stayed on board for 136 days. The crew consisted of two Russians and an American commander. It provided uninterrupted human presence on the station. Expedition 1 started on November 2, 2000 ended its mission on 19 March 2001. It also consisted of three crew members.

14. ASSEMBLY OF ISS:
The INTERNATIONAL SPACE STATION is a space station and an obituary laboratory. Its construction involved 16 nations. Assembly of the ISS began with the launch of its first module, Zarya, on a Proton rocket from Baikonur. The ISS is the largest artificial body in space. The station has been continuously occupied since November 2000. In that time, more than 200 people from 15 countries have visited.

15. ACHIEVEMENTS OF MANGALYAAN:
Mangalyaan which is also known as Mars Orbiter Mission (MOM) was the first successful mission from Asia. The main reason why it is super popular is because of the cost effective project around the budget of $70-74 million. It was launched by India on September 5 ,2013 under the supervision of K.Radhakrishnan who was the chairman of ISRO.amd one of the space exploration accomplishments.