Dubai is of the essence when it comes to top destinations for shopping and other activities. With numerous shopping centres, ports, skyscrapers, malls, and beaches, Dubai, a place of diverse cultures, has enough to gratify the needs of tourists, both leisure and lavish.
The amazing city can offer you a lot with its exciting nightlife. That is why Dubai is appealing as one of the leading travel destinations and appears on the bucket lists of most tourists across the globe. Though Dubai is among the world's most opulent travel destinations, it does not preclude you from visiting Dubai on a tight budget. Budget travellers will find Dubai very accommodating, with several things to do, which are not expensive.
With some leading travel websites offering cheap flights from India to Dubai, you can plan your Dubai visit within budget. You can find exciting deals for flights from New Delhi, Chennai, Mumbai, Bengaluru, and Hyderabad to Dubai on such websites. Have a different experience travelling on board flights by leading airlines like IndiGo, Air India, Emirates, SpiceJet, flydubai, and Air India Express.
When you are on a tight budget, you naturally do not want to spend much while still making the vacation special. Dubai has hotels with excellent lodging options for travellers on a tight budget. Some things that you can do in Dubai without spending much are:
1. Visit Sheikh Mohammed Centre for Cultural Understanding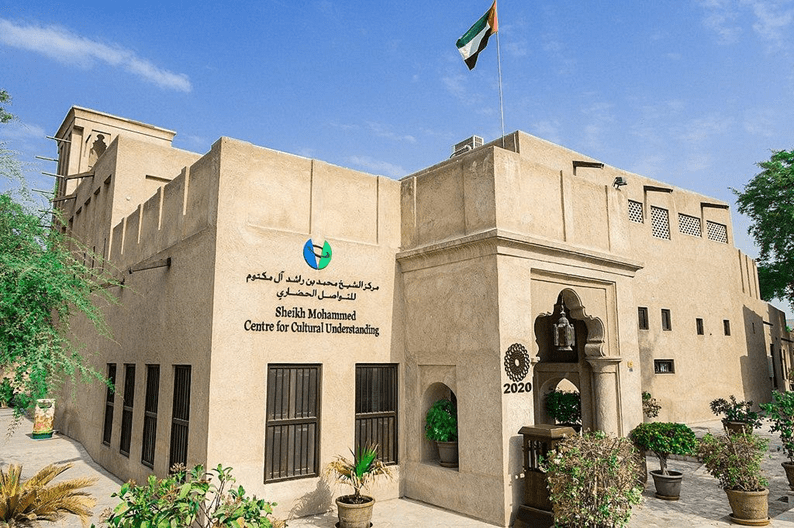 Image Resource: en.wikipedia.org
Dubai is known for several large mosques, and the Sheikh Mohammed Centre for Cultural Understanding is one among them, which you can visit for just AED35. You can take a guided tour of the Jumeirah Mosque to know the history and Islamic culture of the place.
The 'Open Doors, Open Minds' mission at the mosque allows you to ask questions to get more information on any subject. When visiting the place, you need to wear modest attire, which includes long sleeves, skirts or trousers, long sleeves, and headscarves (for women).
2. Explore the Souks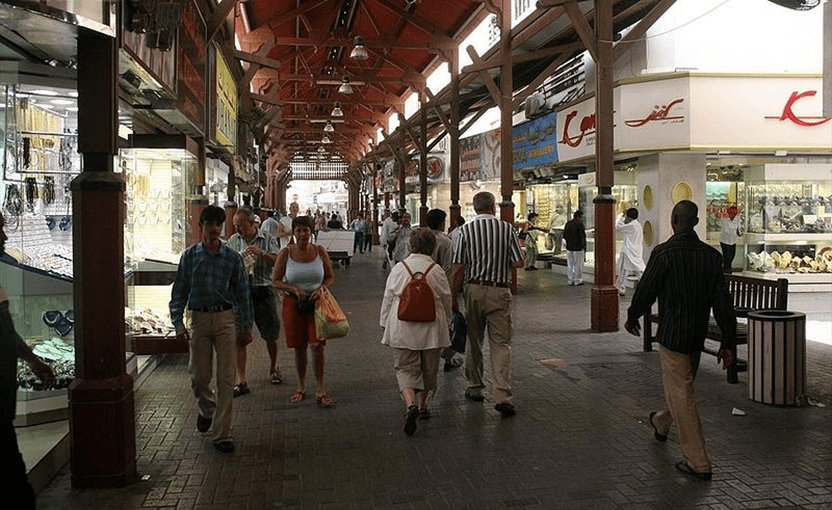 Image Resource: en.wikipedia.org 
You can easily access the Gold Souk, Perfume Souk, and Spice Souk on foot from Dubai Creek's Deira side. To make a quick trip to the Textile Souk in Bur Dubai, you have to take a water taxi or an abra.
Dubai's most well-known market, the Gold Souk, is regarded as the largest gold market and the best place in Arabia and the world to shop for exquisite jewellery, gemstones, gold, and silver, whether you are shopping for expensive things or daily wear.
The well-known Spice Souk is located just south of the Gold Souk and offers a stunning variety of spices and dried herbs that can be bought at reasonable costs. You will be astounded by the range of colours and unusual scents at the souk.
The Perfume Souk will envelop you in the rich aromas of fragrances, which include traditional Arabic attars in elaborate or decorated bottles. The covered passageways of the Textile Souk are just a short boat trip from the markets in Deira. You can find numerous stores here offering a wide selection of fabrics in cotton, silk, cashmere, and wool, which include both machine-made and handwoven. You can spend time window-shopping in these souks if you do not want to buy anything new.
3. Enjoy Aquatic Displays at the Dubai Fountain
The magnificent Dubai Fountain, which is situated at the Burj Khalifa Lake, includes a system of lights and fountains that work together to produce a spectacular performance that is accompanied by music.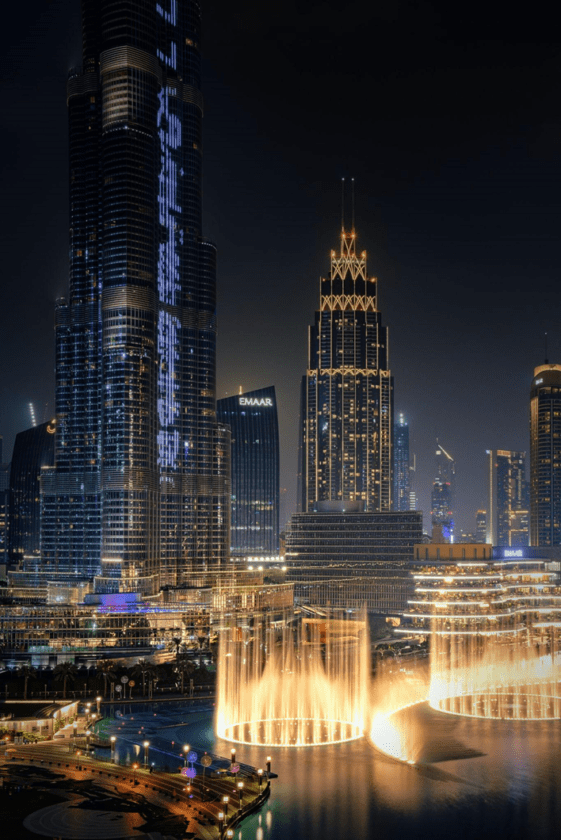 Image Resource: unsplash.com
The fountain has a sophisticated lighting system with 6,600 lights and 50 colour projectors. The fountain's water jets reach a height of 500 feet. It is accompanied by a variety of Arabic music, from classical to modern.
Tourists keep visiting the Dancing Dubai Fountain to watch the stunning displays performed by the synchronised water jets every 30 minutes in the evening. Even though it is free to visit the fountain, there are several restaurants and casual eating places around Souk Al Bahar and The Dubai Mall, offering excellent aquatic displays, waterside views, and food at affordable prices.
4. Visit the Famous Jumeirah Beach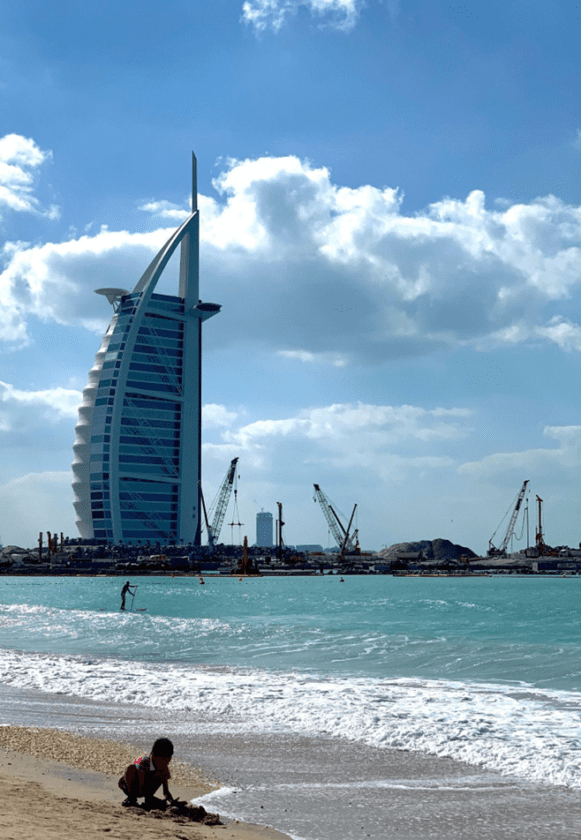 Image Resource: unsplash.com
Jumeirah Beach is a popular beach in Dubai, offering a lot of fun in its warm blue waters and on soft golden sands. You can enjoy yourself with your family at the beach and children's playground area. This beach offers a variety of activities and is available from early in the morning until sunset. It's located in the northern part of Umm Suqeim 3 in the city centre.
5. Discover Different Cultures at the Global Village
You can tour the enormous Global Village, which is a shopping and entertainment complex, for free. There are 90 different cultures on display. Even if you have no intention of making a purchase from one of the local stores, experiencing the region's diverse cultures is an excellent way to be within budget.
Carnivals, events, shopping, and food are among the four primary divisions of the village. You can still keep within a budget shopping here.
With several other places like the Dubai Museum, Dubai Creek, Al Qudra, and Marina, Dubai offers enough places for budget travellers. The online system enables you to check the airfare calendar for the lowest prices and book cheap flights from India to Dubai well in advance.