"It is a tremendous learning experience to visit India," said the 45th President of United States Donald Trump. India's immense hospitality of  Donald Trump along with his wife and First Lady Melania Trump, daughter Ivanka Trump and son-in-law Jared Kushner is getting attention from across the globe. Trump's whirlwind India tour 2020 had packed with visits to places of ancient significance, public addressing, and diplomatic gatherings.

Sabarmati Ashram, Ahmedabad

On the first day of Trump's India visit, the US President and First Lady Melania Trump had received by PM  Modi in his native place Gujarat. They all went to paid tribute to Mahatma Gandhi at Sabarmati Ashram, which was home to Mahatma Gandhi during India's freedom struggle. PM Modi described the essence of this place in India's freedom struggle. During the visit, Trump and Melania also tried their hands on the khadi spinning wheel, popularly known as charkha. They said the place gave them a sense of peace, tranquility and understood the symbolism of this serene place. Trump and Modi then resumed their massive roadshow.
Motera stadium, Ahemdabad

Soon after the two leaders addressed a huge gathering of diverse people across India in India's largest stadium- Motera Stadium. PM Modi delivers a welcome speech and continues the 'Namaste Trump' show and invites Trump to deliver a short speech where he expresses his gratitude and loyal friendship towards PM Modi, and some diplomatic conversations that he will be going to do or also an emphasis on some quotes that he had conveyed during his speech-
"PM Modi and I will be making some very big trade deal to boost our countries economy. I am sure that we can reach a good trade deal. But, PM Modi is a tough negotiator. A booming America is great for India and the world."
"The US and India are working closely in the field of space exploration…Chandrayaan is a great program…US is looking forward cooperating with you…US and India will be partners in our journey to the stars."
"Both countries are united in defending citizens from the threat of radical Islamic terrorism. Under my administration, we unleashed the full power of the American military on bloodthirsty killers of ISIS. Today ISIS territorial caliphate is 100% destroyed. Monster Al Baghdadi is dead."
"India gives hope to humanity. In just 70 years, India has become the largest democracy and has become one of the greatest nations in the world. India will soon become the home to the world's largest, middle class."
Now, by comprehending each word and sentence said by Donald Trump during his speech, Indians should look at how we will get benefit economically.
Taj Mahal, Agra
Trump accompanied by his family visited the iconic serene beauty of Agra. Taj Mahal is the manifestation monument of love and Trump's daughter and his son-in-law embrace the tranquillity and understood the essence of the Taj Mahal. DonaTrumpump and his wife Melania Trump held hands as they strolled at the Taj complex and enjoyed the amazing view of the marble in the evening. He expresses his view and describes his perception of Taj Mahal beauty in the visitor's book where he wrote"Taj Mahal inspires awe, a timeless testament to the rich and diverse beauty of Indian culture! Thank you, India".
Delhi

After experiencing, the beauty of Agra, on the next day Trump and his wife visited the national capital of India. Where they laid a garland at the Gandhi Samadhi, offered floral tributes and also planted a tree sapling at the Rajghat. They were followed by Union Minister Hardeep Singh Puri at the Gandhi Samadhi. President
Trump had continued restricted and delegation-level bilateral talks with PM Modi at the Hyderabad House in  Delhi. The US and India will sign agreements and then both leaders will make a joint statement and as Trump said during his speech at Motera Stadium "That is why I have come here to India, in the spirit of fondness and goodwill, to expand our cherished partnership of incredible power and potential". It exhibits that the discussion about military, space exploration and most important trade deals would take place or not.
United States First Lady Melania Trump visited the Government School to interact with students who have taken and initiative in the 'happiness curriculum' introduced by the Aam Aadmi Party (AAP) government. The school had welcomed her in an enthusiastic way, where all students are dressed up so well.  As a part of the program, students are taught various activities including meditation, street plays and basic obedience to reduce anxiety and stress levels among children.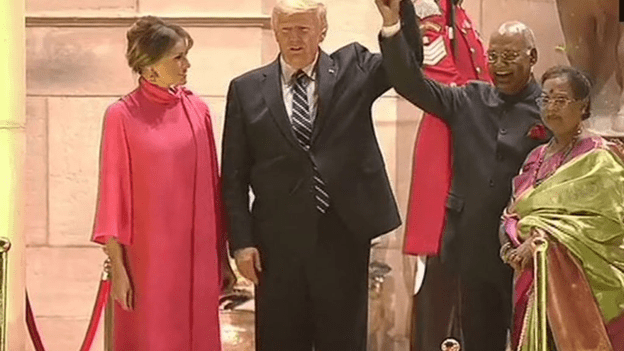 Later, United States President Donald Trump attended a state banquet hosted in his honor at the Rashtrapati Bhavan by President Ram Nath Kovind, the last function of his two-day visit to India. Trump followed by US First Lady Melania Trump was received by President Ram Nath Kovind and his wife Savita at the forecourt of grand Rashtrapati Bhavan. Later, the two presidents met for ceremonial communications during which India's President said the importance of the Indo-US relations could be estimated from the fact that a large number of people came to welcome him. Trump said the last two days had been "very productive", adding
both countries are working for trade and military deals, He also said coming to India has always been a learning experience and thanked Kovind for the hospitality continued to him and his entourage.
BUT DOES INDIA FEELING PRODUCTIVE AFTER TRUMP'S VISIT?
It is a big question arose in mind of Indian leader and democrats are thinking. If we remind each word said by Trump during a press conference we can conclude that Yes, India is benefited by Trump's visit. Trump conveys his message through the conference on how to make ties and increase the Indo-US relationship in an efficient manner.
India and the United States sign a 3 billion great deal for military choppers.
India is going to be a major player in the next 50 to 100 years; India is going to have a phenomenal future: Trump
India is probably the highest tariff nation in the world, says Trump
"If the trade deal happens with India, it will be towards the end of the year," says Trump
"Discussed Pakistan with PM Modi; I have a good equation with Pakistan PM Imran Khan, they are working to control cross-border terrorism," says Trump
Trump says he talked about religious freedom with Modi, who said he wants people to have religious freedom. "We did talk about religious freedom. Prime Minister Modi wants people to have religious freedom in India…If you look back India has worked hard for religious freedom," Trump said.
"I didn't discuss with PM Modi, it is up to India," says Trump on violent incidents in New Delhi during his visit and also on the CAA act.
"I don't think anyone has done more than I did," says Trump on containing radical Islamic terrorism
"At this moment, India doesn't have much of a problem with coronavirus," says Trump.
Now, we just have to observe that will India implements and execute all the deals accurately and commit to openness and fair and balanced trade and bilateral trade between Indo-Us has seen growth. I hope the Indo-Us relationship will surely benefit India.