Despite what you might think, gamers are actually pretty easy to shop for. New games and gaming tech are constantly being released, so gamers are always looking to upgrade or try the latest games.
Still, if you're not sure what to get the gaming lover in your life this holiday season, here are several gift ideas for all types of gamers (and all types of budgets).
Gaming Controllers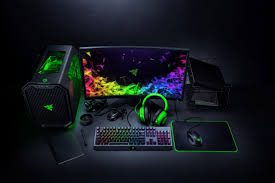 Bad controllers can affect how well you play the game and how much you enjoy the game. A good wireless controller (or two, so your gamer can challenge a friend) will make a world of difference. All you need to know is what type of console they have before you make a purchase. You can usually find wireless controllers for around $25 to $40.
For PC gamers, the Microsoft Xbox One wireless controller is considered to be the best gaming controller available right now. This is because of its price ($40) and design. For another budget option, there's also the Sony DualShock 4 controller at $35. However, if you want the best that money can buy, go for the Microsoft Xbox One Elite Series 2 controller, which is around $170.
VR Headset
Virtual reality has come a long way over the last few years, and there are a lot of great headsets on the market now. Most good headsets will set you back around $200 to $400. One of the best ones available right now is the Oculus Quest, which retails at about $400. It comes with everything you need, is completely wireless, and includes some great touch controllers to enhance gameplay further.
For a more affordable headset that still offers a great experience, go for Sony PlayStation VR. You can usually find it online or in-store for around $200 to $250. Besides the price and quality, PlayStation VR is also a good option if you want a wider selection of VR games to choose from. If your budget for a VR headset is less than that, opt for the Oculus Go for $150, the Google Daydream View for $80 or less, or Google Cardboard for $15.
Retro Gaming Console
For gamers that love the old school gaming consoles and games, you can't go wrong with one of the older consoles or handheld systems like the Nintendo Game Boys. You can find these for cheap online, and you can often buy games for them in bulk, too.
Another option is to get them a retro gaming console, which is an updated (and smaller) take on the classic consoles. For Nintendo, there's the NES Classic Edition ($95) and the Super NES Classic ($150), both of which come preloaded with dozens of games. If you don't want to go with Nintendo, there's also the SEGA Genesis Mini ($50) and the PlayStation Classic ($25).
Gaming Subscription
When in doubt, a gaming subscription is always a good idea. There are a number of different kinds available, such as subscriptions for playing games, live gaming, and live streaming. If you're not sure what type of gaming your gamer likes, a Twitch subscription is one of the best gifts you can get any gamer, from poker players to eSports players. It's the world's most popular live-streaming platform for gaming. It offers gamers a chance to socialize, discuss strategy, see what their favorite pro gamers are up to, and much more.
Games Themed Wall Art
Consider buying some game poster or game themed canvas, any games wall art can create a playful vibe in the gaming room. This gaming themed wall art can be also improved with some led light by choice to make the room look even cooler!
If you know what type of device your gamer has, or what type of games they like, you could go for a gaming service like Apple Arcade, PlayStation Now, Xbox Game Pass, or EA Access. They all come with an incredible number of games that can be played at any time as long as you have a subscription, similar to a movie or TV streaming service. This is also a great option if you don't want to spend too much on a gift since you could get a gift card for $20 to $25.
No matter what the gamer in your life is interested in, one of these gift ideas is sure to please any gamer!