14. Bachchan (2013)
IMDb – 6.6/10
An action-psychological thriller that will grip you till the end. A businessman sacrifices everything in order to save his lady-love who is being mercilessly tortured by some goons. Will he succeed in his mission?
Watch Trailer:
15. Kaamannana Makkalu (2008)
IMDb – 6.8/10
This flick is a comedy drama that revolves around a theif Kaamanna and his two sons who promise to give up robbery in order to lead an honest life. It was dubbed in Hindi as 'Aandi Aur Toofan.'
Watch Trailer:
16. Vishnuvardhana (2011)
IMDb – 7.2/10
A comedy thriller that will make your day brighter. Vishnu is a good-for-nothing who loves being an idler, but desires to get some quick money. He goes on a mission to win the hand of an NRI girl, but finds himself in nasty situations. This superhit film was dubbed in Hindi as 'Mr. Mobile 2.'
Watch Trailer:
17. Varadhanayaka (2013)
IMDb – 6.2/10
Dubbed in Hindi as ''Ek Tha Nayak', this action film is about how ACP Vardhanayaka tries to put the dreaded criminal Shankar in his place. The movie fared quite well.
Watch Trailer:
18. Sipaayi (2016)
IMDb – 6.5/10
Sipaayi explores how a TV reporter aims for the skies by fighting against illegal activities happening in his city. A must-watch for all action movie lovers. The film was dubbed in Hindi as "Virat Ek Soldier."
Watch Trailer:
19. Pailwan (2019)
IMDb – 6.4/10
The film marked Suniel Shetty's debut in Kannada cinema. This sports action film is about an orphan who goes on to become a wrestler and boxer while handling goons who dare to disrupt his life. The film got positive reviews and was released in Hindi as "Baadshah Pehlwaan."
Watch Trailer:
20. Mr Theertha (2010)

IMDb – 6.5/10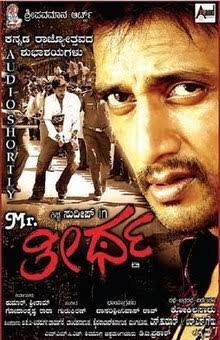 Remake of the Malayalam film "Spadikam", the film explores an emotional relationship between Narayan, a mathematics teacher and his son Theertha. The father wants his son to make a career in mathematics, but the latter has different ideas. The film was dubbed in Hindi as "Rowdy Shankar."
Watch Trailer:
21. Chingari (2012)
IMDb – 5.6/10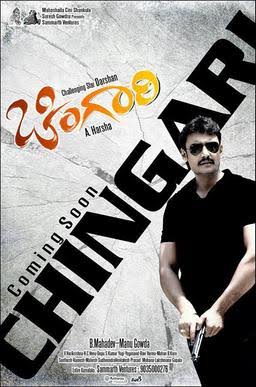 Inspired from the French-American film 'Taken', Chingari tells us the thrilling tale of a super cop C.C.B officer Dhanush (Darshan) who is on a journey to rescue his kidnapped girlfriend before she gets swallowed into the world of prostitution. Produced on a massive budget of US$ 1.1 million, Chingari became an instant hit.
Watch Trailer:
22. Dhumm (2002)

IMDb – 7.1/10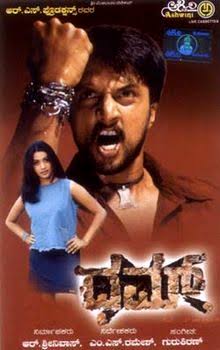 An interesting action-family-drama, Dhumm is all about a man who sets out to avenge the murder of his sister by hook or by crook. He acts against the wishes of his mother who dislikes his ruthlessness. This flick was released in Hindi as 'Dumdaar'.
Watch Trailer:
23. Chamundi (2000)
IMDb – Not rated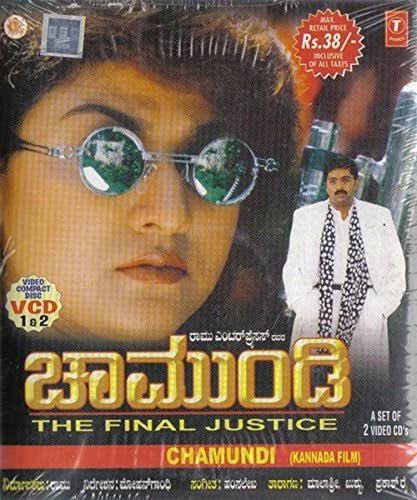 Chamundi is a daring woman who kills a criminal but finds herself stuck in the jaws of law. An interesting film that depicts a leading female in a different way, Chamundi is a must-watch.
Watch Trailer:
24. Gaja (2008)

IMDb – 7.2/10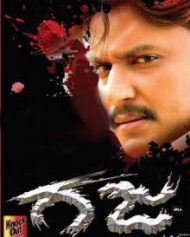 Gaja is all about a cat and mouse game that takes place between Gaja (Darshan) and his friend's rivals who chase him when he kills their leader. Many positive reviews were showered on this action-thriller flick and it was dubbed in Hindi as 'Gajja Thakur'.
Watch Trailer:
25. Maanikya (2014)

IMDb – 6.5/10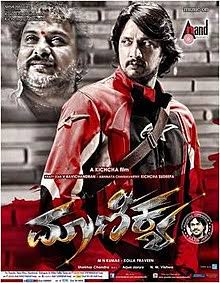 The plot of this superhit romance revolves around Vijay and Maansa who are in love with each other, but their families have been crying for each other's blood since 25 years. The film will satisfy you to the fullest in every way.
Watch Trailer:

26. Kataariveera Surasundaraangi (2012)
IMDb – 5.6/10
It's a sequel to Upendra's 2003 film Rakta Kanneeru, in which he plays a wannabe don who dies in a gang war, and winds up in hell after suffering the brunt of heaven's beauty and silence. In the midst of this Upendra meets Yama (Ambarish), who cannot decide if he should go to hell or heaven since he has not committed any sins or any good deeds. Indraja (Ramya), the daughter of Indra, also falls in love with Upendra.
Watch Trailer:
27. Thirupathi (2006)
IMDb – 6.2/10
In this story, an honest police officer faces off against his criminal father.
28. Nalla (2004)
IMDb – 7.3/10
The story revolves around Pachchi, an auto mechanic, who accidentally meets Preethi, a mentally ill patient. He starts caring for her, taking her to the hospital, and then she begins looking for him all over the town.
29. Nandhi (2002)
IMDb – 7.3/10
To complete his education, a murderer attends law college to achieve a peaceful and honest life.
30. Ramarjuna (2021)
IMDb – 6.4/10
After losing his loved ones, an insurance agent realizes the importance of life, as well as how he transforms himself and seeks justice.
Watch Trailer:
31. Aadya (2020)
IMDb – 6.8/10
A man receives a call from his ex-lover asking for help finding her kidnapped child, but the evidence indicates that she never had a child.
Watch Trailer:
32. Roberrt (2021)
IMDb – 6.6/10
Raghava lives with his son Arjun in Lucknow and is the head cook in a Brahmin's catering business. He seems to have it all, until skeletons emerge from his closet and he is forced to take on his original form.
Watch Trailer:
Which is your favourite Kannada movied dubbed in Hindi? Let us know in the comments section!