With people switching to online media for entertainment, various OTT platforms are gaining popularity. These platforms are famous among youth, particularly targeting the age group between 15 to 35. In this article we'll be talking about one such platform – Voot. Voot is Viacom 18's advertising-led video-on-demand platform and has been entertaining users since 2016. This platform is very popular among Indian audience as it offers shows from the most popular channels on TV like Colors, Nickelodeon and MTV. Several original shows are streaming on Voot in multiple languages such as Marathi, Telugu, Tamil, Kannada, Bengali and Gujarati. It also hosts a wide variety of blockbuster movies, original productions and kids' shows. Here are some best web series to binge watch on Voot!
1. ILLEGAL – JUSTICE OUT OF ORDER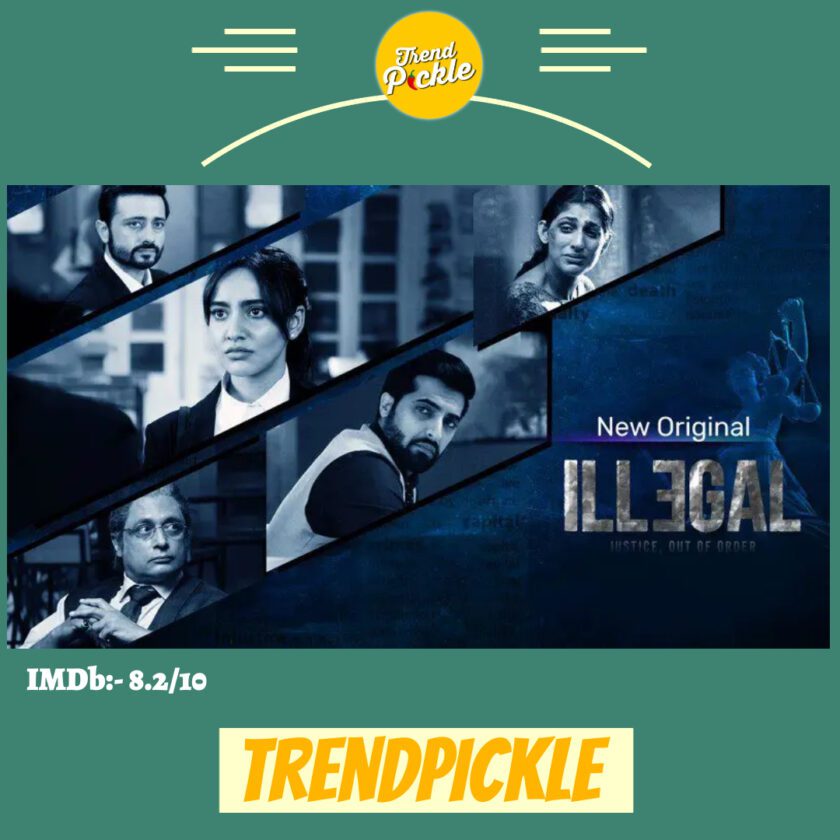 IMDb Rating: 8.2/10
Creators : Reeshu Nath
Cast : Neha Sharma, Piyush Mishra, Akshay Oberoi,
Satyadeep Misra, Kubra Sait and Tanuj Virwani
This show is the new age legal drama. With young and fresh cast, this legal drama, is set to keep its audience hooked up till the last minute. Niharika Singh (Neha Sharma) is an aspiring, idealistic lawyer and is keen on taking over her mentor, Janardhan Jaitley (Piyush Mishra). Akshay Jaitley (Akshay Oberoi), JJ's son, is another main character in the series and he seems to be all set to destroy Niharika's career. Stay tuned to find out the consequences of this long battle between the protégé and the mentor.
2. PLEASE FIND ATTACHED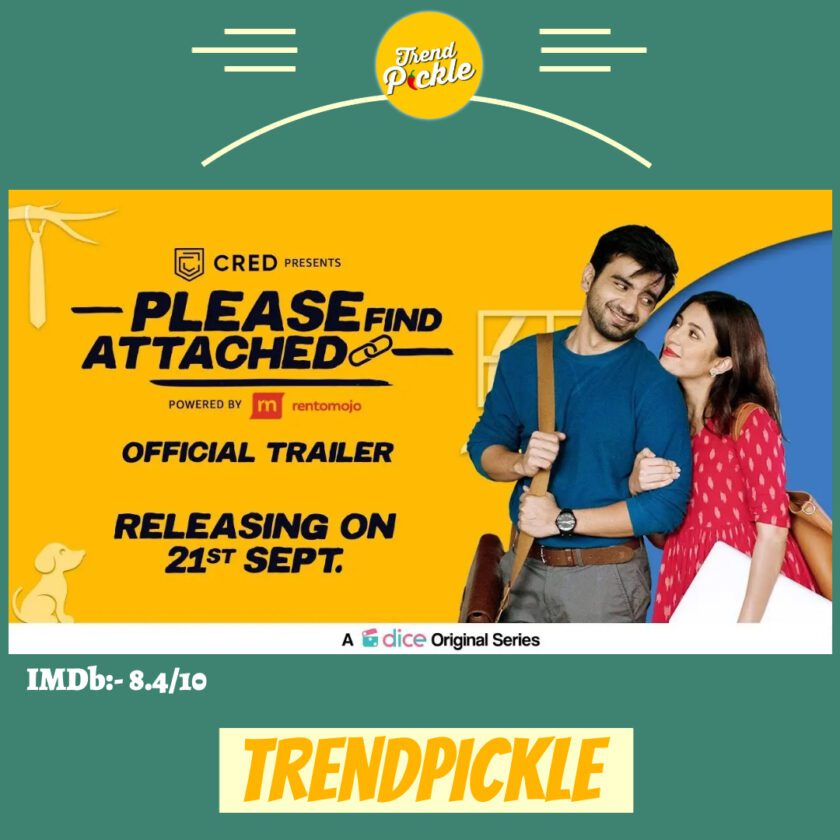 IMDb Rating: 8.4/10
Creators : Ajay Kumar, Sehaj Kaur Maini, Karthik Menon and
Kaviraj Singh
Cast : Barkha Singh, Ayush Mehra, Vaibhavi Upadhyaya,
Aditya Pandey, Anumeha Jain, Ayush Nathani and
Tushar Dhembla
This show is a mini-TV series, starring Barkha Singh and Ayush Mehra as Sanya and Shaurya. This story revolves around two colleagues who finally decide to turn flat mates. Come, join their journey, as they constantly try struggle to find the right balance between their work and personal lives. Can they work it out? Or fall in love? You'll have to watch this show to find out.
3. BROCHARA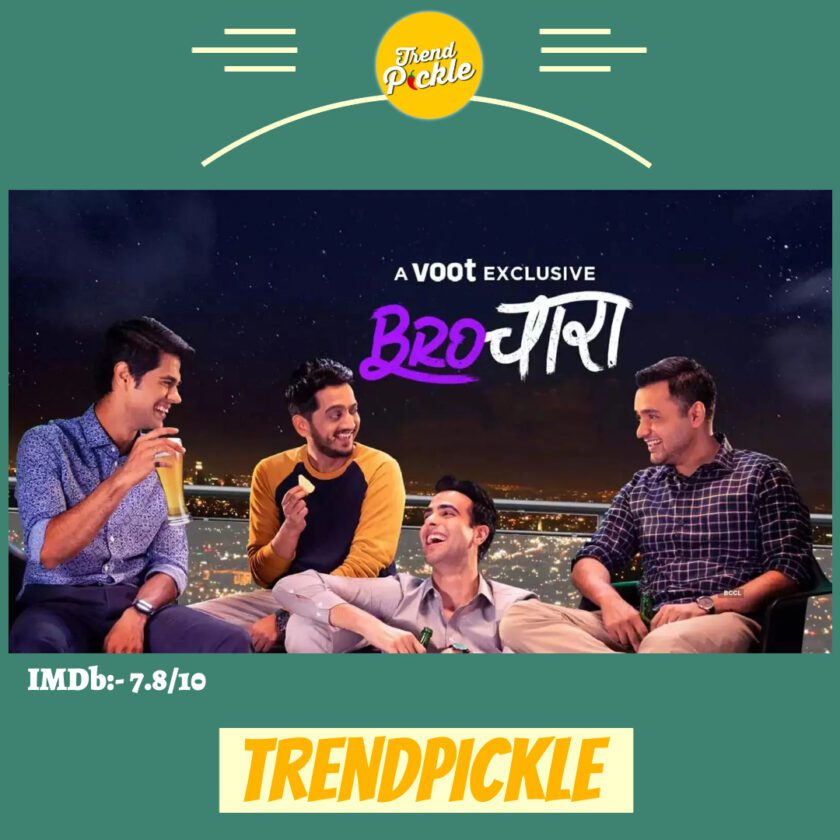 IMDb Rating: 7.8/10
Creators : Divyanshu Malhotra
Cast : Tarun Khem, Varun Tewari, Amey Wagh, RK
Gaurav and Ivan Rodrigues
What is family without bros! As Pranay's (Varun Tiwari) life plans take an unexpected turn, the bond between the four bros is tested. This series is all about navigating through life with a little brochara. Will they survive this unexpected turn of events? Or will they fall apart? Watch Brochara for more!
4. CODE M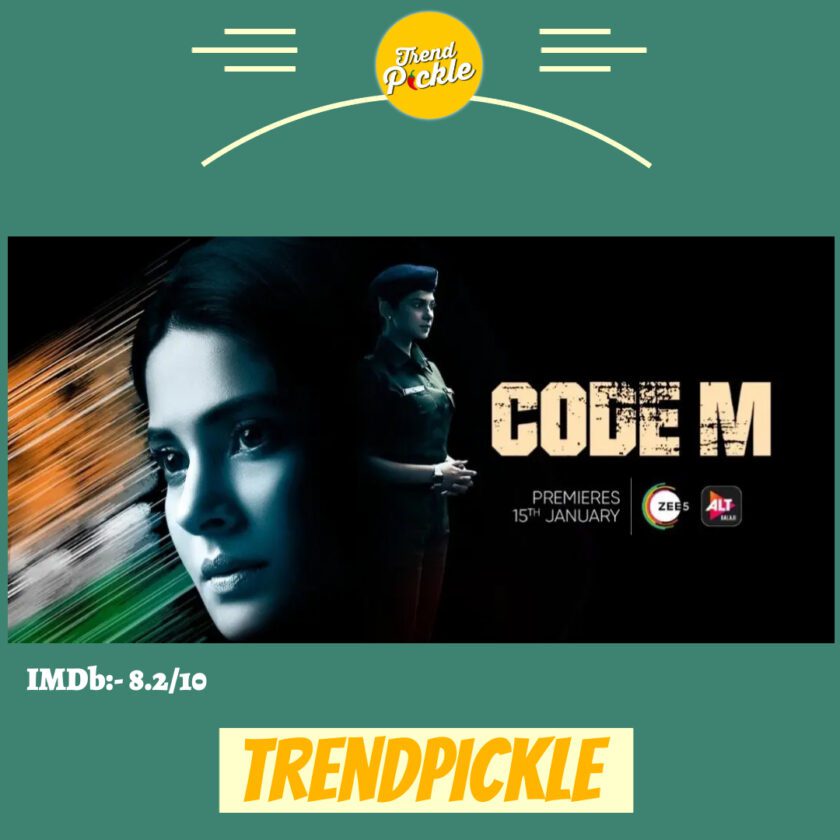 IMDb Rating: 8.2/10
Creators : Shubhra Chatterjee, Aparna Nadig, Aniruddha
Guha,Sulagna Chatterjee
Cast : Jennifer Winget, Tanuj Virwani, Aalekh Kapoor,
Rajat Kapoor and Meghna Kaushik
With its second season coming up, Code M is all set to entertain everyone through its mastermind- Major Monica (Jennifer Winget). She is embarked on a mission, no less ordinary and is determined to reveal the truth, that is only shocking as the end approaches. This show is appreciated for the amazing and extraordinary performance by Jennifer Winget. Join Major Monica in her hunt for truth.
5. APHARAN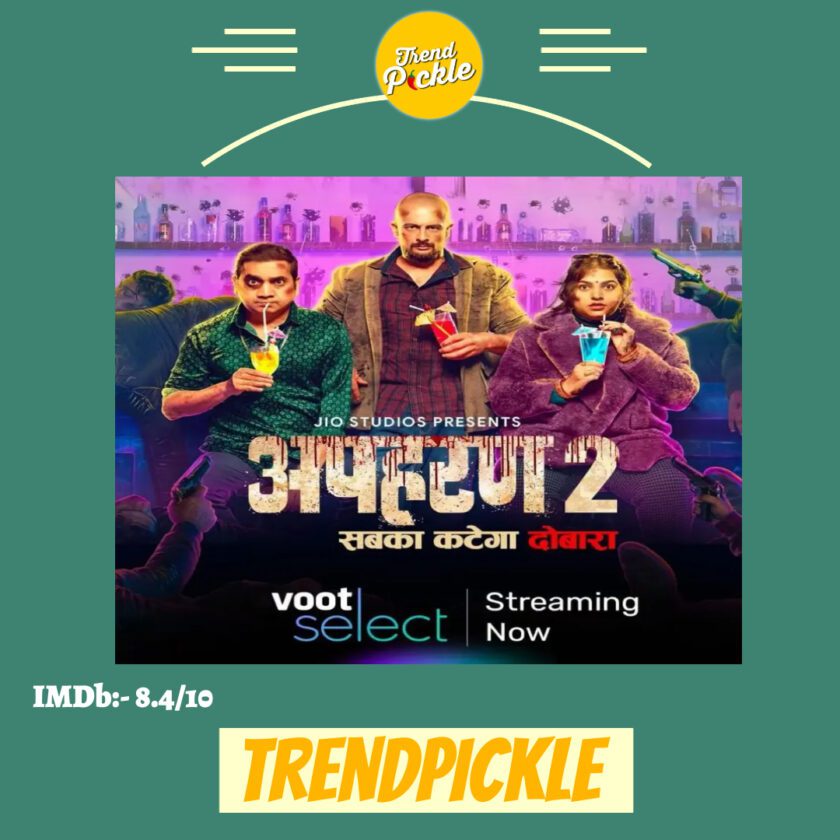 IMDb Rating: 8.4/10
Creators : Jishan
Cast : Arunoday Singh,Nidhi Singh, Saanand Verma,
Mahie Gill and Monica Chaudhary
With its second season gaining popularity on Voot, this thriller series is gaining popularity. Starring Arunoday Singh as Rudra Shrivastav, a senior police inspector, set on a mission to catch a wanted criminal with his own life on stake.
6. ASUR – WELCOME TO YOUR DARK SIDE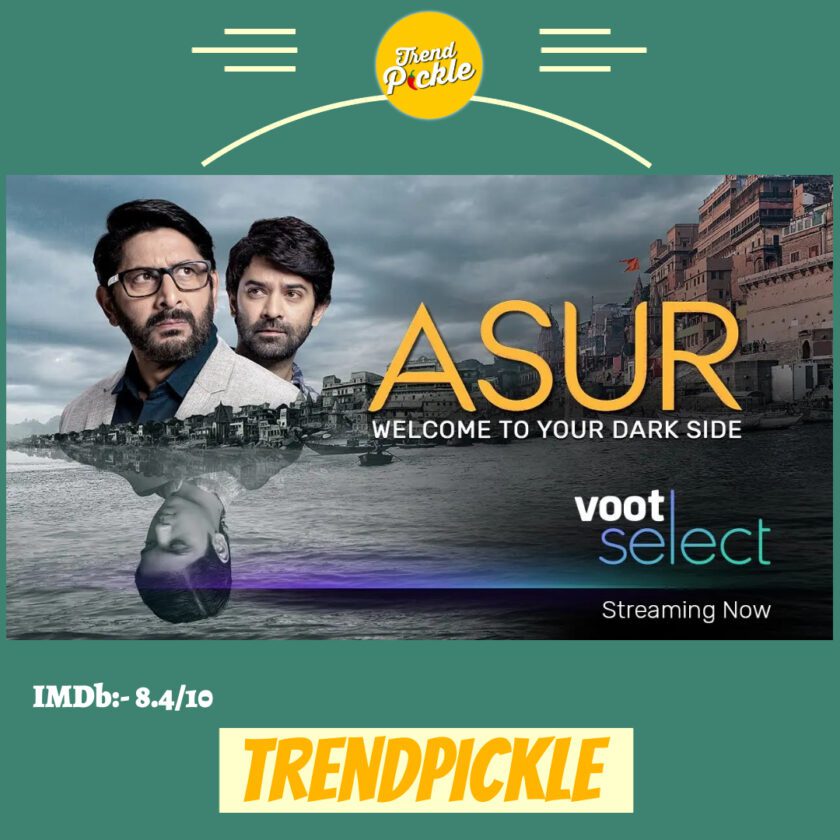 IMDb Rating: 8.4/10
Creators : Gaurav Shukla
Cast : Arshad Warsi, Ridhi Dogra, Barun Sobti, Anupriya
Goenka, Vishesh Bansal and Amey Wagh
Starring Arshad Warsi as Dhananjay Rajpoot, Asur is a unique crime thriller directed by Gaurav Shukla. This show deals with the mysteries of Indian Mythology. The story starts off by the death of a priest under abnormal circumstances. Years later Dhananjay Rajpoot, a forensic expert is set on a wild goose chase.
7. THE RAIKER CASE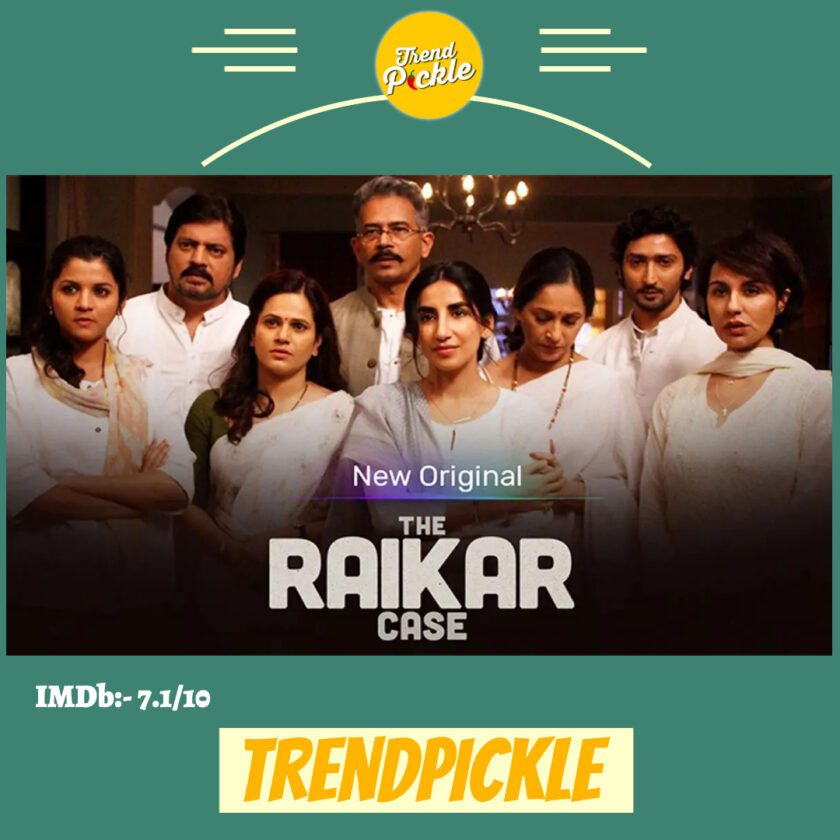 IMDb Rating: 7.1/10
Creators : Aditya Sarpotdar
Cast : Parul Gulati, Vaishnavi Kadam, Honey Kamboj, Neil
Bhoopalam, Reena Wadhwa, Saloni Khanna, Kunal
Karan Kapoor, Ashwini Bhave, and Atul Kulkarni
"A family that eats together stays together." But will this family survive the deceit? Written by Amir Khollam, the series commences with the murder of Tarun Raiker (Honey Kamboj) and the whole story revolves around one question- Who killed Tarun? This show is wholesome for anyone who loves family drama along with a thriller aspect.
8. MARZI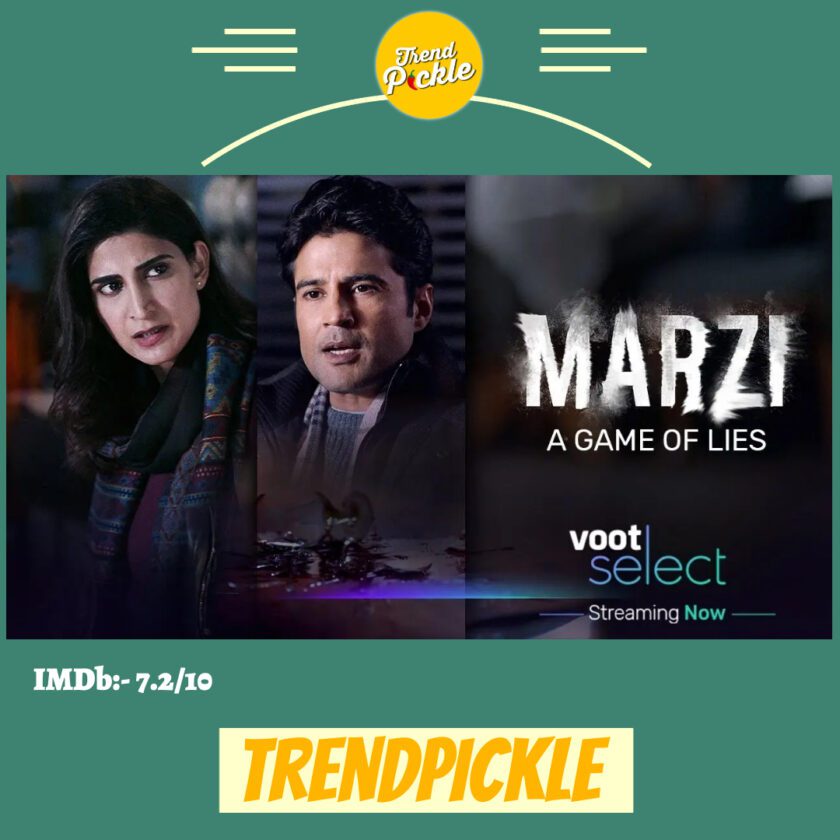 IMDb Rating: 7.2/10
Creators : Radhika Anand
Cast : Rajeev Khandelwal, Suhaas Ahuja and Aahana
Kumra
A night, that changed their lives forever. Anurag and Sameera's (Rajeev Khandelwal and Aahana Kumra) respective versions of the date night are not the same. Wait till the truth is revealed. This series is a good watch for audience that loves drama!
9. COURT ROOM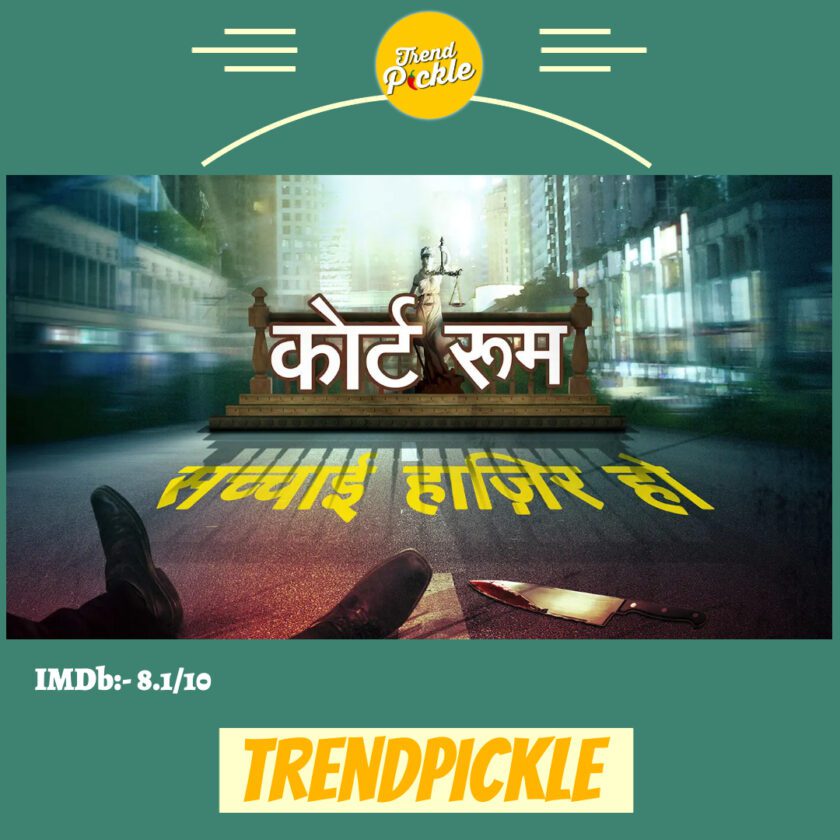 IMDb Rating: 8.1/10
Creators : Vipul D Shah
Cast : Sanjeev Tyagi, Nissar Khan, Devika Sharma and
Sanjay Bhatia
A series inspired by real life events, it deals with problems in cold murders and bringing moral justice. The story starts off by the murder of an 18-year-old boy, Ravi Goyal who was shot in a road rage incident. As the story takes its pace and with police investigating every aspect, shocking truths are revealed. Starring Sanjeev Tyagi and Nissar Khan, this show will keep you hooked up till the last minute.
10.TIME OUT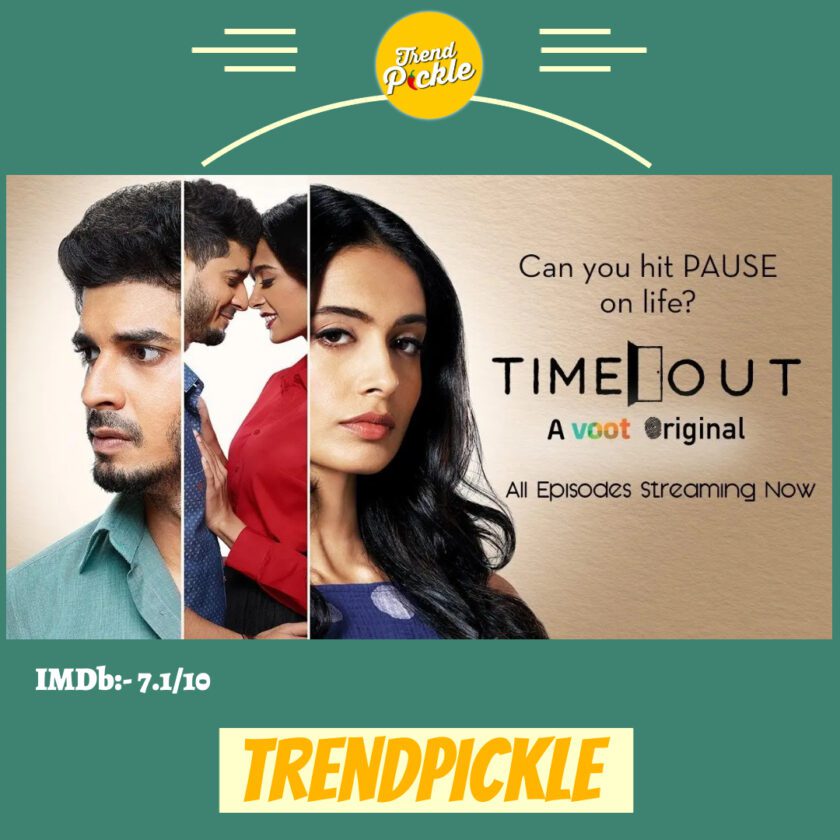 IMDb Rating: 7.1/10
Creators : Danish Aslam and Jaya Mishra
Cast : Sarah Jane Dias, Tahir Raj Bhasin and Sahil Vaid
This romantic-comedy is a coming-of-age love story of a couple in a perfect, happy marriage. Things turn a bit ugly when Radha (Sarah Jane Dias) gets pregnant. Rahul (Tahir Raj Bhasin) starts questioning his life choices and what about Radha? This series is entertaining on its own. It is all about finding your individuality in a relationship.
11. CANDY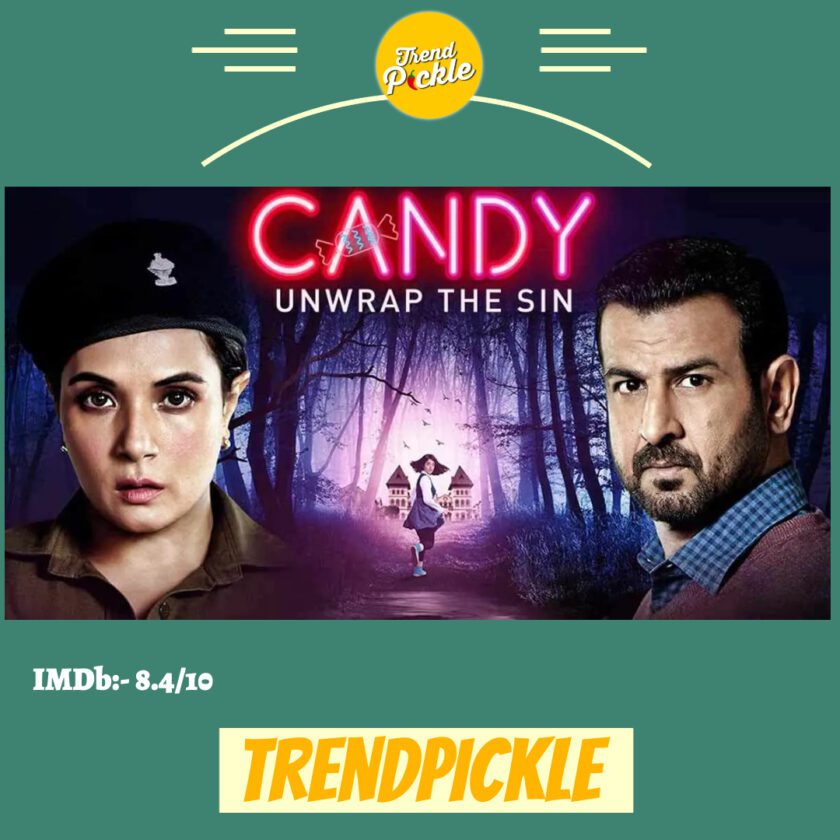 IMDb Rating: 8.4/10
Creators : Agrim Joshi and Debojit Das Purkayastha
Cast : Richa Chadha, Ronit Roy, Riddhi Kumar and Gopal
Datt
When a dead body of a young boy is found mysteriously in the woods, the police are clueless to find the guilty. Richa Chadha (as Ratna Sankhwar) and Ronit Roy (as Jayant Parekh) have given an exceptional performance in this series. Rave parties and demons in the woods? What not haunts the misty Rudrakund? Check out this series to find out more.
12. CYBER VAAR
IMDb Rating: 9.6/10
Creators : Ankush Bhatt
Cast : Mohit Malik, Sanaya Irani, Harsh Nayyar and
Amitabh Ghanekar
Team TRACE is all set to track down a malware attack on Mumbai police servers. ACP Akash Malik (Mohit Malik) and Cyber expert Ananya Saini (Sanaya Irani) get together on a quest to wipe out cyber criminals from the city. This show is a definitely a good watch!
13. LONDON FILES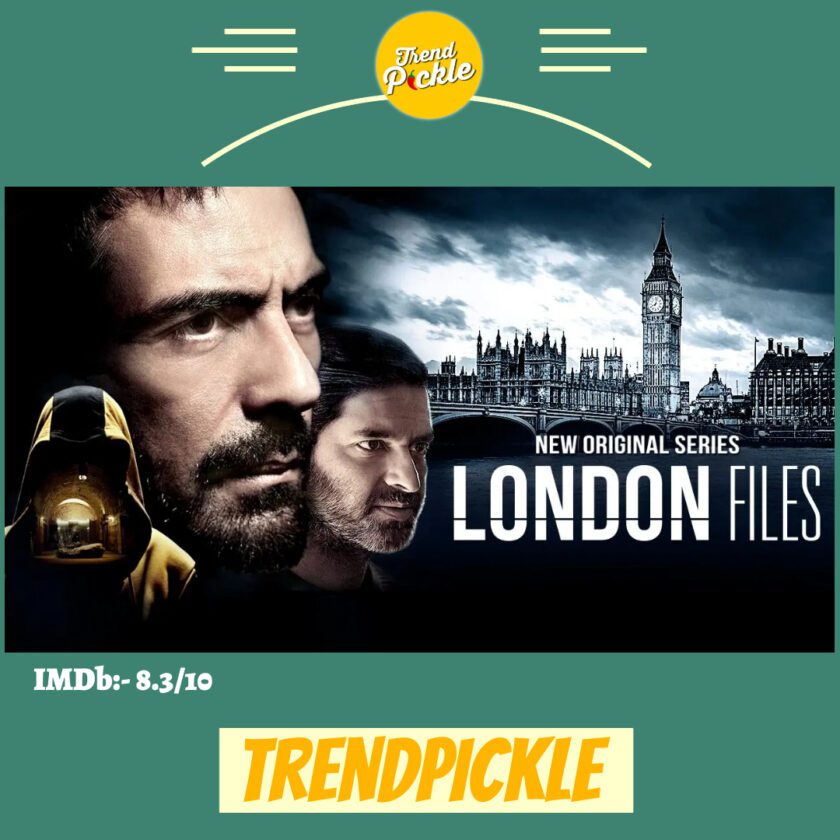 IMDb Rating: 8.3/10
Creators : Sachin Pathak
Cast : Arjun Rampal, Sapna Pabbi, Gopal Datt and Hiten
Patel.
Starring Arjun Rampal as Om, this series is an intense investigative thriller. Tables are turned when Om, a homicide detective is tasked with the case of mogul Amar Roy's (Purab Kohli) missing daughter.
14. CRACKDOWN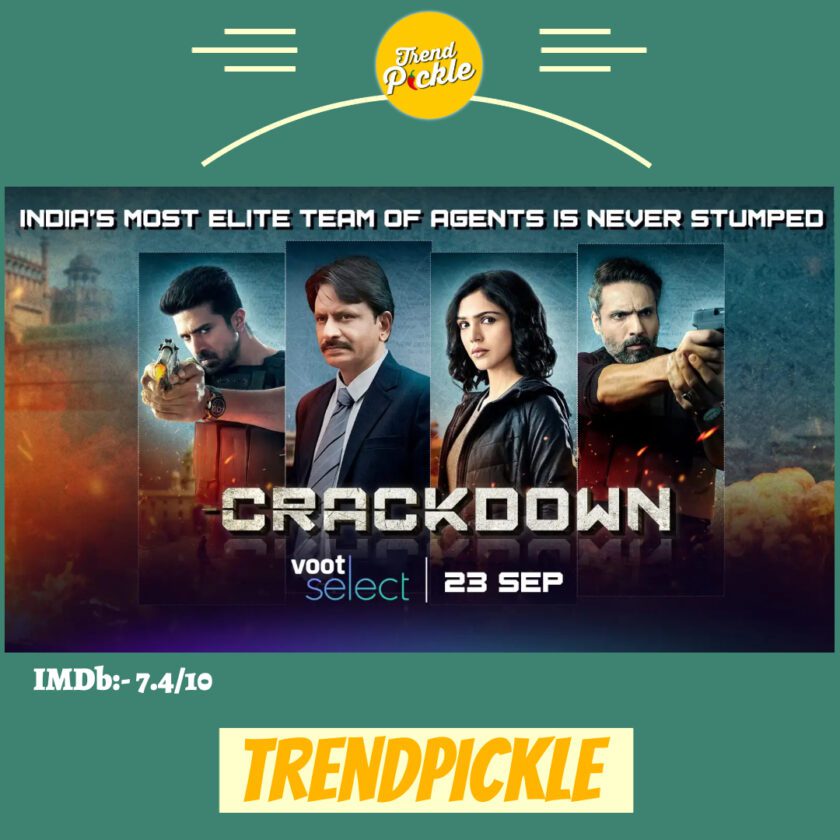 IMDb Rating: 7.4/10
Creators : Chintan Gandhi and Suresh Nair
Cast : Ankur Bhatia, Saba Saudagar, Saqib Saleem, Iqbal
Khan and Shriya Pilgaonkar
Crackdown is the perfect watch for action lovers on Voot. Several innocent lives are at stake, terrorists are on the loose and the agents are running out of time. Saqib Saleem, Iqbal Khan and Shriya Pilgaonkar have given an exceptional and over the top performance in this crime drama.
15. IT'S NOT THAT SIMPLE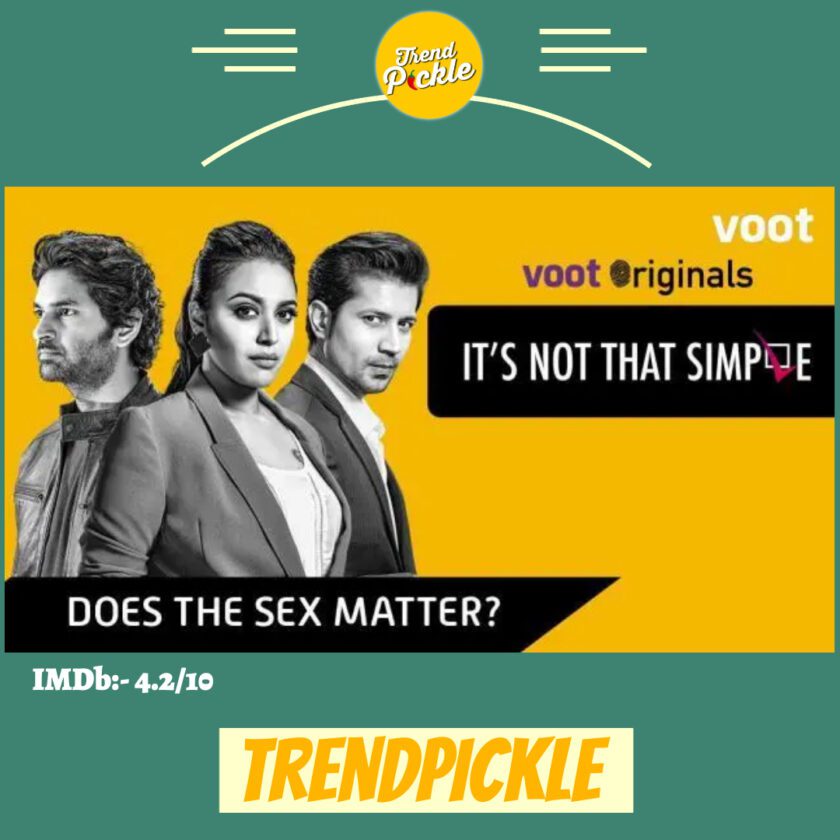 IMDb Rating: 4.2/10
Creators : Charudutt Acharya and Jaya Mishra
Cast : Vivan Bhatena, Karanveer Mehra, Sumeet Vyas,
Purab Kohli and Manasi Rachh.
An urban housewife, Meera ( Swara Bhaskar) is stuck in an unhappy marriage, but things take a turn when she's invited for a school reunion and meets two of her ex-boyfriends. Lead cast includes- Meera has made her choice, but is she ready to face the repercussions? Stay tuned to find out.
We really hope that you enjoy watching these Voot web series. Grab yourself a bucket of popcorn and start binge-watching!
FREQUENTLY ASKED QUESTIONS:-
Q1. Can I clear the recently watched history on my TV app?
Ans. Yes, you can! You can do so by going to the "Settings" section of your TV app.
Q2. Why is my application hanging?
Ans. Try clearing the saved app data as well as cache on the device and then restart the device. If in case, you still face some issue then try mailing your problem at [email protected].
Q3. Why is the app consuming too much data?
Ans. If you feel that the app is consuming much data, then you can change the video quality settings on the device. This should resolve your issue.
Q4. Is the content released here before it airs on TV?
Ans. The original content is released on Voot first whereas all Televised content reaches us at the smallest possible delay.