Diljit Dosanjh an Indian singer, songwriter, actor, and television presenter known for his noticeable work in Punjabi and Hindi Entertainment Industry has recently grabbed the eyeballs of the netizens for his Twitter spat with Bollywood actress Kangana Ranaut to which the netizens are referring 'The Twitter Showdown of the Year'. Diljit has always been a man of few words but those few words are such epic and savage that proves him exactly as the name of his album suggests 'G.O.A.T'. So, here we bring to you a quick glimpse of 10 times Diljit Dosanjh literally won everyone's heart even before his twitter spat with Kangana Ranaut.
1. Hilarious Clash Between Diljit and Alexa
While preparing smoothie for himself, Diljit had an Argument with Alexa where Alexa couldn't recognize his song Clash from the album G.O.A.T. This IGTV went viral and the netizens couldn't stop laughing at this conversation. Have a look at it here!
View this post on Instagram
2. The Rooh Afza story while talking about his Background and Stardom
In an interview with Anupama Chopra, Diljit was asked that being worked with so many superstars and big directors have you ever said to people that I am a superstar listen to me or do what I say. Diljit gave an epic reply to this which was funny yet very humble. He replied "Main gaoun ka banda hun, kahan milni thi ye sab cheezein, Black coffee, chai nai milti wahan. Jab guests aate they toh balti mein Roohafza banta tha, aur mujhe yahi tension hoti thi ki ye log saara na pi jayein, matlab ye jayenge toh thoda sat oh chodke jaaye, aur fir kahi iska barf na khor jaaye, toh main vahan se aaya hu aur yeh sab cheeze bohot badi hai mere liye."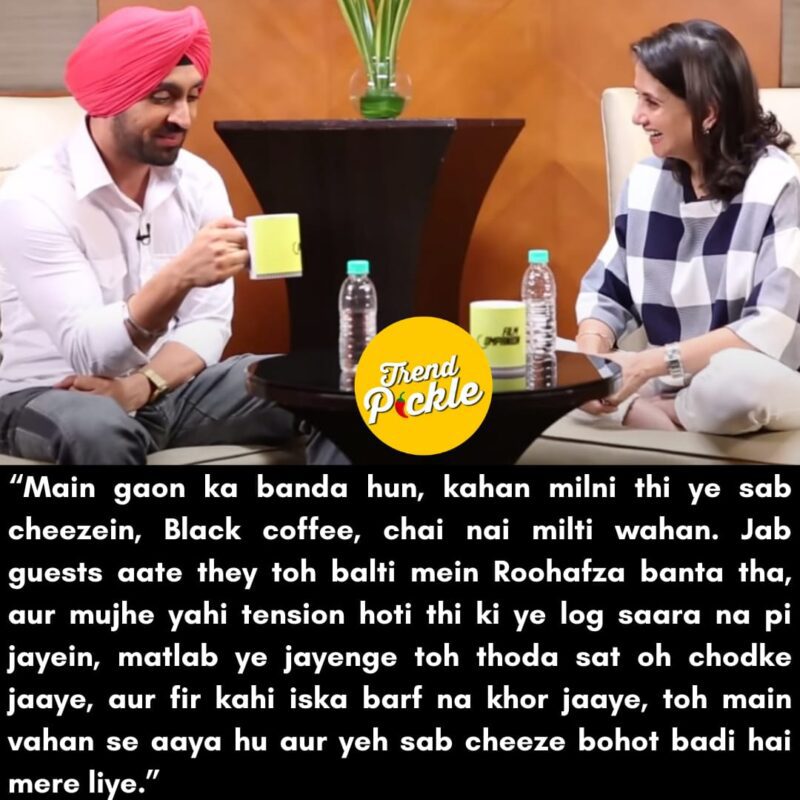 3. Following the Rasode Mein Kaun Tha trend
A twitter user asked Diljit that does he plays the popular game among youth PUBG. The reply was hilarious where he smartly used the Rasode Mein Kaun Tha trend. Have a look at it here…
Nahi Bhen Ji Mai SUB-G SUB-G Khelta Hu RASODE MAI 😎🦾 https://t.co/BXo4PORSIh

— DILJIT DOSANJH (@diljitdosanjh) September 3, 2020
4. Talking about Being Real
Haroon Rashid from BBC Asian Network asked in an interview to Diljit about being fake or mingling in parties for getting work where Diljit very humbly replied "Bura nahi hai (attenting parties) lekin main change nahin kar paunga apne aap ko. Yeh sab change karne jaunga na toh main khud nakli hojaunga … ekbar kiya, gaya party mein, waha jaake main sure hogaya main yeh sab nahin kar sakta".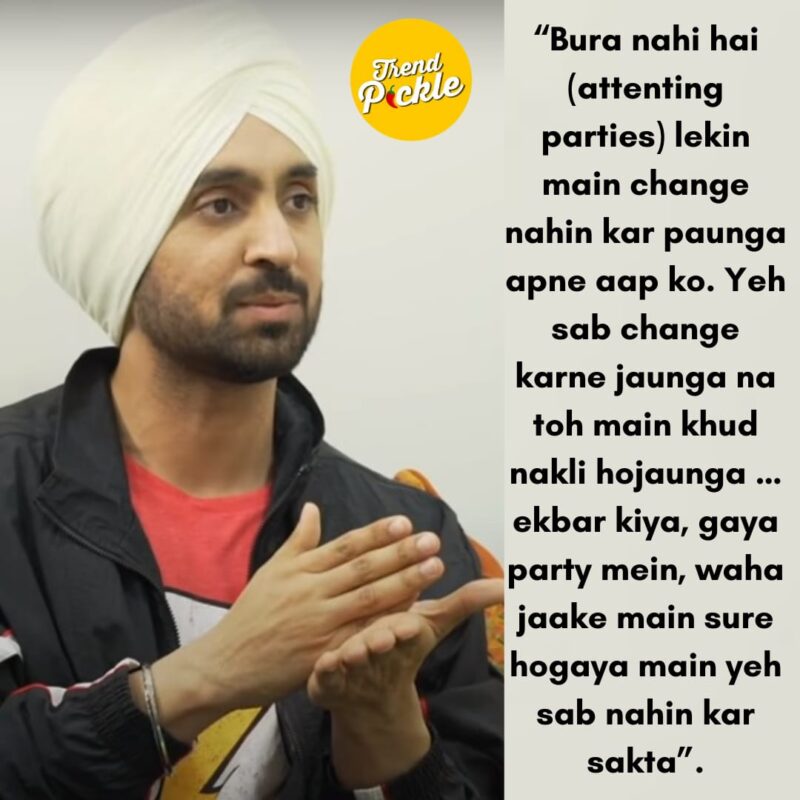 5. The Friendly response about his album G.O.A.T
In an interview with Anupama Chopra Diljit was asked about how he managed to drop an entire album within a timespan that most people take to drop just a single track to which he replied in a very friendly manner i.e. "Velle hi they, koi kaam toh tha nahi, pehle toh Netflix pe cheezein-veezein dekhte rahe (during the lockdown), phir bore ho gaye. Toh phir bore hone ke baad maine kaha 'Nahin ab kaam karenge'. Phir maine 2 mahine lagake poori album banadi."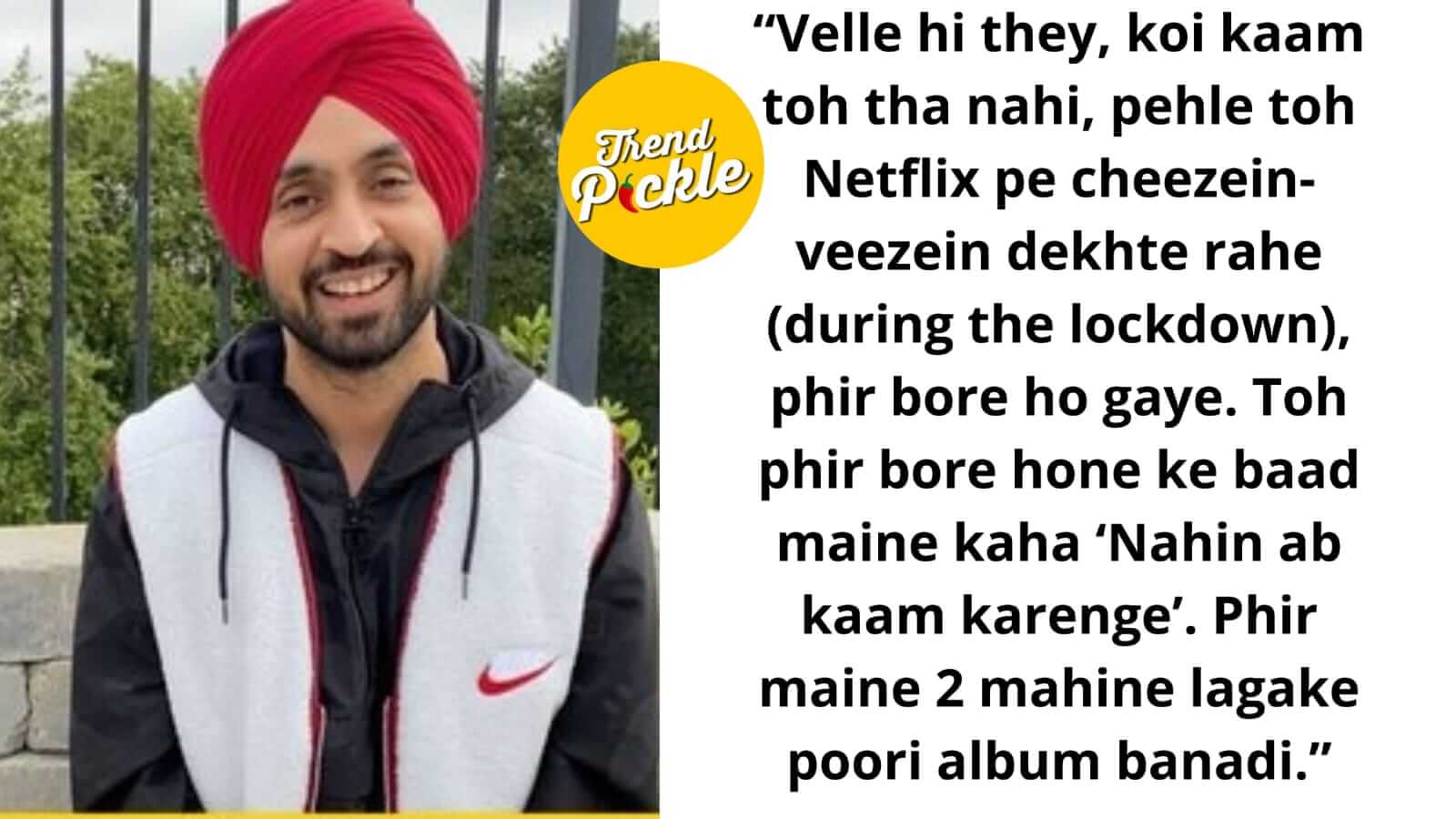 6. Talking about what distinguishes the people of Punjab
Diljit with utmost love and affection said in an interview about what sets apart the people of Punjab and here is what he said "Humare Punjab ke jo log hai who actor se ya kisi ki kala se pehle, ek bande se connect hote hai…Punjab mein jo ekbar aapka connection logo ke saath baith gaya, toh vo saari umar rehta hai. Punjabi pehle bande ko pyaar karte hai..agar uski thodi bohot galti bhi hogayi toh usko maaf kar dete hai 'koi baat nahin, apna banda hai'…aur agar koi banda bole I am the Superstar…toh vo saare hi superstar hai Punjab te."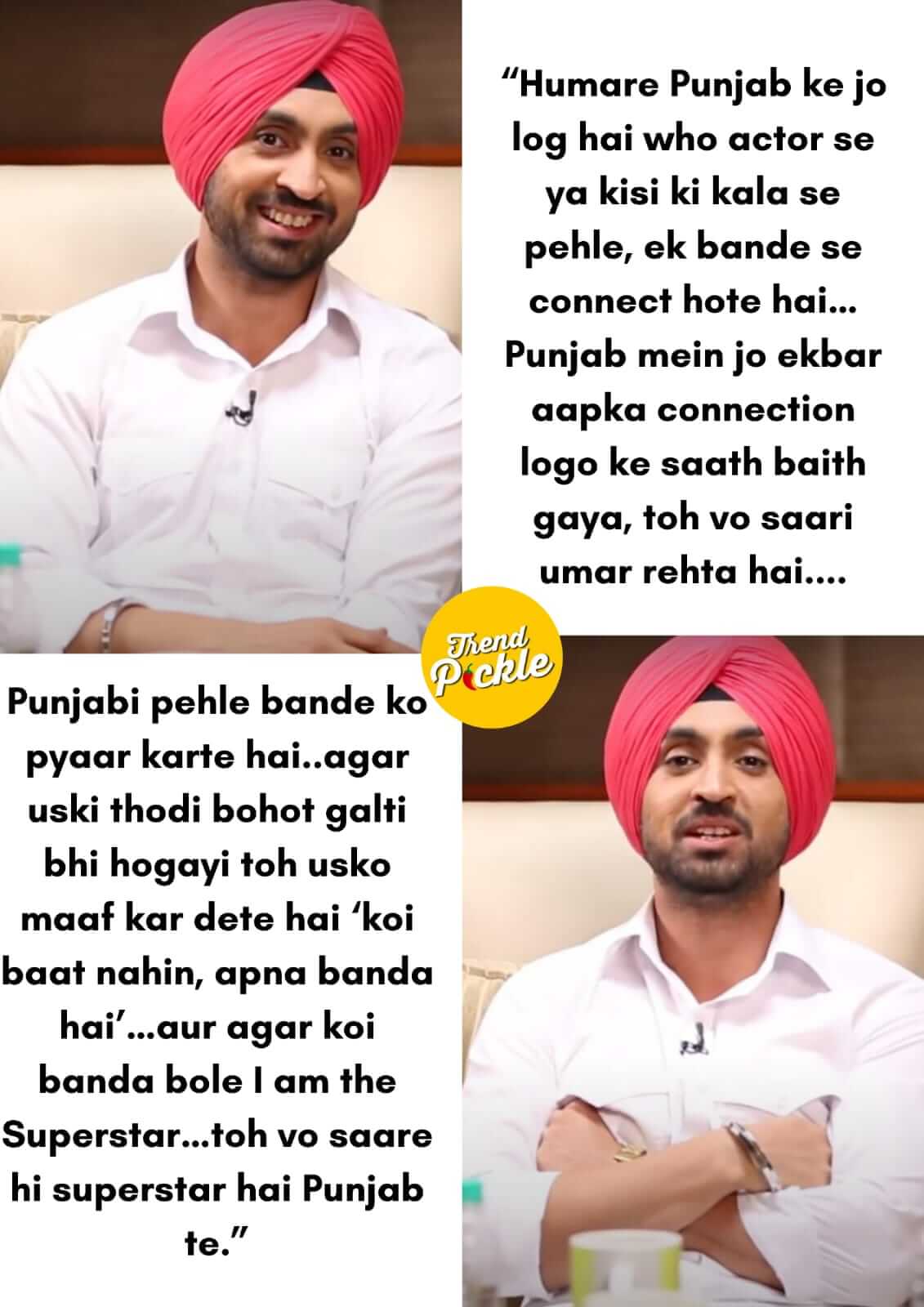 7. The Rib-Tickling Chef
During the lockdown Diljit made people fall in love with his humor and cooking skills in his Instagram Account. Have a look at them here
View this post on Instagram
View this post on Instagram
8. Alexa Addresses Diljit Dosanjh as 'JAAN'
There is one more video of Diljit Dosanjh making breakfast for himself where he asks Alexa Who is speaking and Alexa replies JAAN is speaking. So, here's the video take a look
View this post on Instagram
9. Dealing with Fans
Diljit Dosanjh along with Badshah appeared on the famous talk Show Koffee With Karan where he was asked about dealing with female attention to which he replied, "Sir main Fans ka gender nahi dekhta hu, Fan, Fan hota."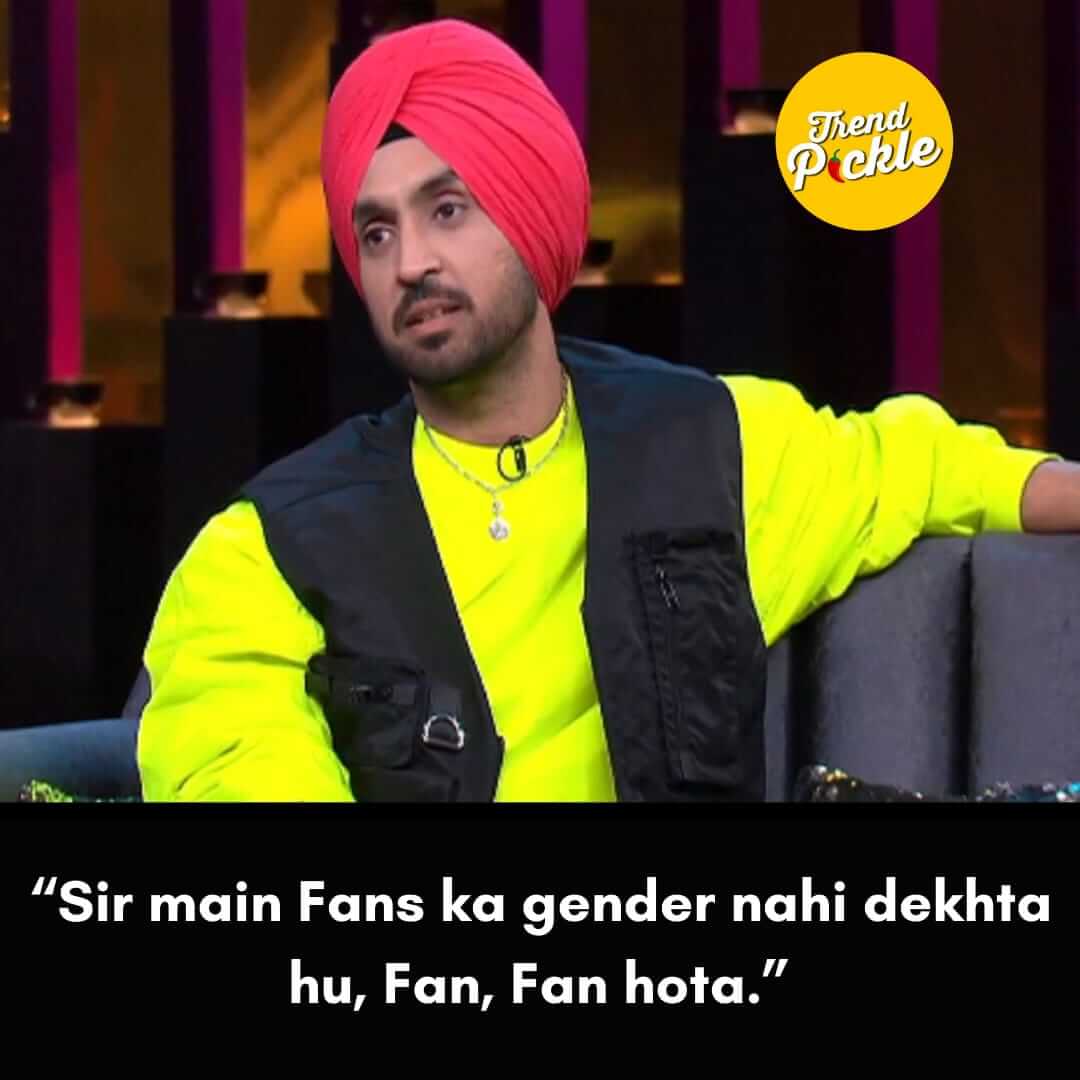 10. The real G.O.A.T for Diljit Dosanjh
Regardless of the success of his album G.O.A.T and being so much popular and successful Diljit Dosanjh honoured the title of G.O.A.T to another artist in the Punjabi Film Industry in an interview with Anupama Chopra. He said "Gurdaas Maan is The Greatest Of All Times. Punjabi Music mein he is a Legend, Living Legend…And he is The Greatest Of All Times, Humein toh karna pada."