The season of gifting – Diwali is around the corner. Everyone shares their love by sending gifts to their friends and family members. Sending gifts personifies how much the person is special for you. Exchanging gifts among each other's also promotes harmony and unity. No matter the gifts are big or small it is an age-old tradition of gifting during the Diwali days. So, this Diwali if you are wishing to gift your dear ones something incredibly unique and trendy here are the top Diwali gifts for your friends and family that you must check out.
1. Cloudy Seven Chakra Wish Tree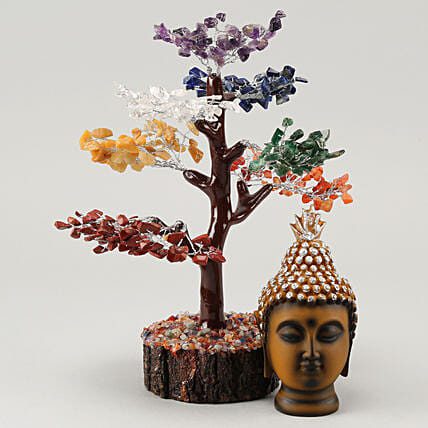 This cloudy seven chakra wish tree is an impeccable hand-crafted piece of art that is made out of real gemstones. It represents the seven Chakras of the human body and each stone helps to balance the particular chakra it represents. This surely will be a very thoughtful gift for new beginnings. The wish tree creates positive vibes around you and circulates flow of energy around you.
Specifications:
Base- Wood with Gems on top
Dimensions- 12 inches
Weight- 600 gms
Matte Green small size Buddha Head Idol – 5 x 2.5 inches
Gemstones – Completely Handmade
Buy Now!
2. Lambodar Lamp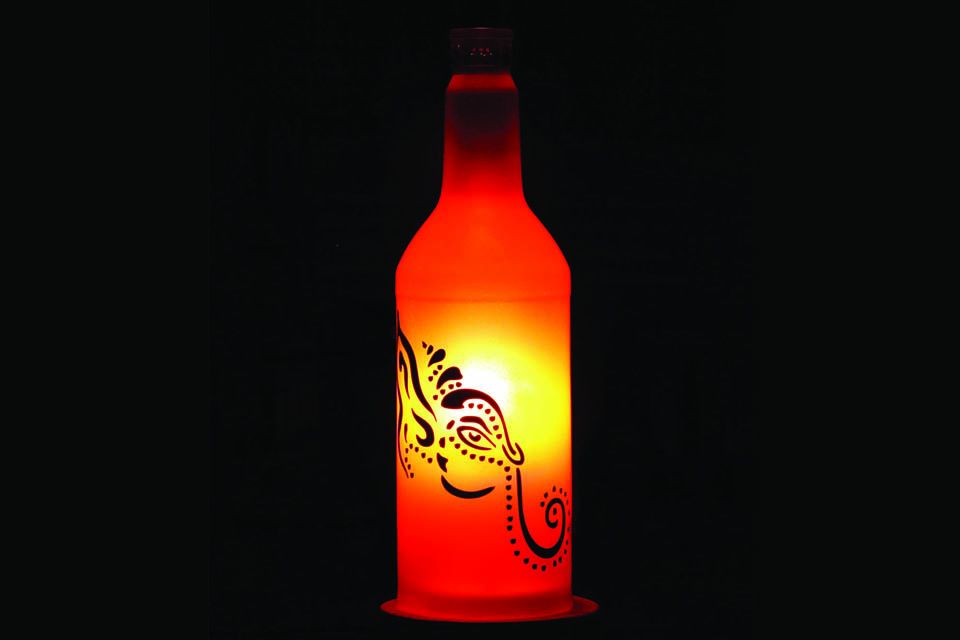 Made from recycled bottle this glowing Lambodar lamp is one of a kind. Lord Ganesha is also known as Lambodar which means 'the one who has a big pot belly.' This artistic lamp features the imprint of the Lord Ganeshaon the body of the bottle which looks immensely beautiful when lit.
Specifications
Material: recycled bottle
Lord Ganesh design
Yellow & red colour
With wooden base & holder
Height * Diameter: 12 inch * 4 inch
Buy Now!
3. Rechargeable Touch Lamp with Bluetooth speaker, Plant pot, Tumbler, and night lamp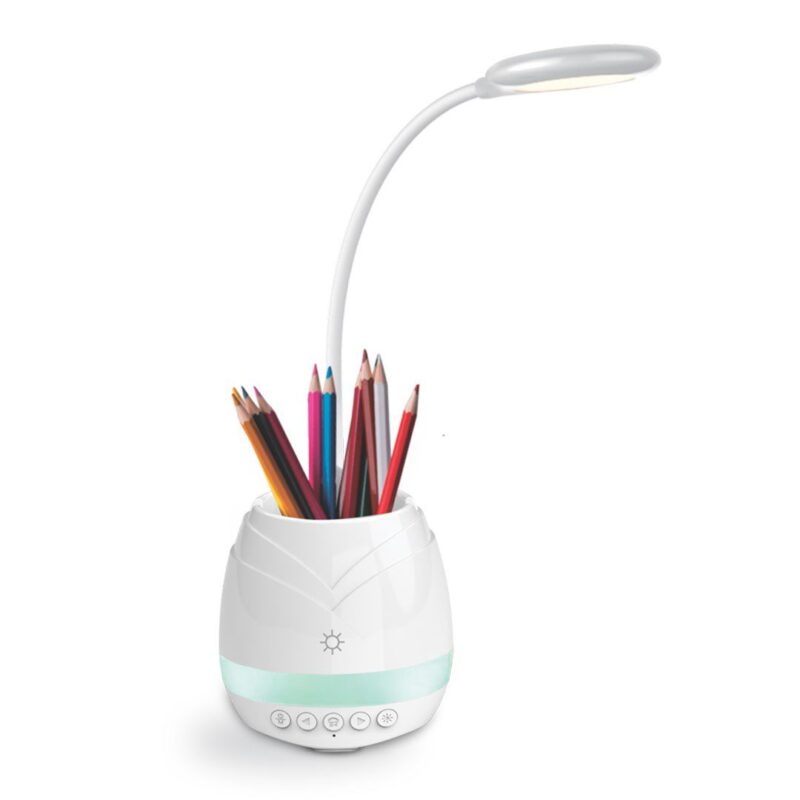 This multi-purpose 5 in 1 lamp is an amazing gift option for your friends or colleagues. It has dimmable bright LED light with dual function pen holder. It can be also used as an indoor plant pot for any table. It comes with an adjustable neck can be rotated in any direction. It has high quality Bluetooth speaker. It has 7 color mood light that creates a beautiful ambience.
Specifications
Weight – 480 g
Dimensions- 19.8 × 11.5 × 13 cm
USB input
Hands- free calling
TF Card
FM Radio
Long playback time
Buy Now!
4. AFS HANDICRAFTS Brass Gold/Silver Plated Gift Item Multicolour – Pack of 5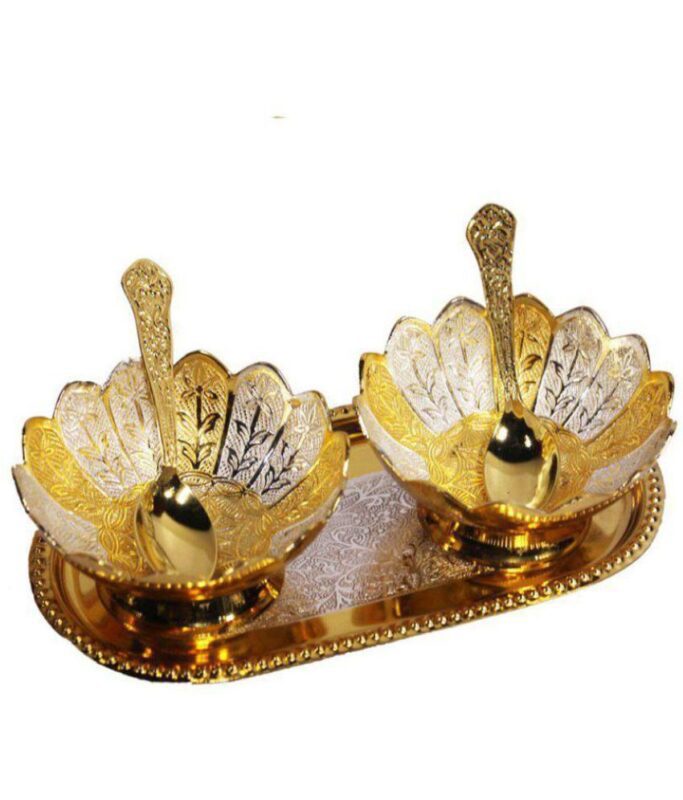 This beautiful and elegantDouble Tone Decorative Platter along with Royal Red Velvet box ensures to give a royal look at your dining table. It has been handcrafted by skilled artists using traditional techniques that gives a royal look and feel.
Specifications
Type- Gold/Silver Plated Gift Item
Material- Brass
Product Design- LOTUS BOWL CAPSULE TRAY
Package Contents:2 BOWL 1 TRAY 2 SPOON 1 Red Velvet Box
Buy Now!
5. Set of 2 Sansevieria Plants In Ceramic Stand Planters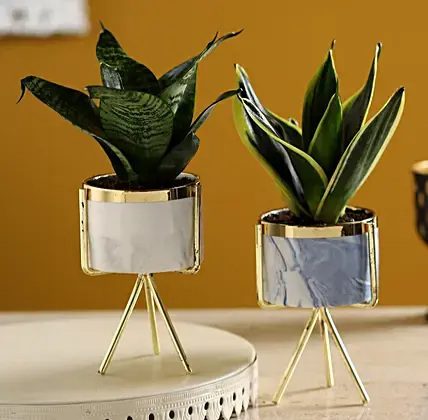 Here is an amazing example of unique and premium looking gift for family or friends.Startle your friends by giving this totally unique Set of 2 Sansevieria Plants In Ceramic Stand Planters!They will surely be fascinated looking at the amazing Idea!This Diwali, do something unique, Amaze your friends and family with this plant set.
Specifications:
Green Sansevieria Plant- upto 4 inches
MILT Sansevieria- up to 4 inches
A Grey with Golden Strap Ceramic Pot With Stand
A Blue with Golden Strap Ceramic Pot With Stand
Succulent/ Air Purifying Plant
Can be placed indoor as well as outdoor
Buy Now!
6. Indian Art Villa Copper Jug with 2 Glass, Embossed Design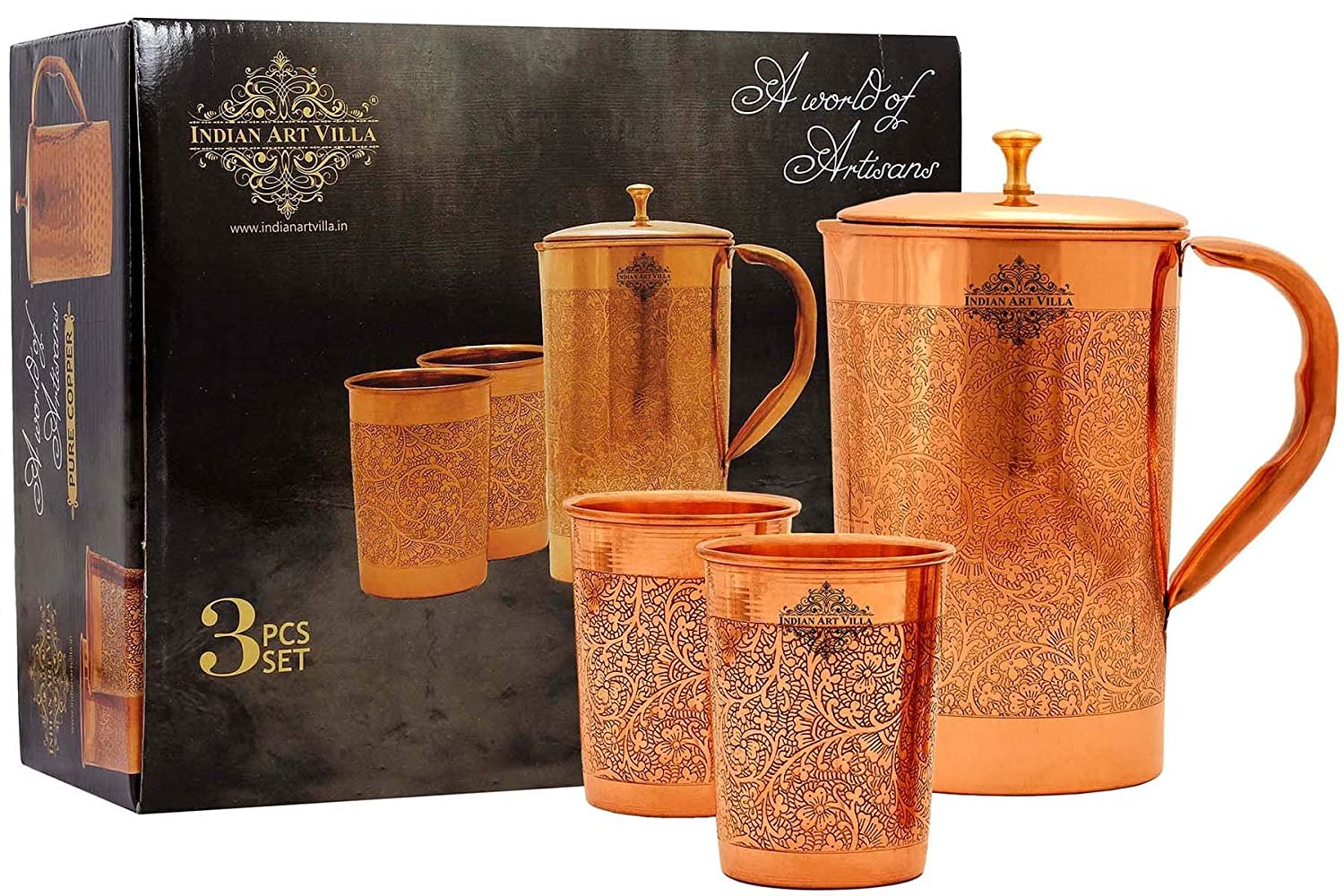 This alluring and classy copper jug and glass set is designed uniquely to add grace to your dining experience. It is made from the world's purest copper and finest technology. This copper set kills bacteria as copper has antimicrobial properties. It comes with copper cleaning Pitambari powder.
Specifications
Material- Copper
Color- Brown
Capacity Jug- 1500 ml
Capacity Glass- 300 ml
Buy Now!
7. Led cushion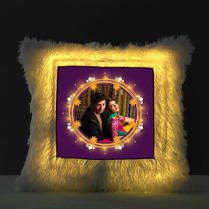 Embrace your memories with this astonishing personalized soft fur LED cushion! Your friends would assuredly be astonished by this amazing Idea of Diwali gift. This is one of the unique and impressive way to surprise your loved ones.
Specifications:
Satin and fur material
Size is 14in X 14in
Modern Print Style
With filler type set
Square Shape
Buy Now!
8. Palm Buddha Idols Statue For Diwali Home Decor – Set of 4 Matki Candles Tealight Diya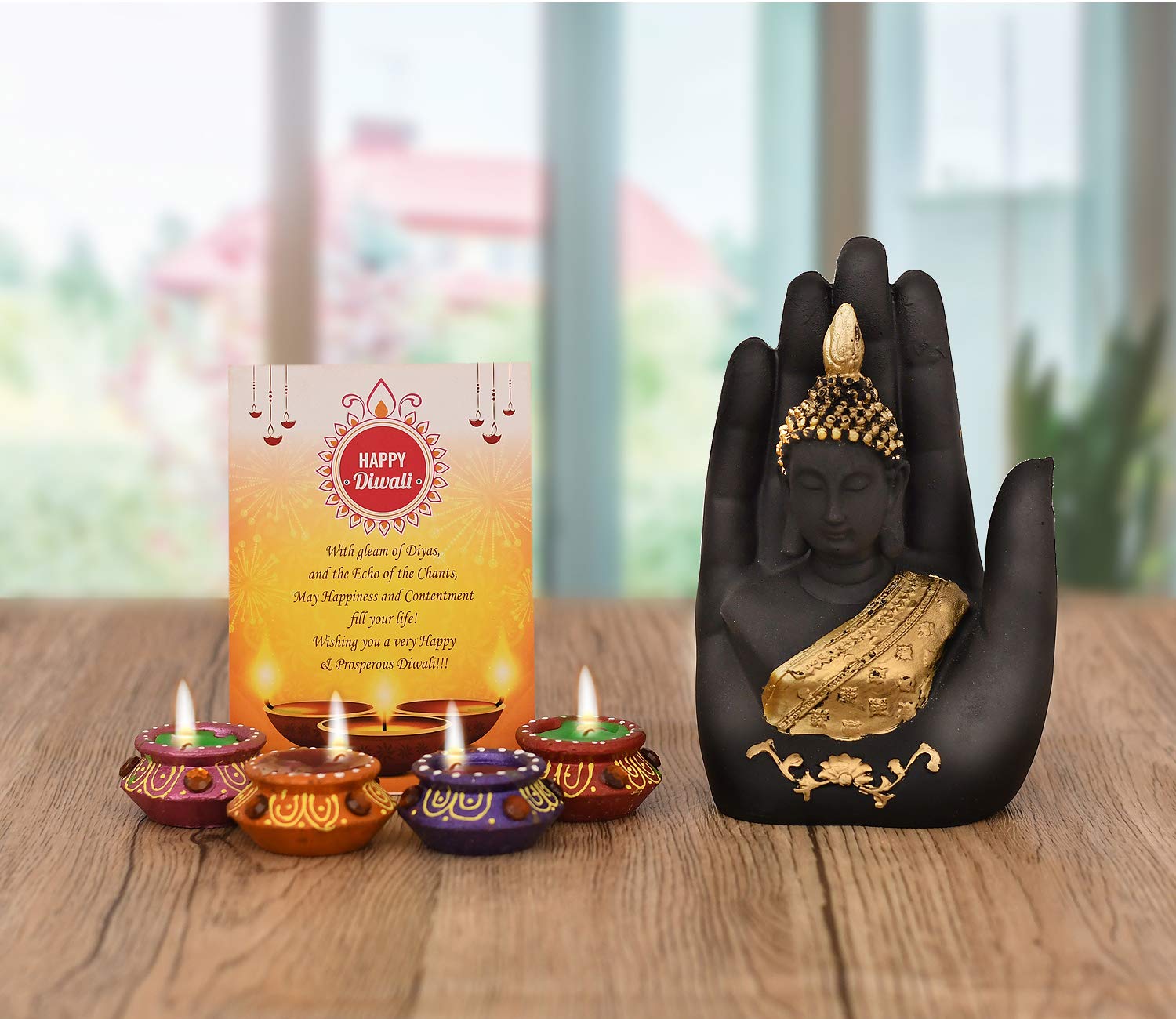 Gift the goodness and blessings of Lord Buddha to your dear one's with this beautiful combo of Buddha face showpiece, Matkidiyas and a Greeting card. The matkidiyas are handmade and hand painted. The wonderful Diwali greeting card contains surprising pop up inside filled with heartfelt Diwali wishes. So, pick this scrumptious and thoughtful gift hamper and send it to your friends and family.
Specifications
Product Dimensions- 10.16 x 5.08 x 16.51 cm; 140 Grams
Primary material- Poly Resin
Capacity- Standard
Weight- 140 grams
Buy Now!
9. The Purple Tree Iron Wall Sconce Paisley Diwali Tealight Holder with 6 Glass (Pack of 2) Diwali tealight Candle Holder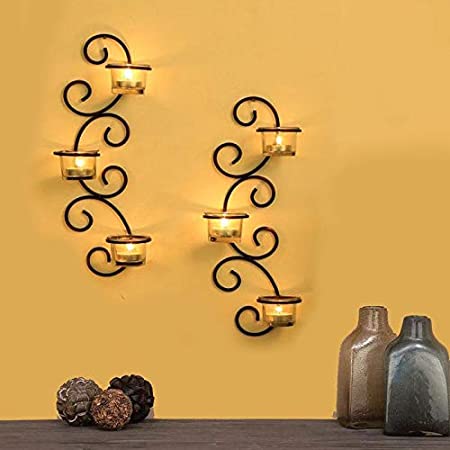 This diwali gift your close ones in a different way with 'The Purple Tree Iron Wall Sconce Paisley Diwali Tealight Holder with 6 Glass (Pack of 2)Diwali tealight Candle Holder. An amazing Idea for a unique and creative gift to decorate the wall for your close ones. It will give a decent and rich looking wall. It is one of the best holders to decorate the house with traditional diya's in a modern way!
Specifications:
Items- 6 glass (Pack of 2)
Size- 14cm X 8cm X 38cm
Material- Iron
Color- Black
Can be used in hall or your bedroom wall.
Buy Now!
10.Amazing India Brass Sri Dhan Laxmi -Kuber Bhandari Yantra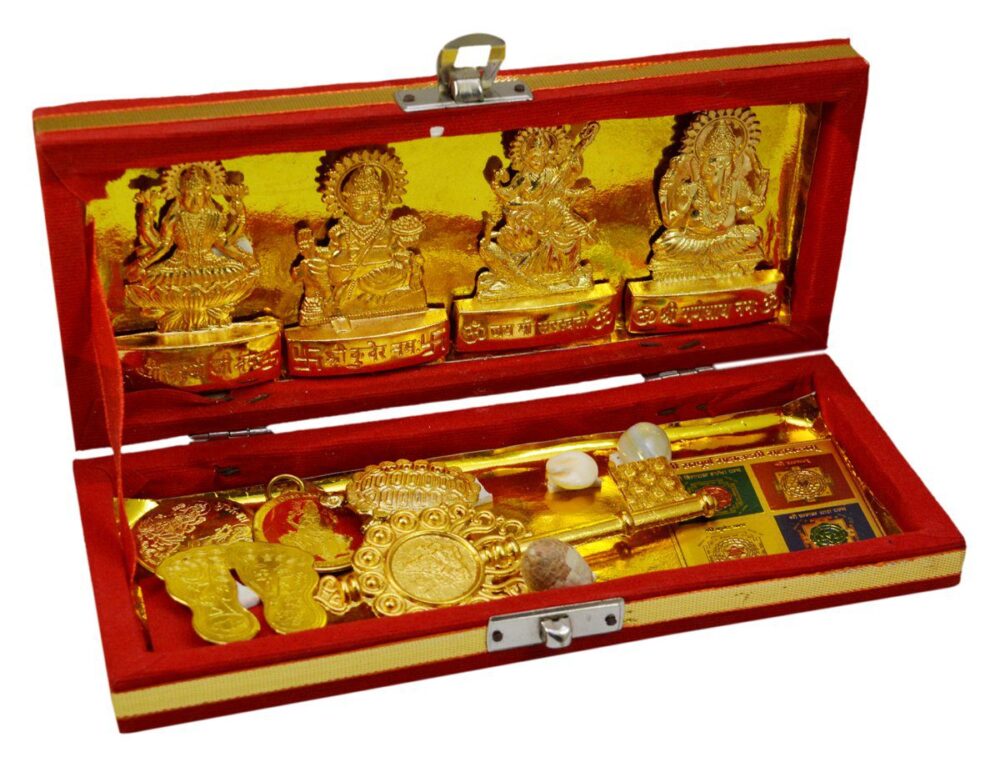 Celebrate Diwali by gifting a traditional astonish to your loved ones! This Brass Sri Dhan Laxmi -Kuber Bhandari Yantra will definitely proof itself lucky. This is a unique idea of a diwali gift to increase income and happiness for your friends/family.So, don't think much and book for your friends and family!
Specifications:
1.5 Inch X 2.3 Inch X 1.1 Inch Size
Lakshmi Kuber made of Brass
Golden colour
Generate a source of income
Bestowes one with Divine happiness
Buy Now!
11. Blissful Platter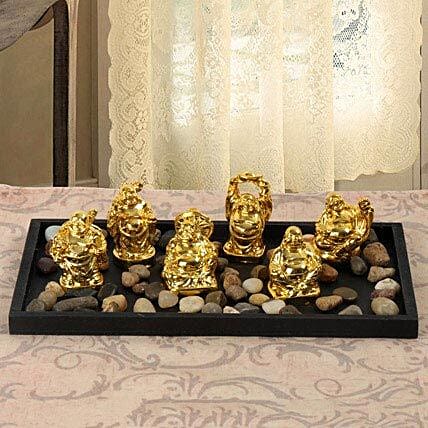 Laughing Buddha is believed to bring good luck, contentment, and abundance in life. Gifting a set of laughing buddha to your loved ones will be equivalent to gifting them lots of happiness and luck in their life. This set contains 6 Buddhas with a black wooden tray that can be the cutest décor for your dear one's home.
Specifications
Golden Resin Buddha Set of 6
Black Wooden Tray 11×5 Inches
Buy Now!
12. Mosaic Lantern Lamp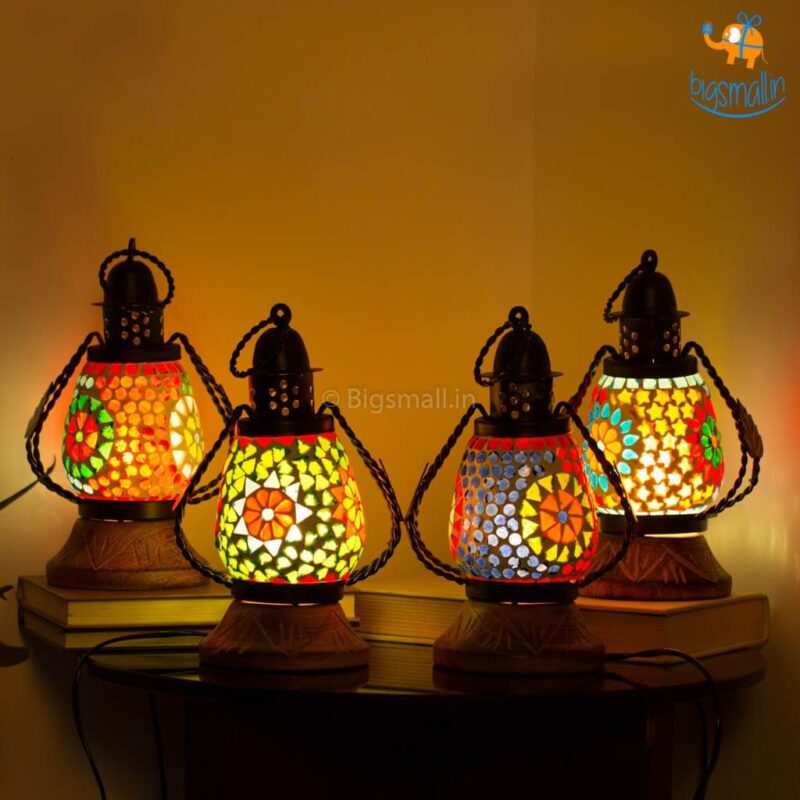 Gift your dear one's this Diwali with this colorful mosaic lamp crafted with love. The lamps are studded with colorful glass mosaics that makes them too attractive. The lamp looks like a symbol of traditional art and can enhance the beauty of the rooms where placed. It is a great piece of art under a reasonable price.
Specifications
Material- Glass, wood, metal
Dimensions- 20 x 9.5 cm
Handmade mosaic lamp withAssorted design
Lamp in the shape of a lantern
Buy Now!
13. Metal Ganesha Carved on a Leaf – Wall Hanging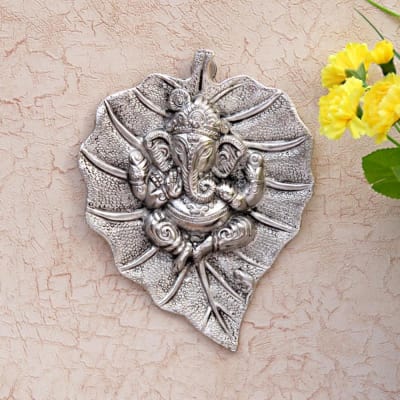 This is a simple and attractive wall hanging for your close ones. This year gift your close ones a beautiful Ganesha wall hanging for their good luck and income. This is a best way to wish them diwali. Luck with looks! A good combination and a perfect gift at affordable price.
Specifications:
Metal material
8in X 6.5in
Buy Now!
14. Mosaic Candle Holder – Set Of 2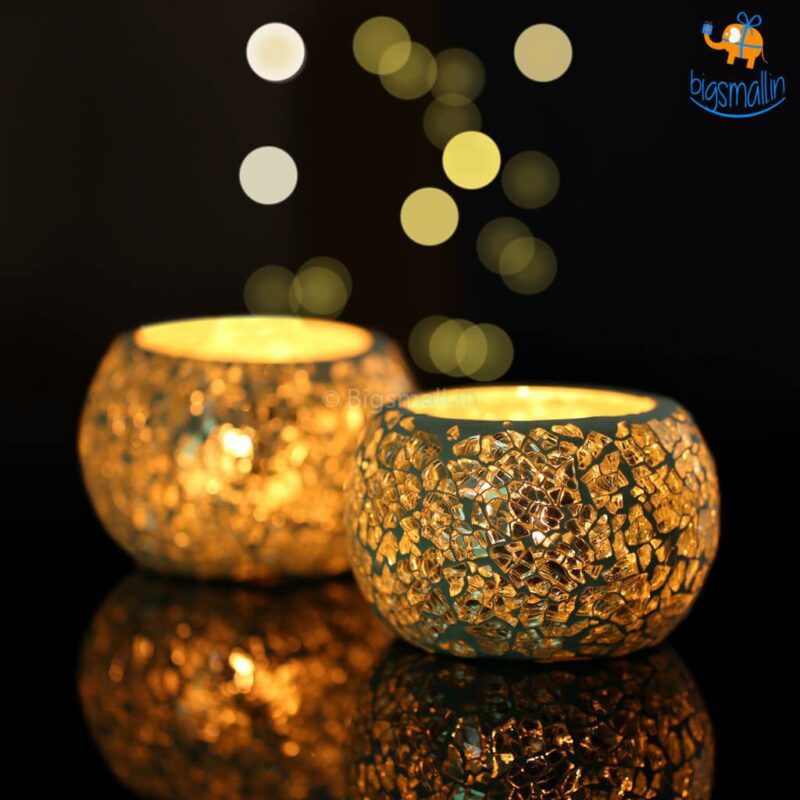 This amazingly beautiful tea light candle holder is made with glass and decorated with crackle mosaic design. It is available in multiple colors. The crackle mosaic design is made using hand art by specialised master artists. It has a unique design and can be the perfect gift for diwali. Gone are those days of just gifting sweets, send this cute and attractive candle holder and bring a smile to your loved one's faces.
Specifications
2 x Crackle Mosaic Candle Holder
Material: Glass
Dimensions: 6.5 x 9.5 cm
Handmade mosaic candle holder
Multiple variants available
Buy Now!
15. Personalized Humidifier & Aroma Diffuser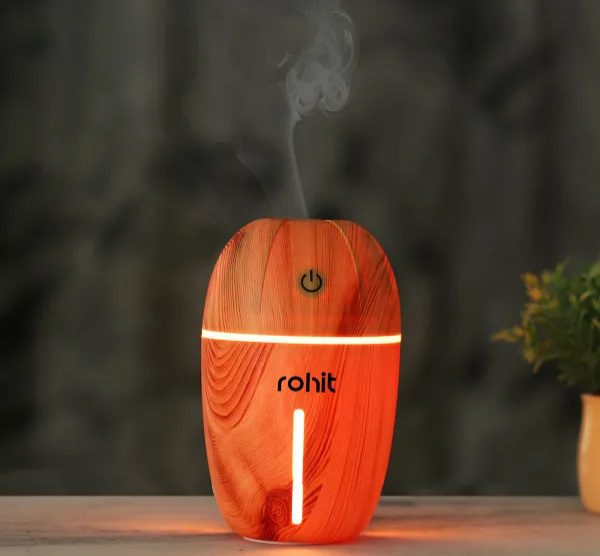 This is a perfect choice to gift your loved ones with their name printed on it. This is a Personalized humidifier and Aroma diffuser. Make your loved one's house pure and full of fragrance this diwali. It comes with a micro USB port and works upto 6-7 hours and the capacity is of 200 ml. Undoubtedly a perfect choice to make some memories by giving this gift with your best wishes to your friends/family.
Specifications:
Type – Reed Diffuser
L X B X H – 5, 3in
Buy Now!
This year has been too stressful for everyone. Your small gift can give the feeling of love and togetherness to your dear ones. Now that you have a number of gift items mentioned in the article go ahead with your choices and have a happy and a safe Diwali.