Diwali is also known as Deepawali, it is one of the India's biggest festivals. The word deepawali means rows of lighted lamps. It is a festival of lights, and celebrated with lots of joy every year. On this festival people light up their houses with oil lamps to symbolises the inner light that protects from any evil or any spiritual darkness and strings of twinkling lights which symbolizes the victory of light over.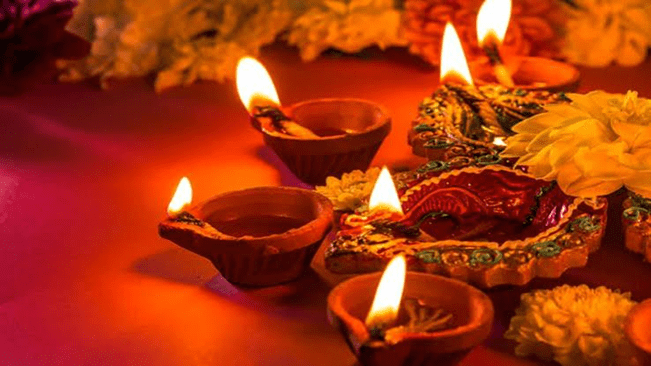 Diwali 2022 timing –
This festival is celebrated in the hindu month of kartikamasam which falls sometime during autumn on different dates each year, which is usually between October – November , In 2022 Diwali falls on Monday, October 24. And the best time to do Diwali pooja is 6:53pm to 8:16 pm, for almost 1 hour 23 minutes.
Diwali has become the national festival that is also enjoyed, celebrated by non-hindu communities. For instance, In jainism Diwali festival marks the nirvana or the spiritual awakening of Lord mahavira on October 15, 527 B.C. while in Sikhism it marks the day when guru
hargobind ji, the sixth guru, was freed from imprisonment. Buddhists of India also celebrates Diwali. Even on the day of Diwali there is a public holiday in some countries such as Nepal, Sri Lanka, Singapore, Malaysia, Mauritius, Tobago and many more. There is also a school holiday in many states of the United States where there are large number of Hindu population.
Diwali Puja preparation and method to perform it-
The rituals for the Diwali puja vary according to the individual families and regions. The basic items that will require are
Earthen pot/kalash , mango leaves, idol or picture of goddess Lakshmi ,milk and curd, honey , ghee, puffed rice , cumin seeds, sweets, and coriander leaves.
According to Hindu rituals to perform a Diwali Puja, first we need to spread out a clean cloth and on it will create a bed of rice on which a pot will be placed and inside the pot there should be water, flowers, coin, rice and the cover it's opening through the mango leaves and then placing a plate on it, it is believed that this is a place where goddess Lakshmi will sit. On the right side of the pot/kalash lord Ganesha's idol should be placed, alongside the idols of goddess Saraswati . The place where the Puja is happening should be decorated, clean, well lit with diyas and candles. The offerings should be of flowers, rice, garlands of marigold, coconut, fruits, sweets, nuts, kumkum, sandalwood. During the whole Puja one should recite the mantras of goddess Lakshmi and lord Ganesha.
Apart from Lakshmi pujan , lord Kuber the treasurer of god's is also worshipped on Diwali. For Kuber Puja , worship the locker or the place where one keeps his gold and cash at home. In the end the whole family should recite the Diwali Puja aarti and then the distribution of Prasad.
How Diwali is celebrated?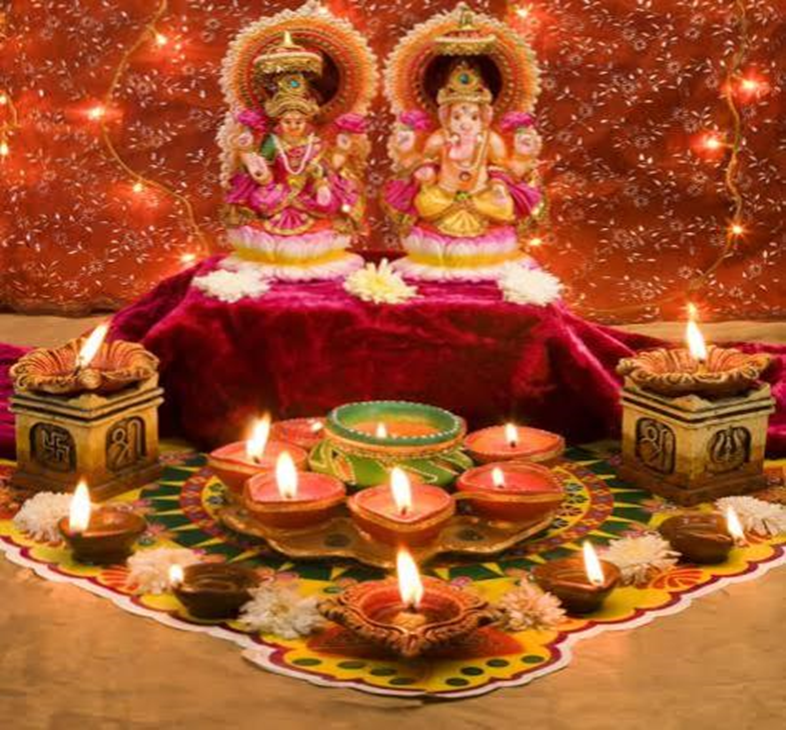 Diwali is celebrated during the months of October or November, It is celebrated to mark, enjoy the return of Lord Rama after 14 years of his exile and also his victory over the demon Ravana who kidnapped goddess sita , wife of Lord Rama. To celebrate the victory of good over evil people use to light up the oil lamps, decorate their houses with lights, diyas to mark the victory of light over darkness. On the day of Diwali people use to worship Lord Ganesha for welfare and prosperity and Goddess lakshmi for wealth and wisdom.
Hindus regards this festival as a celebration of life and the occasion of strengthen the relationships among everyone. In some parts of India, the festival marks the beginning of the new year. Few days before deepawali people clean their houses, shops ,buildings and temples are being whitewashed decorated with lights, pictures, flowers, colourful rangoli art work on the entrance to welcome the goddess lakshmi and to give good luck for the year ahead.
While at night few days before the festival, streets are also being decorated with colourful and twinkling light strings, earthen lamps, electric bulbs. Sweets, toy shops, firecracker shops are being decorated to attract the passerby. People use to buy sweets and chocolates for their family members and relatives, with this it strengthens the brotherhood among people. On the other hand at homes also people use to make home made items to celebrate the festival. On the day of
Diwali goddess Lakshmi is also worshiped in the form of silver rupee, earthen images. Hindu people believe that on this day goddess Lakshmi only enters the houses which are neat and clean to bless the members with health, wealth, prosperity, good luck.
The Diwali festival is celebrated for the five days, with each day has its own significance in the festival.
The First Day is Dhanteras , it signifies the day of goddess lakshmi, for the wealth , prosperity, youth , beauty, good luck. On this day people buy new items like jewelry, clothes, utensils and light up the diyas, oil lamps to welcome goddess lakshmi.
The Second day is known as Chhoti Diwali, which is also called as Naraka Chaturdashi, or Kali chaudas, it focus on the story from the Hindu mythology which signifies the victory of Lord krishna, over the demon narakasur. People light up their houses with beautiful lamps, lights to celebrate the victory.
The Third day is known as Diwali or deepawali or lakshmi puja, the most important day of Diwali festival, on this day people wear new clothes do lakshmi puja at their shops and houses, and also begins any new projects from this day, everyone exchange Sweets and gifts among each other and relatives and friends. Streets, buildings, houses, are lighten up by earthen lamps, diyas, candles, to welcome the light and prosperity from the goddess.
The Fourth day is known as Govardhan puja or padva, on this day some people in northern india build up smsll piles of cow dung as it symbolizes how Lord krishna defeats the king of Hindu gods Indra dev the God of rain, by lifting up the mountain to save people from heavy rains.
The Fifth Day is known as Bhai dooj , this is a day for brothers and sisters to strengthen their relation, siblings perform a tilak ceremony and exchange gifts and pray for each other well being.
Gifts ideas for Diwali
Diwali is a festival known for its grand celebration, where people exchange greetings, wishes, gifts among each other, so here are some of the gifts ideas for this year, we can gift solar metal lanterns, Diwali hamper which contains handmade diyas, sweets, nuts, candles and much more, long distance friendship lamps in which two lamps are connected when one touches the lamp the other lamp connected to it will also glow at the same time which sends a message of togetherness, love between people, and chocolate hampers.
So Diwali festival not only has a significance in Hindu community but also many other communities, it is a biggest festival of india which is celebrated around the world to mark the victory, symbolizes the light over darkness, love, prosperity, good luck.
Lighten up your life with the candles, burn away all the sadness, shine a light on your joys and worship the Lords, for good healthy long, happy life. Wishing everyone a joyous and prosperous Diwali 2022 .
Hope the festival of lights brings bright sparkles of peace, joy, luck throughout the year ahead.