Online Shopping is increasing its reach in Indian urban and rural areas. Most of the people find it more comfortable to shop online. Online shopping has its own advantages and disadvantages. The main advantage is you can check and compare multiple products at your fingertips without leaving home. The main disadvantage is you can not touch and feel the actual product. However, these days most online shopping websites provide very flexible return policy so if you do not like the product, you can return it without any hassles.  There are many ways to save money for the future and saving money on online shopping is one of them. Online shopping becomes much interesting and pocket-friendly when you can save more money. We will go through various online shopping tips and tricks to get the best deal when shopping online in India.
1. Compare The Prices
When you have decided on the product to buy, it is always a good idea to compare the price of the product on all major online shopping platform likes Snapdeal, Flipkart, Amazon, eBay etc.
There are various website and browser extensions like MakkhiChoose and BuyHatke available in the market which will your life easy. Once you open a product in any major online shopping website, the extension will show the price of the product on other platforms so that you can compare easily and make a good decision.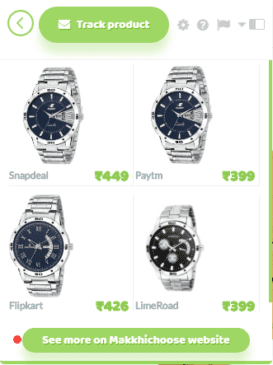 2. Always Look for Promo Codes
Most of the online shopping website regularly offer promo codes to its new and existing customers. You can subscribe to the newsletter of these websites so that you do not miss any promotional offers. Some websites also feature the ongoing promotions on its websites as well. If you can not find any promotional offers or coupon codes on websites, there are various coupon website like coupondunia and retailmenot where you can try your luck.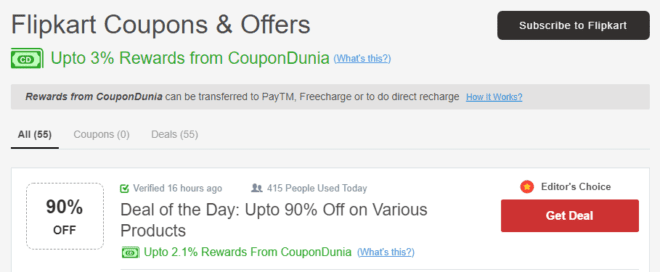 3. Use CashBack Sites
There are many cashback websites like goPaisa available in the market which provide you some cashback on your every online purchase. The only thing you need to do is to go to your favorite cashback site and then click on the retailer where you want to make the purchase. Once your purchase is confirmed by the merchant, the cashback website will credit your account with cashback. Cashback website offer payment in direct deposit in the bank account, or gift cards or payTM balance. Most of the cashback websites have some minimum payout so once you reach that limit, you can redeem your rewards. My favorite cashback website is Cashkaro.

You may be wondering how these cashback sites give you cashback. Well, they have joined the affiliate marketing of online retailers so they get some earning when someone makes a purchase through their link and they pass some percentage of the earning back to you. That's so simple.
4. Look for Referral Programs
Most of the shopping portals have their referral programs where both parties get some benefits. So, if you are planning to shop on a new website, just find out if they have any referral programs running and if any of your friends and family is an existing customer on that portal. if your friend refers you, both of you get some benefits. It's a win-win situation for all three – you, your friend and shopping company. You and your friend get referral benefits and the company gets a new customer which may become loyal to them.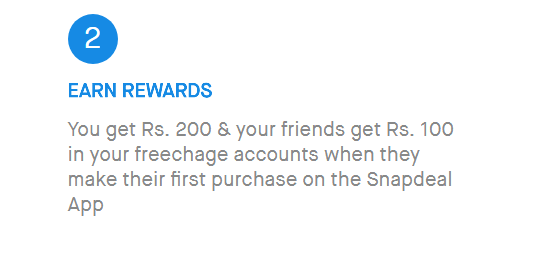 5. Set Price alerts
If the product you are planning to purchase is not urgent, You can monitor the price of the product and set price alerts through various websites and browser extensions. You can receive an email alert if the price of the product goes down or reaches below the threshold set by you. Some websites like MakkhiChoose also display the price graph of the product, so that you can make an informed decision whether the current price of the product is right or below the average price of that product.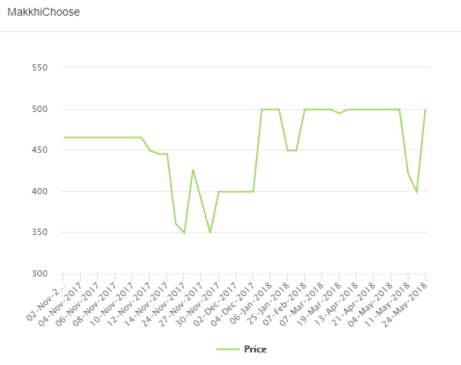 Price graph on a men's watch
Some shopping websites increase the prices of regular prices of the product during the sale season to show that they giving a very huge discount on the product. You can easily detect this trick by checking the price graph of the product.
6. Follow Deal Pages
There are many deal websites like IndiaFreeStuff, FreeKaMaal and more. Also, there are many Facebook groups and pages which post about best online shopping deals. If you are a regular online shopper, you can like and follow these facebook pages like Hot Indian Deals. You can also join various deals groups and communities. Make sure to check the Amazon deal of the day page which has some great deals daily. However, make sure to buy the things which you need and do not buy anything on impulse. Always stick to your budget and shopping list.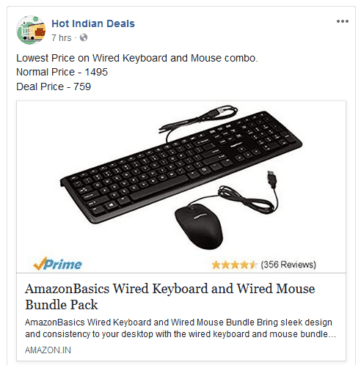 7.  Wait for Sale Season
Majority of the shopping portal provides deep discounts during Major Indian festivals like Diwali, Holi and National holidays like Republic Day and Independence Day and other shopping festivals like the Great Online Shopping Festival. If you can wait, you should look for these sale events. Sometimes you can save a lot of money during sale seasons. Always make sure to check the product price graph to confirm the lowest price. Also, If you are frequent Amazon shopper keep checking Amazon Pay deals where you get 5%-15% money back when you load your Amazon Pay balance.

Some portals offer deal and discount for particular bank debit or credit card holders. Yes, you can not have all of them to grab discount but it's always better to check with your friends and family if they have that particular bank card and they can make the purchase on behalf of you. If you are using the credit card, make sure you buy which you can afford.
If you know any other way to save money on online shopping, please share with us and we will feature that in the article.
Which is your favorite online shopping tips & tricks, let us know in the comment section.