India is a country of diverse natural conditions.  There are many natural wonders in each state. It does not matter what state you visit, you will find a lot of natural places to explore. You will find rivers, mountains, hill stations, waterfalls, desserts in different corners India. Though there are countless waterfalls in India, there are some waterfalls which are very beautiful and grand. Here is the list of 10 most beautiful waterfalls in India you must see.
1. Dudhsagar Falls, Goa
Dudhsagar Falls is a spectacular waterfall located on Mandovi river in Goa.  You must visit these falls whenever you are planning a trip to Goa. It is about 60KM from Panji by road. Located on the Madgaon-Belagavi rail route, Dudhsagar Falls is one of India's largest waterfalls with a height of 310m. The waterfall forms the border between Goa and Karnataka. There are many trails which pass through Dudhsagar Falls. You are lucky enough if you get a chance to board a train that passes through the waterfall during Monsoon day times.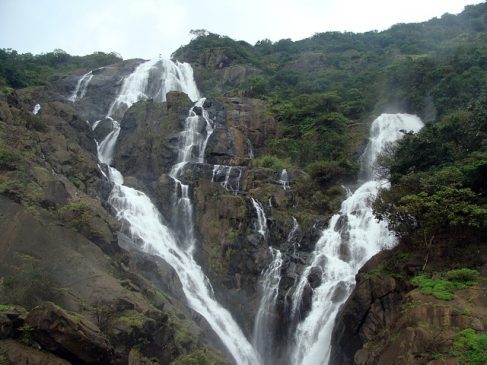 2. Athirapally Waterfalls, Kerala
Athirappilly Falls is located on Chalakudy River in Athirappilly Panchayat in Thrissur District of Kerala.  The largest waterfall of Kerala with a height of 25m, Athirappilly Falls is sometimes called as "The Niagra Falls of India".  The breathtaking beauty of the falls has fascinated many filmmakers for the shooting. Did you know, S.S. Rajamoui's magnum opus Baahubali was shot at Athirappilly Falls. Being featured in many movies, you might have already witnessed the scenic falls. There are other beautiful waterfalls near it – Vazhachal falls and Charpa Falls. Vazhachal falls is just a short drive from Athirappilly and on the way, you will find Charpa Falls.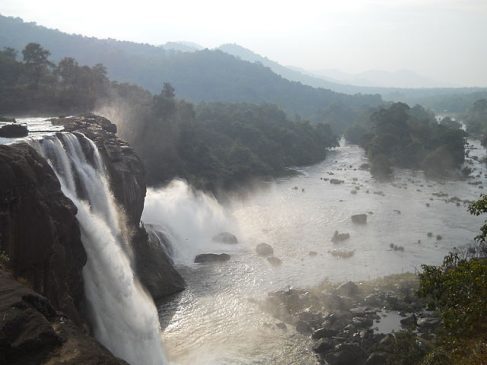 3. Chitrakote Falls, Chhattisgarh
The Chitrakote Falls is a natural waterfall located on the Indravati River in Bastar district of Chhattisgarh. Holding the top position among most wide waterfalls, Chitrakote Falls is often called as Niagra Falls Of India. You will be completely mesmerized by the beauty of falls in the monsoon season. Can't afford a trip a Niagra falls, Visit Chitrakote Falls instead and you will truly appreciate the height and width of the waterfall. You can find a small temple dedicated to Lord Shiva and several naturally created caves known as "Parvati caves" on the left bank of the Chitrakoot Falls.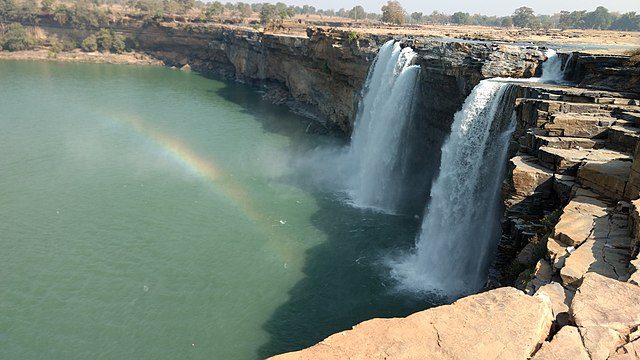 4. Jog Falls, Karnataka
Jog Falls is the second highest plunge waterfall in India located in Shivamogga district of Karnataka. The waterfall is a segmented waterfall however it becomes a plunge waterfall during the rainy seasons.  Being a major tourist attraction in Karnataka, Jog waterfall is a complete delight for nature lovers. You will be completely thrilled watching water falling down from a height of 464 m. If you want to experience the real beauty of nature, plan a visit to Jog falls during the Monsoon season.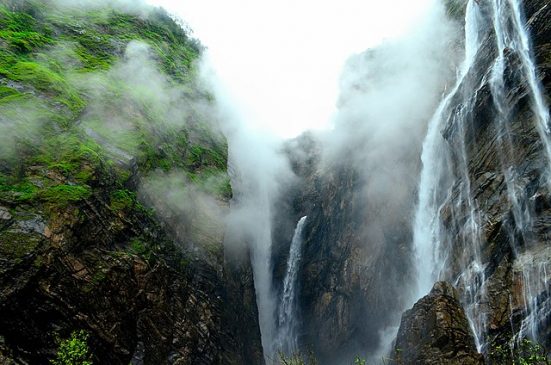 5. Shivanasamudra Falls, Karnataka
Shivanasamudra Falls is located on the Kaveri River in a small city Shivanasamudra, Karnataka.  The waterfall is about 135 KM from Bengaluru city. The flow of water in the Falls is continuous however flow increase during monsoon season. the best season to visit Shivanasamudra Falls is from July to October. If you ever plan to visit Bengaluru, do not forget to visit these majestic waterfalls. You can also find many ancient temples near the waterfall.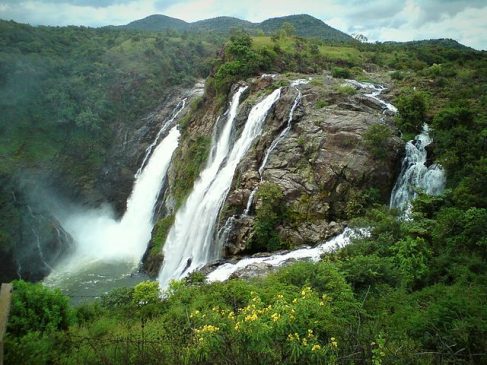 6. Nohkalikai Falls, Meghalaya
Nohkalikai Falls is located in East Khasi hills near Cherrapunji, One of the wettest places on Earth. The place once held the record for receiving the highest level of rainfall in India. At a height of 340 meters, Nohkalikai Falls is the highest plunge waterfall in India. Northeast India is filled with nature's wonders and this lovely waterfall just proves that. Love the rains, plan a visit to Cherrapunji and Nohkalikai Falls.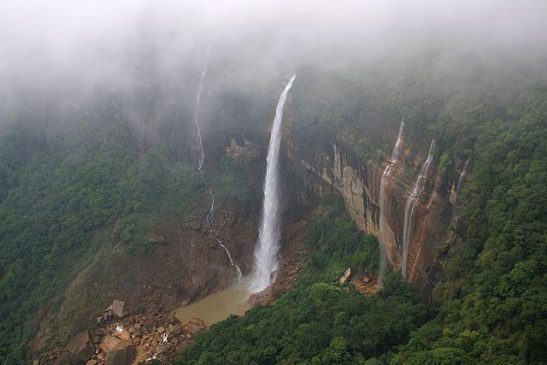 7. Nuranang Falls, Arunachal Pradesh
Nuranang Falls also known as Jang Falls is located in the Tawang district of Arunachal Pradesh.  One of the hidden treasures of NorthEast India, Nuranang Falls are one of the most spectacular waterfalls in India. The fall is situated about 2 kilometers away from the town of Jang on the road connecting Tawang and Bomdila.  Water falling from 100 meters high on the backdrop of mountains makes an impressive visual. Nuranang Falls has featured in "Tanhai Tanhai" song from Bollywood movie Koyla starring Shahrukh Khan and Madhuri Dixit.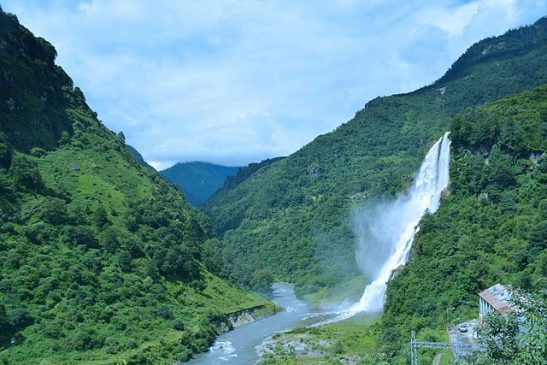 8. Bhimlat falls, Rajasthan
Bhimlat falls is located in Bundi, Rajasthan. The waterfall provides a great relief from the heat during summers in the land of dessert. The place is famous for beautiful waterfall and Mahadev temple. Kota is the nearest airport which is about 40 kilometers away. The best time to visit Bhimlat falls is during the monsoon season of June to October. Felling the scorching heat of desserts, plan to visit to Bhimlat falls to take a break from summer.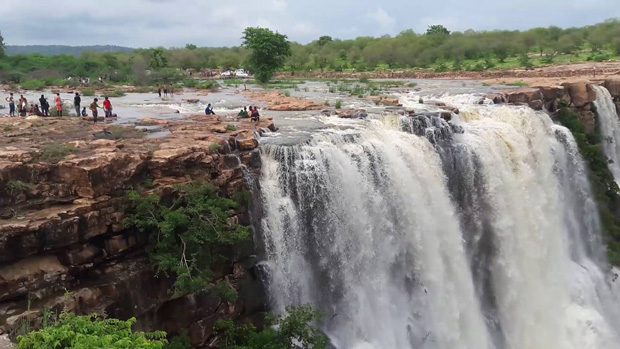 9. Hogenakkal falls, Tamilnadu
Hogenakkal waterfall is a located on the Kaveri river in the Dharmapuri district, Tamil Nadu. There are many waterfalls in India which are referred to as Niagra falls of India, and this is also one of them. The place is also known for many adventure sports including high boat rides. You can reach Hogenakkal waterfall via Bengaluru and Dharmapuri. The beauty and grandeur of the waterfalls make them a major tourist attraction. Looking for one-day trips around Bangalore, visit Hogenakkal waterfall, they are just 180 KM from Bangalore.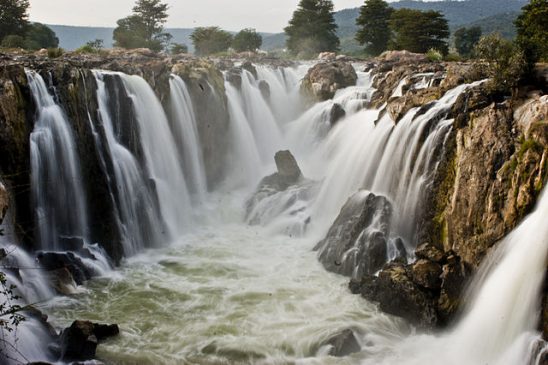 10. Soochipara Falls, Kerala
Soochipara Falls is located in Wayanad, Kerala surrounded by evergreen forests. The word  Soochipara is made up of tow words – Soochi which means needle and Para which means rock.  Also known as Sentinel Rock Waterfalls, the waterfall is about 200 meters high.  The fall offers a cliff face that is used for rock climbing. If you ever plan to visit God's own country, make sure to visit these scenic waterfalls.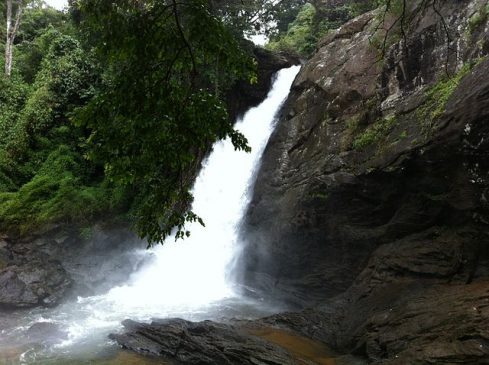 Let me know if I have missed any beautiful waterfall on the list. Please share your experiences of visiting the most beautiful waterfalls.