A cold weather, surrounded by greenery, a cup of tea and a few days away from the noisy polluted cities is what a holiday on the hills would look like. With most of these places having a bit of European influence, the experience there just gets more aesthetic. So here is a list of top 12 best Indian hill stations that could be a part of your vacation planner.
1. Srinagar, "Land of Lakes and Gardens"
Srinagar, the capital of Jammu and Kashmir is widely known for its gardens, lakes, relaxing houseboats and the beautiful scenic beauty. The gardens here have a bit of Mughal influence. The terrace gardens of Shalimar Bagh and Nishat Bagh offers a magnificent view mountain range and Dal lake.
Srinagar is also known for its dry fruits and Kashmiri handicrafts. And if visiting during the month of April, you can witness the Tulip festival held in Asia's largest Tulip garden.
Despite the political tension in this region, Srinagar still stands to be the "Heaven on Earth" and offers a memorable experience.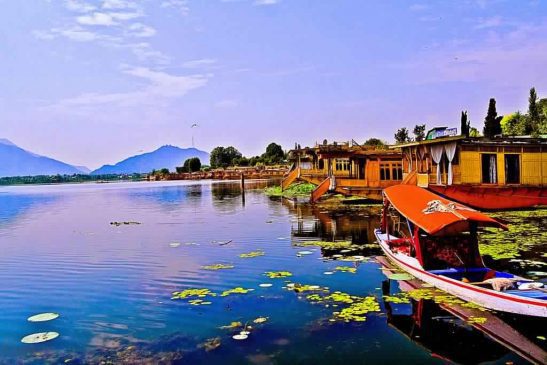 Altitude: 1,585 m
Best time to visit: April or May
Places to visit: Indira Gandhi Tulip garden, Sointhan Top, Aadamwari Garden, Nigeen Lake, Dal Lake, Shalimar Bagh, Jawaharlal Nehru Memorial Botanical Gardens, Nishat Garden
2. 

Mcleodganj, "Little Lhasa"
Mcleodganj is popularly known to be home to the Tibetan spiritual leader the 14th Dalai Lama and is very popular among trekkers. It is a town situated in Dharamshala, Kangra district of Himachal Pradesh and is home to a large population of Tibetans. The crowd here is the mixture of Indian tourists, nuns, volunteers, international visitors and people looking for spiritual peace which makes conversations here very interesting and worthwhile.
Few of the most eminent Monasteries like the Namgyal Monastery and Tsuglagkhang, where the spiritual leader Dalai Lama resides are located here. And to enjoy some scenic beauty, one must visit Dal Lake and Triund.
While in Mcleodganj, You must visit Dharamsala, Bhagsu Nag and Kangra, three famous towns around Mcleodganj.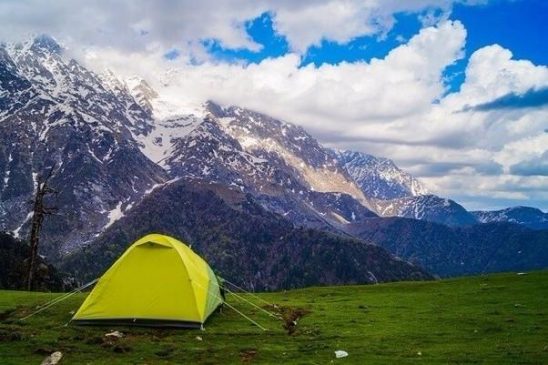 Altitude: 2,082 m
Best time to visit: Between October and February or between March and June
Places to visit: Namgyal Monastery, Triund, Dal Lake, Tsug La Khang, Bhagsu Falls, Tibetan Museum, Norbulingka Institute, Nechung Monastery, Tsechokling Gompa
3. The Nilgiris, "Blue Mountains"
Nilgiris is the name given a range of hills on the borders of Karnataka, Tamil Nadu, and Kerala. In these range of Hills, there are three main towns to visit- Ooty, Coonoor and Kotagiri, each of these closely located near one another. Nilgiris presents a truly breathtaking kaleidoscope of visual treats and soul-stirring experiences with vast tea plantations, lakes, waterfalls, flora and faunas, trekking trails and a serene experience of pollutions free sunrises and starry skies. The numerous number of local tribes present in these hills add to the heritage of the place and provides visitors with innumerable knowledge of natural remedies and fresh herbs and honey.
On the foothills of these hills is a National Park called Bandipur National Park and Mudumalai Tiger Reserve which happen to be another tourist destination.
Ooty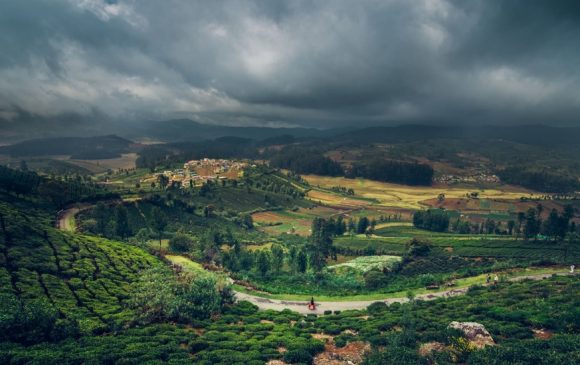 Altitude: 2,240 m
Best time to visit: October to June
Places to visit: Avalanche, Botanical Garden, Ooty Lake, Nilgiri Mountain Railway, Kalhatti Falls, Pykara Lake, Toda Temple, Tiger Hill, Ooty Golf Course, Krishna Sagar Dam, Doddabetta, Thread Garden
Kotagiri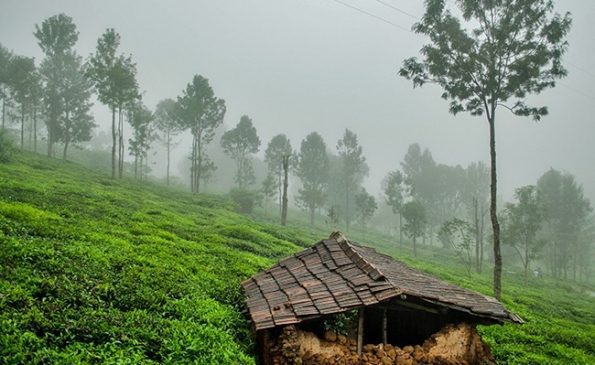 Altitude: 1,793 m
Best time to visit: October to June
Places to visit: Catherine Falls, Longwood Shola Reserve Forest, Nehru Park, John Sullivan Memorial, Ralliah Dam, Uyilatti Falls
Coonoor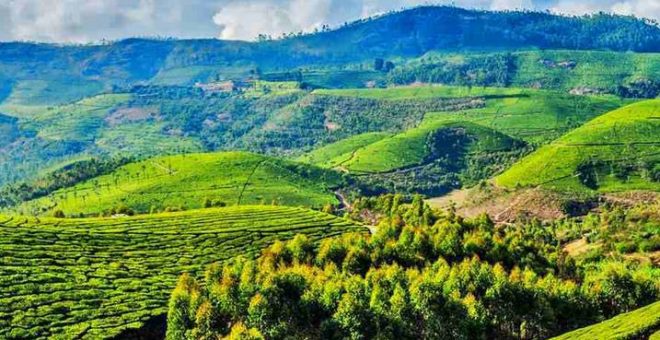 Altitude: 1,850 m
Best time to visit: October to June
Places to Visit: Sim's Park, Wellington Lake, Wellington Gymkhana Club golf course, Tiger Hill Cemetry
4. Darjeeling, "The land of the thunderbolt"
Darjeeling is a town at the foothills of The Himalayas and has a backdrop of one of the highest peaks, Mt.Kanchenjunga. At one point it was one of the favourite destinations for the Britishers for its cool climate and green scenic beauty and the influence can still be seen in its architecture and planning.
The toy train in Darjeeling was made in the late 19th Century and runs from Jalpaiguri to Darjeeling and is one of the most tourist attractions there. One must also go to the Passenger Ropeway which covers a distance of 5km from North Point to Singla Bazaar over the Ranjit River. This passenger ropeway is also the first passage ropeway in India. Darjeeling also has a number of monasteries including the Ghum Monastery which is one of the oldest Tibetan Monasteries.
Apart from these tourist places and scenic views, a hot sip of Darjeeling tea in between lush greenery and a cold climate is known to be one of the most memorable experiences for almost everyone who visited Darjeeling.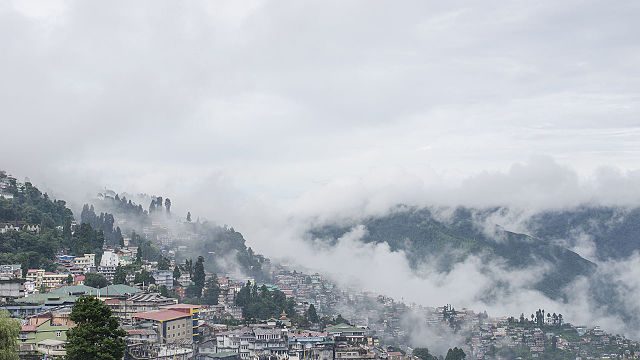 Altitude: 2,042 m
Best time to visit: April to September
Places to visit: Toy Train Journey, Sandakphu, Tiger Hill, Batasia Loop, Ghum Monastery, Peace Pagoda, Tenzing Rock, Padmaja Naidu Himalayan Zoological Park, Lebong Racecourse, Senchal Lake, Mirik, Barbatia Rock Garden, Buddhist Monastery
5. Manali, "Lover's Paradise"
Manali is one of the most popular hill stations in India, and why shouldn't it be? It has green forests, a meadow of flowers, a tinge on coolness in the air throughout the year, a perfect view of snow and a fragrance of pines.  Manali is not just a holiday destination for just families but also for adventure thirsty enthusiasts. Solang Valley, which is one of the most picturesque places in Manali is also known for skiing in winter. Rohtang Pass, another known tourist place, is also known among mountain bikers and people who enjoy skiing.
A holiday in Manali has a bit of thrill, a bit of serenity and a basket full of memories.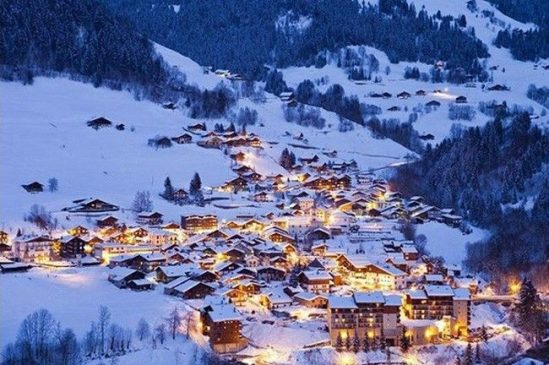 Altitude: 3,979 m
Best time to visit: October to February
Places to visit: Rohtang Pass, Solang Valley, Hadimba Devi Temple, Manali Sanctuary, Manu Temple, Mall Road, Tibetan Monastery, Van Vihar, Jogini Falls, Bhrigu Lake, Great Himalayan National Park, Pandoh Dam, Manalsu River
 6. Mussoorie, "The queen of hill-stations"
Mussoorie is a hill station filled with green slopes and a view of the snow peaked mountains of The Himalayas. It is in Uttarakhand and is 35 kilometres from Dehradun. The British influence in this region can still be seen in the churches and architecture of some of the buildings. Mussoorie is also popular for its education and flora and fauna.
The camel's Back Rock which is a 4km stretch from Kurli Bazaar to the Library point is a beautiful stretch to walk or ride on a horse to have a serene and beautiful experience.
Mussoorie is also the gateway to Gangotri and Yamunotri.  You can enjoy a great view of the snow capped mountains of The Himalayas to the utmost from the highest point in Mussoorie, Lal Tibba.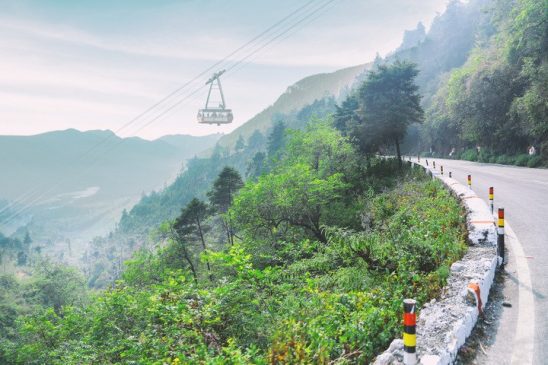 Altitude: 2,006 m
Best time to visit: April- June or August- September
Places to visit: Mall Road, Mussoorie Lake, Gun Hill Point, Lake Mist, Kempty Falls, Lal Tibba, Cloud's End, Nag Tibba Treck, Benog Wildlife Sanctuary, Dhanaulti, Company Garden, George Everest's House.
7. Tawang, "Chosen Horse"
Widely known as the birthplace of Dalai Lama, Tawang is a beautiful hill station. The hill station hosts lots of popular and significant monasteries in the town. While India considers it to be a part of Arunachal Pradesh, China considers it to be a part of southern Tibet.
Visitors to Tawang require special Inner Line permits from the government which is available in Kolkata, Guwahati, Tezpur, and New Delhi.
Since it is one of the Spiritual hubs, the experience here gets scenically pleasing and mentally calming.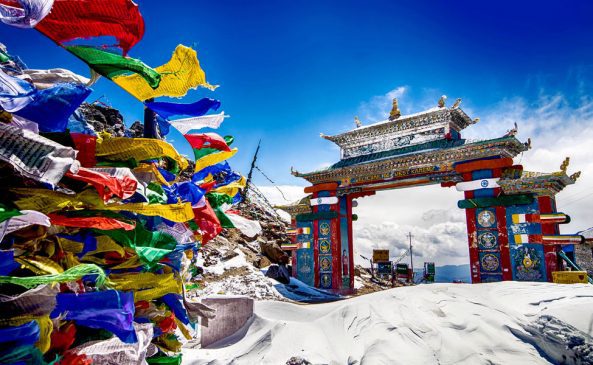 Altitude: 2,669 m
Best time to visit: March to October
Places to visit: Tawang Monastery, Sela Pass, Nuranang Falls, Tawang War Memorial, Gorichen Peak, P.T Tso Lake
8. Munnar, "Kashmir of South India"
Munnar is a town located in the Western Ghats of India and is a Part of Kerala. It was once home a large number of Britishers. You can witness a large number of tea estates. The name "Munnar" comes out from the meeting of three rivers, Mudrapuzha, Nallathanni, and Kundala.
Amid the vast diversity of flora, a flower called the Neelakurinji, is present here.  This flower blooms every twelve years and it was last seen in 2018. And among the fauna, the Nilgiri Tahr is present here along with a variety of birds and butterflies.
Munnar also has the highest peak in South India, Anamudi, which towers over 2,695 m.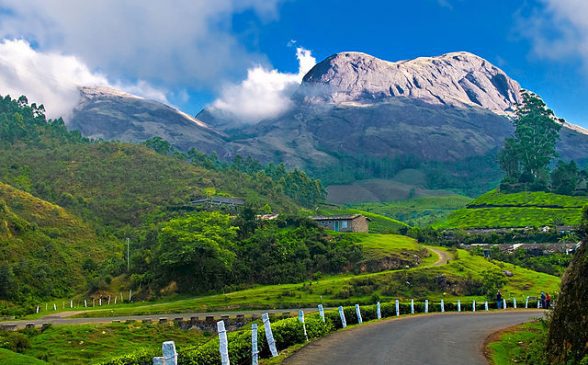 Altitude: 1,532 m
Best time to visit: June to September
Places to visit: Eravikulam National Park, Mattupetty Dam,  Anamudi Peak,  Pallivasal, Chokramudi  Peak, Nayamakad Waterfall
9. Gangtok, "The Gateway to Sikkim"
Gangtok is the capital city of Sikkim. It gives a picturesque view of Mt Kanchenjunga and attracts a whole lot of tourists and trekkers. Gangtok rose to prominence as a popular Buddhist pilgrimage site after the construction of the Enchey Monastery in 1840.
Gurudongmar Lake is a lake situated a little away from Gangtok. It is a beautiful place to visit and is worth the long drive from Gangtok.
There is no lack of natural beauty in Gangtok making it one of the most popularly loved hill stations in India.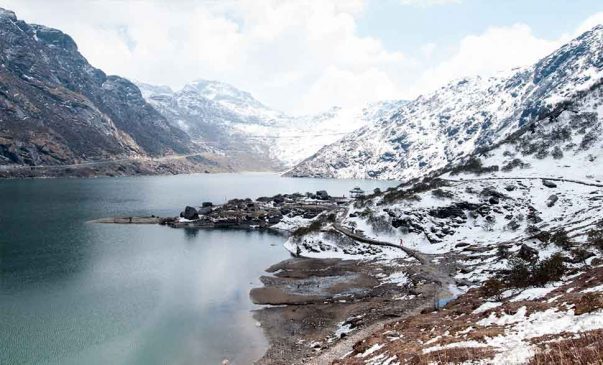 Altitude: 1,650 m
Best time to visit: September to June
Places to visit: Nathu La Pass, MG Road, Ban Jhakri Falls, Tashi View Point, Tsomgo Lake, Enchey Monastery, Reshi Hot Springs, Gurudongmar Lake, Baba Harbhajan Singh Temple, Rumtek Monastery.
10. Mount Abu, Dev Bhumi (Land of Gods)
Mount Abu is the only hill station in Rajasthan and is among the highest points in the Aravalli ranges. It used to be a summer destination for the kings and have buildings with a blend of British style bungalows and holiday lodges of the royals, sharing space with the rustic abodes of various tribal communities residing in the forests.
This hill station has waterfalls, forests and an innumerable amount of scenic beauty. It is a breath of cool, fresh air amidst the parched deserts of Rajasthan. Mount Abu is also home to a large number of temples and religious spots. Therefore, People call it the Land of Gods.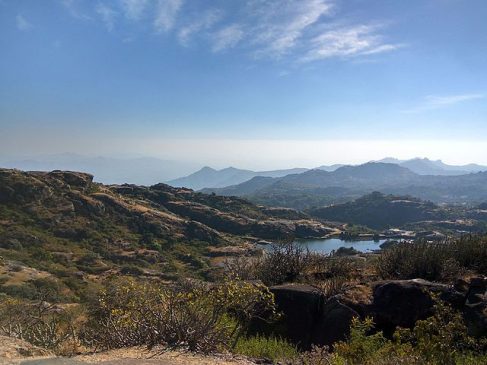 Altitude: 1,220 m
Best time to visit: November to February
Places to visit: Nakki Lake, Guru Shikhar, Dilwara Jain Temple, Mount Abu Sanctuary, Trevor's Tank, Achalgarh, Toad Rock, Achaleshwar Mahadev Temple
11. Shillong, "The Abode of Clouds"
Shillong is the capital city of Meghalaya. The city derives its name from the idol worshipped at the peak of Shillong, Lei Shyllong. Along with the beautiful mountain peaks, Shillong has some crystal clear lakes, waterfalls, museums and zoos. It also aids the entrance to Meghalaya, a land with an interesting culture and people.
The numerous numbers of musical events that take place in this state are also one of the reasons for its popularity.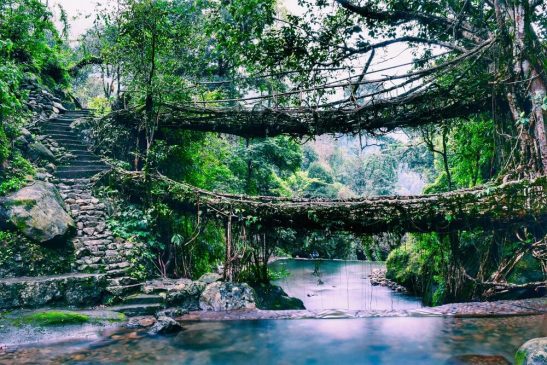 Altitude: 1,525 m
Best time to visit: March to June
Places to visit: Umiam Lake, Elephant Falls, Shillong Peak, Mawlynnong, Don Bosco Museum, Mawsynram, Ward's Lake, Laitlum Canyons, Air Force Museum, David Scott Trail
12. Shimla, "Summer Hill"
Known as Summer Hill, Shimla is the capital city of the Indian state, Himachal Pradesh. Shimla draws the attention of all kinds of tourists including the ones looking for a family retreat, a couple's honeymoon, the people looking for some spiritual retreat or the people looking for some thrill and excitement. Filled with beautiful, dense forests of Oak, Deodar and Pine,
Shimla is refreshing in its very existence.
Shimla along with its natural beauty is famous for its adventure sports and its handicrafts like wooden toys and crafts.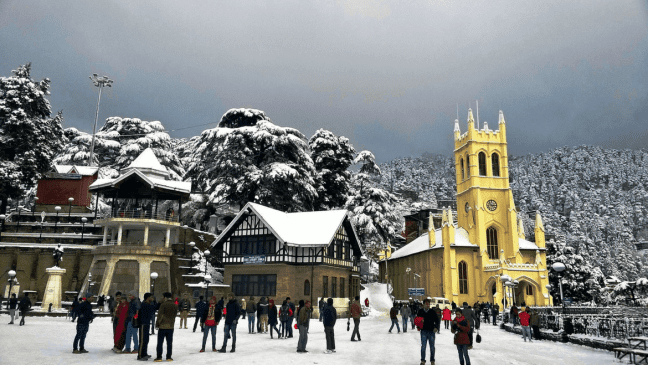 Altitude: 2,276 m
Best time to visit: March to June
Places to visit: Mall Road, Christ Church, Jakhoo, Toy train ride, Skiing and skating in Kufri, Rashtrapati Nivas, Shimla Reserve Forest Sanctuary, Kiala forest, Chadwick waterfalls, Shimla state museum.
Which is the best Hill station in India you would like to recommend? Let us know in the comments section.