You would be lying if you say you haven't seen a single episode of Koffee with Karan. Koffee with Karan, probably the biggest celebrity talk show, however it never really fails to hit some breaking news. You may love or hate KJo but you simply can't deny that he has his ways to get your favourite celebrities say the most ridiculous things. Let's revisit some of those moments.
1. Kareena Kapoor Khan: John Abraham is Expressionless.

Admits the ongoing drama between Bipasha Basu and Kareena Kapoor. Post calling Bipasha Basu "kali billi". In her appearance on Koffee with Karan, when Karan asked her "what word comes to her mind when he says the name of the following actors? John Abraham?" Kareena replied " Expressionless", about ex-beau of Bipasha Basu. Later when Bipasha graced the couch, and Karan asked her the same question about Kareena, she said "Too many expressions".
2. Deepika Padukone: Ranbir Kapoor Should Endorse a Brand of Condom.

On the Koffee couch in a rapid-fire round when KJo asked Deepika Padukone, what product should Ranbir Kapoor promote? Her answer regarding her former beau was prompt, "a brand of condom". Surely, it left certain folks utterly jaw dropped.
3. Tusshar Kapoor: Preity Zinta Synonymous to Botox!

When Tusshar Kapoor appeared on the Koffee couch, unlike his characters with limited vocabularies, he surely had a lot to say. In the rapid fire round when he was asked, whom does he think of when he hears the word 'botox'. Kapoor's answer was Priety Zinta. Although he apologized later, it did make a lot of buzzes.
4. Anil Kapoor: Abhay Deol Needs Help in Every Way.

Abhay Deol has been very vocal about his displeasure about Aisha (2012). A movie where he worked alongside Sonam Kapoor. Anil Kapoor to protect his daughter said "Abhay Deol needs help in every way. He is trying to do all the wrong things.". Later, the young Deol also had to say "yes, I need help. Help not getting affected by people like him. He is a waste of my time".
5. Kareena Kapoor Khan: Why does Priyanka Chopra have that accent?

Let's be honest no one is surprised to see Bebo being mentioned again. In a Koffee with Karan episode, she said: "why does Priyanka Chopra have that accent?" Anyone who is updated with Bollywood might know about the brawl between the two stars. Later, PC responded with "The same place she got her boyfriend (Saif Ali Khan)". Yikes.
6. Imran Khan- "Sonam should do more movies and less magazine cover"

Let's be honest if you think about Sonam Kapoor, the first word that will come to your mind is "fashionista". Irfan Khan, cementing this by this statement on the actor saying "Sonam Kapoor should do more movies and less magazine cover".
7. Kangana Ranaut: Karan you're the flag bearer of nepotism.

Kangana Ranaut has been the steering force behind the beginning of much-wanted nepotism conversation in Bollywood. The star graced the show alongside Saif Ali Khan for the promotion of their upcoming movie. During the rapid-fire, Karan asked, who does she think has an unbearable attitude male or female co-star? She replied "You, Karan" added further "He is a star and has given me the most attitude". Later, she blatantly said "In my biopic, if ever it's made, you will play the stereotypical Bollywood biggie, who is snooty and completely intolerant to outsiders. A flag-bearer of nepotism. The movie mafia."
8. Alia Bhatt: Prithvi Raj Chauhan – President of India.

When in the previously included General Knowledge round, the cast of "Student of the year" was asked who is the president of India? Promptly, Alia Bhatt screamed Prithvi Raj Chauhan. Soon she realised her mistake. However, realising her mistake or not, it did hit headlines in all the media houses. People were shocked by her answer as well, subject her to various memes.
9. Sonam Kapoor: people think if you aren't good looking, you're a good actor.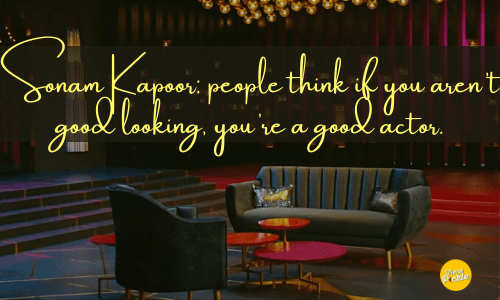 Sonam Kapoor every time appeared on Koffee with Karan had something outrageous to say. Karan asked, "Does it bother you when they talk about actresses more in the acting department?". To which she replied, "well you know the thing about the industry is if you're not good looking they think you're a good actor". I know, mind-blowing!
10. Salman Khan: I'm a virgin.

When Salman Khan iconically claimed that he is a virgin. Let's just say, no one believed him. But in case you believed this, then later when Arbaaz Khan came onto the show and was asked "who does he thinks can't get on without sex?", he said "Salman" and started to laugh.
These are some moments from Koffee with Karan that didn't just hit the news but also took the social media by storm.