Karishma Kapoor is one of the renowned Bollywood divas who delivered major blockbusters like Biwi No.1, Raja Hindustan etc. She has been accoladed with many Filmfare awards for her outstanding acting skills. Her different style of acting and her skills has made her one of the leading actors. Nobody can act like her and her acting is flawless in every aspect.
1. Biwi No. 1
Year- 1999
IMDB- 5.7/10
Karishma Kapoor is known for her skills in acting and she gets so indulged in a character that it feels real. Her role is of an Indian housewife who struggles to cope up with her husband cheating on her. The movie brings out a serious issue but in a comic way. The movie shows the true reality of the society when a husband seeks pure in the outside world and a wife needs to make efforts to get back him. She gives the new shape to society with her superb acting. This movie is a full package of love, laugh, cry etc. The famous song "Hai Hai Mirchi Uff Uff Mirchi" sets the stage glowing. The movie was able to gather a pool of audience. A worth watch film!
2. Coolie No. 1
Year- 1995
IMDB- 6.2/10
The movie starring the most popular jodi of Karishma Kapoor and Govina. They make a scintillating effect on the audience and create an aura of romance and comedy. It is one of the best comedy movies and seeing the duo together is a treat for the audience. The movie has many comedy elements which made Govinda – The comedy icon of Bollywood. The story is based on taking avenge against a wealthy Chaudhary, Pandit hires Raju, a coolie to disguise as a wealthy business tycoon to marry his daughter Malti. David Dhawan is working on the remake of the movie with Varun Dhawan and Sara Ali Khan.
3. Hum Saath Saath Hai
Year- 1999
IMDB- 6.2/10
The movie is a family drama and family entertainment of Bollywood. The morals and values depicted in the movie cannot go unnoticed. It shows deep-rooted values of an Indian family. The movie follows a story of Ramayana. The eldest son is hated by his stepmother, this is forced to leave the house. The younger one accompanies him and shows the beautiful portrayal of Ram and Lakshaman. Karishma Kapoor is seen in the role of Sapna Chaturvedi. She plays the role of a devoted wife and daughter-in-law. She falls in love in the film with Saif Ali Khan. Drama is portrayed in the film as Karishma Kapoor's father is shown as a villain. Karishma's performance was very well applauded by the audience. Watch this movie with your family if you haven't already!
4. Raja Hindustani
Year- 1996
IMDB- 6.2/10
Aamir Khan was praised for his performance, while Karishma looked intense and was appreciated for her skills. Aamir Khan and Karishma Kapoor share a cordial relationship as co-stars. The movie shows a gap between rich and poor prevailing in the society. This movie condemns a stereotype that rich can't marry poor. A boy falls in love with a rich girl and they marry against their parents wishes. They did an amazing job.
5. Dil To Pagal Hai
Year- 1997
IMDB- 7/10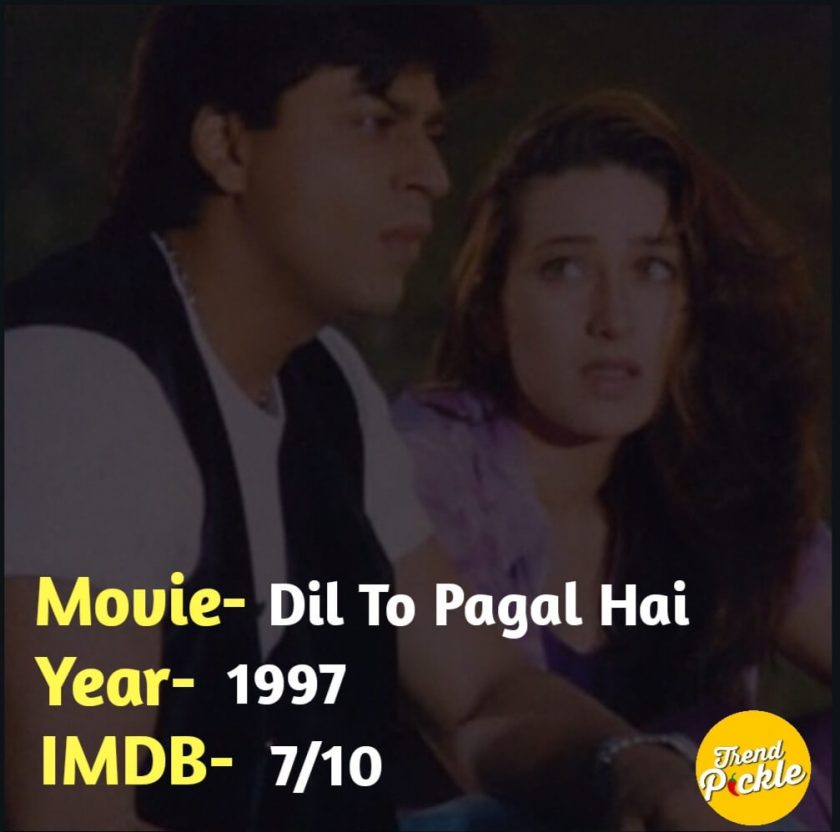 No other actress but Karishma Kapoor could have played the complex character of Nisha so well that audience also star feeling connected as they are going through similar phases in life. She is a the wonderful projector of emotions that a movie demand, whether it be the role of a loving friend or the role of a jealous friend. The movie shows a love triangle of Shahrukh Khan, Madhuri Dixit and Karishma Kapoor. Shahrukh Khan falls in love with Madhuri Dixit and Karishma is left alone. She longs for his love and her role of Nisha is able to bring out the inner sufferings. She won the Filmfare Award for Best supporting actress in the movie. A must watch one!
6. Raja Babu
Year- 1994
IMDB- 6.3/10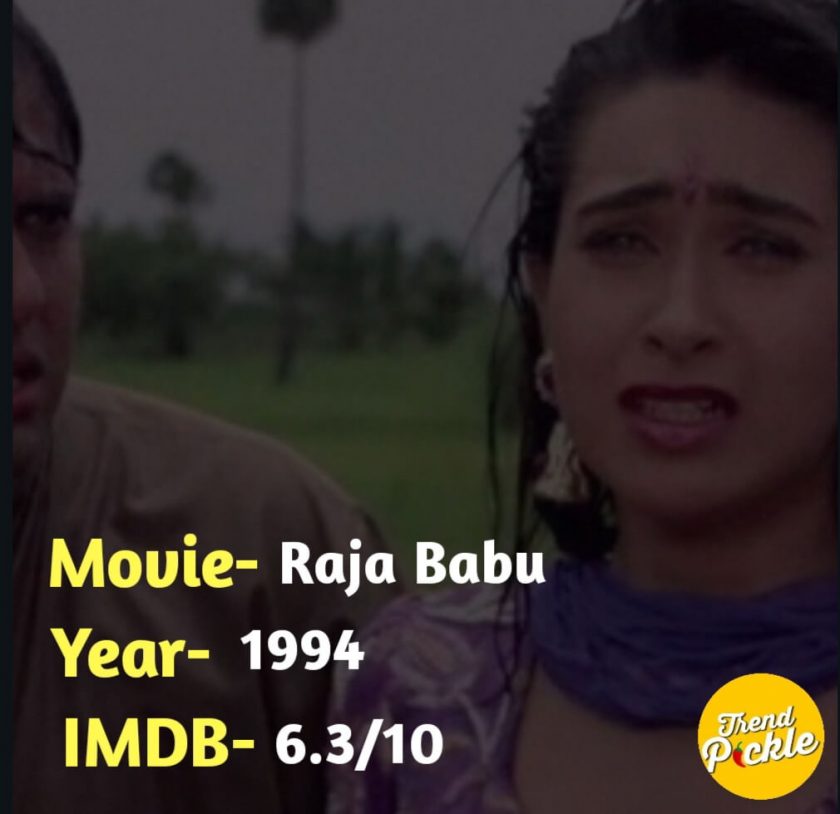 Raja Babu is one of the successful movies of Karishma Kapoor. She defined herself as one the leading actresses of all times. The movie is just hilarious as well as a good family drama. An entertaining simple movie where an orphan is adopted by a rich couple. Karishma Kapoor leaves him on discovering that he is not a man he pretends to be. Though the movie has some comedy scenes, it is an expressive movie showing the emotions of love and responsibility. In short, Raja Babu has all the elements, a perfect story, superb direction and screenplay, delightful music and flawless acting, which makes it worth watching!
6. Andaz Apna Apna
Year- 1994
IMDB- 8.2/10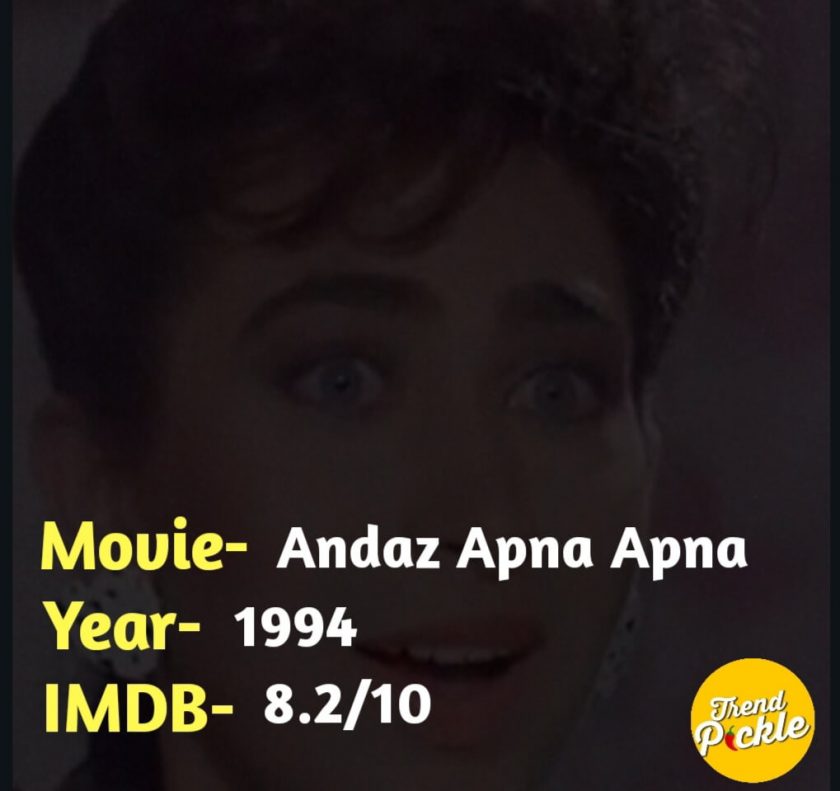 Andaz Apna Apna has always been so special as it carries forward the complete comedy genre. Andaz Apna Apna is a clean and classic comedy movie of all times. The movie directed by Rajkumar Santoshi, starring Raveena Tandon, Aamir Khan and Salman Khan as lead actors was a great movie which was praised later. The movie revolves around the two-middle class boys, Amar and Prem who chases a millionaire's daughter, Raveena. The audience is pleased seeing a duo of Karishma Kapoor and Salman Khan on screen. A comedy movie with elements of romance in it makes a perfect combination. The song "Yeh Raat aur Yeh Doori" is liked by all.
7. Fiza
Year- 2000
IMDB- 6.1/10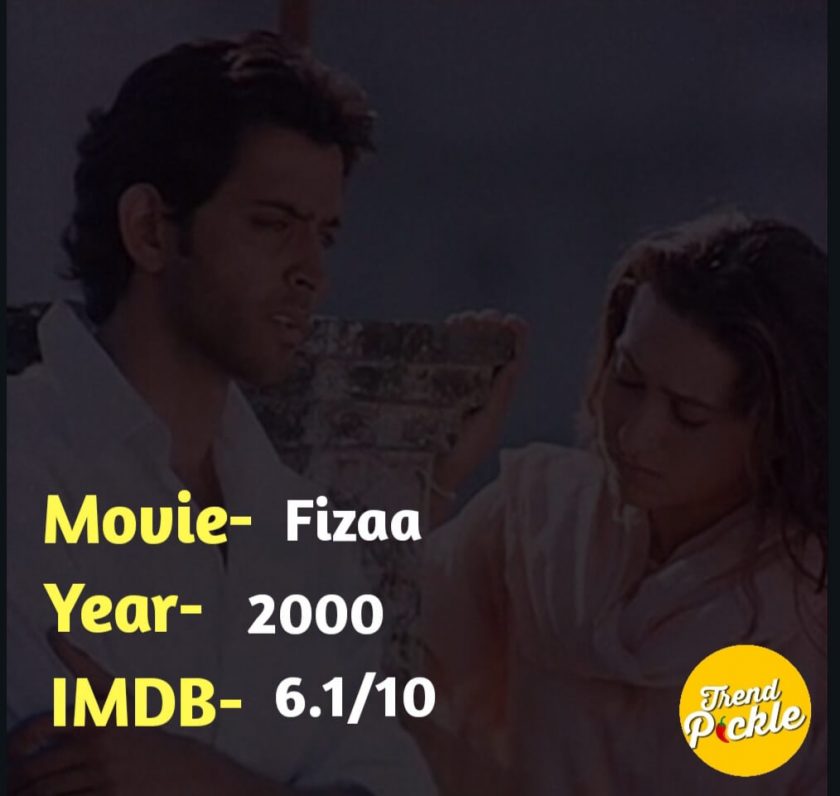 Karishma Kapoor's acting in Fiza, a romantic drama was terrific. With Karishma's remarkable performance, the movies also have a mesmerizing performance by Hrithik Roshan. Fiza is probably the strongest role she has done. The movie will bring you down to tears and you would feel so connected to the grief of Fiza and her mother. Her brother withered during the 1993 Bombay riots and becomes a terrorist. Fiza, tired of waiting goes to find him and succeeds after long six years. Her natural and fine acting made us feel connected to the movie when she cried over her mother's demise. She adds an emotional touch to the movie and even wins Best Actress award at IIFA.
9. Hero No. 1
Year- 1997
IMDB- 6.1/10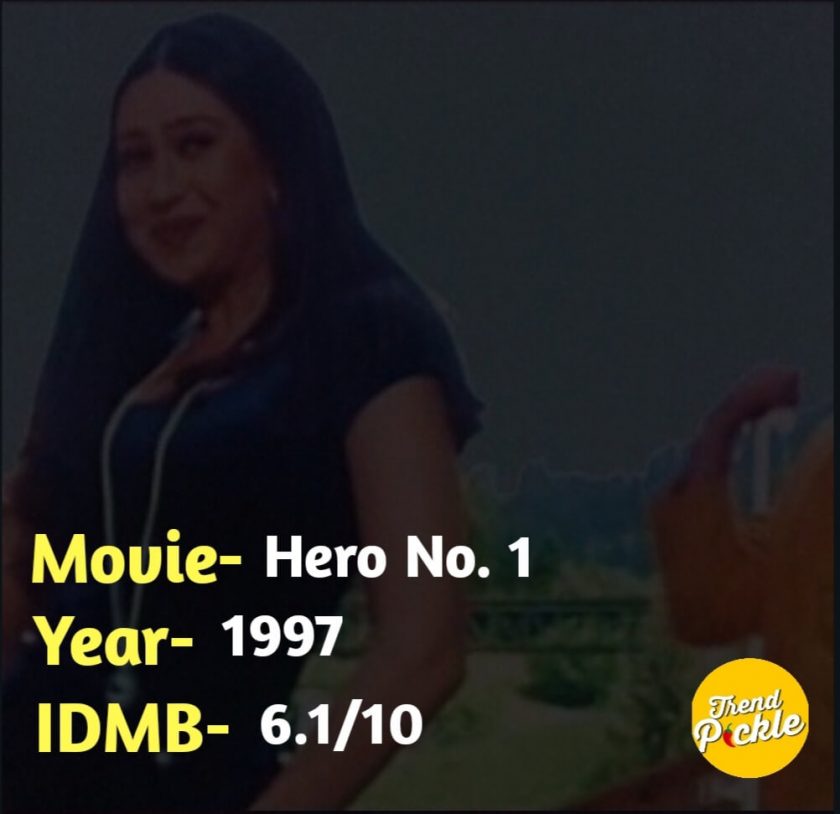 An other combination of comedy and romance, starring Karishma Kapoor and Govinda was a hit. Undoubtedly, this movie is bound to be a runaway success. As an audience, we love to see this duo of Govinda and Karishma Kapoor on the screen. The story revolves around a boy, a son of a wealthy businessman who tries to impress a girl. A perfect movie.
10. Haseena Maan Jaygi the ear- 1999
Year- 1999
IMDB- 6.2/10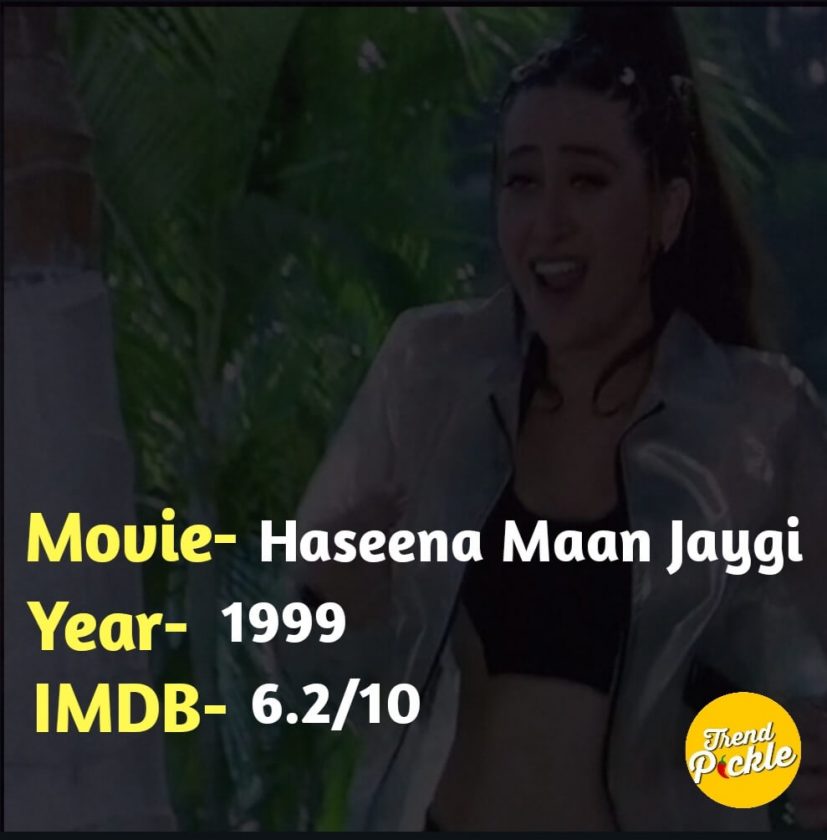 It is a comedy-drama film starring Karishma Kapoor, Govinda, Sanjay Dutt and Pooja Batra. The story about the two playful brothers who irritate their father and are sent to Goa for work. They fall in love with the two girls and try to impress their fathers. It portrays the stalking kind of love. Where a hero pursues heroine and she eventually falls in love with him. Hero No. 1 is a romantic film and it portrays the characters in the most interesting way.