Horror movies are my favorite. To be more precise, I like the travel horror movies which includes camping in the woods,  creepy road trips on a desert road etc. If you like horror movies featuring road trips, this list is especially meant for you. Are you ready to join us in the deadly highway to hell, Here is the list of most scary road trip horror movies, you can't watch alone.
1. Dead End (2003)
Where is this road trip heading? It's a wonderful Christmas eve. Frank is going to his in-law's place with his family. Frank decides to take a shortcut for the first time for that route. The shortcut is taking them nowhere and it turns out to be the biggest mistake of his life. Can they reach their destination to enjoy Christmas?  watch the film and you will never take a shortcut in the night.
Watch Dead End Trailer :
2. Vacancy (2007)
Where is this road trip heading?  David and Amy Fox are returning back from one party and their car breaks down in the middle of the road. They find themselves stranded in the middle of nowhere. They find a motel for the overnight stay and finds hidden video cameras in their room. They realize that they are going be the next victims of a snuff film. They need to escape but cameras are monitoring their every move. Watch the film and you will never get an idea to stay at an isolated motel.
Watch Vacancy Trailer :
3. Jeepers Creepers (2001)
Where is this road trip heading? Darry and her sister Trish are going home for spring break. They are driving through the isolated countryside. They see a mysterious person dumping something down a tunnel. They decide to find out what was happening there. In their quest, They encounter a horrifying flesh-eating creature. Can they escape from the creature? Watch the film and you will never try to investigate a mysterious person on an isolated road.
Watch Jeepers Creepers Trailer :
4. Texas Chain Saw Massacre (1974)
Where is this road trip heading? Two siblings are going to visit their grandfather's grave in Texas. They are accompanied by their friends.  They end up at the old family home where they fall victim to a family of cannibalistic psychopaths. They go through a never-ending nightmare as there is no way to escape. You will be more terrorized when you know that the film was based on the true story of Ed Gein who was a notorious murderer and body snatcher. This film is one of the most horror films ever made. Watch the film and you will never imagine staying in old houses.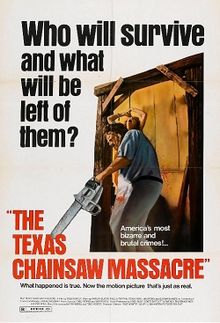 5. Wolf Creek (2005)
Where is this road trip heading? Three backpackers are traveling across the country. They take a stop at Wolf Creek National Park to visit one giant crater. After few hours they return to their car and find out that their watches have suddenly stopped and that their car will not start. They get some help but soon they realize they are stranded in the weird place. They are plunged in a hellish nightmare of extreme torture by a sadistic psychopath (the person who helped them to toe the Car). Can they escape the psychopath? Wolf Creek was projected as a film based on a true story, though it is in actuality a composite inspired by several true crimes. Watch the film and you will never take help from a stranger while stranded.
Watch Wolf Creek Trailer :
6. The Hills have eyes (2006)
Where is this road trip heading? Bob and his wife, Ethel are traveling from Cleveland, Ohio to San Diego, California to celebrate their silver anniversary. They are accompanied by their family members. In the New Mexico desert, they meet a gas station attendant who tells them about a short-cut through the hills. They decide to take the shortcut and after some time their caravan breaks down. They try to get some help and they realize they're not alone in the desert and they are being stalked by a group of psychotic people. Can they escape the hills who indeed do have eyes?  Watch the film and you will never take a shortcut through the hills.
Watch The Hills have eyes Trailer :
7. Psycho (1960)
Where is this road trip heading? This is the first movie in the list where a single person is traveling. Marion Crane is working in an office in Phoenix. One Friday, Marion is asked to deposit $40,000 to the bank by her employer. She thinks about stealing the money so that she can start a new life with her lover – Sam. Marion leaves town and heads towards California to meet Sam. On the way, She checks into a remote motel run by a young man – Norman Bates. Norman is always dominated by his mother. Marion goes missing and her sister is searching for her. Can they find Marion? Watch the film and you will never stay in Bates Motel !!
Watch Psycho Trailer :
8. Identity (2003)
Where is this road trip heading? Ten strangers are going to different places but they all end meeting up at a deserted Nevada motel during a stormy night. They get to know each other when they realize that they're being killed one by one. Can they find the real killer and escape before everyone is killed?  Watch the film and you will never stay in a deserted motel.
Watch Identity Trailer :