Indian Art Film Industry (also Parallel Cinema) gained momentum in the 1970s after the release of some best Hindi art movies. The Indian filmmakers found a platform to present all aspects of India before and after independence. We have aboard many such gems that not only reflect strong Indian heritage but also realism. It was born in the decade when romantic, silent, talkies, musicals were the only genres the audience watched. It manifested contemporary issues of common people in a sophisticated and intriguing manner. The beauty of Indian art film is that they have powerful cinematography that speaks for itself.
Smita Patil, Naseeruddin Shah, Shabana Azmi, Manoj Bajpayee, Kulbhushan Kharbanda, Amrish Puri and many others garnered much fame through their performances in these 'not mainstream cinematic sphere.
1. CHOKHER BALI – 2003
IMBD rating: 7/10
Director: Rituparno Ghosh
The Bengali film is based on the 1903 novel 'Chokher Bali' by Rabindranath Tagore. The protagonist Binodini (Aishwarya Rai) is a young widow painted in simplicity. Later, a newlywed Mahendra (Prosenjit Chatterjee) lusts over Binodini, cheating on her pregnant wife Ashalata (Raima Sen) with Binodini residing with them. Binodini begins to sting Ashalata who upon revelation, leaves. Mahendra attempts to have Binodini back who tries to correct things on her own by requesting another man's hand in marriage.
We see that the leader creates more complexities in her barren life with adultery, seemingly losing much direction that she needs to have meaningfulness. At the same time, Mahendra is seen adroitly pursuing his passions and that is the only warmth you get to see in the trio. The film garnered 3 National Film Awards.
2. WATER – 2005
IMBD rating: 7.7/10
Director: Deepa Mehta
Set in 1938 Varanasi (pre-independence period) when regressive institutionalization of widows was still strong. The movie raises important questions about child marriage, widow remarriage and the social status of women. The story unfurls with a young 8-year-old widow Chuyia (Sarala Kariyawasam) who is left to live in a widow 'ashram' headed by Madhumati and is made to adhere to conducts of an 'ideal' widow set by torturous societal norms. The playback runs smoothly throughout the plot that grabs the audience in its time.
The situation of all widows in those times was upsetting as they were expected to live as if they were 'dead' without their husbands. Most of them were married off at a very young age, now with faded memories of an unwelcomed separation. The movie beautifully depicts the child's struggle to stick to those norms in parallel to other piteous women. Two of them, Shakuntala (Seema Biswas) familiarizes her with rules and Kalyani (Lisa Ray), a young adult widow sticks with her through thick and thin.
Seema is a hardworking devotee who sticks to the norms quietly and never questions them but is also unaware of the reasons behind such cruelty. She approaches the village priest time and again who enlightens her about the malpractice but realising that she is old and unfit for marriage, supports a better life for Chuyia and Kalyani. As the institution truly is, it is not supported by rational thinking.
Chuyia bumps into Narayan (John Abraham), a young Brahmin lawyer who is a follower of Gandhi. He supports justice and equality and is against regressive social policies. His father is an open-minded upper-class Brahmin who supports the superiority of Brahmins and had been exploiting widows for pleasure. Narayan's mother wants his modest son to be married off but fears society.
He later develops feeling for Kalyani and they both agree to marry. Marriage, being prohibited for widows, brings trouble to Kalyani. But little does she know that she will end up in the same old man's house who took advantage of her when she was young and naïve. It is painfully grappling to see that only once she took command of her life to overcome the derisory and is taken aback. While Chuyia is sent to the place to 'serve'.
We see many lives fall apart. Chuyia, who acted as a cupid between the two, is saddened by Kalyani's suicide. Shakuntala, who cared for Chuyia and Kalyani, feels helpless. Kalyani dies with no hope to have a better future and Narayan is left derailed. It is heart-breaking, however, at the same time, it invokes hope that one day, the atrocities of women in Indian societies would end with the birth of new ideologies.
3. BANDIT QUEEN – 1996
IMBD rating: 7.7/10
Director: Shekhar Kapur
The film portrays the life of Phoolan Devi, a bandit-turned-female rights activist. Phoolan (Seema Biswas) was married off to a much older man who sexually abuses her, Frustrated and teary-eyed Phoolan returns home only to be unaccepted by her parents because of the custom that 'the daughter should never reside with parents after marriage. She runs away and is left to be on her own. Throughout her early adulthood, she faces numerous instances of sexual abuse and violence at the hands of upper-caste men and authorities.
Sprightly and revengeful Phoolan is taken by Babu Gujjar (head of a bandit group) who again, assaults her. She is saved by Vikram Mallah (Nirmal Pandey) another bandit of the group and takes over the gang after shooting Babu dead. Vikram and Phoolan grow a fondness for each other while she exacts revenge on her first husband with his help. Another bandit head, an upper-class Thakur of Bahmai, assassinates Vikram and abducts Phoolan to avenges her earlier protest towards his 'unwanted advances'.
Man Singh (Manoj Bajpayee) sets her up with another powerful gang that helps her with arms and manpower to constitute a gang for herself. Man Singh and Phoolan lead the new gang with much courage and empathy and soon Phoolan is revered as 'Phoolan Devi'. She grows influential and strong by all means and intends to destroy any bad element that handicaps society, having gone through a lot herself.
She finally gets an opportunity to destroy Thakur, the man who now had been a sting in her life for a long time. She hunts them down with her gang but soon the news spreads. Police begin to look out for her. Thakur, now boiling with rage, helps the authorities in the best possible ways being a local. Phoolan and her gang suffer a lot throughout their hideout without any means. She loses many at the hands of the police.
She surrenders finally. Witnessing her tumultuous life events, the viewer comes to realise what turned Phoolan into a ravaging woman. Her story inspires us as she grows into a powerful justice-seeker from a traumatised younger self.
4. PINJAR – 2003
IMBD rating: 8/10
Director: Chandraprakash Dwivedi
Pinjar is a story that dwells deep into the tragedies of the partition of India (1947). Widespread riots and religious hatred kept the Indians in anarchy for a long time. The film is based on the novel 'Pinjar' by Amrita Pritam. The film went on to win the prestigious National Award for Best Feature Film on National Integration. The film shows a young Hindu Punjabi girl Puro (Urmila Matondkar) residing with her parents and siblings Rajjo (Isha Kopikar) and Trilok (Priyanshu Chatterjee) in Pakistan, happily engaged to a learned and virtuous Hindu boy Ramchandra (Sanjay Suri) there.
Puro is kidnapped by Rashid (Manoj Bajpayee), a Muslim man who shares generational friction with Puro's family. She tries hard to escape only to realise that her family won't ever have her back else Rashid's clan (majority in the area) would come for them and Rajjo's future would be at stake. Her father (Kulbhushan Kharbanda) assumes her to be dead. The movie portrays a painful reality: Rashid waiting nearby for her to return knowing well that her family fears society, her father sacrifices his beloved daughter to save the rest of the family and religious conflicts being satisfied by the degrading honour of women of other faiths.
However, keeping her captivated, Rashid never physically abuses or tortures her for he loves Puro. She doesn't exact the feelings and feels enraged yet helpless. They marry, he tattoos her new name 'Hamida' into her hand to have no one object to their union and later she falls pregnant. She is forced to follow the new customs of the Muslim household and adapts well with the support of Rashid but their relationship remains disconsolate. With time, she accepts the inevitable reality of her life but is never able to forget Ramchandra. The thoughts of her engagement seem to have given her courage to grow out of all her miseries, even her miscarriage.
Ramchandra's sister Laajo's hand is given in marriage to Trilok, who continues to look for his sister Puro (now Hamida) and hardly finds peace at home. Nearing partition, there Is increased tension. Puro's family shift to India early. Ramchandra, to save his family from riots, finds a way to go to India too with his mother and sister accompanying other Hindus. On their way, they are attacked by the Muslim majority who kill many and abduct young women. Ramchandra loses Laajo who ends up in Puro's ancestral home now arrogated by Muslims.
While Trilok still restlessly awaits a lead to find his sister, Puro comes to know about the incident and adamantly looks for Laajo. In India, Trilok gets news of Puro being kidnapped by a man named Rashid and isn't 'dead' and annihilates Rashid's farms. On the other side, Rashid accepts it as 'punishment' for his wrongdoings and helps Laajo out of captivity. Trilok finds an opportunity to bring Puro back when lost women and children were being exchanged by the now independent nations. Puro comes to Lahore with Rashid and Laajo whereas Trilok and Ramchandra come for their respective sisters.
At this moment, Puro (now in Pakistan) is flooded with a wave of emotions and so does the audience. She finally meets her family, she meets Ramchandra for one last time to forget him forever who, is ready to marry her despite her woes; she is overwhelmed to see her brother's love who wants her back, she understands Rashid's affection for her and proceeds to make an important decision. Rashid, aware of Trilok's intentions, leaves but Puro refuses.
5. CHANDNI BAR – 2001
IMBD rating: 7.6/10
Director: Madhur Bhandarkar
This movie depicts the tough life of a young girl Mumtaz (Tabu) who is compelled by her uncle to take the job of a bar dancer, a socially rebuked profession, out of penury. She is forced to adapt to her job while her uncle lives off her earnings and later assaults her. Emotionally distraught Mumtaz finds peace in a chaotic world with many girls in the bar who faced what she did.
Having gone through a miserable life herself, Mumtaz wants her children to remain distant from the cruel world but little does she know that circumstances would bring her back to where she began. Abhay becomes the next Pottya and Payal ends up in the bar earning for the household.
The movie won National Film Award for Best Film on Other Social Issues and Tabu garnered much appreciation for her performance and went on to win many accolades including National Film Award for Best Actress (2002).
6. ZUBEIDAA – 1998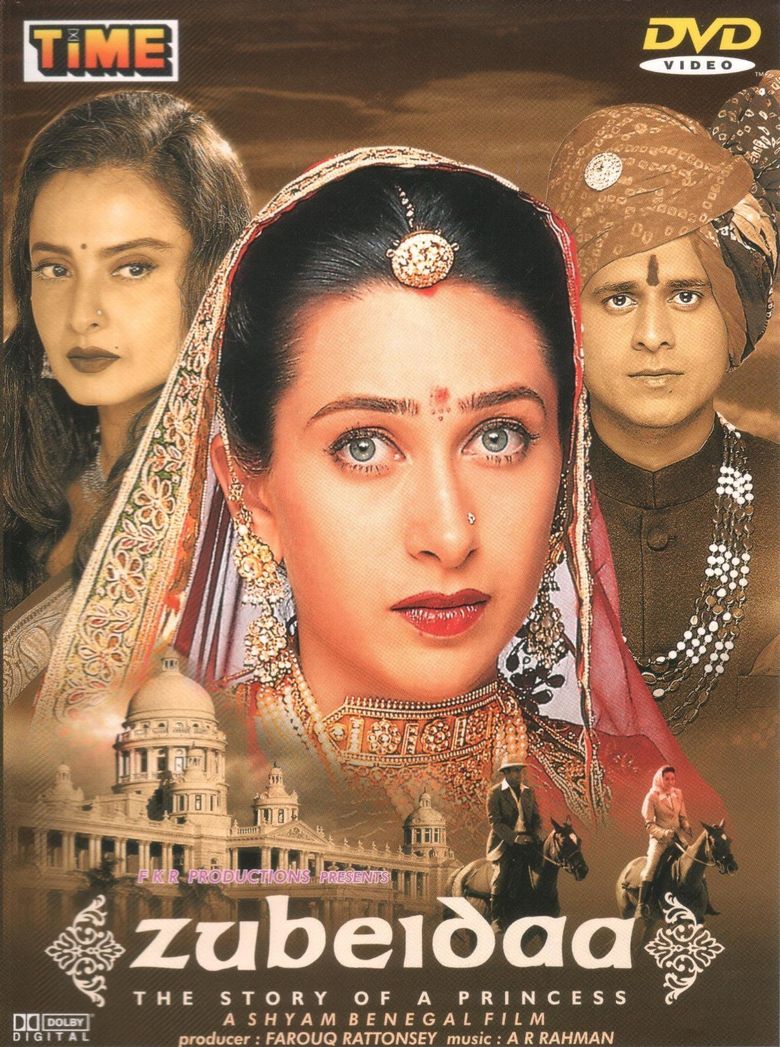 IMBD rating: 8.2/10
Director: Shyam Benegal
'Zubeidaa' presents the love life of actress Zubeidaa Begum played by Karishma Kapoor. The screenwriter Khalid Mohammed captures her mother's emotional turmoil throughout her first and second marriage till her death in a plane crash.
Khalid, through his persona 'Riyaz' (Zubeidaa's son from her first spouse), is looking for stories of her mother as he doesn't know her mother closely being brought up by his Nani (maternal grandmother). First, she is married to Mehboob Alam but due to familial dispute, they divorce after Riyaz was born to them. Maharaja Vijayendra Singh of Fatehpur (Manoj Bajpayee) comes across Zubeidaa and instantly finds himself swayed by her elegant beauty. Post their union, she becomes 'Rani Meenakshi Devi'.
The marriage doesn't placate Zubeidaa's miseries as she first has to separate from her firstborn due to religious differences, cut off from her culture completely, adapt to strict Hindu household customs of the palace, co-habitat with his beloved husband's first wife Maharani Mandira Devi (Rekha) and their two children and also survive constant sexual advances from her brother-in-law Uday Singh.
Maharaja Vijayendra later became a politician and could hardly spend time with his newly-wed wife. Given the rising position of her husband, Zubeidaa feels trapped in the palace. She craves his attention and affection throughout their marriage. The times he was at home, he would prefer to talk to his older wife for support.
Riyaz goes to Fatehpur and meets widowed Mandira Devi who refuses to answer any of his questions and even when she did, they were always contradicting. She would often blame Zubeidaa for being a free spirit and doing things without giving due thought.
Reading through Zubeidaa's journal, Riyaz comes across an important fact about her death. Zubeidaa had insisted on going to Delhi with Vijayendra, against the initial plan of sending Mandira Devi. Mandira Devi stayed to allow her some time with the king. Uday Singh had bad plans to take over Fatehpur (literally 'The City of Victory') and win his brother's regal trophy wife. Zubeidaa meets a sad fate the only time when she earns the much-awaited company of her husband.
Zubeidaa's portrayal as an independent free willed romantic is a literature in itself. She faced hard times in her life but was never heartbroken.
The movie gave us one of the most touching romantic songs. It houses the finest Bollywood actors of all time: Karishma Kapoor, Manoj Bajpayee, Rekha, Surekha Sikri, Amrish Puri, Farida Jalal, Seema Pahwa, Lillete Dubey, Smriti Mishra etc.
7. UDAAN – 2010
IMBD rating: 8.1/10
Director: Vikramaditya Motwane
Udaan traces the journey of a young aspiring writer (Rajat Barmecha as Rohan) who is expelled from his boarding school and is thereafter forced into an engineering course by his abusive alcoholic father Bhairav (Ronit Roy).
Rohan lacks warmth and support at his home where his overbearing father and young step-brother (Arjun) live. After he returns, his father forces him to join a local engineering college, work in a factory and makes him run every morning. Bhairav inflicts Rohan with emotional abuse every day.
But work and morning routine gives him perspective. One day, out of sheer anger, Bhairav beats Arjun aggressively which leaves him injured. Rohan, aware of the menace, supports Arjun.
Rohan fails his examinations and is beaten harshly. His poems were burnt. One begins to feel pity for Rohan for needing guidance and support for his passion. The only emotional help he gets is from his paternal uncle Jimmy (Ram Kapoor) who is hated by his brother. Bhairav decides to remarry again amidst a crumbling house, send Arjun away and asserts Rohan for full-time work at the factory.
Rohan's father doesn't only turn out to be a bad householder but is also proven to be a dangerous parent.Rohan runs away from the suffocating place he once called his 'home'. He comes back for one last time to find Arjun being sent to a boarding school. He decides to take Arjun away with him so he doesn't have the same fate as him.
Amit Trivedi and Amitabh Bhattacharya create magic with playback singing. Rajeev Masand mentioned it as one of best films of the year. The film won 56th Filmfare Awards (2011) for Best Screenplay, Best Story, Best Cinematography, Best Background Music, Best Film (Critics), Best Sound Design and Best Supporting Actor (Male). It went out to shine in Screen Awards and won Award for Best Film and Best Actor in Negative Role. Udaan won Zee Cine Award for Best Film (Critics), Best Director (Critics) and Best Actor in Negative role and numerous other honours.
Udaan is symbolic of the flight of a bird who loves freedom and is not bound by restrictions of cold terrestrial life.
8. GARAM HAVA – 1974
IMBD rating: 8.1/10
Director: M. S. Sathyu
The film depicts a Muslim family's dogged struggle with the consequences of the partition of India (1947). The Mirzas have a shoe manufacturing business in Agra in the British United Provinces of Northern India. Elder brother Halim is an active member of All India Muslim League whereas Salim (Balraj Sahni) runs the business along with his son Baqar. The two brothers grow different viewpoints about which nation to belong to for the rest of their lives.
Opposing the initial decision of staying in India, Halim shifts to Pakistan leaving the ancestral home under his name. Post-partition, Salim incurs a heavy financial loss and is forced to move out. His house is bought by Ajmani (A. K. Hangal).
Salim is never convinced to modernise his business tactics which puts him into more troubles. Soon, his family begins to fall apart. Son Baqar leaves for Pakistan, his aged mother dies of stroke and business goes downhill. Salim is sad about losing the home of his forefathers and his family and is reluctant to leave behind traditional practices which Halim opposed. A lot goes on in this 2 hr 26 mins. long plot as everyone seems to be affected by the aftermath of partition in more than one way. Garam Hawa, literally means, 'hot wind' or 'hot blow', symbolic of the blow of partition that vexed lakhs of lives.
Parallel to this runs a romantic trajectory between Amina (Salim's daughter) and Kazim (Halim's son) who were engaged before Halim went to Pakistan. Kazim comes back to Amina as promised, defying his father's will to marry him off to an influential politician's daughter and to declare their engagement void. He is arrested for coming to India without a passport and Amina is left crushed. She gets married to another man Shamshad who, by the end, marries another Muslim girl. Amina, frustrated, takes her life.
Throughout the suffering, Salim's younger son Sikander stands by him. When a frustrated Salim decides to leave India, he convinces him to accept the reality and helps him adapt to the new wave of the cultural and political shift.