If you are into verses and poems, then Kaifi Azmi is not a new name for you. But if you aren't, well then you need an introduction to him and his beautiful poetry. One of the most renowned poets of 20th Century India, Kaifi Azmi created magic in poetry with his immense command over the Urdu language. He sought to inspire social change through his passionate Urdu-language verse.
Azmi was a literary genius who advocated for a progressive society, rebelled against societal orthodoxies through his verses and expressed feelings of a lovelorn heart that would speak to your soul.
Have a colloquy with your soul, with these 20 deep and profound verses by Kaifi Azmi.
Waqt Ne Kiya Kya Haseen Sitam
Tum Rahe Na Tum Hum Rahe Na Hum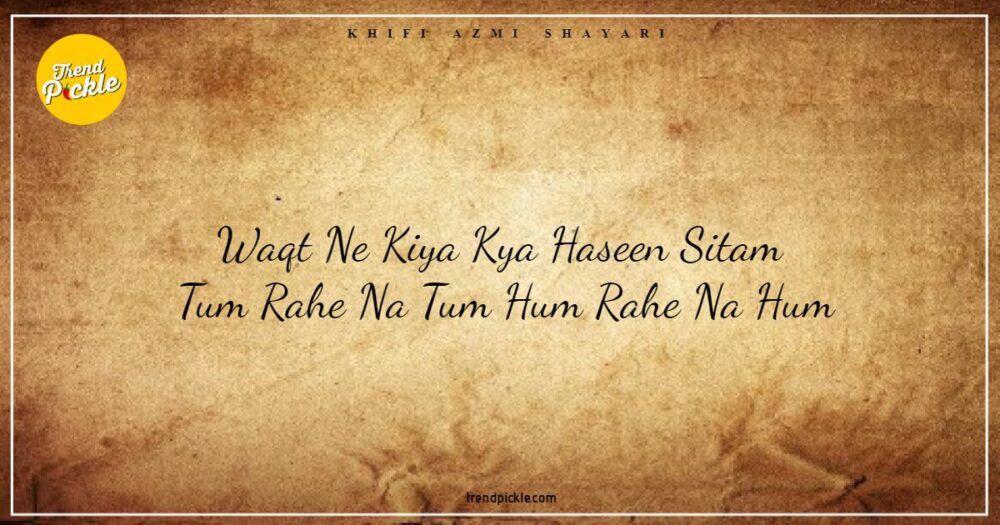 Jab Bhi Chum Leta Un Haseen Aankhon Ko
Sau Chirag Andhere Main Jagmagane Lagte Hai
Lamhe Bhar Ko Yeh Duniya Zulm Chodh Deti Hai
Lamhe Bhar Ko Sab Patthar Muskurane Lagte Hai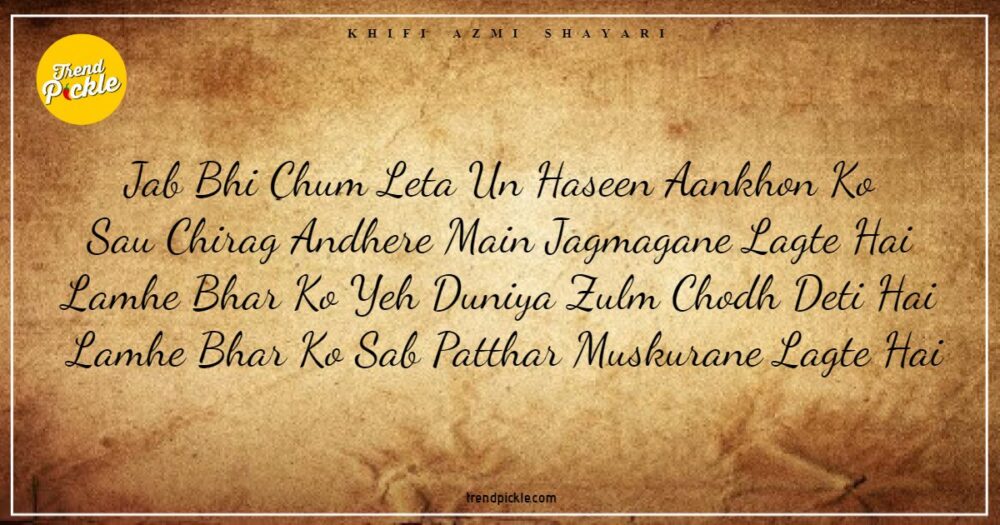 Insaan Ki Khwaishon Ki Koi Intehaan Nahi
Do Gaz Zameen Bhi Chahiye, Do Gaz Kafan Ke Baad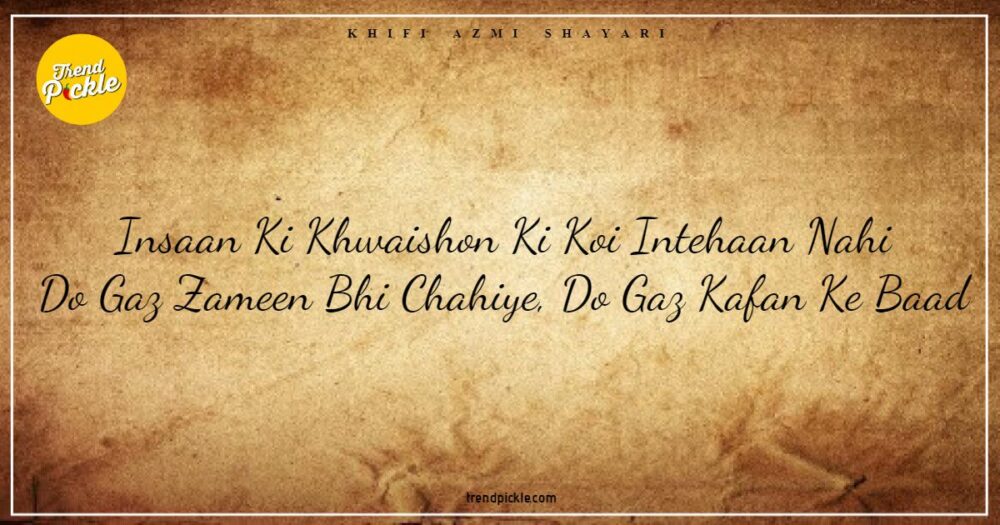 Hui Toh Kaise Biyaawaan Mein Aake Shaam Hui
Ki Jo Mazaar Yahan Hai Mera Mazaar Sa Hai
 Koi Toh Sud Chukaye, Koi Toh Zimma Le
Uss Inquilaab Ka Jo Aaj Tak Udhar Sa Hai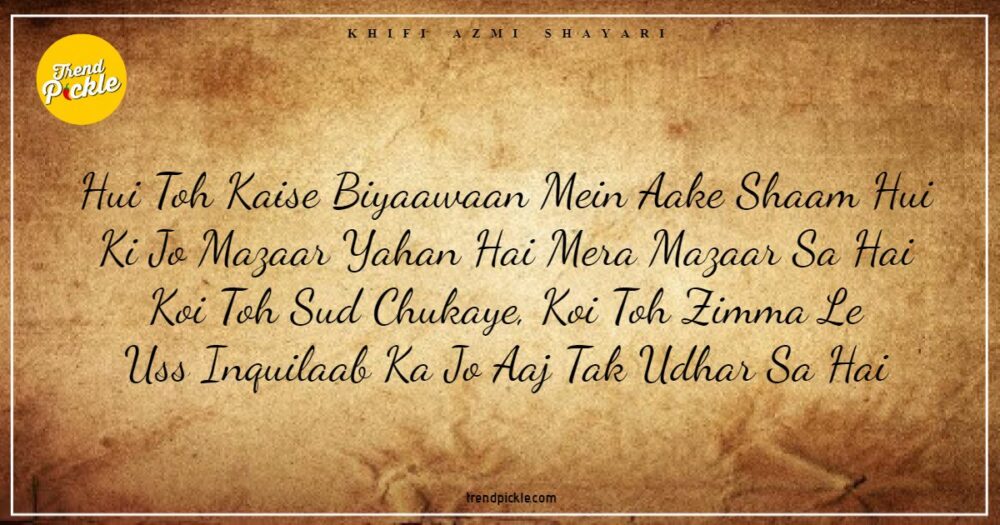 Mera Dil Mein Tu Hi Tu Hai Dil Ki Dawa Kya Karu
Dil Bhi Tu Hai Jaan Bhi Tu Hai Tujhpe Fida Kya Karu
Jab Aaj Ki Raat Jo Meri Hi Tarah Tanha Hai
Main Kisi Tarah Guzarunga, Chala Jaunga
Tum Pareshaan Na Ho, Baab-e-Karaam Waa Na Karo
Aur Kuch Der Pukarunga, Chala Jaunga
Jhuki-Jhuki Si Nazar Begaraar Hai Ki Nahi
Daba-Daba Sa Sahi Dil Mein Pyaar Hai Ki Nahi
Teri Ummeed Pe Thukra Raha Hun Duniya Ko
Tujhe Bhi Apne Pe Yeh Aitbaar Hai Ke Nahi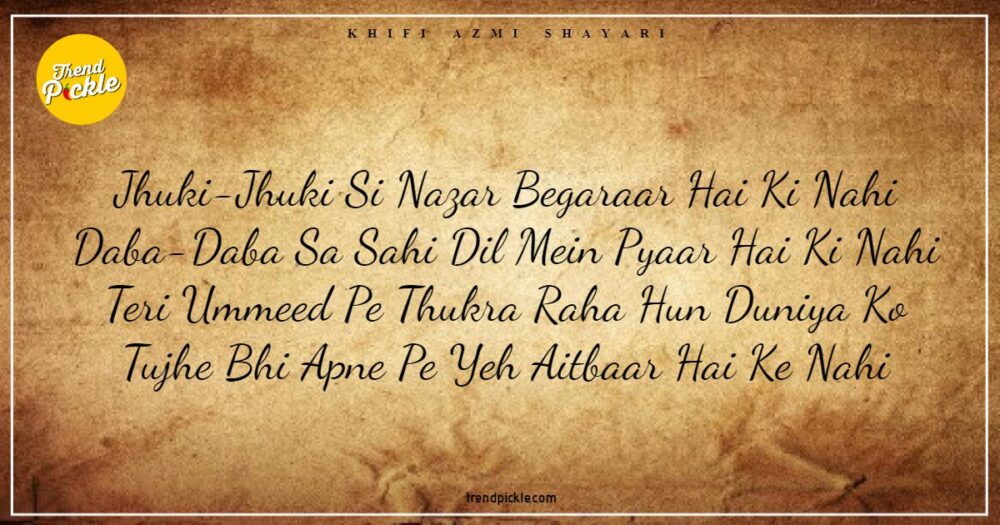 Main Dhoonta Hun Jise Woh Jahan Nahi Milta
Nayi Zameen Naya Aasmaan Nahi Milta
Naya Zameen Naya Aasman Bhi Mil Jaye
Naye Bashar Ka Kahin Kuch Nishaan Nahi Milta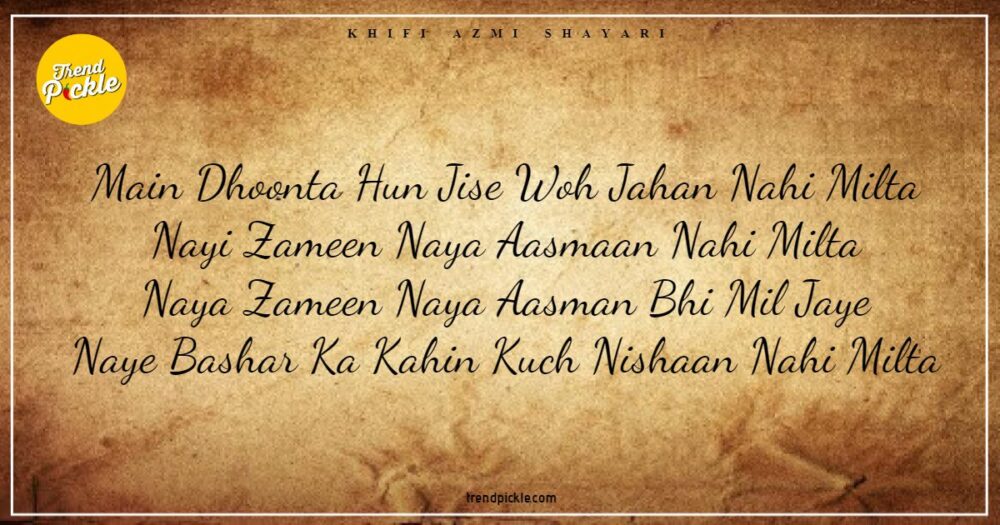 Tum Itna Jo Muskura Rahe Ho
Kya Gham Hai Jisko Chupa Rahe Ho
Aankhon Pe Nami, Hansi Labon Par
Kya Haal Hai, Kya Dikha Rahe Ho
Khaar-o-Khas Toh Uthe, Raasta Toh Chale
Main Agar Thak Gaya, Kaafila Toh Chale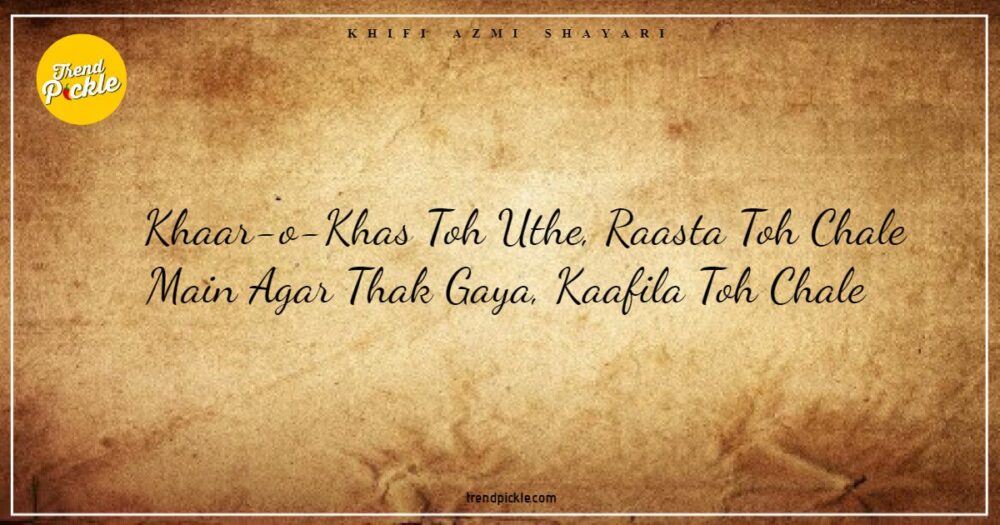 Bas Ik Jhijak Hai Yahi, Haal-e-Dil Sunane Mein
Ki Tera Zikr Bhi Aayega Iss Fasane Mein
Isi Mein Ishq Ki Kismat Badal Bhi Sakti Thi
Jo Waqt Beet Gaya Mujhko Aazmane Mein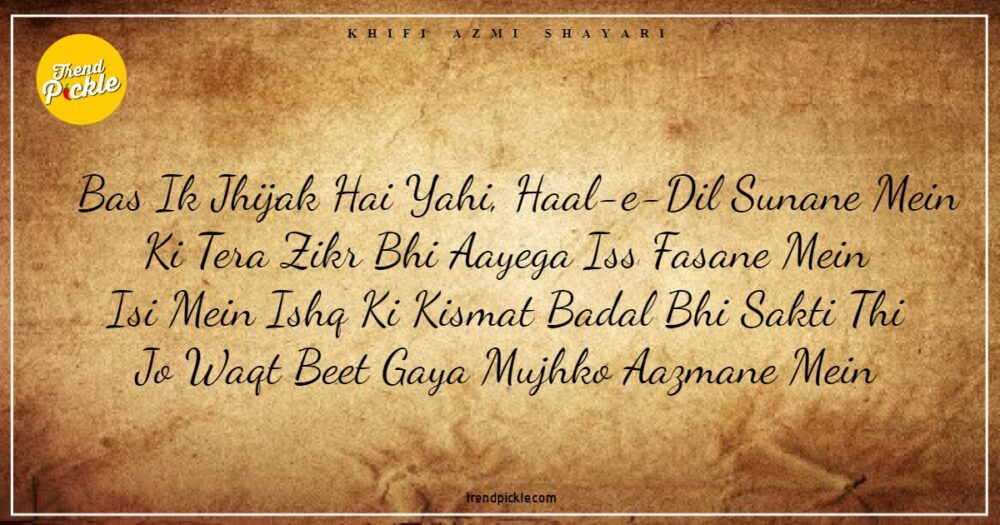 Jo Woh Mere Na Rahe
Main Bhi Kab Kisi Ka Rah
Bichar Ke Unse, Salika Na Zindagi Ka Raha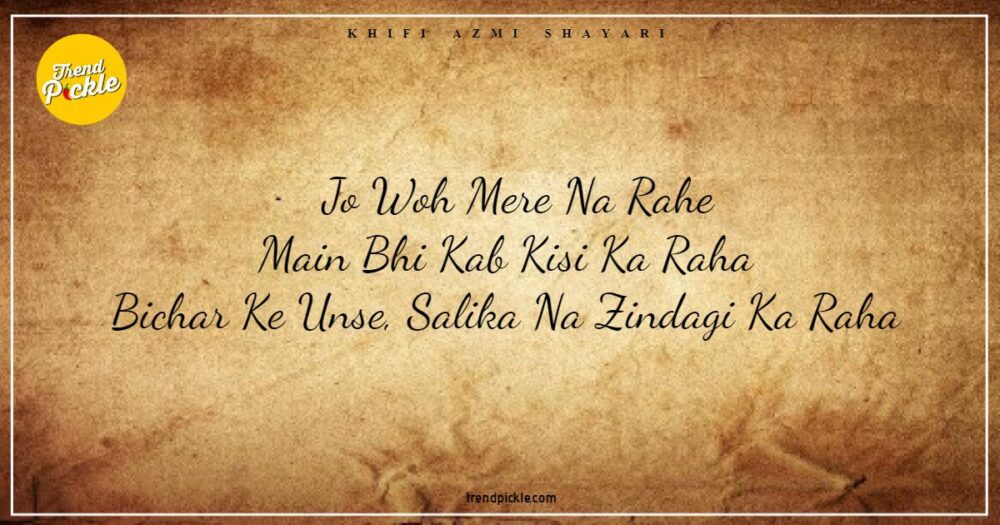 Aaj Phir Tutegi Tere Ghar Nazuk Khidkiyaan
Aaj Phir Dekha Gaya Deewana Tere Shehr Mein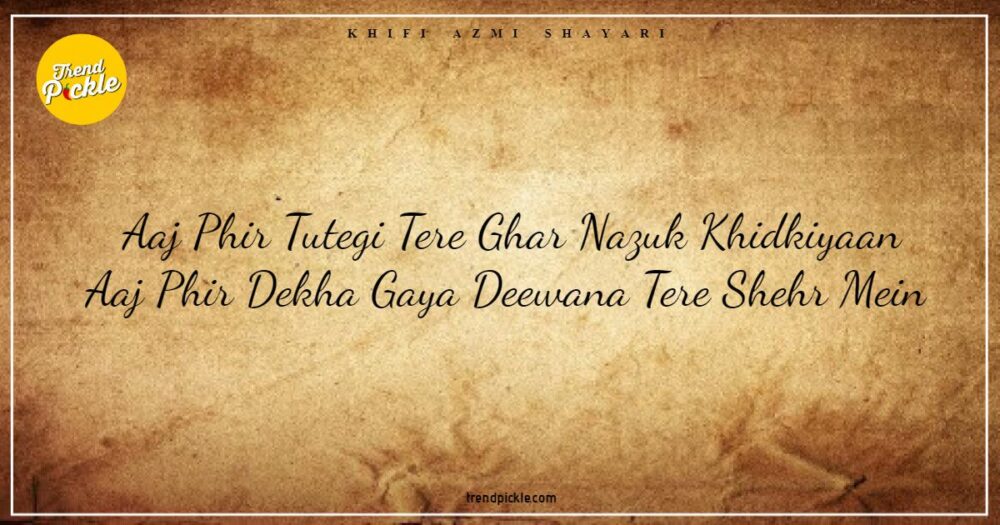 Suna Karo Meri Jaan, Inse Unse Afsaane
Sab Ajnabee Hai Yaha, Kaun Kisko Pehchane
Bahaar Aaye Toh Mera Salaam Keh Dena 
Mujhe Toh Aaj Talab Kar Diya Hai Sehra Ne
Hua Hai Hukm Ki 'Kaifi' Ko Sang-Saar Karo
Masih Baithe Hai Chup Ke Kahan, Khuda Jaane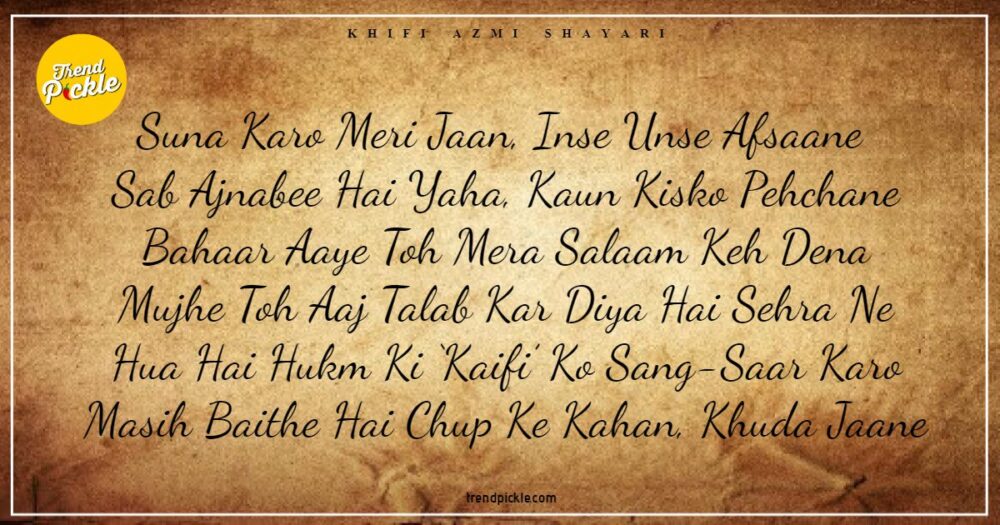 Dil Ki Nazuk Ruge Tuti Hai
Yaad Koi Bhi Na Aaye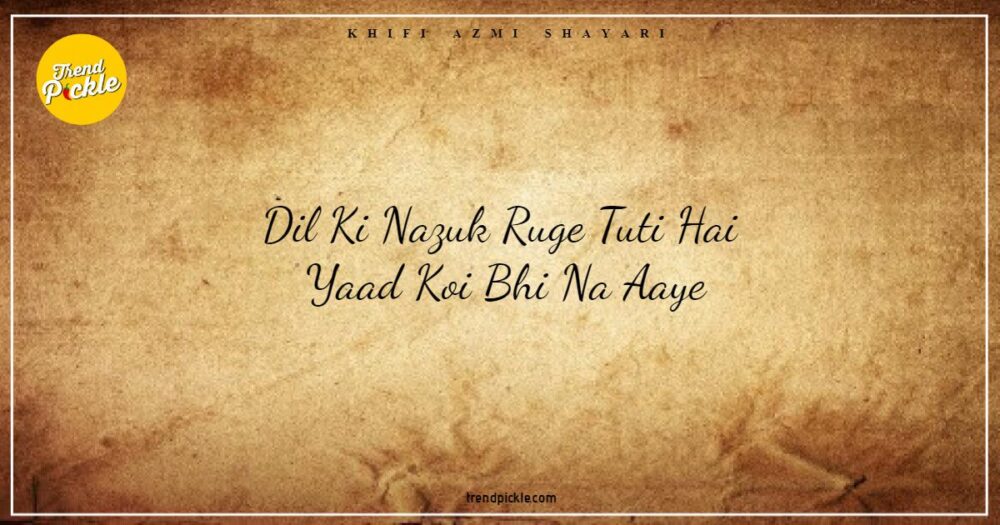 Tu Apne Dil Ki Jawan Dhadkano Ko Gin K Bata
Mere Tarah Tera Dil Bhi  Bekraar Hai Ki Nahi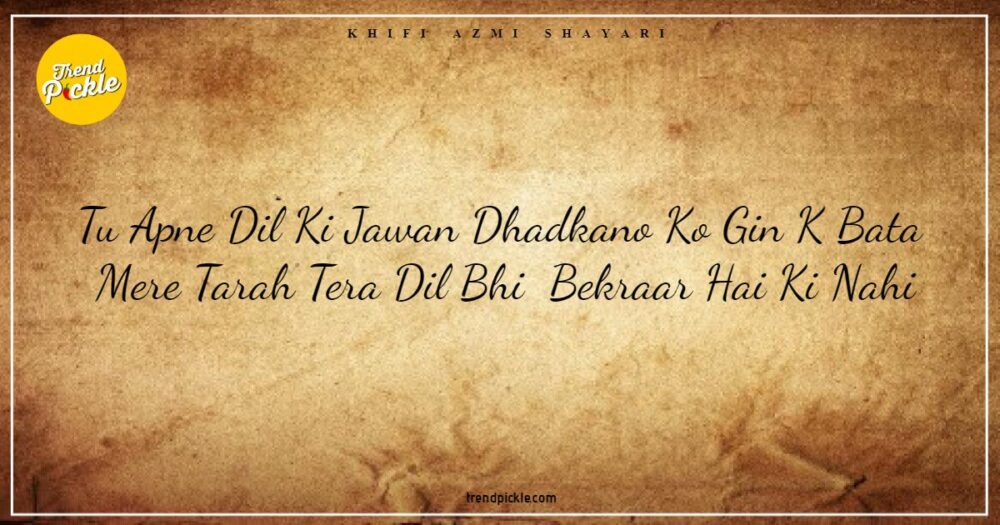 Ki Hai Koi Haseen Khata, Har Khata Ke Saath
Thoda Sa Pyaar Bhi Mujhe De Do Saza Ke Saath
Gar Doobna Hi Apna Muqqadar Hai Toh Suno
Doobenge Hum Zaroor Magar Na-Khuda Ke Saath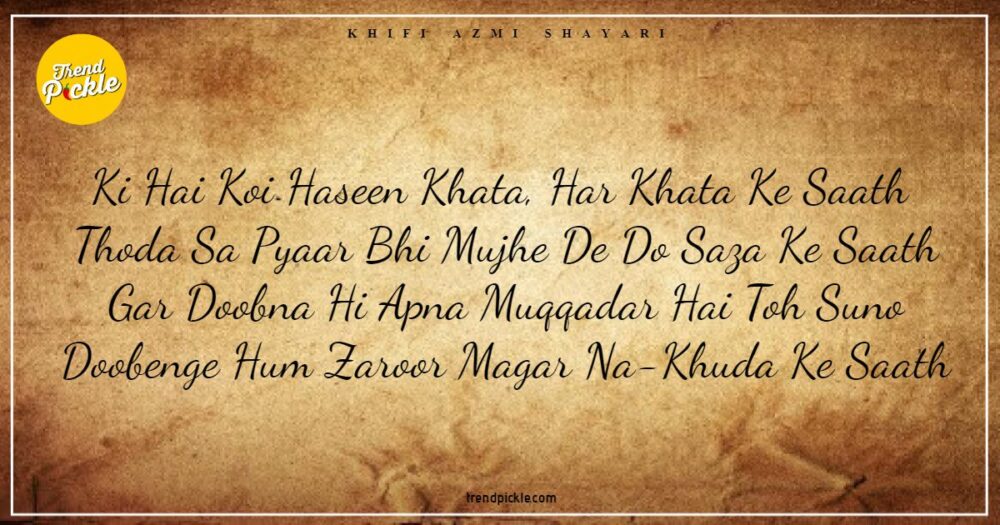 Jin Zakhmo Ko Waqt Bhar Chala Hai
Tum Kyu Unhe Chedhe Ja Rahe Ho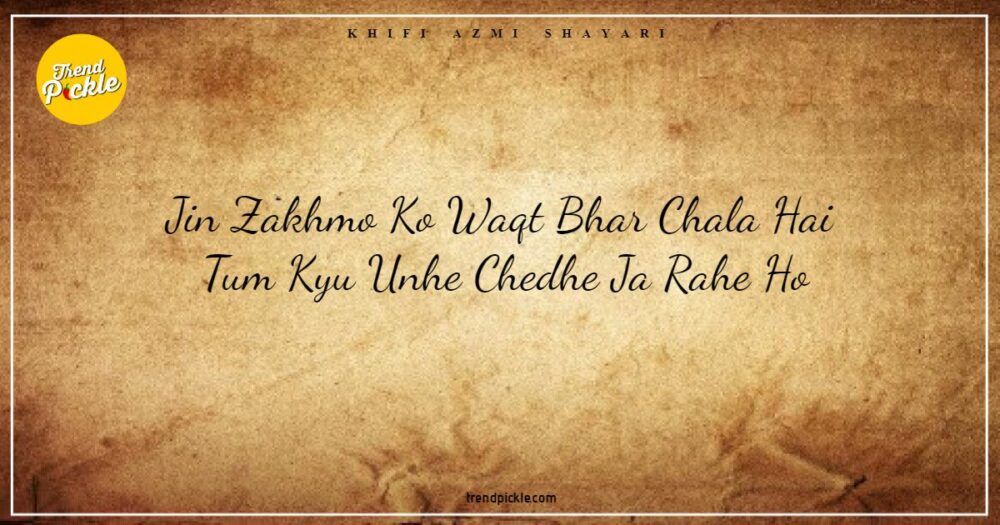 Khada Hun Kab Se Main, Chehron Ke Ek Jungal Mein
Tumhare Chehre Ka Kuch Bhi Yaha Nahi Milta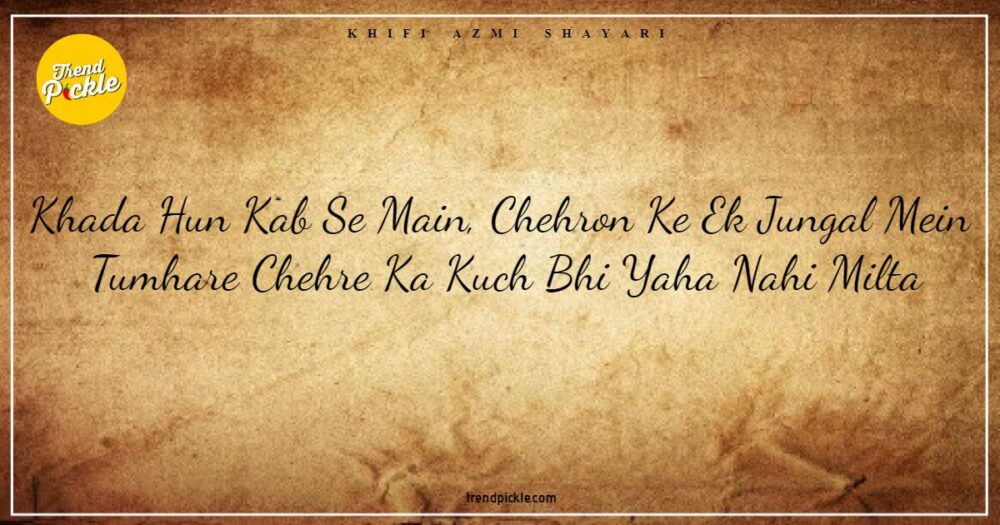 Ek Rangeen Jhijak, Ek Saada Payaam
Kaise Bhoolu Kisi Ka Woh Pehla Salaam
If there is a huge garden of verses, then every flower will smell from Kaifi Azmi's bunch. He has been one of the few poets who has wrote along with romanticism in his heart, companied by societal unorthodoxy.
His verses are easy to understand and strikes the heart right away.