Using clowns as a scary element has been an irony in the cinema for decades now. The famous grin of the character Joker sets shivers down our spine. Initially published as a supervillain by DC comics, Joker is now a movie star. The character was created by Bill Finger, Bob Kane, and Jerry Robinson, and first appeared in the debut issue of the comic book Batman on April 25, 1940. Initially the character of Joker was scripted to be killed by Batman, but over the years, Joker is still portrayed as a mastermind and Batman's long-time nemesis. He is also shown working with many other villains of the Gotham City. Here is a list of top 20 most famous joker quotes of all time that will make you smile.
1. "I've got nothing left to lose. Nothing can hurt me anymore. My life is nothing but a comedy."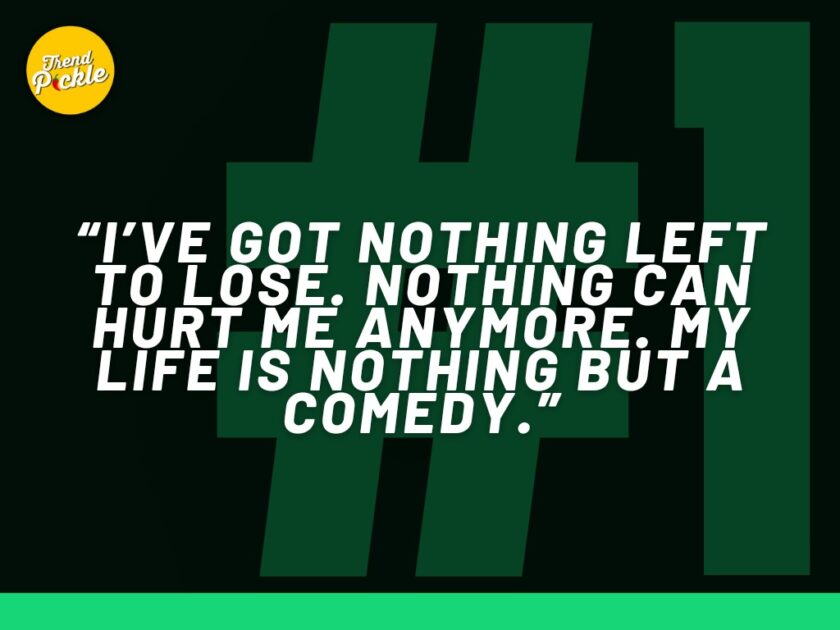 Tragic, as is the life of this supervillain, with nothing to lose, Joker still appreciates his life as a mere comedy. The Joker is known for his hilarious dialogues. The lines are from the movie Joker.
2. "Oh Come on Murray. Do I look like the kind of clown that could start a movement? I killed those guys because they were awful. Everybody is awful these days. It's enough to make everyone crazy."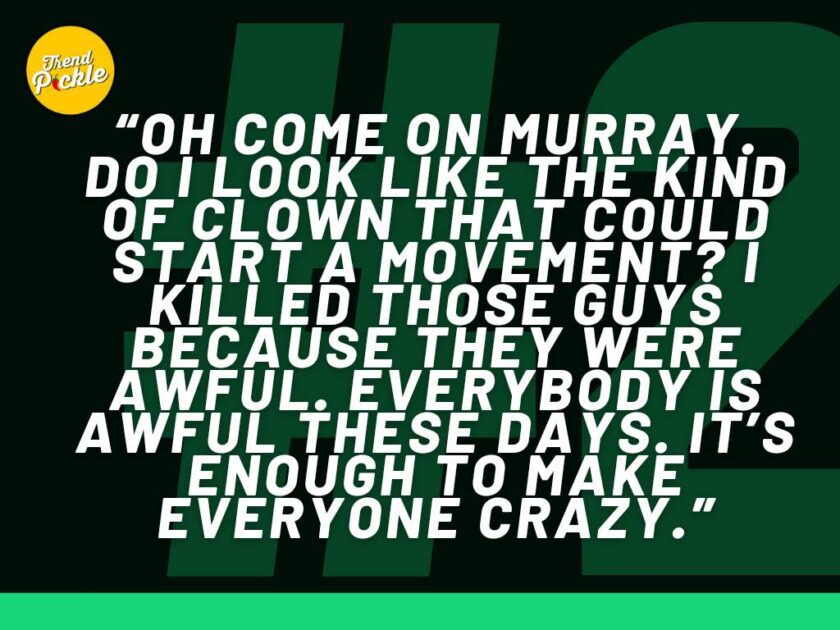 Another famous dialogue, that is actually a confession, a confession that highlights his personality as someone who would kill people just because he didn't like them. He was never meant to be the leader of a revolt though.
3. "When i was a little boy and told people i was going to be a comedian, everyone laughed at me. Well, no one's laughing now."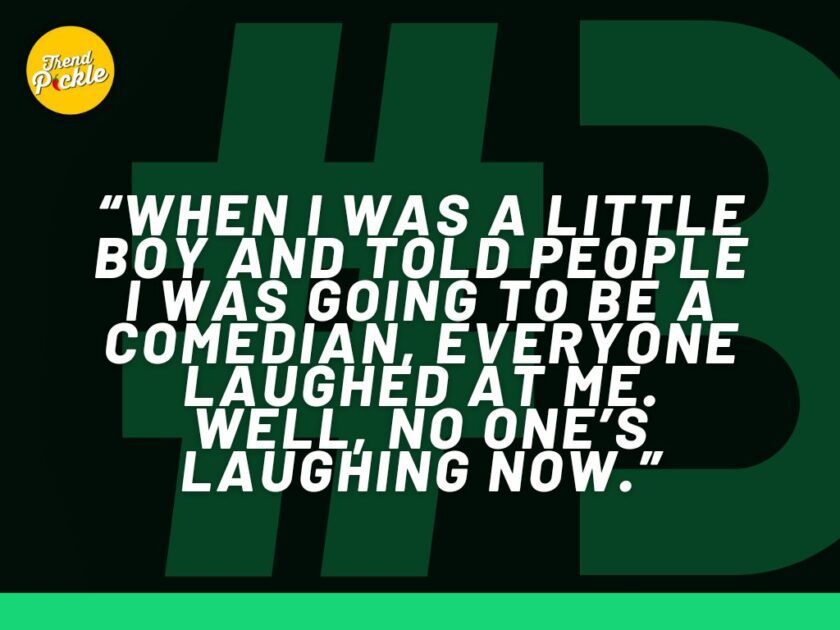 Another sarcastic remark by The Joker. Arthur does not seem to understand the fact that a joker is meant to entertain people and not seek revenge from them as a penalty for seeking pleasure.
4. "It won't kill you because you are just too much fun."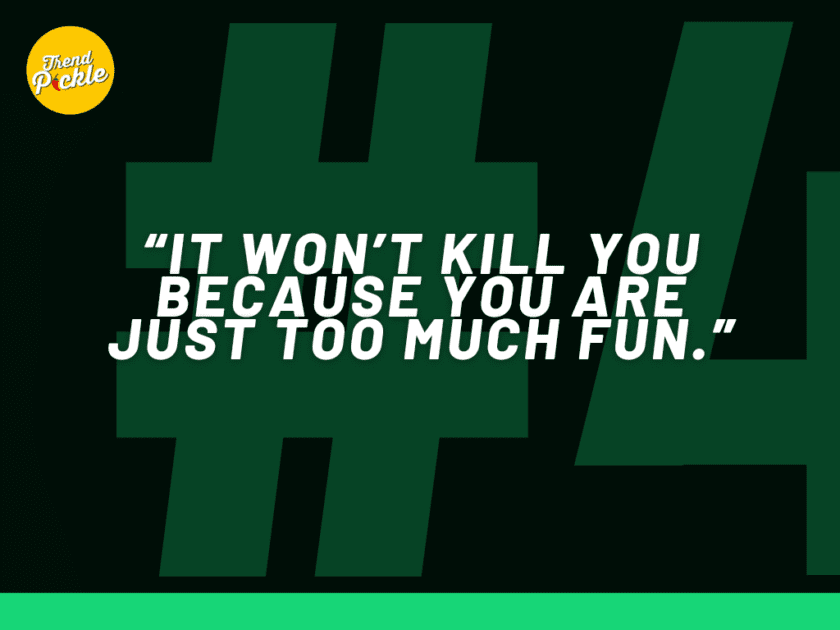 The Joker addresses the above line to his adversary – Batman. They both enjoy the little rivalry that they have, and Joker seems to be enjoying himself in this little encounter of theirs every now and then.
5. "I'm a guy of simple taste. I like things such as gunpowder, dynamite, and gasoline."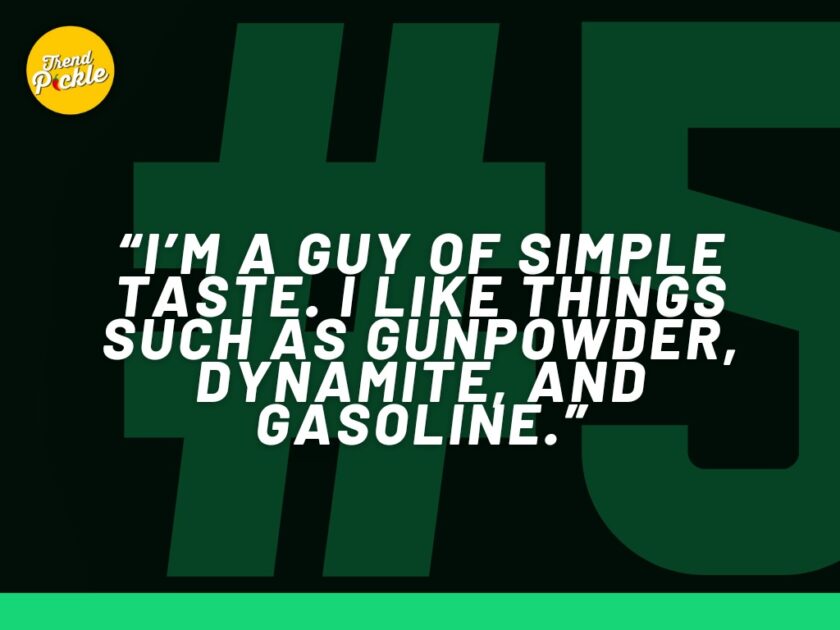 Joker seems to be enjoying his mental distress and expressing it in form of elements that only his suppressed emotions understand. He enjoys causing mayhem by using ways that anybody in Gotham might use to get support.
6. "Introduce a little anarchy, upset the established order, and everything becomes chaos. I'm an agent of chaos, and you know the thing about chaos? It's fair."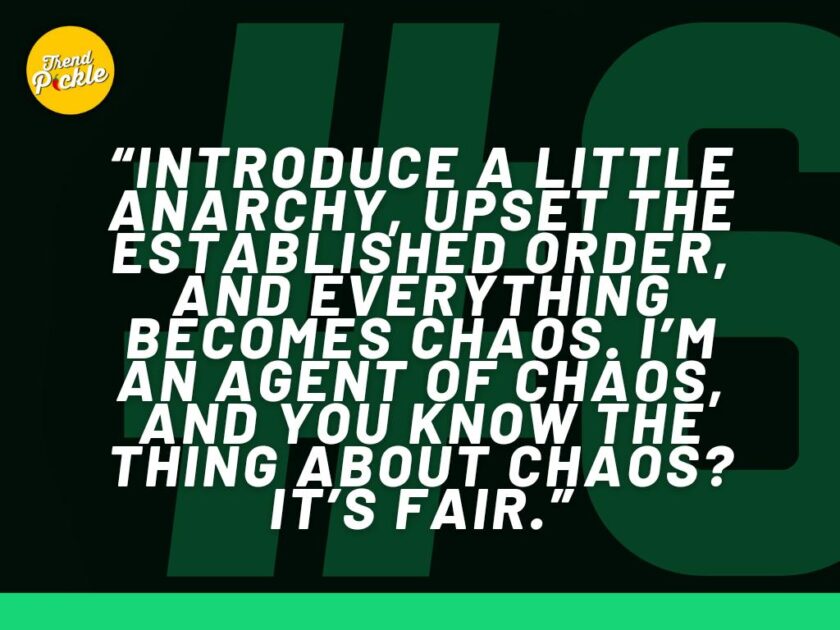 Joker has his own ways of understanding the ways of the world. He seems to find peace in chaos. He cannot help but believe that the current system is holding individuals behind. A tint of anarchy is depicted in the above lines.
7. "How about a magic trick? I'm gonna make this pencil disappear!"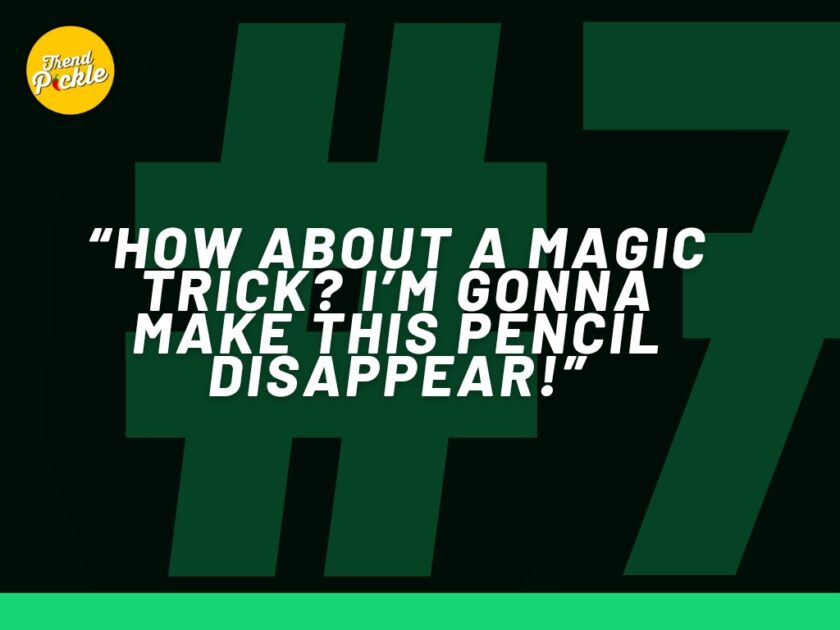 Joker is a man of many talents. It was the first time, when he said the lines above, that he was discovered by the mafia leaders. The above lines are from the movie – The Dark Knight.
8. "Comedy is subjective, Murray, isn't that what they say? All of you, the system that knows so much: you decide what's right or wrong the same way you decide what's funny or not."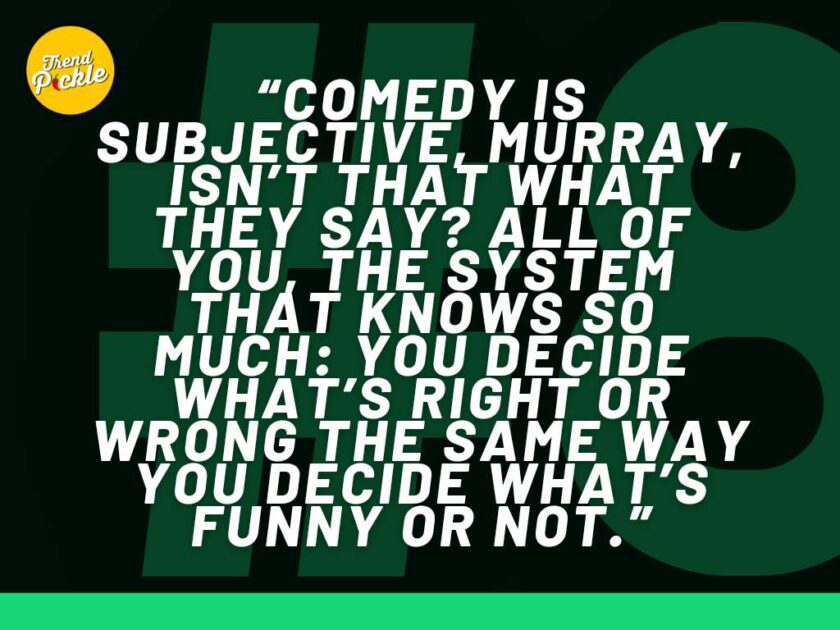 The talk show sequence in Joker is incredibly intense and terrifying, but it is also a twisted moment of triumph for Arthur. After accepting his deadly new path, Arthur introduces himself to the world. He challenges Murray and becomes a new face of entertainment for the audience.
9. "You didn't think I'd risk losing the battle for Gotham's soul in a fist fight with you? No. You need an ace in the hole. Mine's Harvey."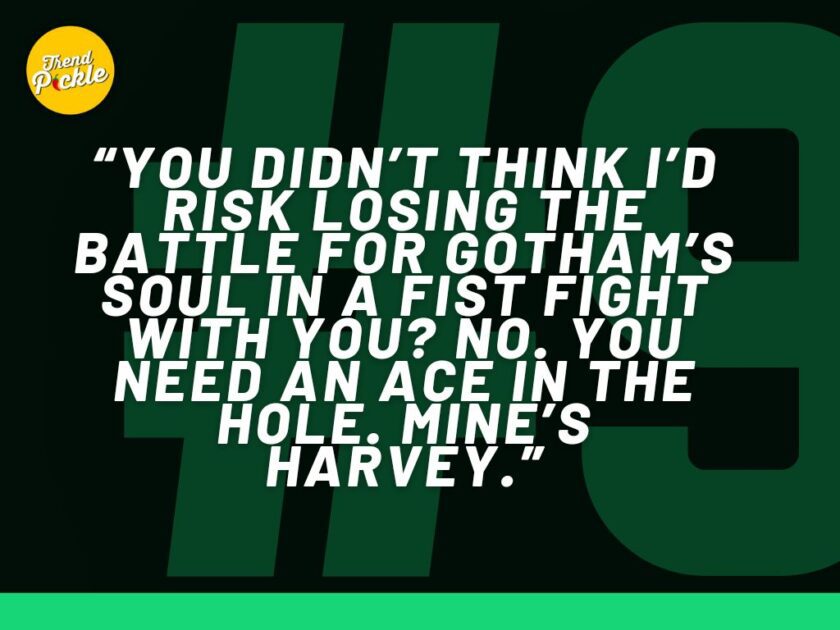 Even though Joker never wins the duel, he intends to win the war with a more strategic approach. He uses tricks to win over his rival. There are many iconic dialogues of Joker which have a sense of melancholy in them.
10. "Sometimes by losing the battle, you will find new ways to win the war."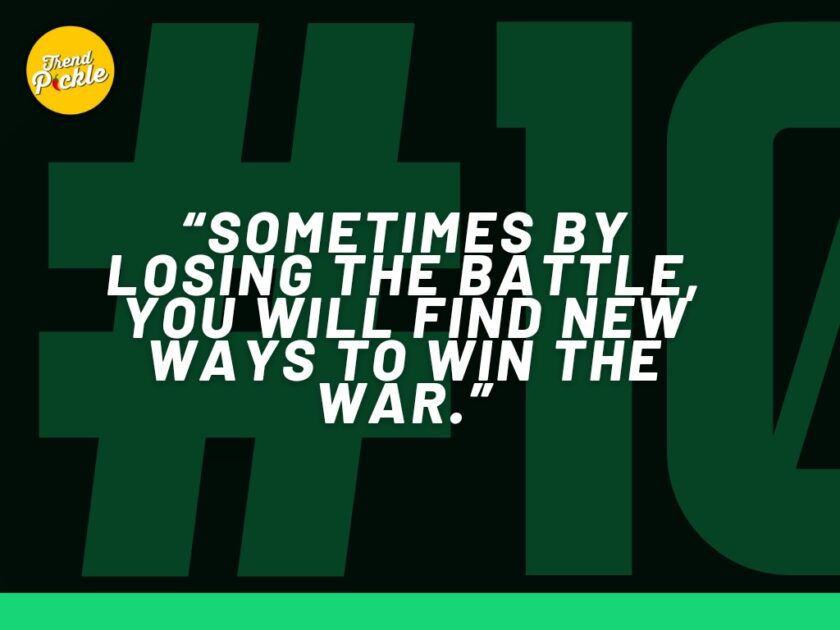 Failure is also a step to success, only if we learn from it and make ourselves even better than yesterday. This famous quote has a motive of make the audience realise that even if we fail, there are other ways to win, look for other strategies.
11. "Anyone can make you smile, but not everyone can make you happy."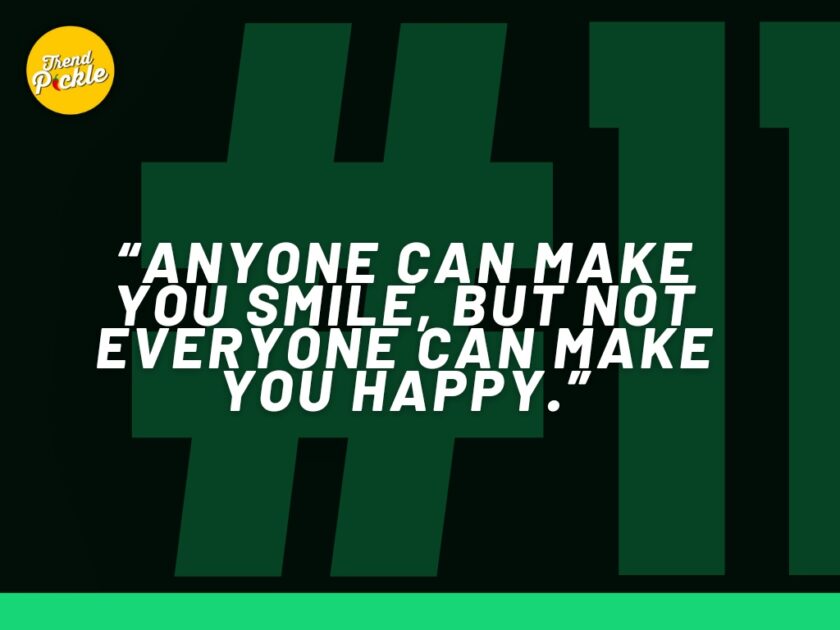 So true and relatable are the words of Joker. The character has an insight for recognizing the bad in people and thus his quote – states that, smile is superficial, but happiness is that of heart and mind.
12. "This suit wasn't cheap. You outta know, you bought it."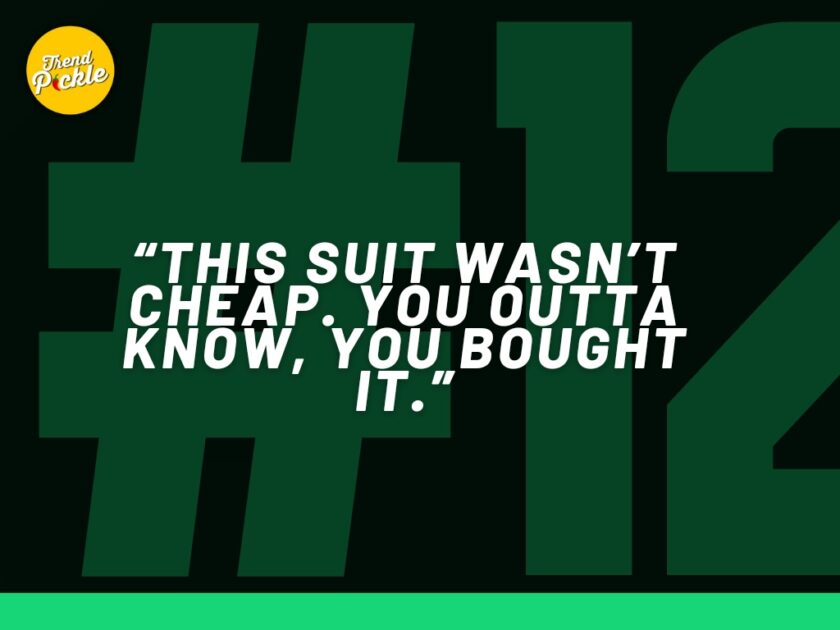 In this scenario, Joker interrupts a "mob meeting" to offer his services. In order to demonstrate dominance in a room full of alphas, he eliminates one of them and gains attention of the mafias.
13. "Let her go", "Very poor choice of words"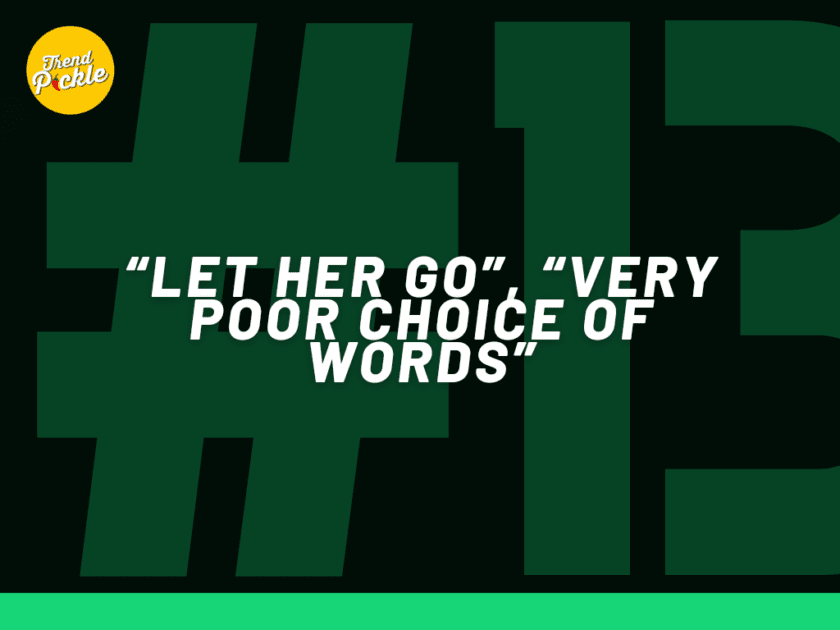 This iconic dialogue marks the first encounter of Joker (Heath Ledger) and Batman. Knowing the consequences of unmatched skills of Batman, Joker tries to use tricks to win the battle. He manages to get hold of Rachel and as Batman orders him to let her go, he says – "Very poor choice of words."
14. "I know, isn't it beautiful?"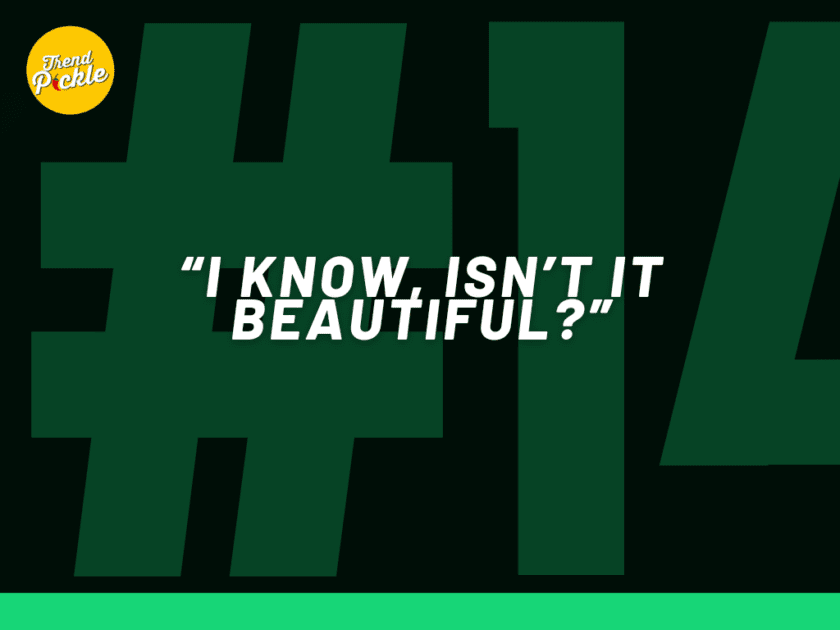 Embracing the beauty of his own work, while Joker in the comics is an anarchist character who masterminds all kinds of devious plots, Arthur is a much different kind of villain. He is lost and alone, but he manages to accidentally inspire people through his own violent actions.
15. "The worst part of having a mental illness is people expect you to behave as if you don't."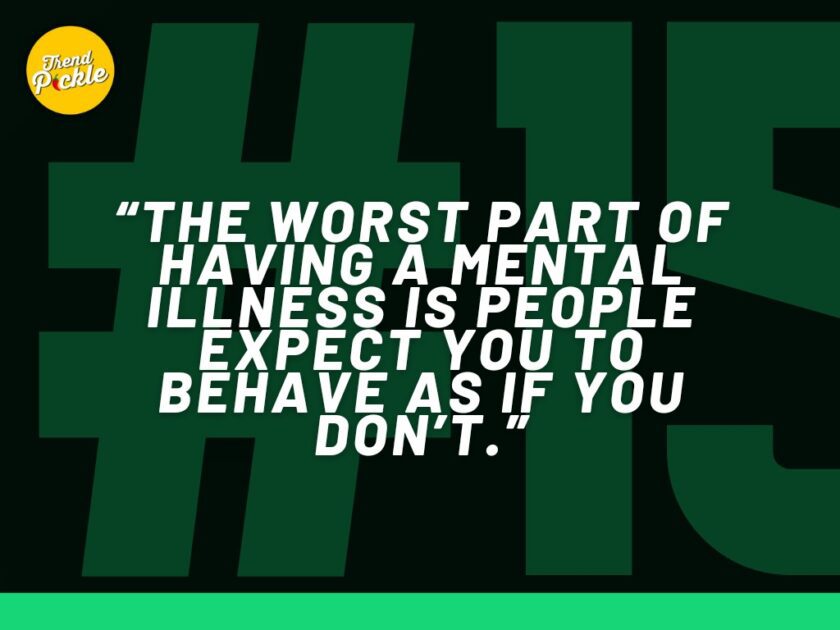 Arthur suffers from severe mental illness, but we see little sympathy for his condition. This relates to his feeling about being ignored. The above scenario is depicted as is written his journal "The worst part of having a mental illness is people expect you to behave as if you don't."
16. " You wouldn't get it."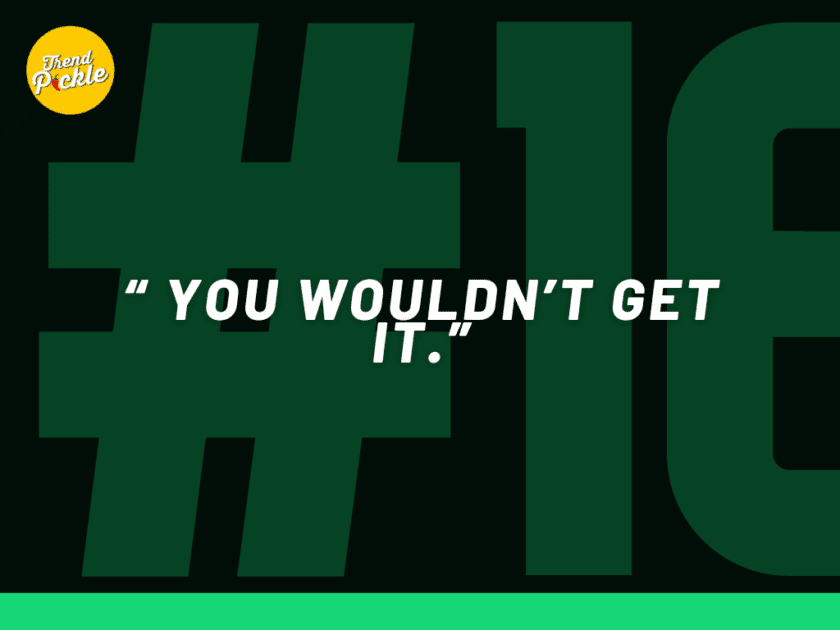 The scene shows Arthur being celebrated in the streets during the riots, then the film quickly cuts to him in custody in the Arkham Asylum. He laughs thinking about a joke in his head. When the doctor asks if he would like to share the joke, he says, "You wouldn't get it," which leaves the audience in suspense.
17. "Can you introduce me as Joker?"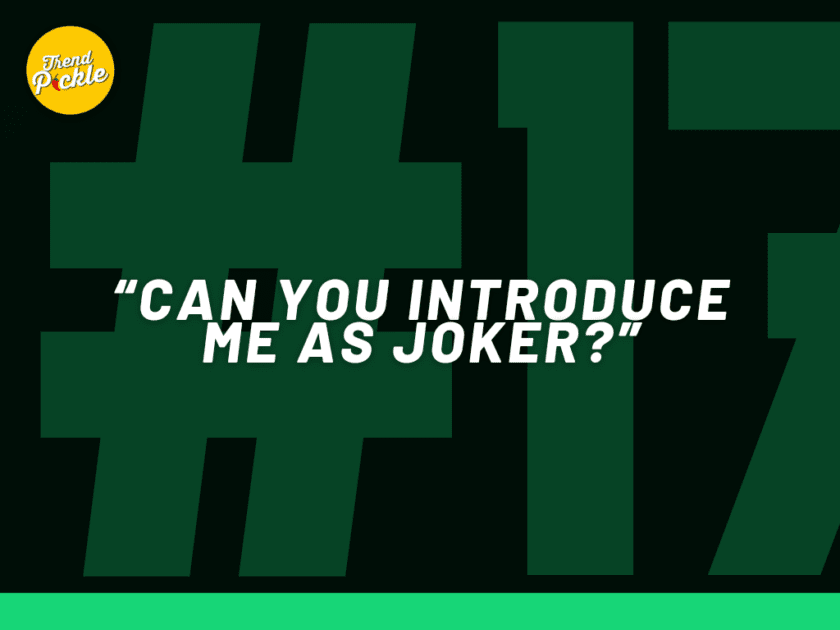 Arthur was invited to Bill Murray's famous talk show, he asks Murray to make his public appearance using the title Joker. The intensity of irony in this title is seen by the fact that generally conceived as a clown, The Joker is in contrast a scary one.
18. "Forgive my laughter. I have a condition."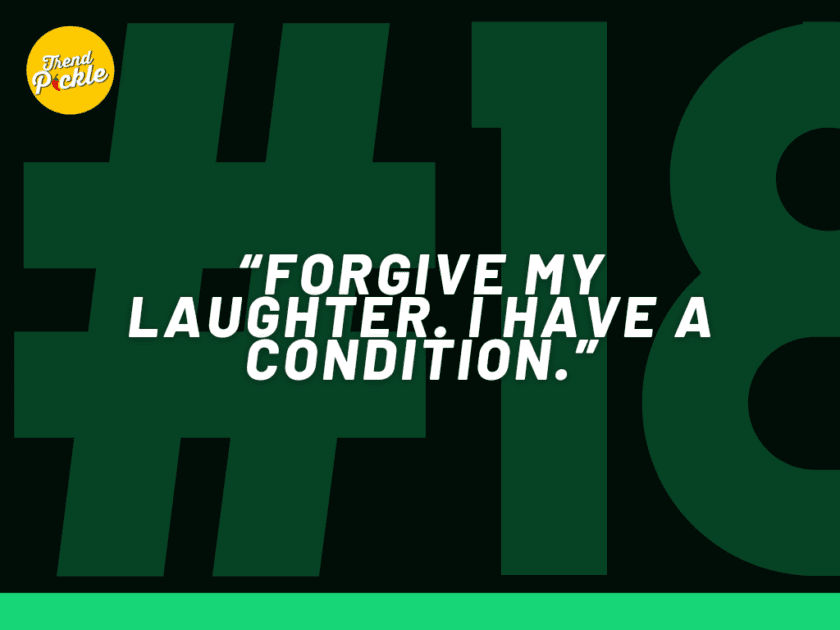 The characteristic grin of the Joker is a real condition that most people suffer from. It tends to ache a lot, but Joker has made peace with it as it helps him stay away from people. The card he carries around with him that explains his condition is a sad look at a tortured man.
19. "Is it just me or is it getting crazier out there?"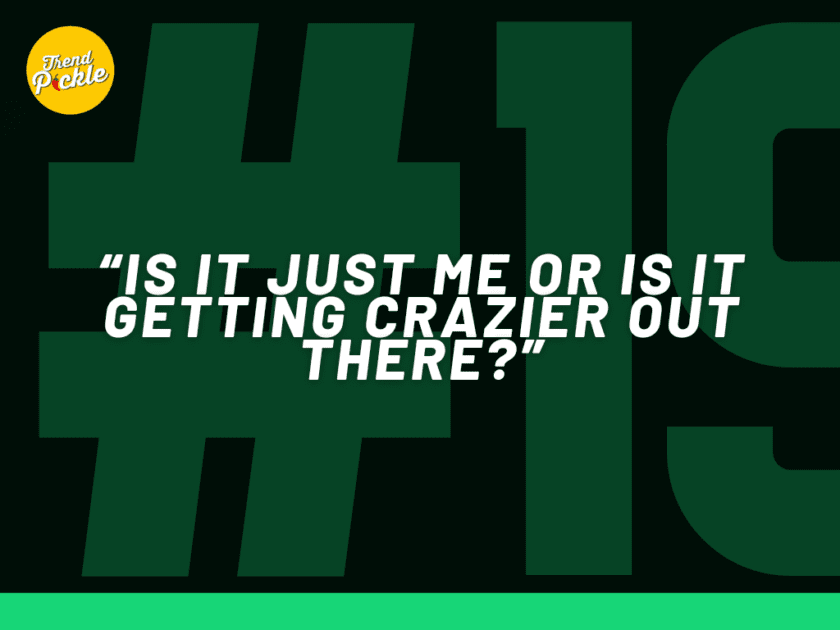 Gotham has always been a broken city of mafias. However, Joker is thrilled to see how this one ends. As the film begins, Arthur talks to his social worker, and he struggles with how terrible things have gotten. It is a haunting hint at how bad things will be by the end of the film.
20. "You don't listen, do you?"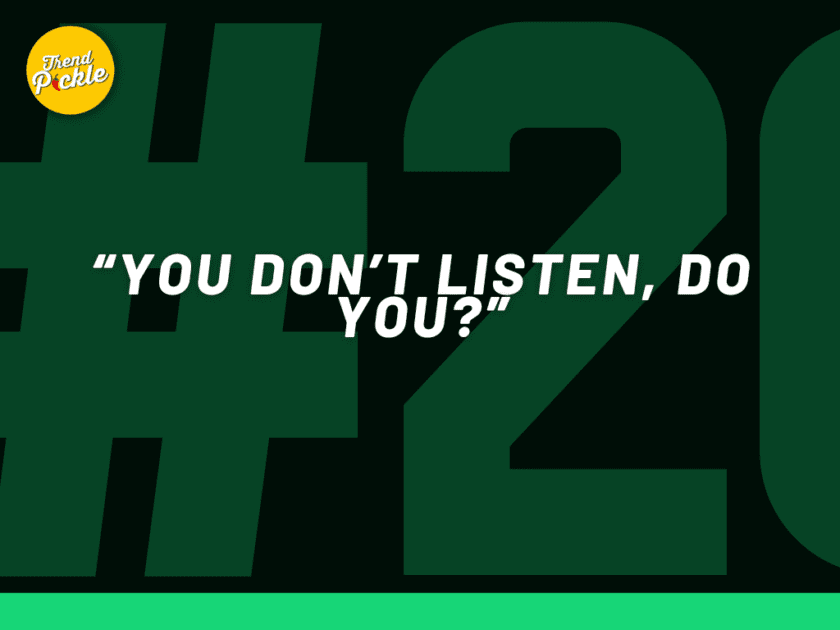 Often ignored by people and then overlooked again when something unusual happens is the main idea behind setting the character of joker. When he visits with his social worker, he communicates the frustration of that feeling. This shows his willingness to get attention of people.
The joker is one of the most loved supervillains of all times. We will always remember the grin and the iconic dialogues that Joker served. Hope you enjoyed our list. Stay tuned for more such content!
FREQUENTLY ASKED QUESTIONS
Q1. Name the highest grossing joker-batman movie?
Ans. Joker ($1 billion)
Q2. In which movie did Heath Ledger star as Joker?
Ans. A Knight's Tale (2001)
Q3. Who played Joker in Batman 2022?
Ans. Barry Keoghan