Lacasa -de- Papel aka money heist is a Spanish crime drama created by Alex Pina. The plot of the web series revolves around an epic bank robbery in the Royal mint, the robbery consists of a very detailed and meticulous planning . It is an extremely epic quest which no one has ever seen before and is enough to shake up the entire system. The show kept us on the edge of our seats with action, thriller and adventure through out. Besides the gripping storyline and amazing performances by the actors, money heist is filled with emotions like friendship, love, betrayal etc. The web series has been extremely successful worldwide and the fan following keeps getting bigger and better as every day passes.
Here are 20 money heist quotes which will hit you hard with wit, sarcasm, humour and untold truths of life.
" The most important moments are the ones that make you realize there's no turning back . You've crossed a line, and you're stuck on the other side now. " – Tokyo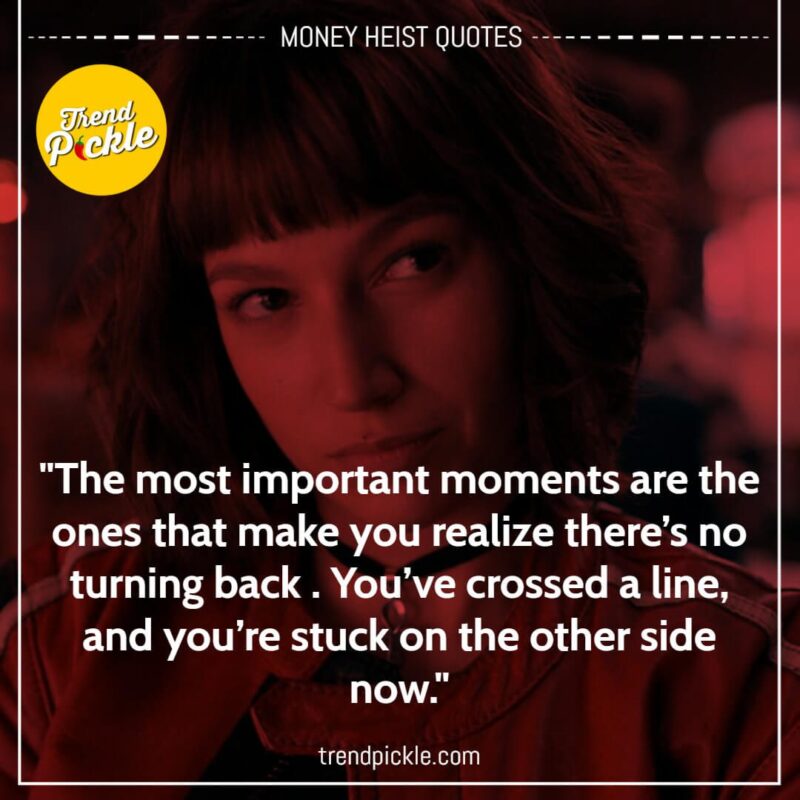 "I have spent my life being a bit of son of a bitch, but today I think I want to die with dignity." – Berlin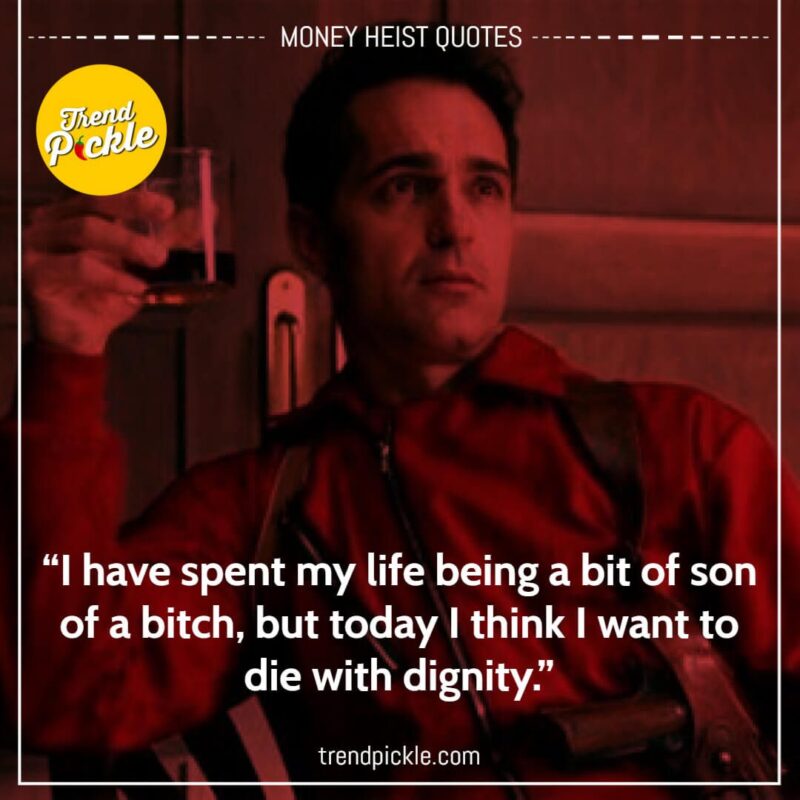 "To love you need courage." – Nairobi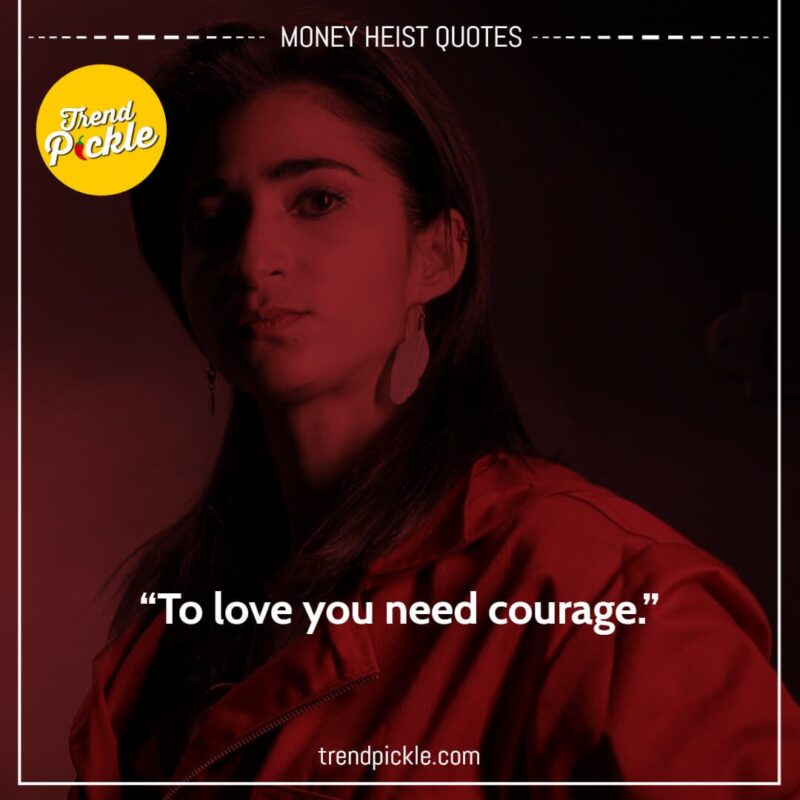 "Everything can go to hell in less than a second. In moments like this, you feel death creeping in, and you know nothing will ever the same. But you need to do whatever it takes to survive." – Tokyo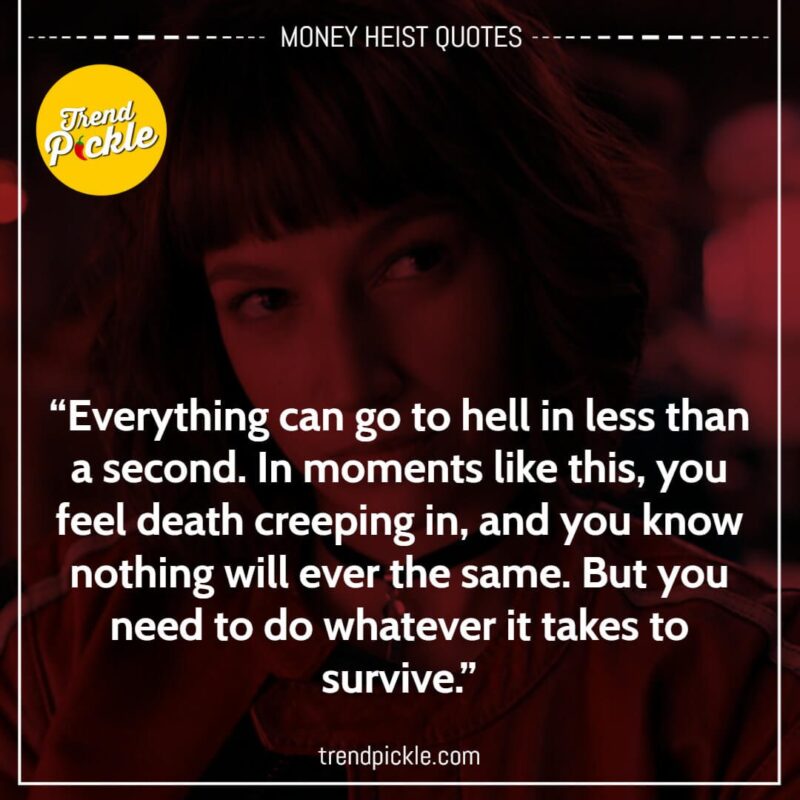 "Ethics is important Nairobi, but aesthetics as well." – Berlin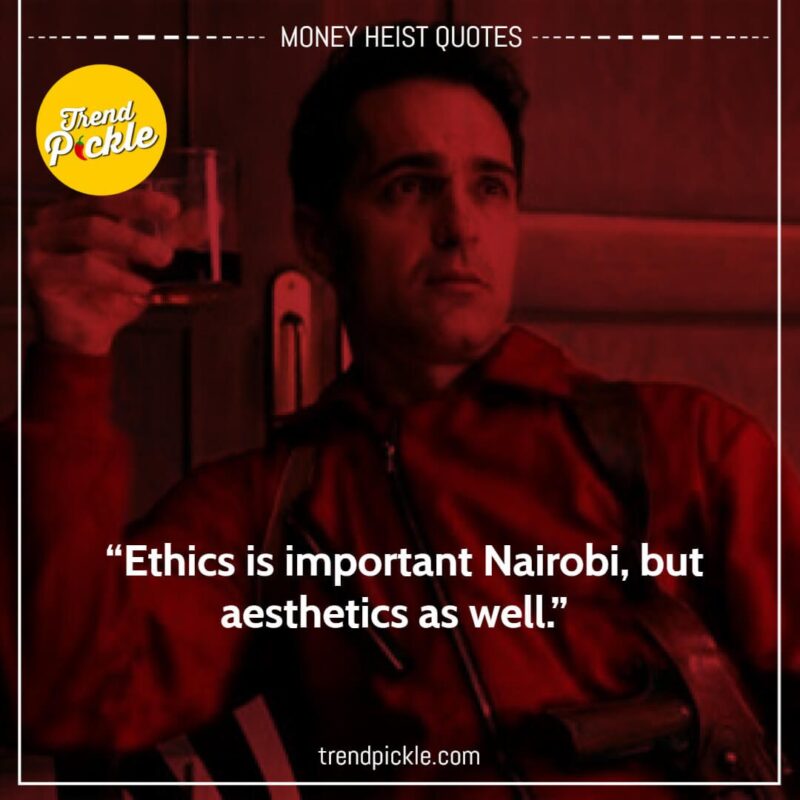 "In this world, everything is governed by balance. There's what you stand to gain and what you stand to lose. And when you think you have got nothing to lose, you become overconfident." – Professor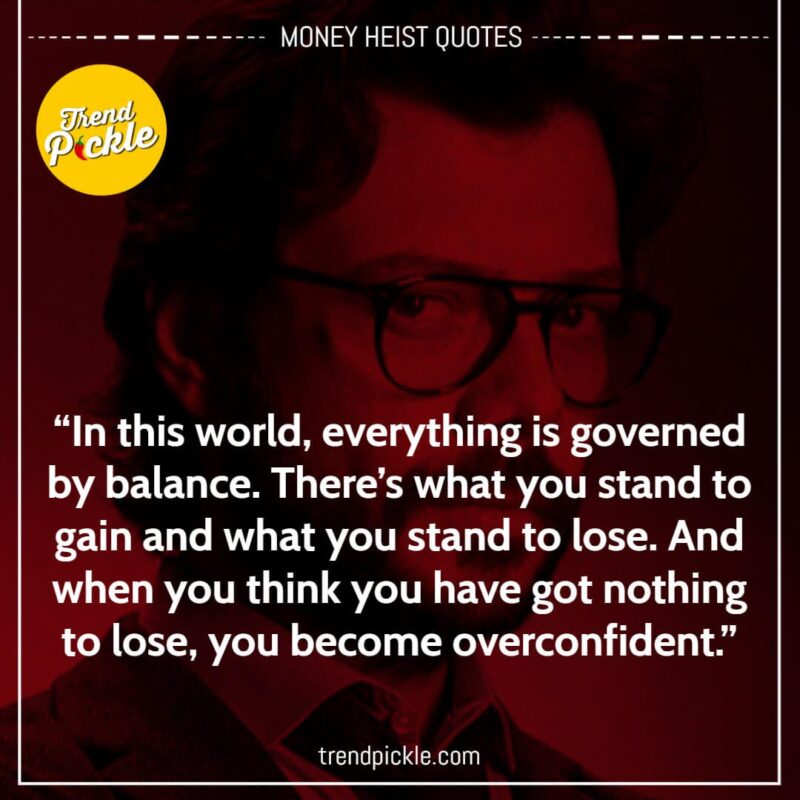 "In the end love is a good thing for everything to fall apart." – Tokyo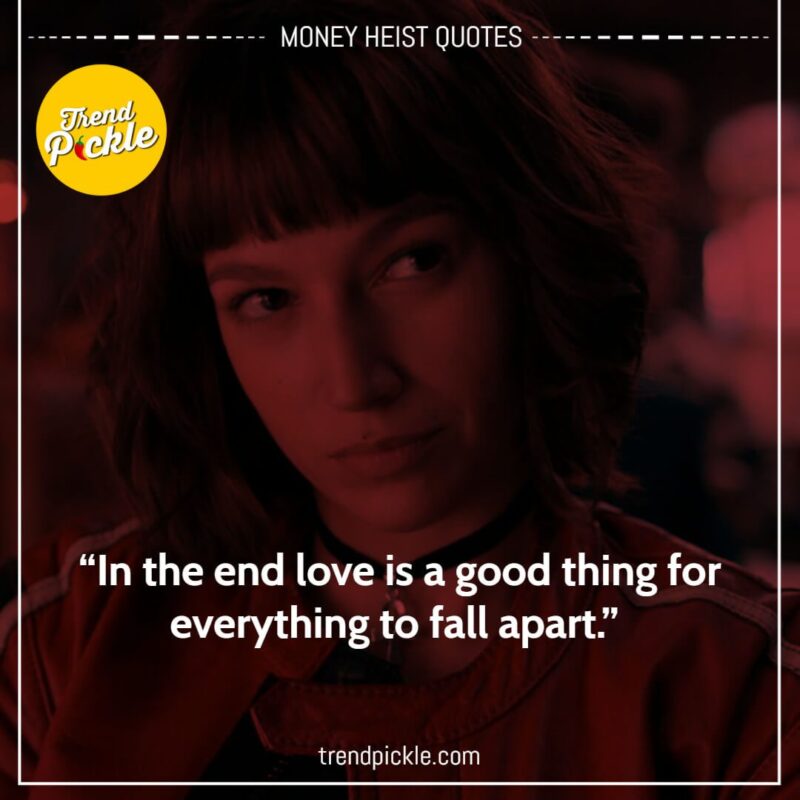 "Hope is like Domino's. Once one falls, the rest follow." – Tokyo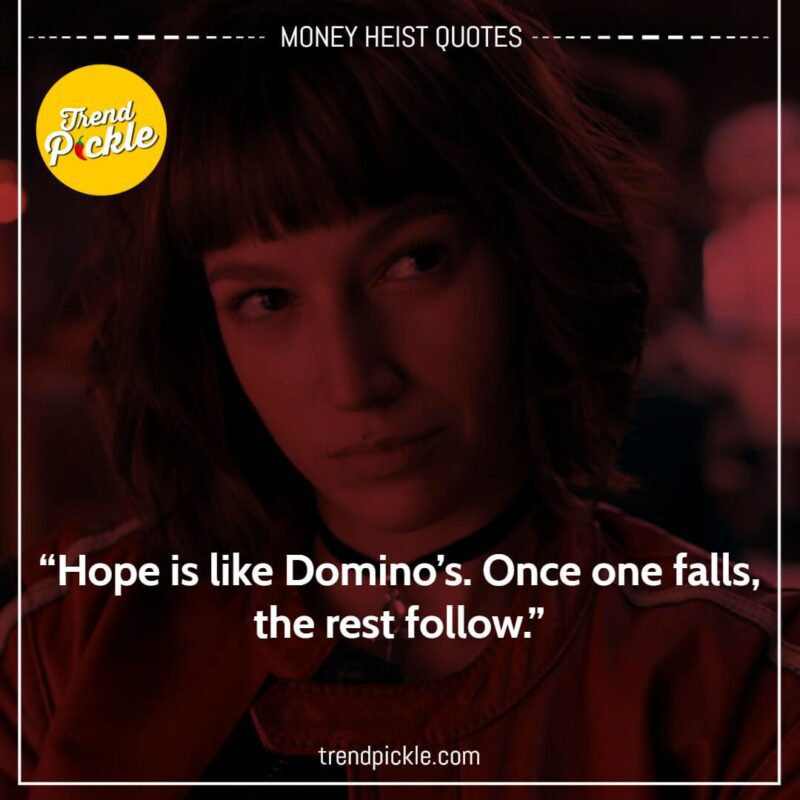 " Sometimes, a truce is the most important part of a war." – Professor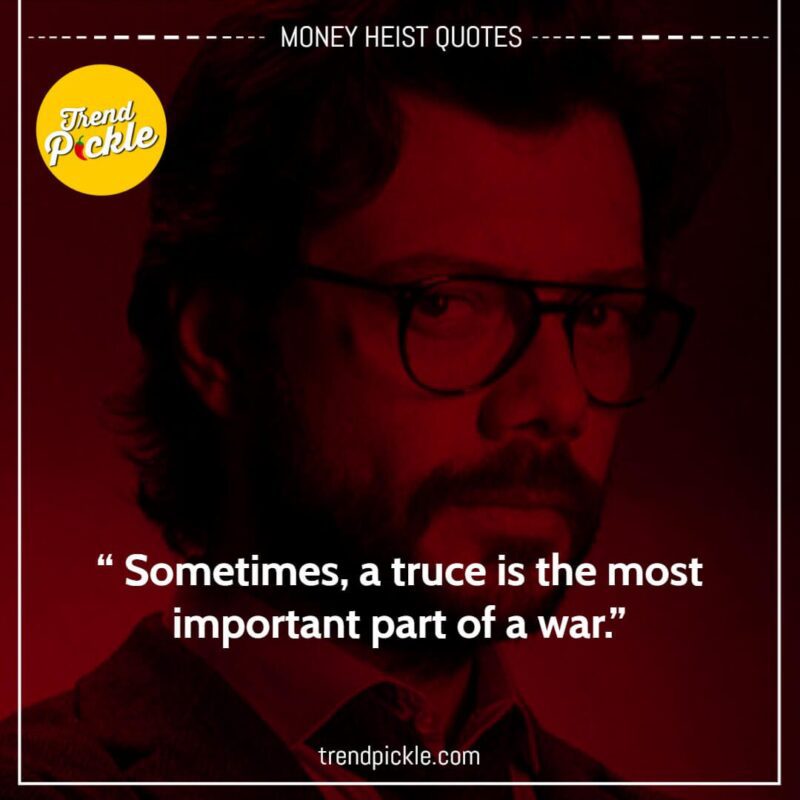 "Are you a complete idiot or what? You have heard of Stockholm Syndrome, right? – Nairobi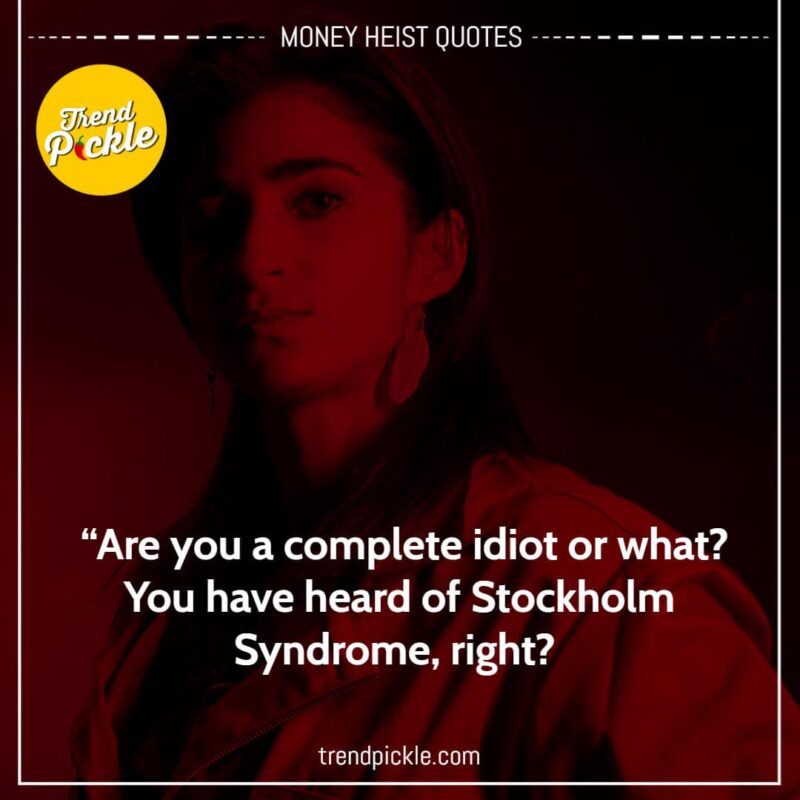 "When someone is in love, they look through rose tinted glasses. Everything's wonderful. They transform into a soft teddy bear that's smiling all the time." – Professor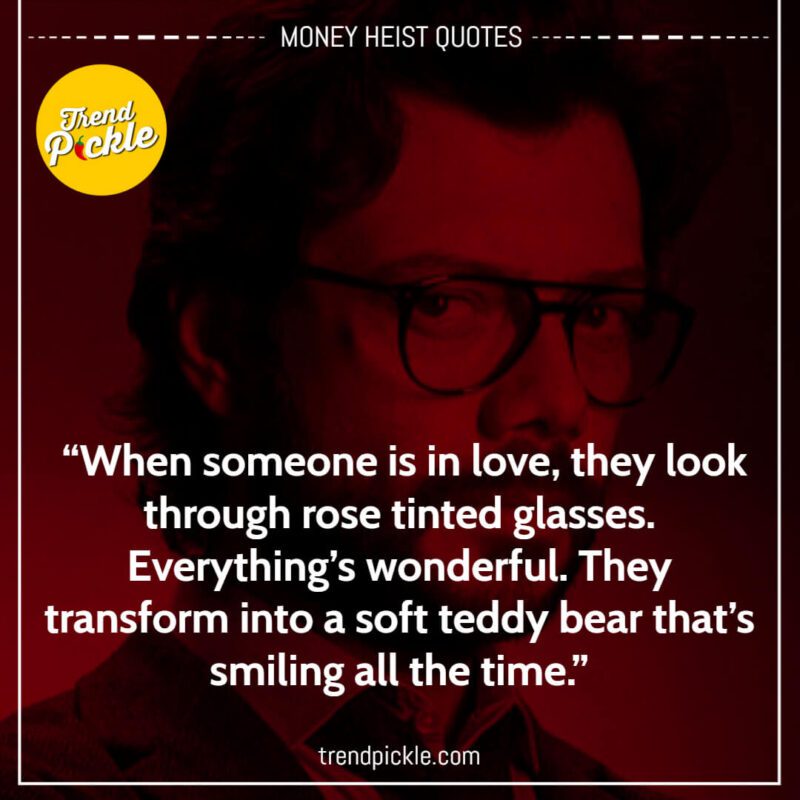 "After all,  what's more human than the fight for survival." – Tokyo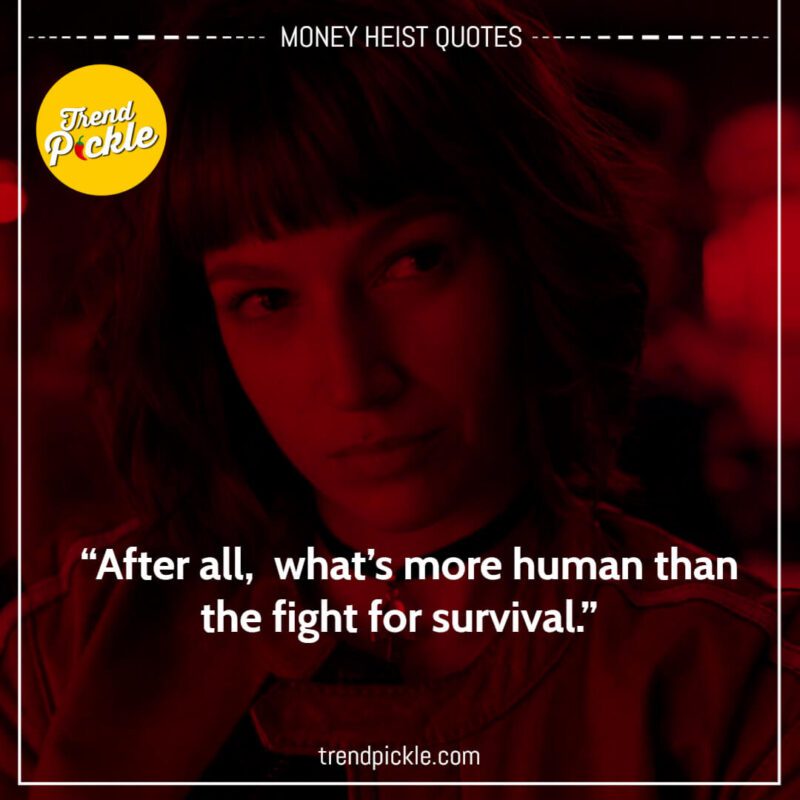 "What you have to do is make those suckers see what you're capable of. Show them you're not scared." – Nairobi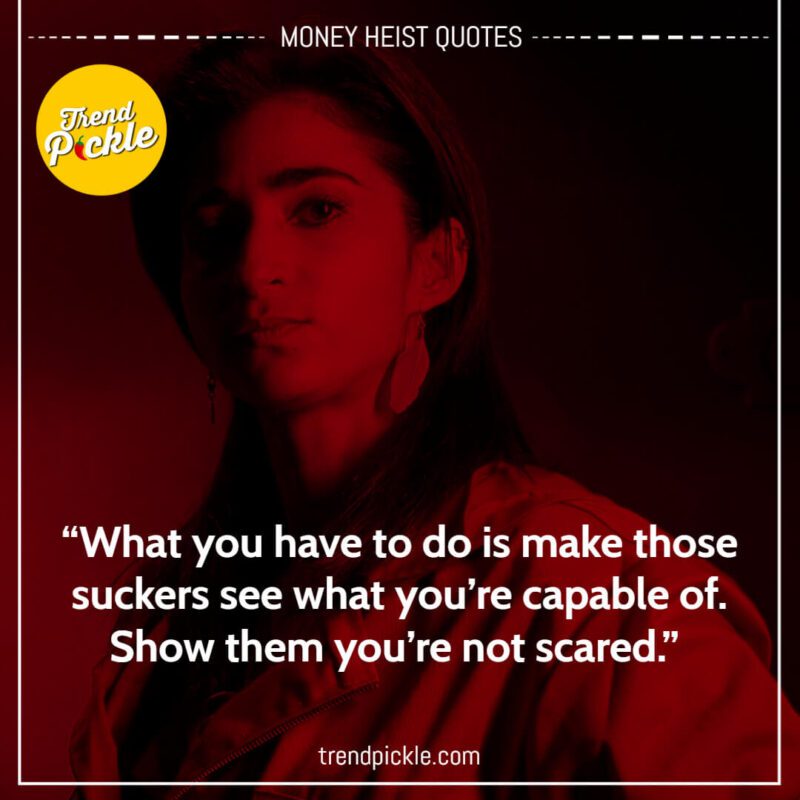 "Because one day, something will go wrong. It could cost you your life or something worse. And on that day you can't be thinking is that you are to blame for something you couldn't control. That's life. Enjoy it until the party is over." – Berlin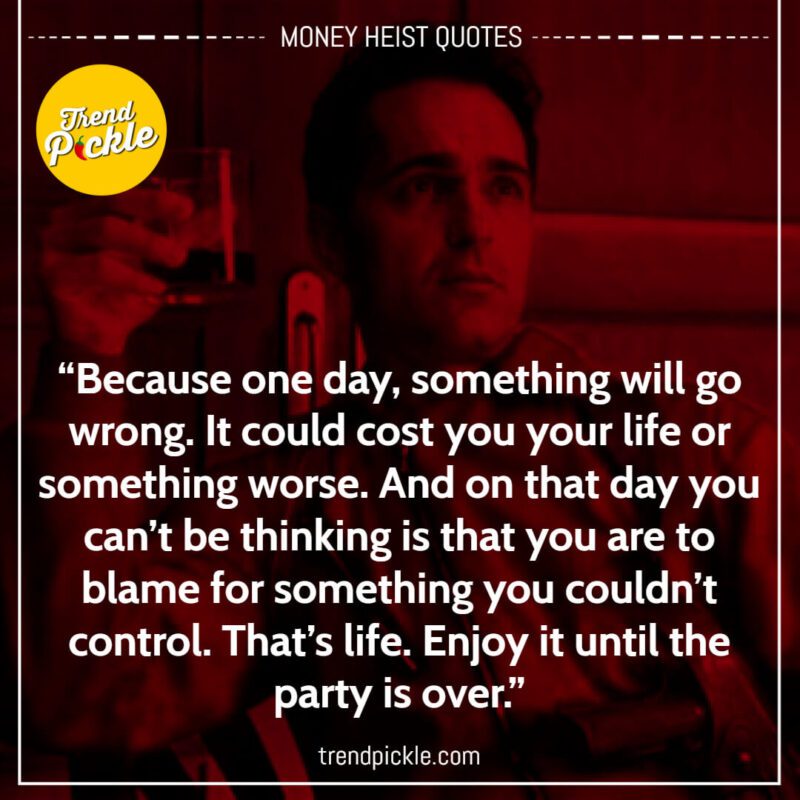 "When you hit rock bottom, you still have a way to go until the abyss." – Tokyo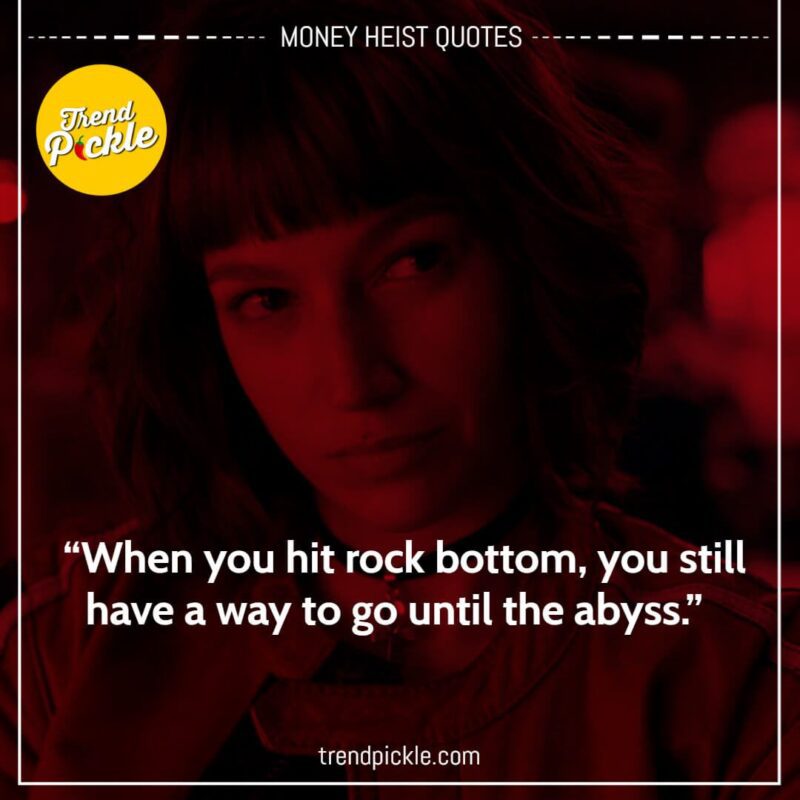 "First times are so special. Unique. But the last times are beyond comprehension. Priceless. But people don't usually know it." – Berlin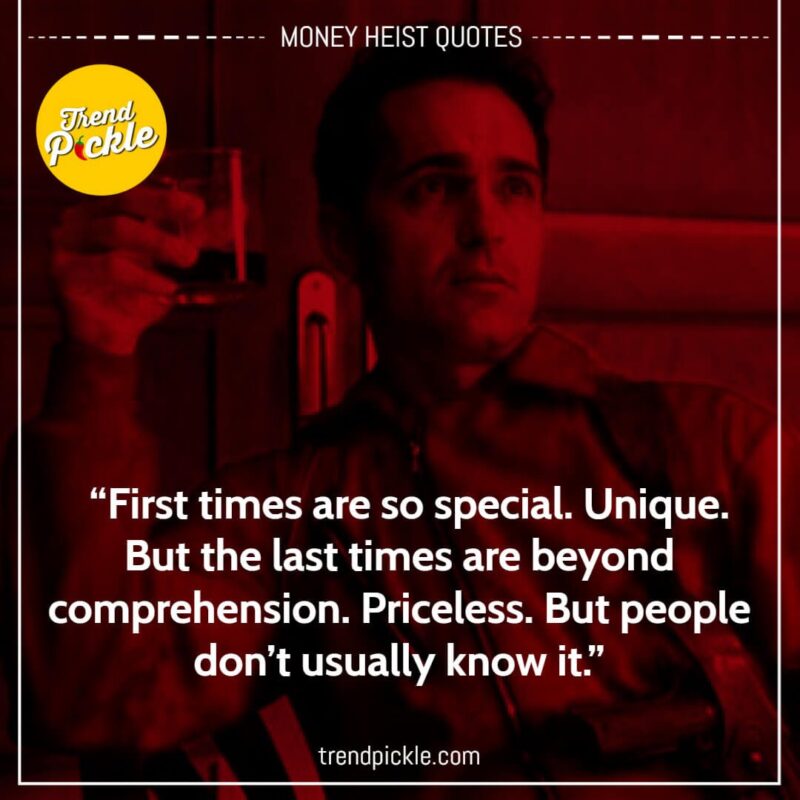 "Let the matriarchy begin." – Nairobi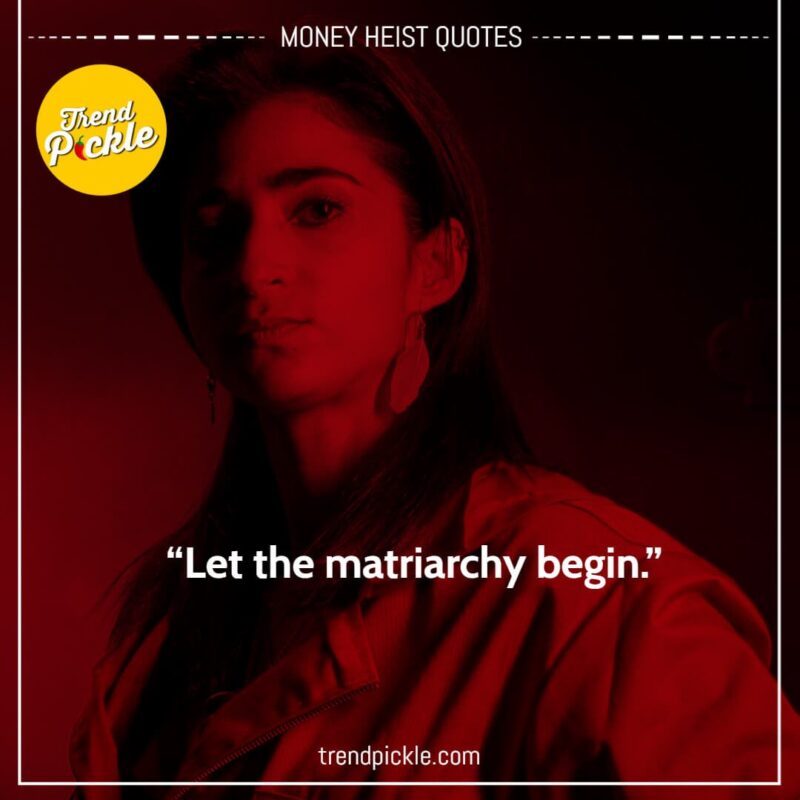 "Love can't be timed. It has to be lived." – Berlin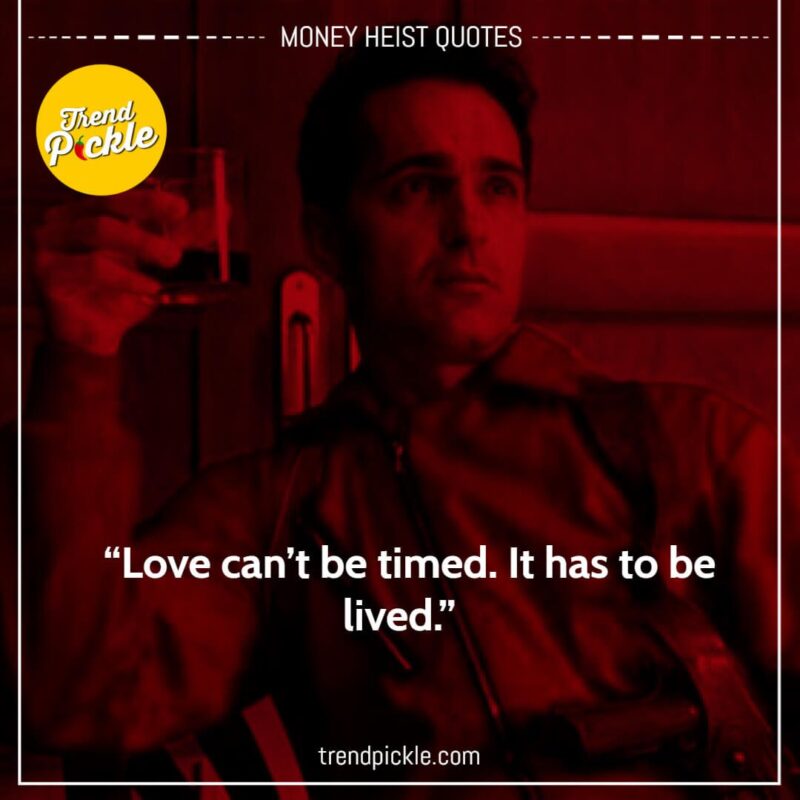 " Dear, in the end, love is what makes us see life in another colour and lately, you have only seen everything black." – Marivi  Fuentes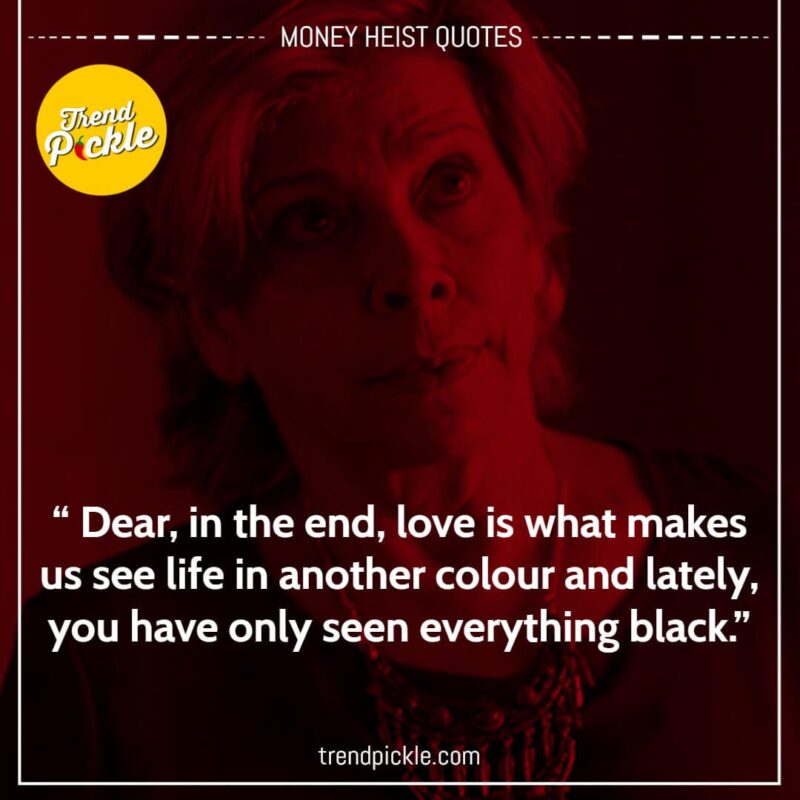 "At some point we all become hostages to something and when you accept that, that's when you make up your mind." – Arturo Roman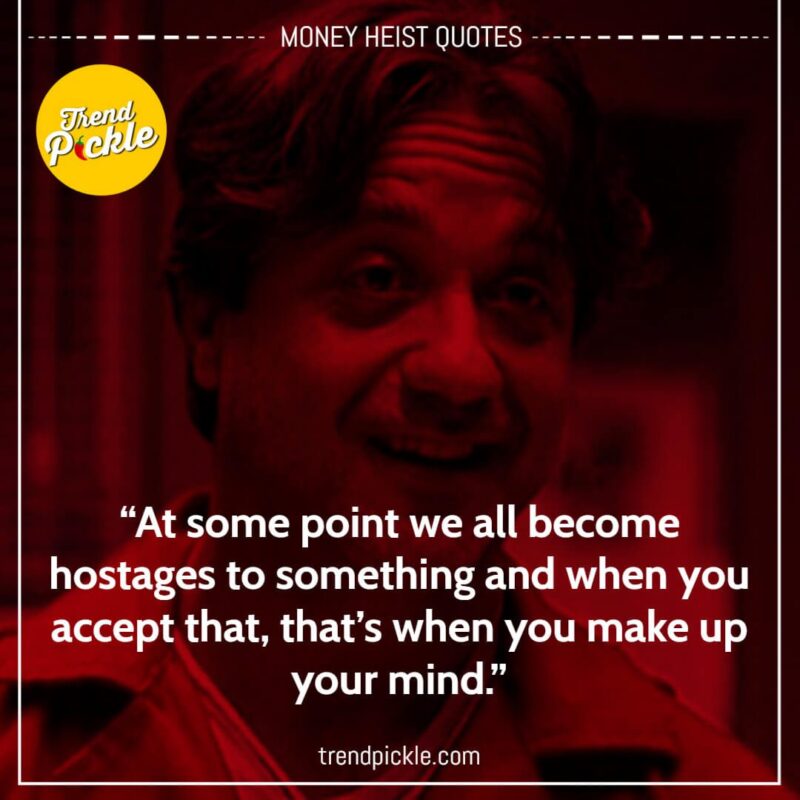 Which is your favourite money heist quote? let us know in the comments section!