Looking for a job can be very hectic, as it is the place where you spent more than half of your day, thus, it has to be the best. There are jobs that you might dream for; your dream job, that can be anything but nonetheless it should provide you with all the basic facilities to live a satiated life, the company you work for should be a happy place and definitely provide you with an opportunity to grow besides earning. Here, is the list of top 10 Indian companies to work if you are looking for a job: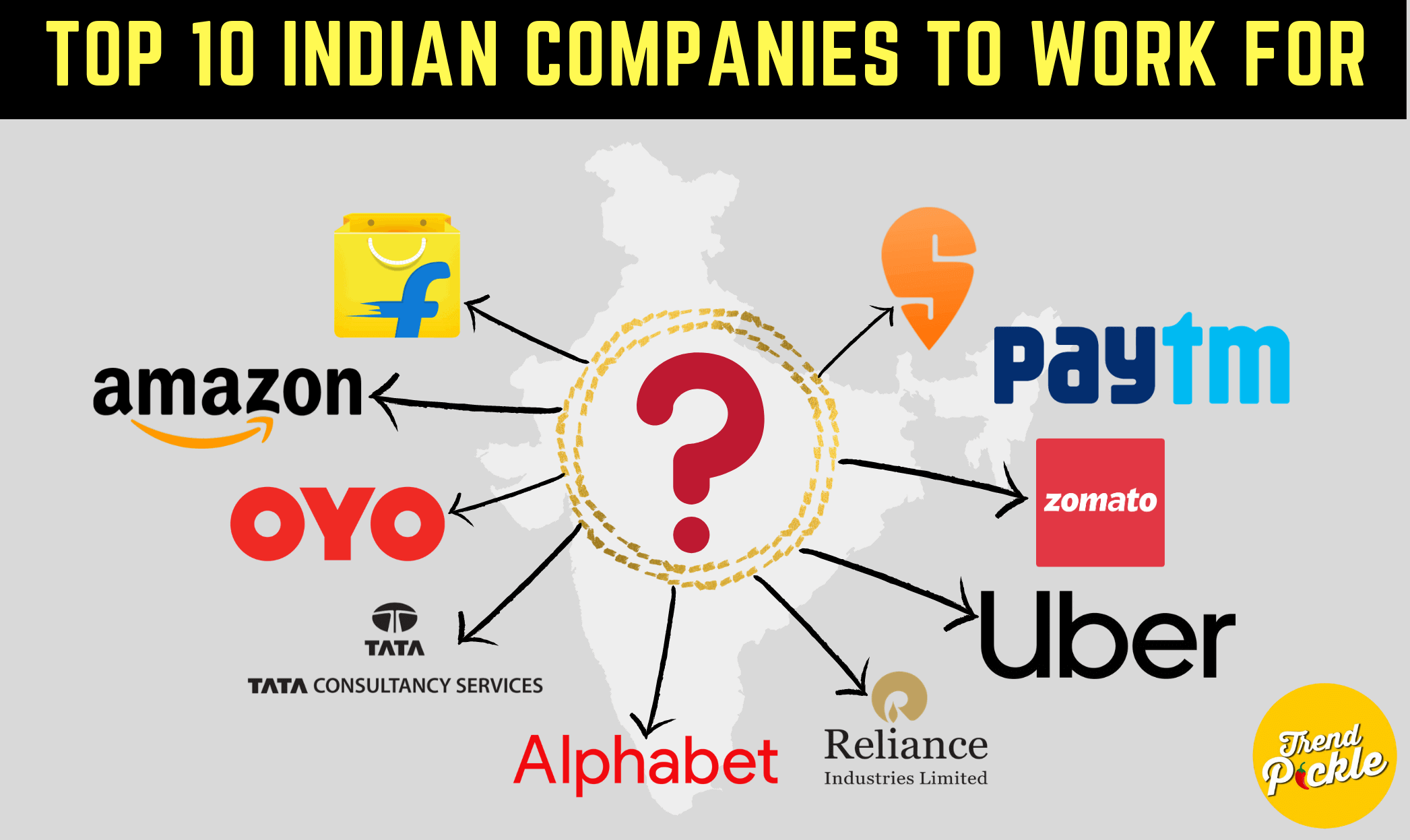 Flipkart :
It is an Indian E-commerce service company founded by Sachin Bansal and Binny Bansal that dominates the e-commerce sector in India. Presently being owned by Walmart that claims 77% of the profit it allows it's consumer to shop easily using an app online, plus it's easy to return policy has added to its becoming of the most favourite shopping alternative for all the Indians. Besides the customers, it also cares for its employees providing them with maternity and paternity leave, work from home option (situational), vacation and paid leave (24/annum) with the necessary festival and national holidays, and 12 Els.
Amazon :
Amazon is an American multinational company founded by Jeff Bezos in 1994 providing E-commerce service at a global level that extended to India in 2013. Here, it has its offices spread in the metropolitan cities like Bangalore, Hyderabad, Chennai, Mumbai, and Delhi. This ever-growing company that is giving a tough fight to Flipkart with the same services through the app. This also extends its care to its employees providing health coverage, financial security plan, opportunity to defer compensation in the long term, and paid basic life and accidental death insurance besides maternity and paternity leave.
OYO :
Oravel Stays Private Limited, also known as Oyo is a hospitality service company founded in 2012 in Odisha by a young entrepreneur named Ritesh Aggarwal. This budget hotel booking platform and the app have its offices widespread in the country with Gurugram being the head office, allowing consumers to book a hotel online at affordable prices through an app. It covers more than 2200 hotels, and recently have extended its arm to become an international market operating in countries like China, Malaysia, and Nepal. Last year it secured the best employers position as despite being a private sector they bestow their employees with all the necessary benefits and many more.
One97 Communications (Paytm) :
Most people know about Paytm, but a very few know about One97 Communication, the wallet company that has birthed this largest e-commerce payment system. It has its offices in Bangalore, Mumbai, Chennai, Pune, and Kolkata and more than 300 million registered users, with 7 million merchants using the platform. The company caught attention after demonetisation to revolutionise the digital world, making money transaction and buying kinds of stuff ranging from milk to flight ticket easier. It also bestows its employees with insurance benefits, retirement plans, sick leave, and performance bonus.
Uber :
It is an American multinational transportation network company that has made travel easier by providing ride services. Besides being an alternative for autos and taxis it also provides an option for bike or bicycle sharing system, and recently have started delivering food too just through an app. It is basically a company based in San Francisco that has extended its arm all over the world. It came to India in 2013, setting the head office in Bengaluru, and has attracted a large number of drivers. Its estimated market is of $10 billion, plus, it offers its employees all the basic amenities including health facility, performance bonus, paid holiday, gym membership, etc.
Tata Consultancy Service :
The Indian multinational and information technology service and consulting company, TCS is now the largest Indian company by market capitalisation headquartered in Mumbai. With a net income of $4.5 billion, it stands among the most valuable IT brands worldwide. It has more than 400,000 employs from 147 nationalities, who all are bestowed with health insurance scheme, learning platform to evolve, extracurricular activities, cab service, and an opportunity to explore technical knowledge.
Swiggy :
Launched by Nandan Reddy and Sriharsha Majety in Bengaluru, Swiggy is the biggest food ordering aggregator. It provides door to door service, where the consumer is just an app away from receiving appetizing food. With a total valuation market of $3.3 billion, it is currently being operated by Bundl tech. that also offers the employees with all the basic facilities including health insurance, paid leave, etc.
Zomato :
Another food delivery app with discovery services that allows to search for almost all the Indian restaurants. Founded by Deepinder Goyal and Pankaj Chaddah in the year 2008 it has not only spread its service in Indian cities but also internationally including 24 countries. Just like the previous company Zomato also doesn't fail to prioritise its employee by giving them all the basic facilities like insurance, retirement and vacation policy, etc.
Alphabet :
Alphabet is the parent company of Google and YouTube, the must-have for today's generation that has been born and brought up with it. Its office is present in the metropolitan cities including Bangalore, Hyderabad, Gurugram, and Mumbai. Though being international yet the nation provides it with one of the biggest markets. Rated 4 stars in terms of caring for its workers by Glassdoor, it provides services not only to consumers but also serves employees the way they do too.
Reliance Industries:
Founded by Dhirubhai Ambani, and headquartered in Mumbai, it is an Indian conglomerate holding company that owns a business in the energy, petrochemicals, textiles, natural resource, retail, and telecommunication offering a vast field to work for. In retail, it operates supermarket, hypermarket, and speciality stores; and its telecommunication branch has brought a digital revolution after the launch of Jio that offers voice network, high-speed data, and digital commerce service.