If you cook every day, you know the importance of having an organised and aesthetically pleasing kitchen. Not only does it help you save time while preparing your everyday meals, but it also makes your experience much more enjoyable and almost therapeutic. This is what has led to the popularity of modular kitchens. Modular kitchens have a designated spot for all your kitchen essentials, making your kitchen neat, organised, and well-planned.
In today's fast-paced world, where we barely have any time to spare, modular kitchens have become a necessity. They help you organise all your utensils, cutlery, crockery, bottles, and jars, ensuring nothing is ever out of its place. Now, while the markets are flooded with many modular kitchen units, making it easy for us to pick the ones that match our needs, it's important to compare modular kitchen prices to make sure we're not over-spending.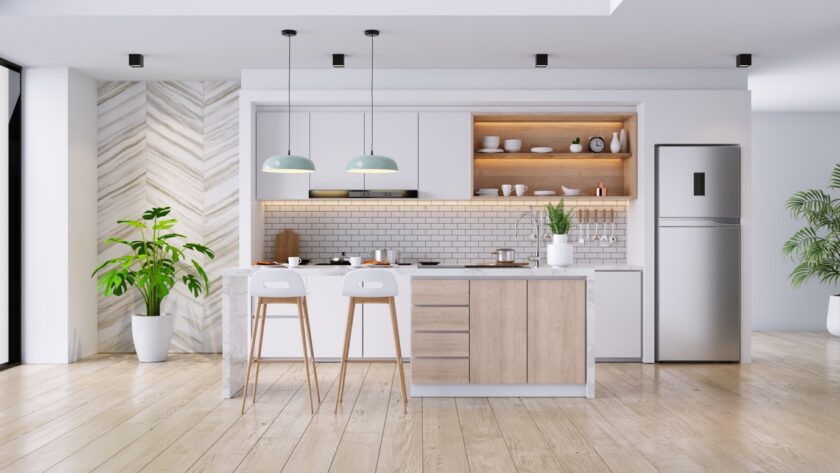 Here we discuss everything you need to know about comparing modular kitchen prices and choosing the best design for your kitchen. Let's get started!
# 1 Consider the Finish
One of the most important things that can make or break the look and feel of your space is the finish. While the ideal finish for your kitchen would depend on many factors, there are a few things that you should keep in mind, no matter how big or small your kitchen is.
Your modular kitchen cabinets are some of the most touched surfaces in your home. You're going to open and close them while cooking, baking, and sometimes even eating. This is why it's important to opt for a finish that's easy to clean and wouldn't catch stains. Whether you opt for matte or glossy cabinets, it's important to ensure they'll only need a quick scrub to stay squeaky clean. This is one of the most important things to consider while comparing modular kitchen prices.
# 2 Consider your Kitchen Size
Another thing that can affect your modular kitchen prices is the size of your kitchen. Larger kitchens will be more expensive to furnish than smaller ones. However, if you have a smaller kitchen, it doesn't always mean that you would have to compromise on design or functionality. These days you can easily find excellent modular kitchen designs for smaller spaces.
From elaborate storage units to practical pantries, with clever planning, your small modular kitchens can have everything you want.
# 3 Consider the Equipment
Let's be honest; kitchen equipment can be expensive. And the more equipment you install in your kitchen space, the higher your modular kitchen cost will be. For instance, if you need a microwave, a convection oven, a dishwasher, the latest mixer-grinder, and an electric hob in your kitchen, the costs of all these appliances would simply get added to your modular kitchen price.
This is why it's recommended to opt for appliances that you're actually going to use. Not only will it help you save on money but also avoid unnecessary clutter in your kitchen.
# 4 Consider the Lighting
Lighting is an integral part of every room's décor, and the same holds true for kitchens as well. It's important to be mindful of your lighting solutions and install a bunch of different light sources. From task lights to pendant lights, it's essential to consider both the practical as well as the aesthetic factor while illuminating the kitchen. The idea is to find lighting solutions that not only enhance the ambiance of your space but also enable you to work efficiently in the kitchen.
# 5 Consider the Flooring
Flooring is an important factor in your overall kitchen design. The right flooring can allow you to achieve the look you want and can help tie the whole design together. For instance, if you're looking for a Scandinavian or boho vibe for your kitchen, a wooden flooring might be perfect for you. On the other hand, if you want to create a modern, minimal kitchen, marble flooring is the right pick for you.
However, just like with cabinet finishes, it's important to make sure your kitchen flooring is easy to clean and wouldn't catch food stains.
# 6 Consider the Kitchen Island
If you have a spacious kitchen, you would probably want a kitchen island or a breakfast table. While these design features are incredibly practical and aesthetic, they can cause a significant hike in your modular kitchen prices. This is why it's important to consider your needs mindfully and understand what you really require in your kitchen.
If you opt for a kitchen island or a breakfast counter, it's important to consider the material that you use. For instance, if you go for a marble top, it would be much more expensive than a wooden top. These factors can significantly impact your modular kitchen prices.
So, here you have it. These are some important tips that you can keep in mind while comparing modular kitchen prices. At the end of the day, it all comes down to your taste and choices. These tips will help you design a beautiful and practical modular kitchen without casting a hole in your pocket.
A bonus tip that can help you get the most out of your kitchen without spending a fortune on modular kitchen costs is to take the help of expert interior design firms like Livspace. Livspace is one of the most reputed interior design companies in India, providing end-to-end solutions for all your home décor needs. With Livspace, it's only a matter of time before you say hello to your dream home. So, wait no more. Visit their website and book a free consultation today.