Those who consider themselves to be bargain-hunters and enjoy shopping around for the best deals likely spend a significant amount of time hunting for products online. Online retailers often have low prices and discounts that are available each month, which can allow you to purchase more items for less. If you want to learn how to get the best online deals, there are a few main tips to follow when buying everything from clothing to electronics on the Internet.
Shop on Holidays
The holidays are a popular time to shop due to the low prices that are available online. Many retailers offer hefty discounts to attract customers and increase their sales. According to U.S. News, "Knowing when seasonal items tend to go on sale and when major sales holidays take place allows you to buy the items you'd purchase anyway, but pay significantly less for them." Consider shopping for larger items on Black Friday, after Christmas, and on Labor Day weekend to take advantage of lower prices that will increase your savings throughout the year, especially when you plan to make large purchases on appliances or electronics.
Many retailers will inform you in advance of the types of products that will be on sale to ensure that you can choose what you want to purchase in preparation for the big day.
Subscribe to Emails
Consider subscribing to emails through a specific retailer that you purchase goods from frequently to obtain monetary perks that are available to consumers. Many stores will provide you with a discount or a coupon code if you sign up to receive their emails, which can allow you to avoid paying full price. By receiving emails, you'll also become more aware of when there are current sales or discounts that are available each month. You can wait to shop for specific items until the items are reduced to avoid paying full price online.
Search for an Online Coupon
One of the main benefits of shopping online is getting the chance to use coupons that are available on multiple retailers' websites. According to Plus Voucher Code, "Often, manufacturers or distributors will offer coupons that are even cheaper than some of their biggest sales." Many websites are dedicated to posting these coupons for consumers, making it easy to shop for items through your favorite retailers and obtain a discount upon entering a code at checkout. You can also score free shipping if you spend a minimum amount of money on the website. Some stores even allow you to stack coupons with rewards and other strategies that are available, which can increase your savings.
Take Advantage of Apps
A long list of apps can be downloaded, which are available to help consumers obtain discounts at checkout. You may not be aware of certain coupon codes that are available through the website but are automatically applied once all of your items are in your cart. Some of the apps will even provide you with a partial discount if the product that you purchased goes on sale after you check out.
You can also contact the retailer directly if the price drops after you make your purchase to ask for a discount on the price difference. Save your receipt and avoid waiting too long to ask for part of your money back.
Honey is a browser extension that automatically finds and applies coupon codes at checkout with a single click. It also provides you the best deal on your Amazon purchases. You can track prices of products at Amazon and Walmart.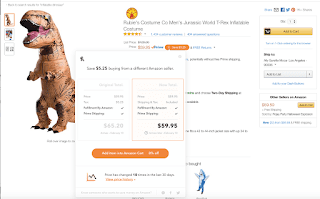 Become a Rewards Member
There are many savings that you can obtain by becoming a rewards member at stores that you frequently shop throughout the year. According to How Stuff Works, retailers encourage repeat business, which is why they're willing to offer discounts to their loyal customers. Rewards programs will allow you to obtain free items and coupons once you spend a certain amount of money. Signing up for the rewards is free and only requires your email address to ensure that you can reap the benefits of making a few purchases.
Use Rebate Sites
Many people underestimate how much money they can get back when signing up for rebate sites. Rebate sites are becoming more common and can allow you to earn a percentage back after spending a certain amount of money. Most websites offer two to 20 percent cash back if you shop on major retailers' websites through their specific site. You can cash out the earnings at a specific time, whether it's immediately or in a few weeks. The percentage of the money you get back is also influenced by the place that you shop. You'll need to accumulate a certain amount of points to cash out your earnings.
Online shopping is not only convenient for those who enjoy making purchases in the comfort of their home, but there are many deals that are available throughout the year at brick and mortar stores as well. By following a few tips, you can increase your savings without compromising on the types of purchases you make. Please sure to read How to Save Money while shopping Online in India?
For more budget and finance tips for your family, check out more of our articles here!