Italian dishes are increasing its popularity throughout the world.  While we mostly think about Pizza and Pasta when talking about Italian dishes, there are many Italian dishes which are very unique and delicious.  You should try these Italian dishes, appetizers, desserts whenever you are planning an Italian meal. Here are the 10 best Italian dishes you need to search in the Italian restaurant's menu.
1. Bruschetta
Bruschetta is a popular antipasto (the traditional first course of a formal Italian meal) from Italy. The dish consists of grilled garlic bread seasoned with olive oil and sea salt.  Variety of toppings including chopped fresh tomatoes, vegetables, beans, fresh basil, meats, or cheese can be put on the bread. Bruschetta is a perfect dish to taste the flavours of fresh tomatoes, basil, olive oil, and garlic. This classic Italian appetizer is the best to start your Italian meal.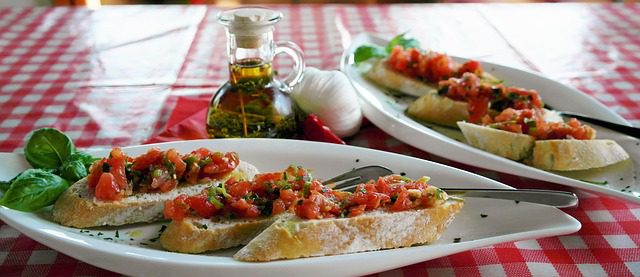 2. Lasagna
One of the oldest types of pasta, Lasagna is a mouthwatering Italian dish made with layers of pasta sheets, various sauces, cheeses and stuffed ingredients such as vegetables, meats, mushrooms etc.  The dish is prepared by baking layers of stacked pasta sheets,  alternatively filling them with sauces and other ingredients (meats, vegetables, and cheese). You can also sprinkle shredded cheese on the top pasta sheet. Once baked properly, it tastes delicious. Next time you are planning some Italian dinner, try this simple and easy to cook dish.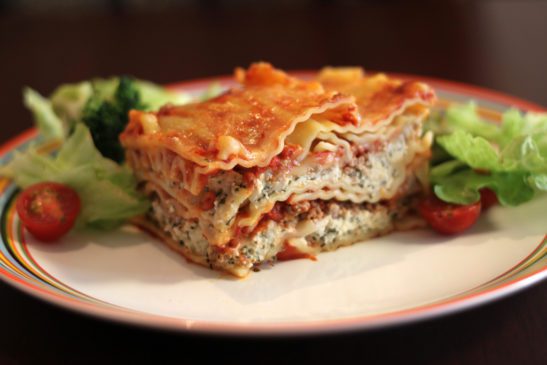 3. Eggplant Parmesan
One of the best Eggplant dishes,  Eggplant Parmesan is cooked with Eggplant (or Augerbine) slices, Mozzarella, and Parmesan cheese.  The Eggplant slices are dipped into eggs and then breadcrumbs and then placed on the baking sheet with layers of Spaghetti sauces and Cheeses.  Next time, you are heading to an Italian restaurant, do not forget to try this classic Italian dish.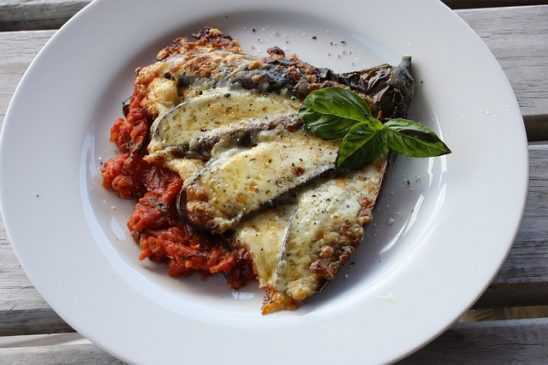 4. Focaccia Bread
A dish similar to Pizza in look and texture, Focaccia Bread is popular throughout Italy.  Focaccia Bread is a flat oven-baked bread seasoned with olive oil, salt, and herbs. Sometimes, it is also topped with cheese and vegetables like slices of tomatoes.  One of the most popular variants is Rosemary Focaccia Bread which is topped a with a lot of Rosemary.  The dish is a delicious alternative to Garlic bread.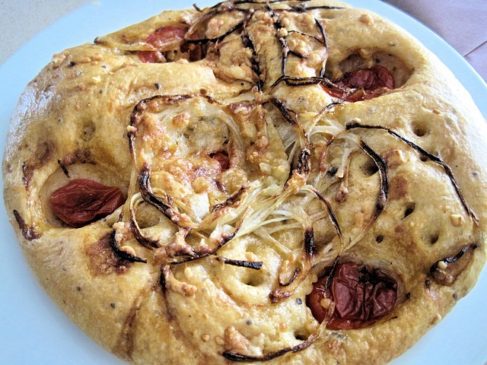 5. Risotto
The most common Italian rice dish, Risotto is prepared by cooking rice in a broth. For those who don't know, Broth is soup consisting of meat or vegetables cooked in stock sometimes thickened with barley, corn flour or other cereals. For Risotto,  either meat, fish or vegetable broth can be used. Rice is then cooked in broth to achieve a creamy consistency. There are many varieties of Risotto and some may contain butter, onion, Parmesan cheese, and wine. Want to try some new rice dish, Risotto is your bet.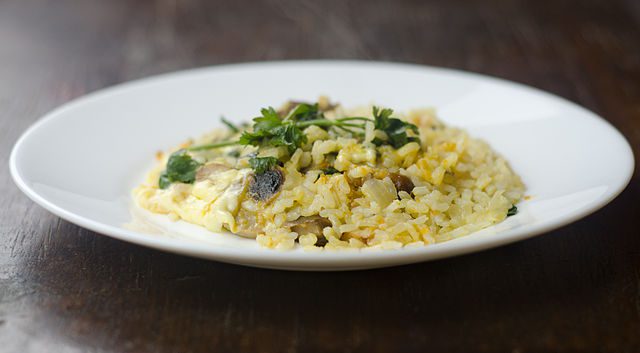 6. Calzone
A variant of Pizza, Calzone is an Italian oven baked folded pizza in a semi-circular shape.  The dish looks similar to Indian sweet dish Gujhiya in look. Calzone is prepared by stuffing salted bread dough with vegetables, eggs, mozzarella, ricotta, and Parmesan or pecorino cheese. The folded dough is then baked in the oven until golden brown.  It can be served with warm Marinara sauce. Many people experiment with different shapes of Calzone, however, the things that remain the same is its unique taste.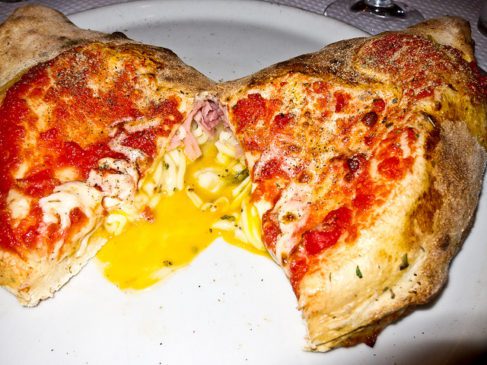 7. Pizza Margherita
A typical Italian Pizza popular is the parts of the country, Pizza Margherita is made with San Marzano tomatoes, mozzarella fior di latte (semi-soft and fresh cheese made in the style of Italian mozzarella), fresh basil, sea salt, and extra-virgin olive oil. Pizza Margherita is known for its thin and crisp crust.  This is the crispest and tastiest pizza you will ever have.  There are not many toppings to the pizza but tomatoes and fresh basil leaves contribute to the nice texture and taste.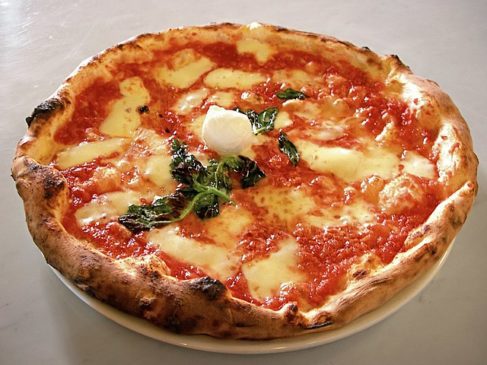 8. Ravioli
Ravioli is a traditional food in Italian cuisine. A type of dumpling, Ravioli is made by two layers of thin pasta dough. Typically, layers are made in square shapes, however, other shaped like circular and semi-circular are also used.   The stuffing is filled between the layers and the Ravioli is cooked.  Ravioli is generally served with pasta sauce or broth or both.  Different type of filling can be tried for this stuffed pasta recipe. Looking for a different type of dumpling other than  Momos, give Ravioli a try.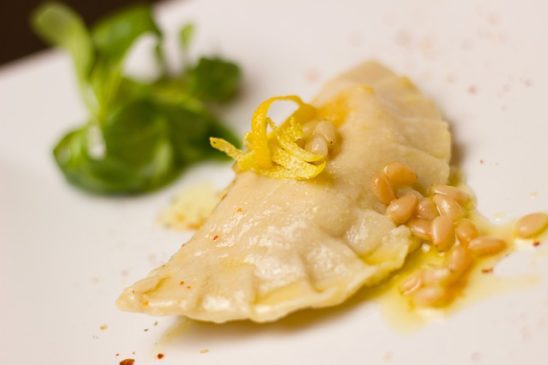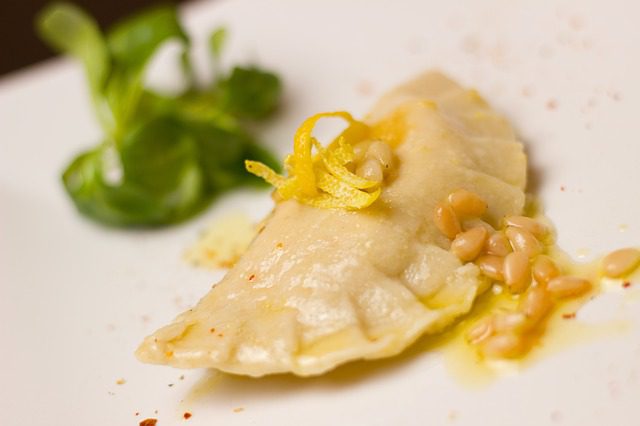 9. Spaghetti Carbonara
An Italian cheesy pasta dish from Rome,  Spaghetti Carbonara is made with eggs, hard cheese and peppers. The cheese is usually Pecorino Romano, however, other cheeses are also used.  Many varieties of pasta can be used to make the dish, the most popular one is Spaghetti. Carbonara is prepared by scrambling eggs and cheese into cooked spaghetti. Prepared pasta is then spiced with black peppers and garnished with Cilantro leaves. You must try one the easiest Pasta dish at home.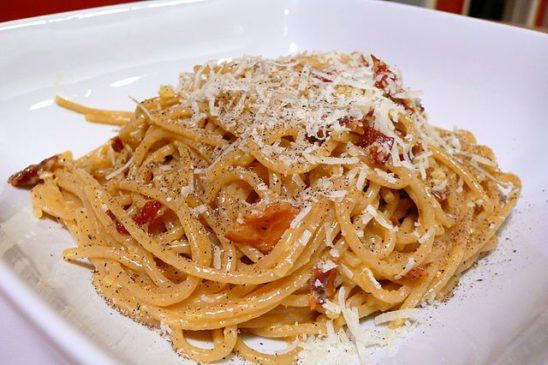 10. Tiramisu Cake
When it comes to desserts, We always want something best.  If you love coffee, you are going to love this coffee flavored classic Italian dessert. Tiramisu Cake is prepared by soaking Vanilla cake into coffee syrup.  This perfect, simple and sweet cake dessert will always complement your meals.  Planning to have a party at your home, try preparing Tiramisu Cake for guests (and yourself too).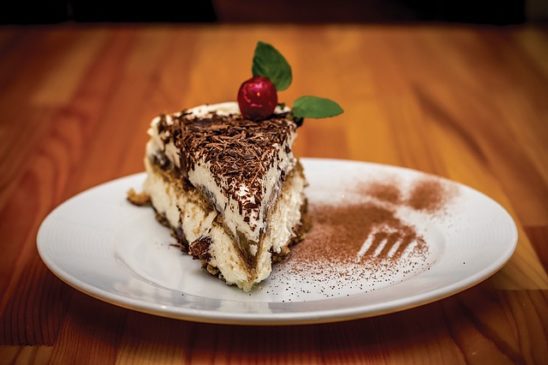 What is your favourite Italian dish, let us know in the comments section.