Bollywood has been continuously providing us with phenomenal music every year. With the combined efforts of composers, lyricists, singers, music directors and producers, Indian film industry's music is appreciated and resonate in our hearts. Be it a wedding function, a disco night, heartbreak pain, fresh romance, new friendships, soulful numbers, or thought awakening songs, Bollywood has given us something to vibe with on every occasion. Let us have a look at some of the best Hindi film albums of the last decade (2010-20) :
1) Zindagi Na Milegi Dobara (2011)
DIRECTOR- Zoya Akhtar
MUSIC DIRECTOR- Shankar-Ehsaan-Loy
LYRICS– Javed Akhtar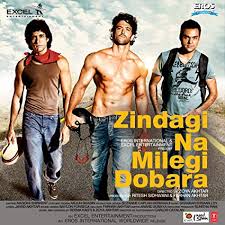 A blockbuster hit on box office, Zindagi Na Milegi Dobara leaves its footprints in our minds for ever. Music of the movie is both soulful and rock with meaningful lyrics. The music and score were composed by Shankar-Ehsaan-Loy with lyrics by Javed Akhtar. The composers engaged a Spanish flamenco singer, to perform the vocals on "Señorita".
BEST TRACKS- 
Ik Junoon
Khwabon Ke Parindey
Señorita
Der Lagi Lekin
2) Rockstar (2011)
DIRECTOR- Imtiaz Ali
MUSIC DIRECTOR- A.R.Rahman
LYRICS– Irshad Kamil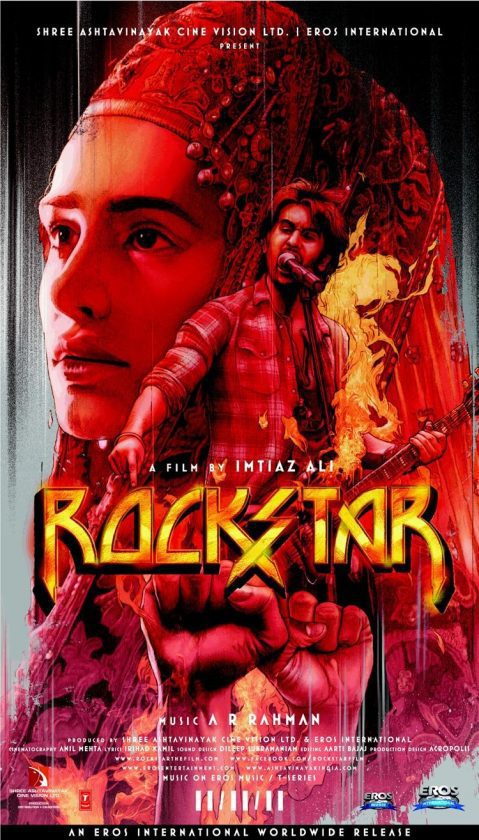 "Sadda Haq" being the most popular song of the album, represented as the "youth anthem" of the time. The soundtrack features 14 tracks in total, music for which is given by A.R. Rahman. All the lyrics are penned by Irshad Kamil and Mohit Chauhan gave his mesmerizing voice for nine songs. The audio received positive reviews on critics and songs are still remembered as amazing of its times.
BEST TRACKS- 
Phir Se Udd Chala
Saadda Haq
Jo Bhi Main
Naadaan Parinde
Tum Ho
Kun Faaya Kun
3) Cocktail (2012)
DIRECTOR- Homi Adajania
MUSIC DIRECTOR- Pritam Chakraborty
LYRICS– Irshad Kamil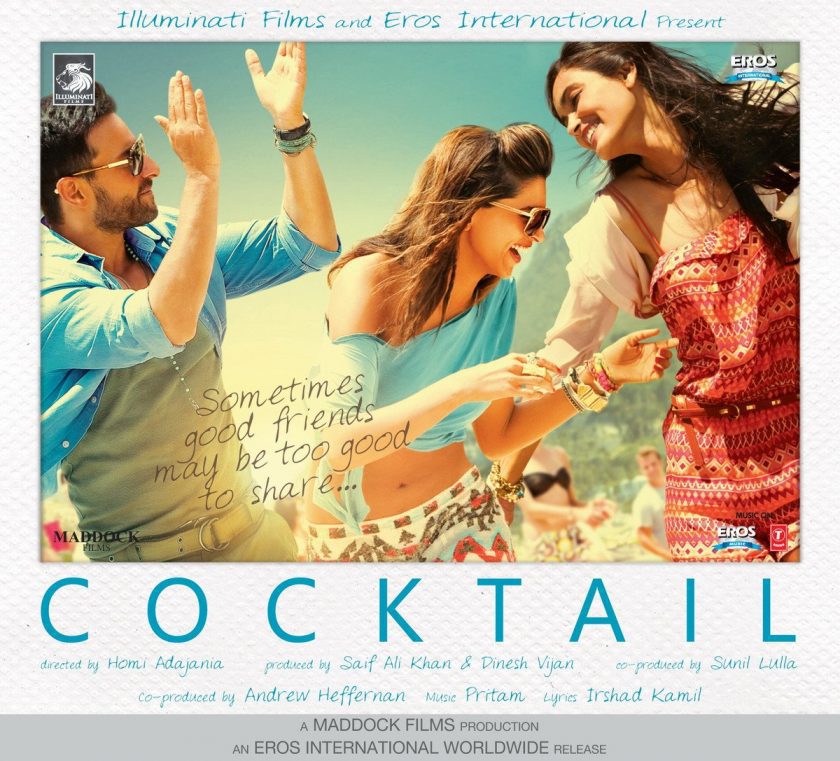 This album is celebrated as an adult rock and full of funk party songs. Its music is composed by Pritam and lyrics are given by Irshad Kamil. The famous osng of the film "Main Sharabi" is composed by Honey Sing and sung by Pritam. The background score is composed by Salim-Sulaiman.
BEST TRACKS- 
Tum Hi Ho Bandhu
Daaru Desi
Yaariyan
Second Hand Jawani
4) Barfi! (2012)
DIRECTOR- Anurag Basu
MUSIC DIRECTOR- Pritam Chakraborty
LYRICS–  Swanand Kirkire, Ashish Pandit, Neelesh Misra and Sayeed Quadri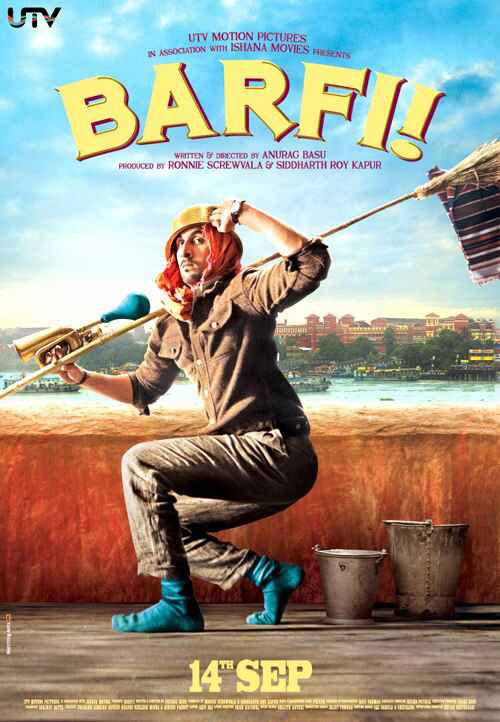 The soundtrack of this album has six original songs which was influenced by Brazillian Bosaa nova. The music and background score of the film is composed by Pritam Chakraborty, and hence its evident from his name only that music has to be of excellent quality. "Phir Le Aaya Dil" song sung by Arijit Singh is a big time hit. Amazing singers like Shreya Ghoshal, Sunidhi Chauhan, Mohit Chauhan gave their voices for various songs of the album.
BEST TRACKS- 
Ala barfi
Main Kya Karoon
Phir Le Aya Dil
Aashiyan
Kyon
5) Gangs of Wasseypur (2012)
DIRECTOR- Anurag Kashyap
MUSIC DIRECTOR- Sneha Khanwalkar and Piyush Mishra
LYRICS– Piyush Mishra and Varun Grover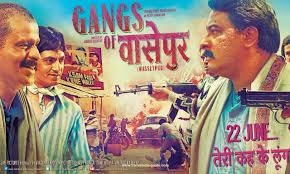 Gangs of Wasseypur has a strong and ganster music of its class, which is generally not encountered in most generic films. The soundtrack comprises of the real pure music prevalent in our country's streets and grounds with usage of local and raw words. Piyush Mishra and Varun Grover penned down the lyrics delivering their true meaning and purpose. "Ik Bagal" and "Jiya Tu" songs got welcomed by fans for their intense music and portrayal.
BEST TRACKS- 
Jiya Tu
Keh Ke Lunga
Ik Bagal
Hunter
Chhi Chha Ledar
6) Student of the Year (2012)
DIRECTOR- Karan Johar
MUSIC DIRECTOR- Vishal-Shekhar
LYRICS– Anvita Dutt Guptan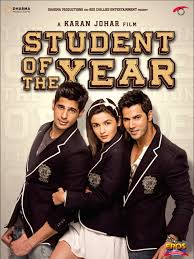 Student of the Year is a winner with Vishal Shekhar (yet again) justifying their stance of doing a few films but lending quality sound to it. The Times of India reported that the soundtrack was "appealing to people of all tastes and there's something for everyone in it" The romantic track "Ishq Wala Love" became the biggest hit of the album concluded by "Radha" and "Disco Song".
BEST TRACKS-
Ishq Wala Love
Raadha
Vele
Disco Deewane
Ratta Maar
7) Yeh Jawani Hai Deewani (2013)
DIRECTOR- Ayan Mukherji
MUSIC DIRECTOR- Pritam Chakraborty
LYRICS– Amitabh Bhattacharya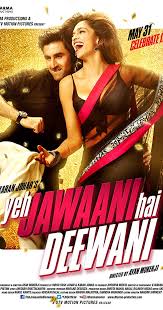 This album is a blend of high energy dance numbers and a couple of softer love songs. Music Director Pritam Chakraborty is a true romcom expert. Pritam's album and a Ranbir Kapoor film – it cannot be complete without a Mohit Chauhan song, so "Ihali" comes into scene, a song with a Scottish flavor. "Ghagra" is a dance number, a light and frothy track, "Subanallah". "Kabira" is a song with a Sufi touch. "Dilliwali Girlfriend" is a bhangra pop song.
BEST TRACKS- 
Ilahi
Kabira
Badtameez Dil
Subhanallah
Balam Pichkari
Ghagra
8) Aashiqui 2 (2013)
DIRECTOR- Mohit Suri
MUSIC DIRECTOR- Jeet Gannguli, Mithoon, Ankit Tiwari
LYRICS– Mithoon, Irshad Kamil, Sandeep Nath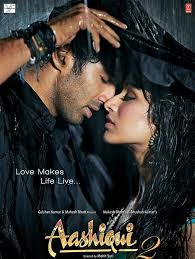 The Times of India rated the album 5 out of 5 stars for its brilliant music and excellent composition. Aashiqui 2 tries, and succeeds to some extent in matching the repeat-values freshness and allure of the original. Aashiqui 2's soundtrack received acclaim from music critics, who praised the songs "Tum Hi Ho" and both versions of "Sunn Raha Hai". The album, singers, composers and lyricists won a pool of awards for creating this soundtrack a success to be remembered for ages.
BEST TRACKS- 
Tum Hi Ho
Sunn Raha Hai Na Tu
Chahun Main Ya Naa
Bhula Dena
Hum Mar Jaayenge
Milne Hai Mujhse Aayi
9) Kai Po Che! (2013)
DIRECTOR- Abhishek Kapoor
MUSIC DIRECTOR- Amit Trivedi
LYRICS– Swanand Kirkire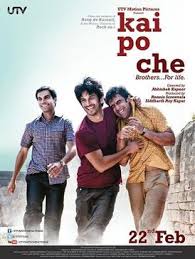 Kai Po Che! soundtrack through short, yet manages to leave a good impression on listener's mind. The songs about friendships, dreams and love seem to fit in well with the theme of the film. Kirkire's simple, yet beautiful, lyrics actually give you a glimpse in to what the film is all about. The music album's definitely worth your time.
BEST TRACKS- 
Manjha
Meethi Boliyaan
Shubhaarambh
10) Raanjhanaa (2013)
DIRECTOR- Anand L. Raj
MUSIC DIRECTOR- A.R.Rahman
LYRICS– Irshad Kamil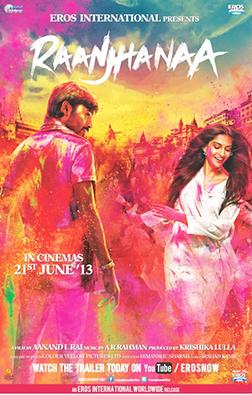 Yet another Irshad Kamil lyrical album, Raanjahanaa leaves us craving for more. Amazing use of rhythms and percussion with melodious backing vocals makes this album fulfilling the purpose of soulful and meaningful music. The biggest hit tract "Tum Tak" captures the esssence of classics and "Banarasiya" falls in the same category more or less. The album is widely appreciated for its awesome music.
BEST TRACKS- 
Tum Tak
Nazar Laaye
Raanjhanaa
Banarasiya
Tu Mun Shudi
11) Lootera (2013)
DIRECTOR- Vijramaditya Motwane
MUSIC DIRECTOR- Amit Trivedi
LYRICS– Amitabh Bhattacharya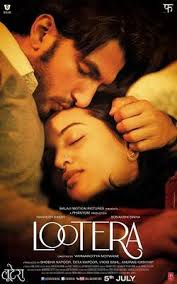 The music of Lootera is set in the style of old Bollywood era. The composer opted to keep two "antara" followed by a "mukhra" in the songs, matching to the 1950s styles of composition. The music composer Amit Trivedi claimed that the music of this film is a tribute to R. D. Burman in terms of melody and orchestration. Amit Trivedi and Amitabh Bhattacharya with this album has perhaps delivered a masterpiece they can live off all their lives.
BEST TRACKS- 
Sawaar Loon
Zinda
Manmarziyan
Monta Re
12) Ramleela (2013)
DIRECTOR- Sanjay Leela Bhansali
MUSIC DIRECTOR- Sanjay Leela Bhansali, Monty Sharma
LYRICS– Siddharth–Garima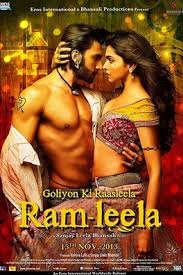 The soundtrack album is composed by Sanjay Leela Bhansali, album consisting of 11 tracks. The strong point of the "Ram-Leela" album is the soft romantic songs. Bhansali has put his best 'musical' foot forward. With classical, folk, fusion as well as contemporary sound finding their place under the sun, the soundtrack stands out from the clutter of some below average music.
BEST TRACKS-
Laala Ishq
Lahu Muh Lag Gaya
Ang Laga De
Nagada Sang Dhol
Raam Chahe Leela
13) Haider (2014)
DIRECTOR- Vishal Bhardwaj
MUSIC DIRECTOR- Vishal Bhardwaj
LYRICS– Gulzar, Faiz Ahmed Faiz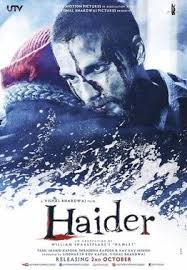 The director-composer Vishal Bhardwaj had ingeniously infused the flavours of Kashmiri folk songs and instruments while lyricist Gulzar had brought in the nuances of Urdu into the film's soundtrack. It is hard to say which is the best song in this album as almost every song has its own special charm. Deccan Music named it as the Best Hindi album for the year 2014. The soundtrack conveys angst, sorrow and love in a beautiful manner.
BEST TRACKS- 
Aao Na
Bismil
Gulon Mein Rang Bhare
Jhelum
14) Highway (2014)
DIRECTOR- Imtiaz Ali
MUSIC DIRECTOR- A.R.Rahman
LYRICS– Irshad Kamil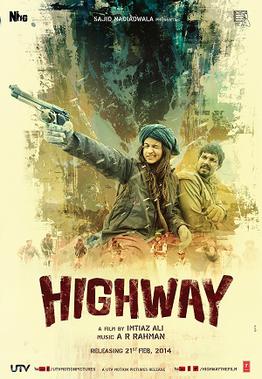 When A.R. Rahman and Irshad Kamil create a soundtrack, then only excellency is reflected. The album debuted on number one position on iTunes India and "Maahi Ve" was the chart topping single. It also won various golden awards for best background score. "Patakha Guddi" a brand-hit of the movie, acclaimed praises from critics and emerged as a powerful fusion song of Haryanvi and Hindi vocals.
BEST TRACKS- 
Maahi Ve
Patakha Guddi
Tu Kuja
Kahaan Hoon Main
15) Yaariyan (2014)
DIRECTOR- Divya Khosla Kumar
MUSIC DIRECTOR- Pritam
LYRICS– Irshad Kamil, Amitabh Bhattacharya, Mithoon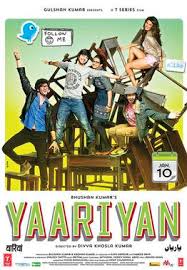 The soundtrack for the film was composed by Pritam. Mithoon rendered tracks for this film as well. Arko also composed a track. The songs reflect a new-age-coming romance and some party numbers are included as well. "Baarish" transpired as the love anthem of then time. Although the movie did not get much recognition on box-office, its songs continued to beat on in youth's footsteps. The movie has a smash hit musical score and entices its target audience, the youth.
BEST TRACKS- 
Baarish
Allah Waariyan
Sunny Sunny
ABCD
Meri Maa
16) Roy (2014)
DIRECTOR- Vikramajit Singh
MUSIC DIRECTOR- Sanjoy Chaudhary
LYRICS– Kumaar, Sandeep Nath and Abhendra Kumar Upadhyay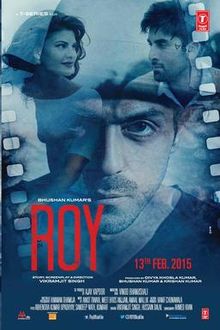 This album will surely make its way to your playlist and most songs are worth playing on loop. The songs received positive response from critics as well. Its song "Sooraj Dooba Hai" became a dance-on party number and still continues to hold a position in DJ's tracklist of any club. "Tu Hai Ke Nahi" gained enormous recognition for its soulful essence as well.
BEST TRACKS-
Sooraj Dooba Hai
Tu Hai Ke Nahi
Boond Boond
Chittiyan Kaliyaan
17) Tamasha (2015)
DIRECTOR- Imtiaz Ali
MUSIC DIRECTOR- A.R.Rahman
LYRICS– Irshad Kamil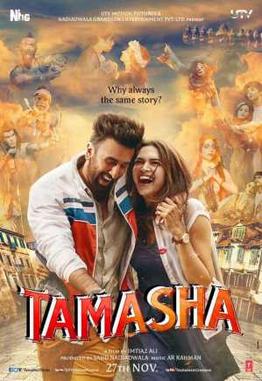 Tamasha is an emotional roller coaster ride from the fantastic combination of A. R. Rahman- Imtiaz Ali yet again! The music in the film is narrative, in the form of impresarios, depicting emotions of the characters. The songs cover genres like European dance, bhangra, opera, Hindustani classical and dubstep apart from experimental fusion of genres. The tracks "Matargashti" and "Tum Saath Ho" were the chart toppers on the Indian Music Charts. It takes the listener in a pathway to musical bliss!
BEST TRACKS-
Agar Tum Saath Ho
Safarnama
Matargashti
Chali Kahani
Heer Toh Badi Sad Hai
18) Ae Dil Hai Mushkil (2016)
DIRECTOR- Karan Johar
MUSIC DIRECTOR- Pritam
LYRICS– Amitabh Bhattacharya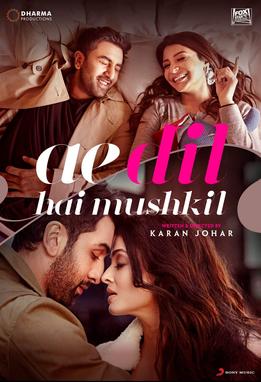 The sound track received overwhelming applause for its beautiful lyrics, powerful music and crackling chemistry between the lead pair.The tract "Bulleya" is a Sufi ballad number. The song "Channa Mereya" brings out the emotions from a heart broken soul and then tries to heal the wounded soul with an extended poetic verse. Due to the album's extreme popularity, a deluxe version of it was also released. Many popular remixes, instrumental versions and cover versions were also made.
BEST TRACKS-
Ae Dil Hai Mushkil
Channa Mereya
Bulleya
The Breakup Song
Cutie Pie
19) Badrinath Ki Dulhaniya (2017)
DIRECTOR- Shashank Khaitan
MUSIC DIRECTOR- Tanishq Bagchi
LYRICS– Kumaar, Shabbir Ahmed, Akhil Sachdeva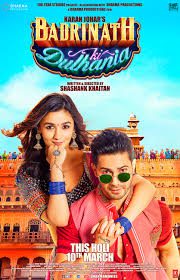 This album has a mix of rock wedding party numbers, heartbreak songs and disco dance pieces. "Humsafar" and "Roke Na Ruke" are sweet, slow and emotional music while "Tamma Tamma" and "Badri Ki Dulhaniya" makes your steps to the dance floor. The title track "Badri Ki Dulhania" appears to be inspired by the song "Chalat Musafir"  which in turn was inspired by a Bihari folk song.
BEST TRACKS-
Badri Ki Dulhaniya
Humsafar
Roke Na Ruke
Tamma Tamma Again
20) Kabir Singh (2019)
DIRECTOR- Sandeep Reddy Wanga
MUSIC DIRECTOR- Sachet Tandon
LYRICS–  Irshad Kamil, Manoj Muntashir, Kumaar and Mithoon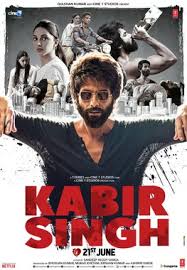 The song "Bekhayali" became a chartbuster even before its release, with several cover versions available on YouTube. This is an album of its own kind whose each and every single track is a blast hit on all platforms. It is a complete package of passion-angst-heartbreak boxes ticked off . "Kaise Hua" song has the perfect blend of modern love songs and the antiquity of old English classical rock numbers. This soundtrack is able to hold a significant position in list of best 2019 songs. All its songs directly reaches your playlist once you listen to these numbers.
BEST TRACKS-
Bekhayali
Kaise Hua
Tujhe Kitna Chahne Lage
Mere Sohneya
Tera Ban Jaaunga
Pehla Pyaar
Yeh Aina