Angkor Wat temple is considered to be the largest and most celebrated religious monument in the world. Representing the Khmer architecture, this beautiful 163 hectares of the monument created by SuryavarmanII in the 12th century CE, lies in the lap of Krong Siem Reap in Cambodia. Originally, Angkor was built for the Hindus which was dedicated to Vishnu for the Khmer Empire but fell out by the late 13th century CE. With time passing by it was transformed into a Buddhist temple as it was taken over by the Buddhist monks, now is popularly known as, " Hindu-Buddist" temple. Angkor Wat originally means "City of the Temples" and was built to create human interaction with the Gods. Today, it is a prestigious UNESCO World Heritage Site, further, one of the most popular attractions for tourists in the world.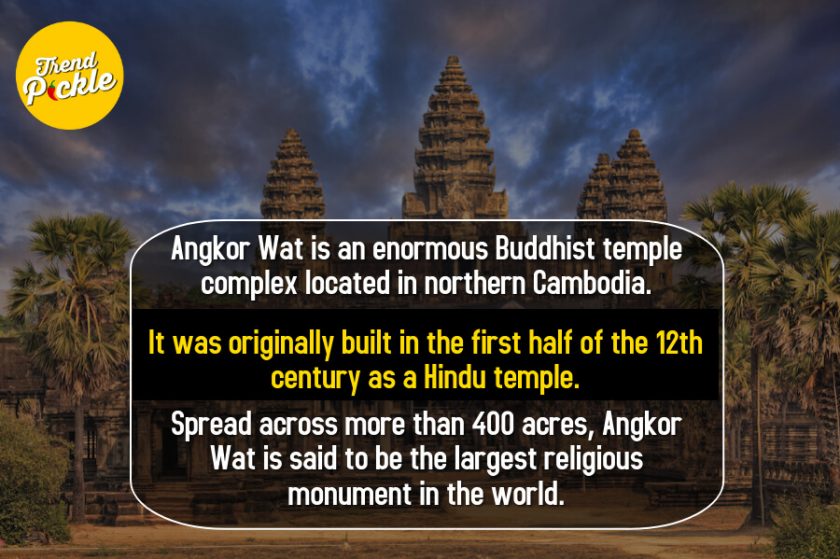 HISTORY:

Suryavarman II assassinated his great uncle Dharanindravarman I to take his throne. His motivation always had been unclear but had a galaxy of accomplishments which he immortalized via the construction of the Angkor Wat, originally dedicated to Vishnu, whom he considered his personal protector-God and wanted to express gratitude for his victory. Angkor Wat was intentionally situated as such, jungles that the visitors are only able to enter it through west direction, unlike the other temples in the world which face east, helped them experience spiritual renewal as they approached the divine powers of Angkor Wat. A specific height was given to the temple to garner the eyeballs of the devotees upwards to let them read the heroic stories of Gods and ancestors carved in the stones across the walls. All around the temple; houses, workshops, markets, other businesses rose and a web of roads was created.
For each visitor, Angkor Wat radiates a distinct interpretation. However, Suryavarman II wanted to make sure he was part of every visitor's interpretation. He is depicted in statuary as Vishnu, performing his deeds as ruler like holding sessions in court. It is not impossible that Angkor Wat begun as a funerary temple but never concluded at Suryavarman II's death, he was cremated and buried elsewhere.

Stories and battles from the classic Hindu Literature such as Ramayana and Gita are recited all over the temple. Angkor Wat monumented as a gigantic book for the devotees as in the 12th century CE, most people couldn't still read.

Angkor Wat was redesigned and hence stood for the Buddhists and their principles. Buddha related tales were engraved in and on the temple walls with keeping the Hindus original artwork intact. Gradually with time, by the 16th century CE, Angkor Wat stood for legends and their chronicles. It also went through a phase of association with dark spirits. The enthusiasm of the nearby villagers filled it back with positivity.

Currently, archaeologists are trying to discover and locate the workers who built the temple and the nearby residents.
FACTS:
Cambodia takes utter pride to have this religious monument on their land so much that they have engraved it on their National Flag.
The divine Angkor Wat receives more than 2 million devotees each year to experience its holy vibes.
UNESCO declared Angkor Wat as a World Heritage in 1992.
Angkor Wat's design and architecture are critically influenced by the astronomical study, the study of celestial objects.
It took over 30 years to terminate the completion of Angkor Wat according to historians with the aid of 300,00 laborers and 1000 elephants.
The bricks of Angkor Wat are strung together with a vegetable compound rather than mortar and surprisingly still stands very strong.
Entry inside Angkor Wat is not permitted if the proper dress code is not followed. Knees and shoulders need to be covered and skirts, tank tops, shorts are not permitted on the premises.
The entire monument was built without using machinery as during its construction, machinery was yet to be invented.
A temple called "Bayon" resides in Angkor Wat which has smiling faces engraved on its stones which visitors feel radiate positivity.
Angkor Wat is one of 21 finalists that are fighting to enter the new list of wonders of the world.
HOW TO REACH ANGKOT WAT:
A direct flight from India to Bangkok and then a direct flight to Siem Riem is the best possible way to reach Angkot Wat. Around Angkor Wat, there are numerous tuk-tuk and E-bikes for the tourists which makes exploring it easier and merrier.