Hampi might be invisible on the world map, but it has been honored with the UNESCO world heritage sight tag. This place is associated with unexplained divinity. Many important mythological events are believed to have happened here. Apart from this, Hampi is known for its many beautiful temples that are the remains of the once flourishing Vijayanagara empire. One such temple is the Vijaya Vittala temple.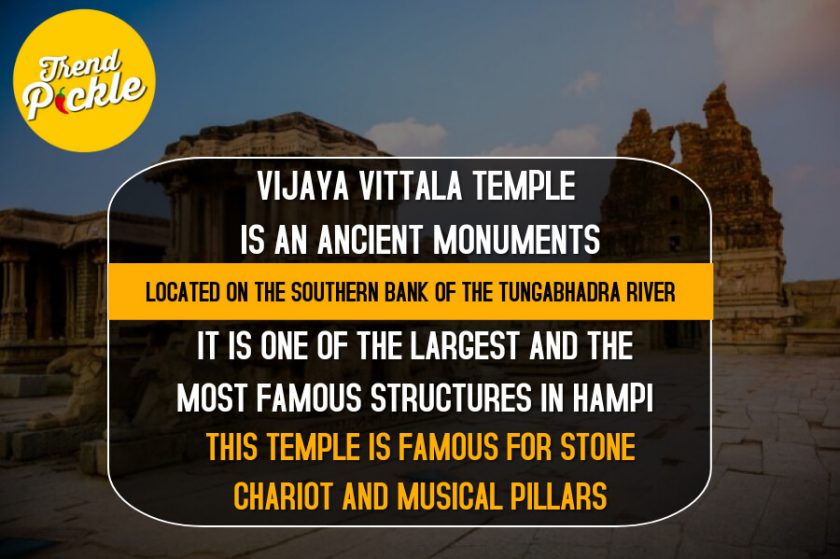 Built by Devaraya II in the 15th Century AD, it was further improvised by Krishnadevaraya, the greatest monarch of his dynasty. He made sure to build the stone chariot after witnessing the beauty of the sun temple at Konark. It boasts of an intricate Dravidian architecture common in many temples of South India.
The temple occupies a huge campus and you will be exhausted, but delighted after exploring each and every little corner. Here are some of the main attractions of this temple:
The Stone Chariot
This architectural marvel attracts many visitors. It is dedicated to Garuda, the vehicle of Lord Vishnu, but its idol is absent. It is hard to believe that the entire structure has been built on many stone layers. One can see some subtle remains of a stone ladder that gave people have an access to the shrine. There are two large stone wheels decorated with floral patterns on both sides of the chariot. The front of the chariot is held by two small elephants that were brought from another place. The elephants replaced the stone horses that were present earlier.
The Main Hall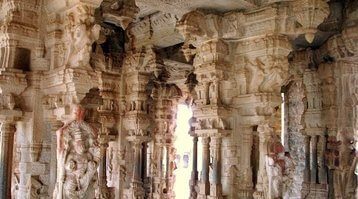 The maha-mantapa or the main hall's stony steps are adorned with elephant balustrades. There are Yalis combating with dwarf elephants on the ballustrades present on the eastern and western parts of the hall. It is built on a beautifully decorated platform. It has four halls namely the northern, southern, eastern and western halls. The western hall has been damaged. Apart from this, you will also see marvelous sculptures of Narasimha. The main deity is missing from the inner sanctum.
The Musical pillars
These 'Saregama' pillars are 56 in number with each main pillar surrounded by many smaller pillars. You will hear heavenly musical notes when you gently tap on a pillar.
Various studies on the landscape of Hampi have shown that the place is abundant with rocks having sonorous properties. The master sculptors of Vijayanagara knew about these rocks and we're responsible for constructing these engineering marvels. There are many interesting pillars that can emit the sound of cymbals and damaru. There is also a sculpture of a classical dancer who is possibly Chinnadevi, the wife of King Krishnadeva Raya. She was a great patron of arts and literature.
How to reach the temple?
You can reach the temple either by road or by walking along the banks of the Tungabhadra river from the Hampi Bazaar. Otherwise, you can take a bus from the Hampi bus stand.
Admission fee:
Indians- Rs 30
Foreigners- Rs 500
The temple is open between 8:30 AM to 5:30 PM