Know for being one of the best villain actors in the film industry, Amrish Puri has been known for his evil roles. He may not have been the protagonist or a lead character, but even as supporting cast, he has been loved and applauded for his acting. Having acted in more than 450 films between 1967 to 2005, Amrish Puri has been one of the most successful villains of Bollywood.
Puri started off his career in the theatre and gradually became a stage actor. Eventually his theatre recognition led him to television ads and then the film industry at a late age of 40. Though he has done a number of regional films as well as worked in Hollywood with Steven Spielberg, his best works have been in the Bollywood industry.
Here are 15 best roles played by the versatile Amrish Puri in his career, most of which has been villainous roles.
1. MOGAMBO – MR. INDIA (1987)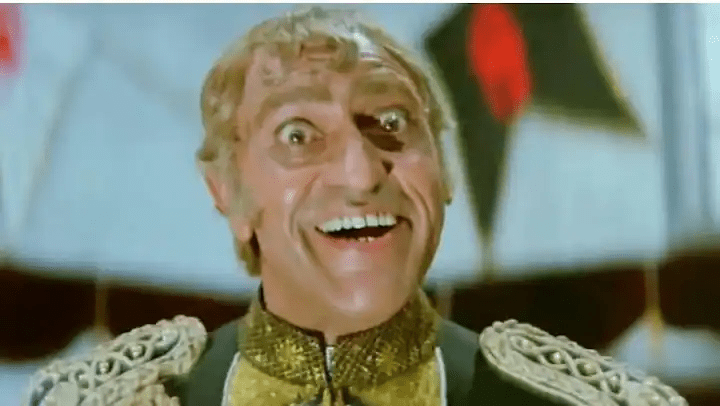 Director – Shekhar Kapur
Co-stars – Anil Kapoor, Sridevi
"Mogambo Khush Hua"
This popular dialogue has been loved by all of us since its release, and so have we loved the role of a fantasy villain played by Amrish Puri in the cult classic Mr. India. The dialogue had become synonymous with Puri, while his role was considered one of the best villain roles in Bollywood history.
2. RAJA SAAB – KOYLA (1997)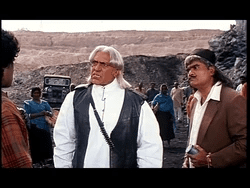 Director – Rakesh Roshan
Co-stars – Shah Rukh Khan, Madhuri Dixit
"Ghaas aur dushmani kahin bhi aur kabhi bhi peda ho sakta hai."
Amrish Puri played the role of Raja Saab, a greedy and lecherous old man who is knee-deep in sins. In this action-thriller, Amrish Puri potrayed a ruthless and cruel man who would kill anyone who would defy him.
3. CHAUDHRY BALDEV SINGH – DILWALE DULHANIYA LE JAENGE (1995)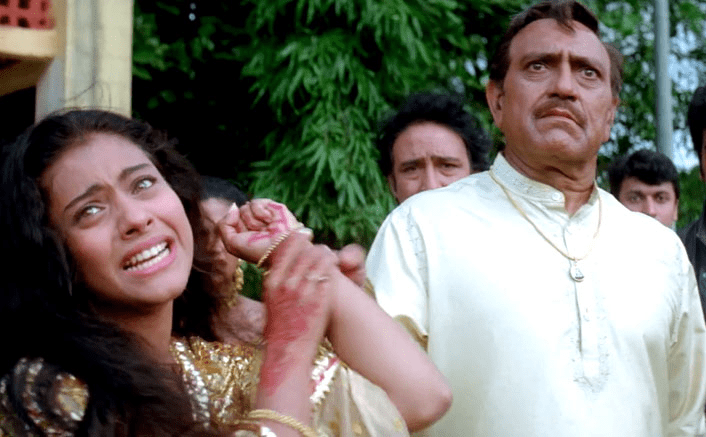 Director – Aditya Chopra
Co-stars – Shah Rukh Khan, Kajol, Farida Jalal, Anupam Kher
"Ja Simran ja, jee le apni Zindagi."
While throughout this romantic drama we see Amrish Puri as the conventional, traditional, strict father of a young girl who believes whatever he did would be the right thing for his daughter, we see a change of heart towards the end of the film for the happiness of his daughter, and guess that made him one of the lovable dad roles in Bollywood, quite different from the villainous roles we see him.
4. BHUJANG/BHAIRAV SINGH – TRIDEV (1989)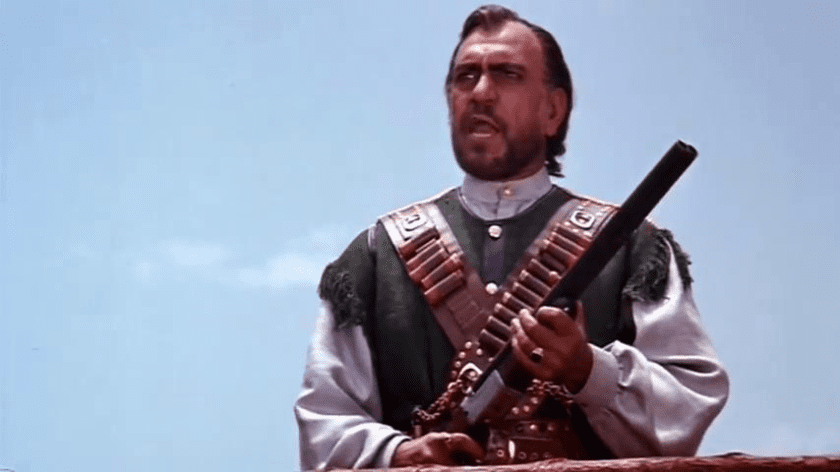 Director – Rajiv Rai
Co-stars – Sunny Deol, Naseruddin Shah, Madhuri Dixit, Jackie Shroff
"Hume logon ko iss had tak darana hai, ki unhe apna har din akhri din lage."
Yes, Amrish Puri does justice to this dialogue in every film of his, and has done equal justice to it in this film too. He plays the role Bhujang, a powerful crime lord who smuggles arms and weapons. While the story is an action thriller with cop-smuggler story, Amrish Puri gives in this one of his best villainous roles.
5. PASHA – HERO (1983)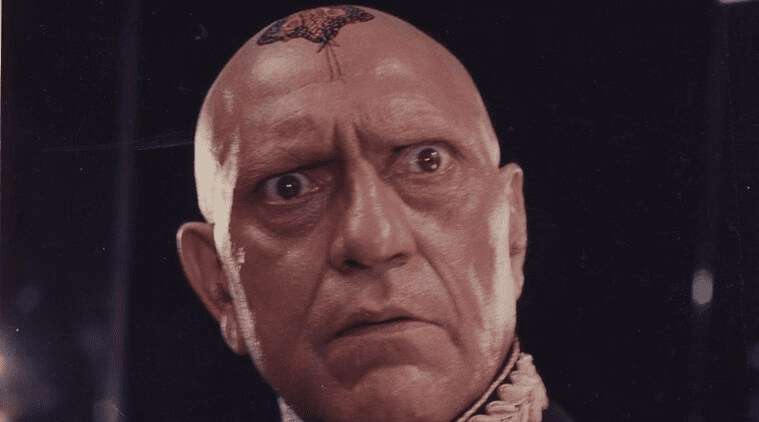 Director – Shubhash Ghai
Co-stars – Jackie Shroff, Meenakshi Seshadri, Shammi Kapoor, Sanjeev Kumar
"Mere hi kutte ne mujhe kata."
Every love story requires a villain to it and who better than Amrish Puri for the role. Puri plays the role of Pasha who is taken to prison for criminal activities. After his release, he desires to seek revenge, and in a turn of events what we see is a wrathful Pasha who kidnaps the lead actress, her father and her brother. His role in the film depicts a needful vengeance to this love story.
6. BALWANT RAI – GHAYAL (1990)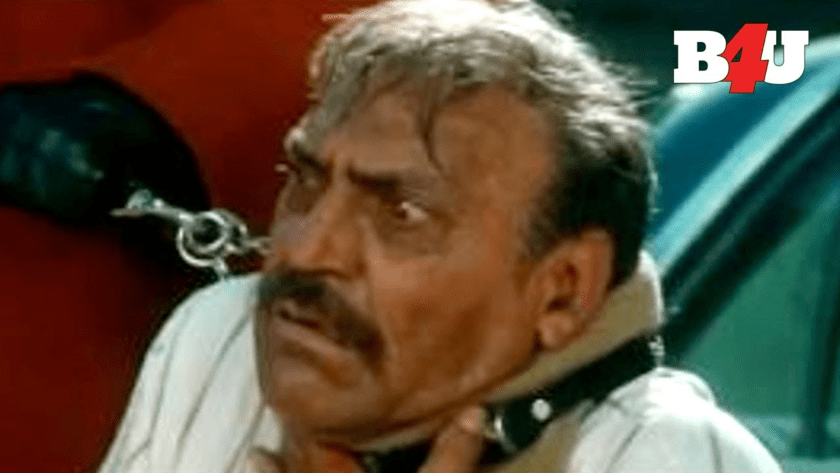 Director – Rajkumar Santoshi
Co-star – Sunny Deol, Meenakshi Seshadri, Raj Babbar
"Jo zindagi mujhse takrati hai, who sisak-sisak kar dum todti hai."
Amrish Puri plays the role of a shrewd businessman Balwant Rai in this action drama, where he carries out illegal activities behind the curtains of a polish business and when his partner finds out about it, he finishes him off. His poise attitude as a businessman provides a highlight to the film, without which the movie may not have been a great success.
7. ASHRAF ALI – GADAR: EK PREM KATHA (2001)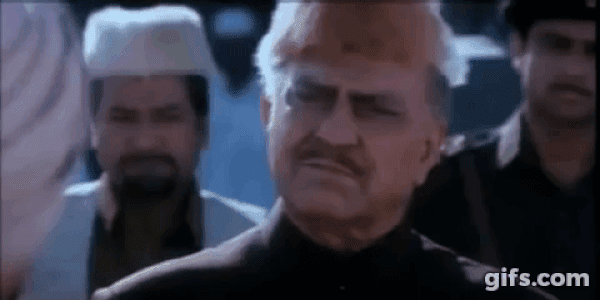 Director – Anil Sharma
Co-stars – Sunny Deol, Amisha Patel
"Itne tukde karunga, ki pehchana nahi jaega."
Playing the role of Amisha's father and the Mayor of Lahore, Amrish Puri as Ashraf Ali was one of the best roles in his career. He had perfectly carried out his role as an egoistic father, and a person with extreme orthodoxies, so much so that he schemes of killing the lead hero in the film.
8. SHAMBU NATH – GHATAK (1996)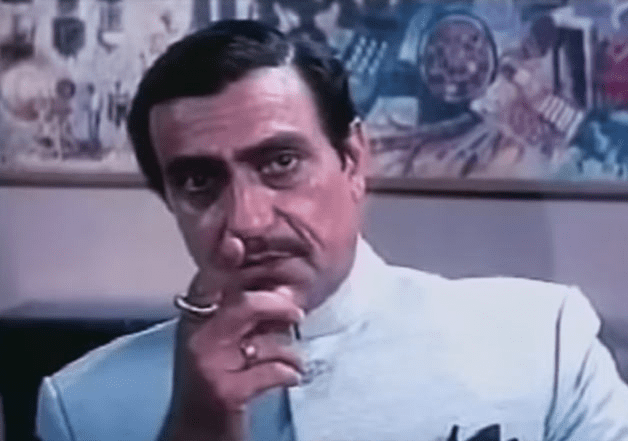 Director – Rajkumar Santoshi
Co-Stars – Sunny Deol, Meenakshi Seshadri, Danny Denzongpa
"Mere Kashi ko chodh do."
Surprised by the dialogue? Well, our star did not always play the role of villain. Ambrish Puri played the role of Sunny's father in the movie, who is seen suffering from throat cancer. The antagonist in the movie was played by Denzongpa meanwhile. One would feel pity for Puri in the movie, given his disease accompanied with emotional scenes which are way different from the usual villain roles.
9. BABA BHAIRONATH – NAGINA (1986)
Director – Harmesh Malhotra
Co-stars – Sridevi, Rishi Kapoor
"Jai Nagraj, Jai Nagraj!"
Don't be surprised to see Amrish Puri as a sadhu, the kind who controls snakes. Remember, he has been one of the most versatile entertainers of the industry? This fantasy fiction was one of the best snake films in Bollywood, and Puri has been remembered well for his iconic role as the evil sadhu.
10. THAKUR DURJAN SINGH – KARAN ARJUN (1995)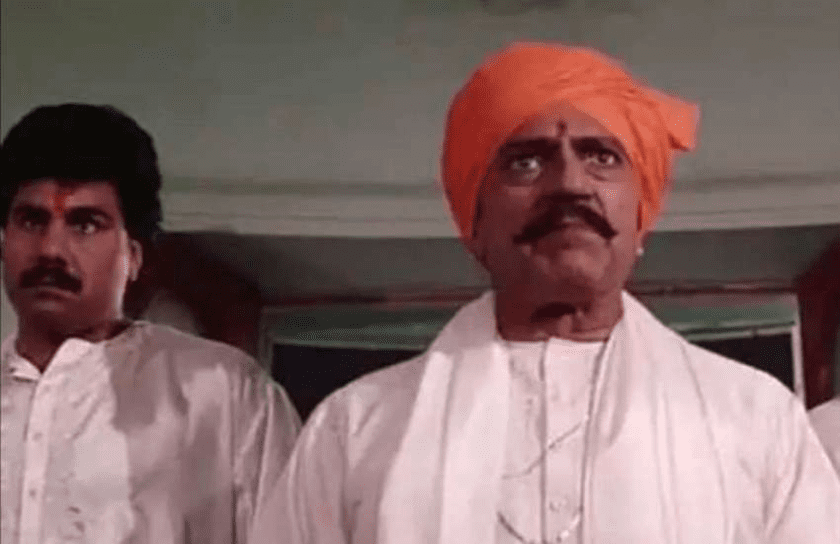 Director – Rakesh Roshan
Co-star – Shah Rukh Khan, Salman Khan, Rakhee, Kajol, Mamta Kulkarni
"Apne raaste se kaanton ko hata dena aur dushmano ko mita dena, humare khandan ki parampara hai."
Amrish Puri has been remembered well for his historic potryal of Thakur Durjan Singh, the evil uncle of Karan and Arjun. Durjan Singh murders their father first, and then even kills Karan and Arjun to prevent them from inheriting the estate, and while the two are born reincarnated to complete the revenge, the Thakur also does not backdown in his wicked ways.
11. RAJA THAKUR – VIRASAT (1997)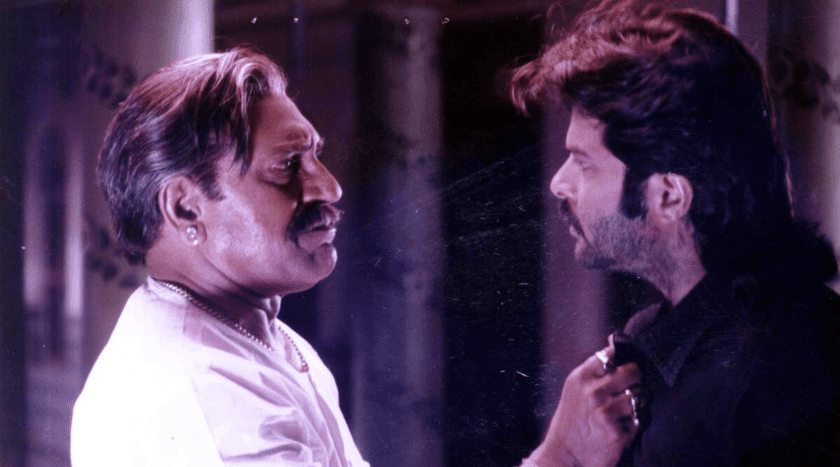 Director – Priyadarshan
Co-stars – Anil Kapoor, Tabu, Pooja Batra
"Thakur waqt ke hisaab se nahi chalet, waqt Thakur ke hisaab se chalta hai."
Another non-villainous role which was carried out finely by Amrish Puri was the role of Anil's father, Raja Thakur. Considered one of the best roles in Puri's career, the role fetched him the filmfare and star screen awards for best supporting role.
12. BALRAJ CHAUHAN – NAYAK: THE REAL HERO (2001)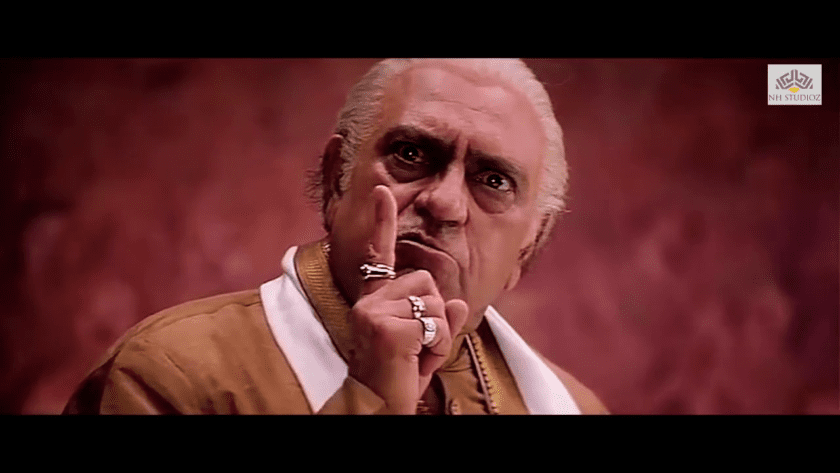 Director – S. Shankar
Co-stars – Anil Kapoor, Rani Mukherjee, Paresh Rawal, Johnny Lever
"Main janta ko bataunga."
In this mass cult movie, we see Amrish Puri as a Chief Minister, and a corrupted one that too. We cannot call him a villain in this role but his actions in the film are quite negative, and we see him as the typical politician blaming everything on the system and the bureaucracy.
13. JUGRAJ SINGH – MUJHSE SHAADI KAROGI (2004)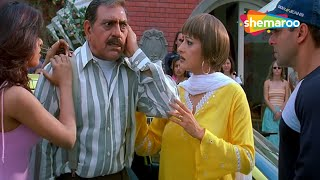 Director – David Dhawan
Co-stars – Priyanka Chopra, Akshay Kumar, Salman Khan
"Tommy beta, bahar mat jaya kro."
Another non-negative role in Puri's career was the role of Priyanka's father, Jugraj Singh, a former colonel in the army. We see him as a calm person, busy and in love with his pet dog Tommy day and night, and who loses his calm and ends up in conflicts and arguments with Salman Khan.
14. GENERAL DONG – TAHALKA (1992)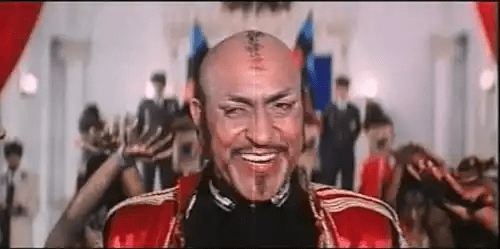 Director – Anil Sharma
Co-stars – Dharmendra, Naseruddin Shah, Aditya Pancholi, Javed Jaffrey
"Dong kabhi wrong nahi hota."
In this action-adventure film, Puri plays the role of an evil dictator of a kingdom called Dongrila, who kidnaps school girls to use them as suicide bombers, maidens in harlem, prostitution and traffic their limbs and organs.
15. INDRAJIT CHADDHA – DAMINI (1993)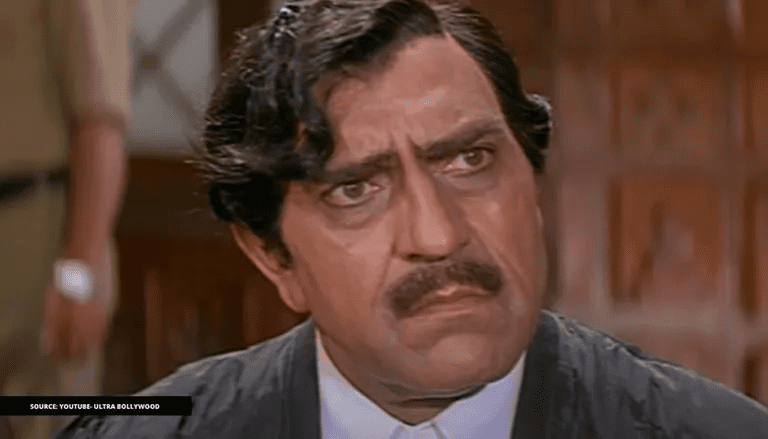 Dictator – Rajkumar Santoshi
Co-stars – Meenakshi Seshadri, Sunny Deol, Rishi Kapoor, Paresh Rawal, Titu Anand
"Yeh adaalat hai, koi mandir ya dargah nahi jaha mannatein aur muraadein poori hoti hai…. yaha dhup, batti aur nariyal nahi, balki thos saboot aur gawah pesh kiye jaate hai." One of the best roles in his career was when he played the role of a mean lawyer Indrajit Chaddha. In this women-centric film, Puri projected himself in a pivotal role as a criminal lawyer with a scheming mind who can go to any lengths to get things done.
Your Turn!
Which is your favourite movie of Amrish Puri, let us know in the comments section!