Priyadarshan movies are the reason why many 2000s kids know the meaning of comedy movies. He is not only the inventor of some iconic characters who has stayed with us to date. But given us reason to smile on our gloomy days.
Priyadarshan career spans over three decades. Where he has actively engaged his hands with experimenting with genres like Action, Drama, Comedy. He has reigned not only over Hindi cinema but over Tamil, Telugu, and Malayalam as well.
1. Thalavattam
Genre- Comedy, drama, romance
Actors – Mohanlal, Karthika, Lizy
Running Time – 147 minutes
IMDb – 7.9
The movie is based on the 1975 movie One Flew Over The Cuckoo's Nest. Which was an adaptation of the 1962 novel of the same name by Ken Kesey.
The story revolves around a young man Vinod (Mohanlal). He becomes mentally ill after he sees his love die in front of his eyes. Later he gets admitted to a hospital and falls for his doctor (Karthiika). As great love stories always end up in a tragedy, this story also has its own villain. The head of the hospital also happens to be the father of Dr Savithri who vehemently opposes their relationship and lobotomizes Vinod. Savithri is not able to handle this situation and ironically becomes mentally ill and gets admitted to the same hospital.
2. Kilukkam
Genre- Comedy
Actors- Mohanlal, Jagathy Sreekumar, Revathi, Thilakan, Innocent
Running Time- 156 minutes
IMDb- 8.6
This comedy-drama is based on utter confusion and escape saga. Where two tourist guides in Ooty try to escape the company of a tourist woman. Soon they find out that she is a mental patient who has escaped from the hospital and has a huge bounty if she is returned safely. The tourist- guides played by Mohanlal and Jagathy Sreekumar then try to hide the tourist in exchange for hoping the bounty price to rise. But very soon they realize that things are not so simple and way more complicated and have a mystery of their own.
3. Gardish
Genre- Action, Drama, Crime
Directors- Priyadarshan
Running Time- 171 minutes
Actors- Jackie Shroff, Amrish Puri, Aishwarya, Farida Jalal, Dimple Kapadia
IMDb- 7.9
Dreams and ambitions can sometimes cost you a lot. A young man (Jackie Shroff) only dreams of becoming a police officer. But soon he gets caught in the web of the underworld and changes into a mafia. His father who is in police gets to know about this trajectory of his sons' life and arrests him. After keeping him in jail for several days, he finally gets bail with the help of a lady. The film climaxes, where Shiva(Jackie Shroff) kills the mafia in a bid for revenge. But unfortunately, this film does not have a happy ending. Shiva's name appears on the criminal board making him illegitimate for police candidacy.
4. Virasat
Genre- Action, Drama, Crime
Actors- Anil Kapoor, Amrish Puri, Tabu, Pooja Batra, Milind Gunaji, Govind Namdeo
Running Time- 168 minutes
IMDb- 7.5
Shakti( Anil Kapoor) returns to India after completing his studies in London. His girlfriend( Anita) accompanies him to India as they want to get married. But Shaktis family is strictly against this match. An unexpected event occurs as the patriarch of the family dies. And Shakti is left in charge of everything., Meanwhile, Anita leaves to meet her family. But upon, her arrival in Shakti's life again. She finds out that he has already married someone else. With grief and humiliation, she leaves and, Shakti gets accustomed to his new life.
5. Bumm Bumm Bole
Genre- Drama, family, thriller
Directors-Priyadarshan
Actors– Darsheel Safary, Atul Kulkarni, Rituparna Sengupta, Ziyah Vastani, Archana Suseelan
IMDb- 6.1
A very sweet, innocent, cute story of a brother and a sister from a poor family. The film is an authorized adaptation of the 1997 Iranian film Children of Heaven. Pihu misplaces Jhilmils only pair of shoes and their world is in total turmoil as they can't go to school without shoes. So the duo plans out a scheme to share the same pair of shoes.
Meanwhile, there is an interschool marathon competition and Pihu enters into it as the third price is a pair of shoes. Ironically he turns out to be the winner of the race. This happy bizarre coincidence leaves Pihu in utter despair. But the film does have a happy ending. And this beautiful story will definitely make you feel numb.
6. De Dana Dan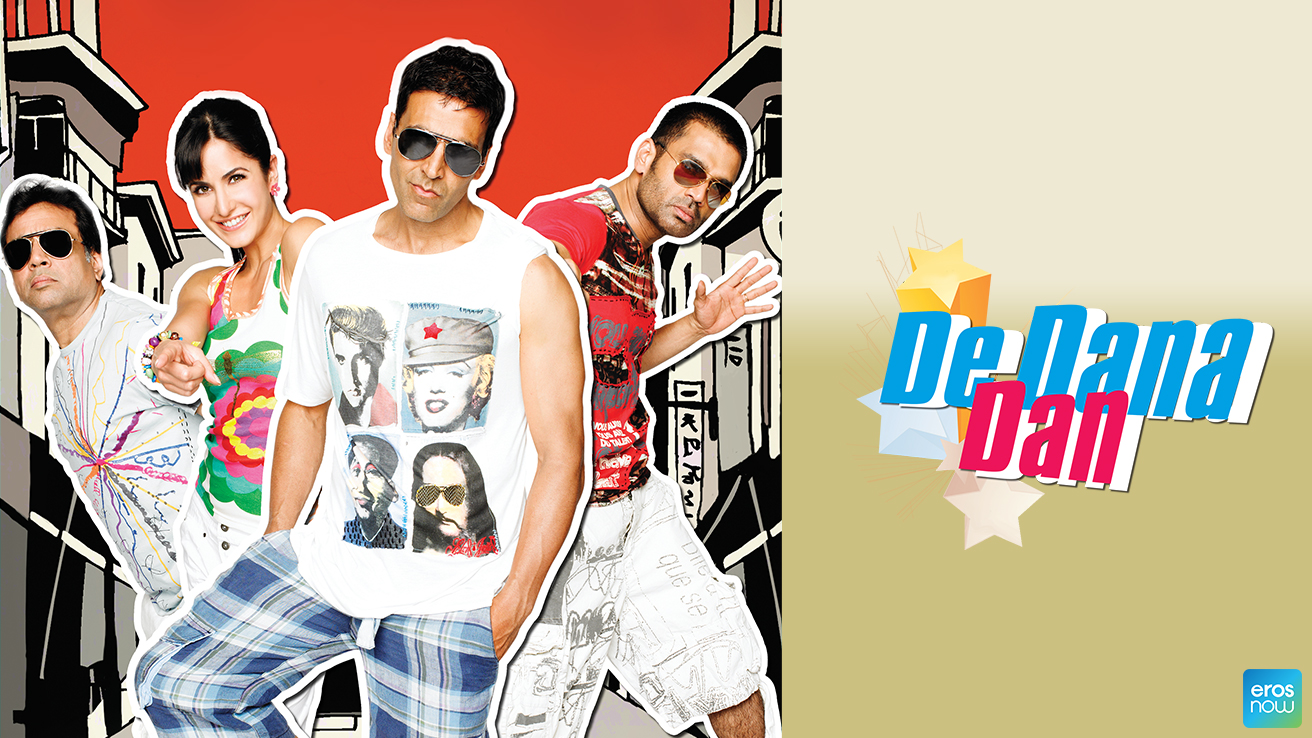 Genre- Drama, comedy
Actors– Paresh Rawal, Om Puri, Riteish Deshmukh, Rajpal Yadav, Asrani
Running Time- 160 minutes
IMDb- 5.5
The background of the movie is about a poor village. Where unexpectedly someone wins a 1 crore lottery and there is no one to claim it. Everyone joins in the mad saga to rescue the ticket. The journey will absolutely leave you chuckling throughout the movie. The stellar cast adds some additional stars to the movie.
7. Hera Pheri
Genre- Drama, comedy
Actors – Akshay Kumar, Sunil Shetty, Paresh Rawal, Tabu
Running Time- 143 minutes
IMDb- 8.2
A movie that never fails to bring a smile to our faces. With remarkable performance and outstanding direction, this is an absolute classic for this generation. Total chaos occurs when three unemployed men come together in search of a job. Ghanshyam (Suniel Shetty) is searching for a job in the bank, Raaju( Akshay Kumar) always faces difficulty sustaining his job due to his tendency of daydreams. While Baburao ( Paresh Rawal) owns a garage. The trio creates hilarious disasters whenever they come together.
8. Aakrosh
Genre- Action, crime, thriller
Actors– Ajay Devgan, Akshaye Khanna, Bipasha Basu, Paresh Rawal, Reema Sen
Running Time- 146 minutes
IMDb- 7.0
The story puts light on the orthodoxy and backwardness nature that still prevails in the Indian Caste system. The movie starts with three medical students going missing from a village. Even after two months, when there is no news of the students. It becomes a national case and, everyone suspects honour killing. When Ajay Devgan and Akshaye Khanna come together. They are like bread and jam. Their completely contrasting personalities on screen and their fabulous acting keep the movie-going.
9. Billu
Genre- Comedy, Drama
Actors- Irfan Khan, Larra Dutta, Shah Rukh Khan
Running Time- 137 minutes
IMDb- 6.3
A story about selfless love, respect, and adoration between two friends. Billu (Irfan Khan) and Sahir Khan(Shah Rukh Khan) are childhood friends Sahir's dream is to become a megastar despite his financial situation, Billu treats him like his own family and makes arrangements to make his dream come true. After many years when Sahir returns to his village for a movie shoot. Everyone in the village is ecstatic about his presence apart from him. He is embarrassed to meet his friend because of his wretched condition.
The two amazing actors have done an amazing job. Shah Rukhs magnanimous aura whereas Irfan's, down to earth personality is a perfect blend in.
10. Bhool Bhulaiyaa
Genre- Comedy, horror, mystery
Actors -Akshay Kumar, Ameesha Patel, Vidya Balan, Shiney Ahuja, Paresh Rawal, Manoj Joshi, Asrani, Rajpal Yadav, Vikram Gokhale, Vineeth
Running Time- 159 minutes
IMDb- 7.3
With "ahhhhhasss and screams" you will also get hahaha's. This is an utter crazy, horror, drama movie that is a total paisa vasool movie. You will get naach gaana, some action, comedy, and masti. An NRI couple decides to come back to their native place and settle down. Avni(Vidya Balan) gets deeply invested in the mysteries of the house. Soon after opening a forbidden door, spooky things start taking place. Siddharth(Shiney Ahuja) suspects something is wrong with Avni and calls his psychiatrist friend Dr Aditya Shrivastava (Akshay Kumar).
Will the trio unravel the mystery behind the house or gets caught up in the mysteries themselves. To know it you will definitely have to watch the movie.