Over the decades, Pakistani drama has never failed to amuse the audience with its extraordinary storyline and strong direction. Here are some best Pakistani dramas which will make you fall in love with the character and the story.
1. Sadqay Tumhare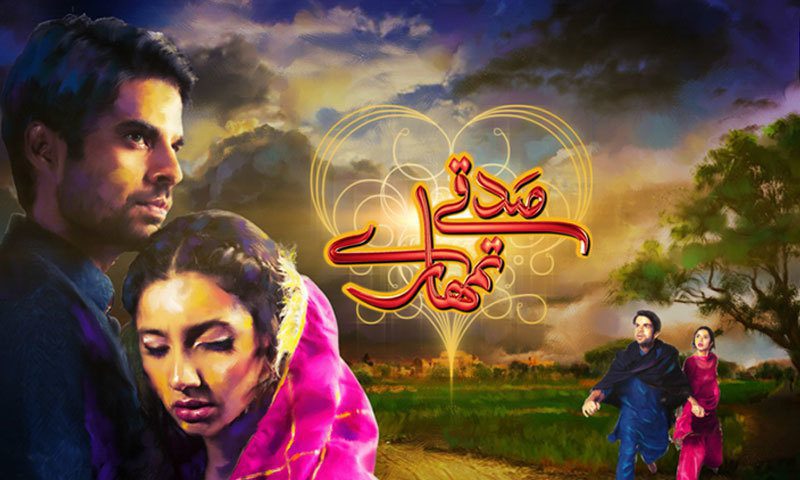 IMDb Rating: 7.4/10
Actors: Mahira khan, Adnan Malik, Samiya Mumtaz
Director: Mohammad Ehteshamud din
Platform: Netflix
Plot
This is a drama based on an arranged marriage between a village girl and her cousin who lives in a city. They show signs of true love, but an event from the past threatens their blooming romance.
Reasons To Watch
★The story is based on the real life of the author which makes it extra special.
★ The story will make you emotional as you start feeling the pain from all the misfortunes the couple goes through in search of happiness.
2. Humsafar
IMDb Rating: 9/10
Actors: Fawad Khan , Mahira khan. Atiqa odho
Director: Sarmad Sultan Khoosa
Written by: Farhat Ishtiaq
Platform: Netflix
Plot
Khirad and Ashar are a couple who are eventually forced into a marriage against their will. With the aim to fulfil her sick windowed mother's wish, khirad agrees to the marriage. Ashar is manipulated by his father, ultimately accepting the marriage proposal. Sara, a charater who is in love with thr male protagonist tries to commit Suicide after hearing about the marriage and Ashars rejection asing he only sees her as a friend. She is saved by Ashar and promises to move on. Trapped in the initial complications the leads eventually find themselves falling for eachother. However the problems were just starting to affect their marriage.
Reasons To Watch
★Humsafar has displayed the right amount of reality and fiction in its story. Making it easily acceptable by the audiences.
★ Both the leads made justice to their roles. Mahira khan very gracefully served her character as a gentle wife and a courageous mother.
★ Whereas Fawad Khan never failed to charm with his flawless acting. He was as severe as a man who falls in love with his wife after an arranged marriage and overcomes the difficult times to reunite with the love of his life.
3. Dastaan
IMDb Rating: 8/10
Actors: Sanam Baloch, Fawad Khan, Saba qamar
Director: Haissam Hussain
Platform: Netflix
Plot
The story is about a girl who lives with her family in Ludhiana. The story tells the trials and misfortune faced by her after she decides to go to Pakistan which turned out to be the worst nightmare of her life. It is based on the indo pak partition taking place in pre 1947. It shows the brutal treatment of Muslim, especially women during the partition.
Reasons To Watch
★ The drama takes you back to a nostalgic ride which includes several disshearting and traumatic experiences lived by womens.
★The family's love is depicted as superior as they fight for protection and safety in the midst of Chaos.
4. Daam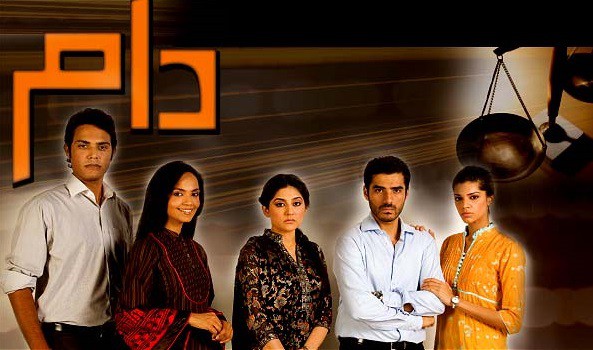 IMDb Rating: 8.4/10
Actors: Adeel Hussain, Samina Seikh, Sanam Baloch
Director: Mehreen Jabbar
Platform: YouTube
Plot
The story plays off the price which the female protagonist has to pay to her best friend for seven years in order to stop the marriage with her brother which was unacceptable to her. And after an episode, the price which she paid becomes 'Daam' (trap) for each one of them.
Reasons To Watch
★ The story tells of how a marriage breaks the strong bond between two friends who were even unaffected by the social difference they faced. It is remarkable.
★ It is fascinating to see how the imperfections were met gracefully, yet changing many lives, till it reached perfection.
5. Durr-e-shahwar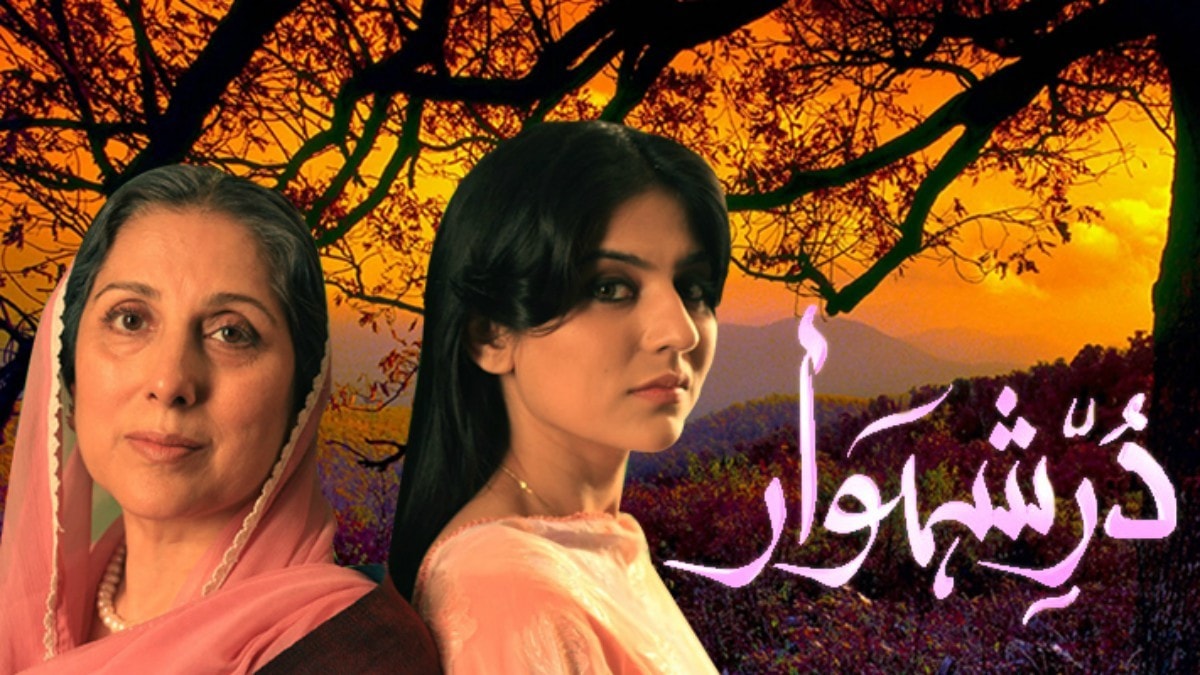 IMDb Rating: 8.7/10
Actors: Sanam Baloch , Samina preetzada, Nauman Ijaz
Director: Haissam Hussain
Platform: YouTube
Plot
The story shows the tribulations and trials that women have to face in order to win the love of their husband. The story line has two different tales. One is of Dur e Shahwar and another is of her daughter shandana. Shandana's story is shown in modern times while her mother's in flashback. Shandana always blamed her mother for not understanding her problems as she has a very doting husband. Her mother then explain her the hardships she had to go through for attaining her husband's love during the beginning years of her marriage.
Reasons To Watch
★The show is purely a family entertainment as it depicts the pious bond of marriage. It also displays the parent child relationships.
★the show precisely teaches some lessons for life like, never giving up in hardships and always embracing patience.
6. Shehr-e- zaat
IMDb Rating: 8.4/10
Actors: Mahira khan, Mikal Zulfikar, Mohib Mirza
Director: Sarmad khoosat
Platform: ZEE5
Plot
Shehr-e-zaat is a story of a woman who has finally decided to give in to Allah after struggling in the harsh realities of the world. She aimed at making up for the time she has wasted in worldly pursuit. It's a story of spiritual awakening.
Reasons To Watch
★The role was brought to justice by Mahira khan. She smoothly manages to transform from a highly self-centred & unsympathetic character into a vulnerable & empathetic one.
★Every single character has portrayed their best with showcasing their outstanding talent of making the audience go along with them.
7. Meri zaat zara-e- Benishan
IMDb Rating: 9.1/10
Actors: Samiya Mumtaz, faysal Quraishi, Imran Abbas
Director: Babar- Javed
Platform: YouTube
Plot
It revolves around a pair of mother and daughter. It's a story about a woman who was wrongfully accused of committing adultery . Her daughter from her second marriage finds out the truth when she herself marries into the same family.
Reasons To Watch
★ Meri zaat zara-e-Benishan is an incredibly underrated drama. The drama's story has some familiarity with the hit drama Humsafar. However this show successfully creates a more interesting narrative and storyline.
★The story has two generations involved. It starts with the present continuing with the occasional flashbacks making it more appealing to viewers.
8. Cheekh
IMDb Rating: 8.4/10
Actors: Saba qamar, Bikal Abbas, Azekah Daniel
Director: Badar Mehmood
Platform: MX PLAYER.
Plot
The story revolves around a girl named Mannat who desperately tries to seek justice for her friend Nayab who was murdered. The murderer happened to be her brother in law. She's married to Shayaan, Wajih's older brother. Sory involves the traits and tribulations she has to deal with during her entire journey of bringing justice to Nayab.
Reasons To Watch
★Cheek is full of surprising elements , making it a compelling watch. The drama throws light on the patriarchy misogyny.
★ After failing the attempt of raping Nayab, she's ruthless killed by wajih , the whole strory from the beginning is made for the mystery and crime thriller lovers.
9. Gul-e-Rana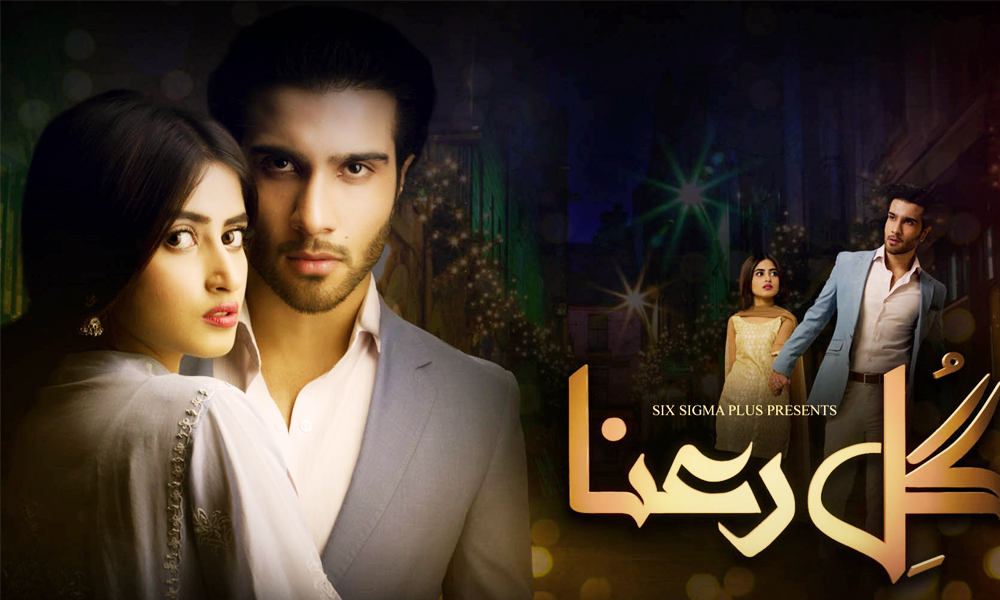 IMDb Rating: 7.9/10
Actors: Sajal Aly and Feroze Khan
Director: Farooq Rind
Platform: Amazon prime video
Plot
The story is a rollercoaster of emotions, trust, relations, sympathy and most importantly forgiveness. Gul- e – Rana who always struggled to get the rights of women gets married to an abusive man Adeel. She tries to change Adeel's thinking for which she is abused by him. Adeel has an accident which changes him completely and while recovering he tries to be good to Rana but she tells him that he has only hurt her.
Reasons To Watch
★In the last episode of this drama, people tweeted about 'Gul-e-Rana' so much, that it ranked on #1 spot within an hour.
★ This show is a decent family entertainment show which teaches the lesson of forgiveness.
10. Aunn Zara
IMDb Rating:7.7/10
Actress: Maya Ali,Hina Bayat, Osman Khalid Butt
Director: Haissam Hussain
Platform: Youtube
Plot
Annu Zara revolves around two equally spoiled and completely different individuals who together enter into a marriage. The two poles apart started to live together , refusing to give in to each other. Their newly married life is naturally filled with amusing twists and turns.
Reasons To Watch
★ The drama has an old school feel of simplicity and poignancy. It's a melodrama worth watching with family values.
★ The existence of a strong female lead stands above the old Patriarchal dogmas which are extremely glorified in TV shows.
11. Munafiq
IMDb Rating: 7.9 /10
Actors: Fatima Effendi, Adeel Chaudhry, Mariyam Nafees and Bilal Qureshi
Director: Saleem Ghanchi
Platform: YouTube
Plot
The storyline is set around a compelling and intriguing subject of hypocrisy. Ujala, the protagonist of this story, hails from a middle class family. She is ultimately married into an influential high class family and then comes face to face with her insecurities. Munafiq explores the theme of hypocrisy and the existence of hierarchy between different social classes. This show has an intense story with dark characters to support the theme of the show.
Reasons To Watch
★ The drama isn't slow-paced and is moving comparatively fast towards plot development, which makes it interesting to watch.
★It gives a reality-check. Exploring the existence of hierarchy between different social classes, Munafiq is one of the few dramas on air that have picked up quite a realistic/socio-cultural theme and made it work by making it easier for the audiences.
12. Pyare Afzal
IMDb Rating: 9.1/10
Actors: Hamza Abbasi , Ayeza Khan, Sana Javed
Director: Nadeem baig
Platform: MX PLayer
Plot
Afzal, the mlae protagonist, starts receiving love letters from a girl. His family tried to find out about the mysterious girl and when they found the girl, Sana refused,saying she never wrote any Love letter. Following some events they actually enter a marriage. In reality it was Afzal who wrote himself these letters from her name. She realises her love for him, unfortunately Afzal got shot by a mafia. On his deathbed, he received a phone call from Sana where she said " pyare afzal ", he died after listing " pyare afzal".
Reasons To Watch
★ It was quite a TV phenomenon during its airing period. The dialogues are intelligent and natural, it is almost everything between witty, relatable and powerful.
★ The role Played by saba Hameed is so iconic, the depiction of her being torn between her husband and son is so intense that you might feel it all happening to you.
13. Ramz-e-ishq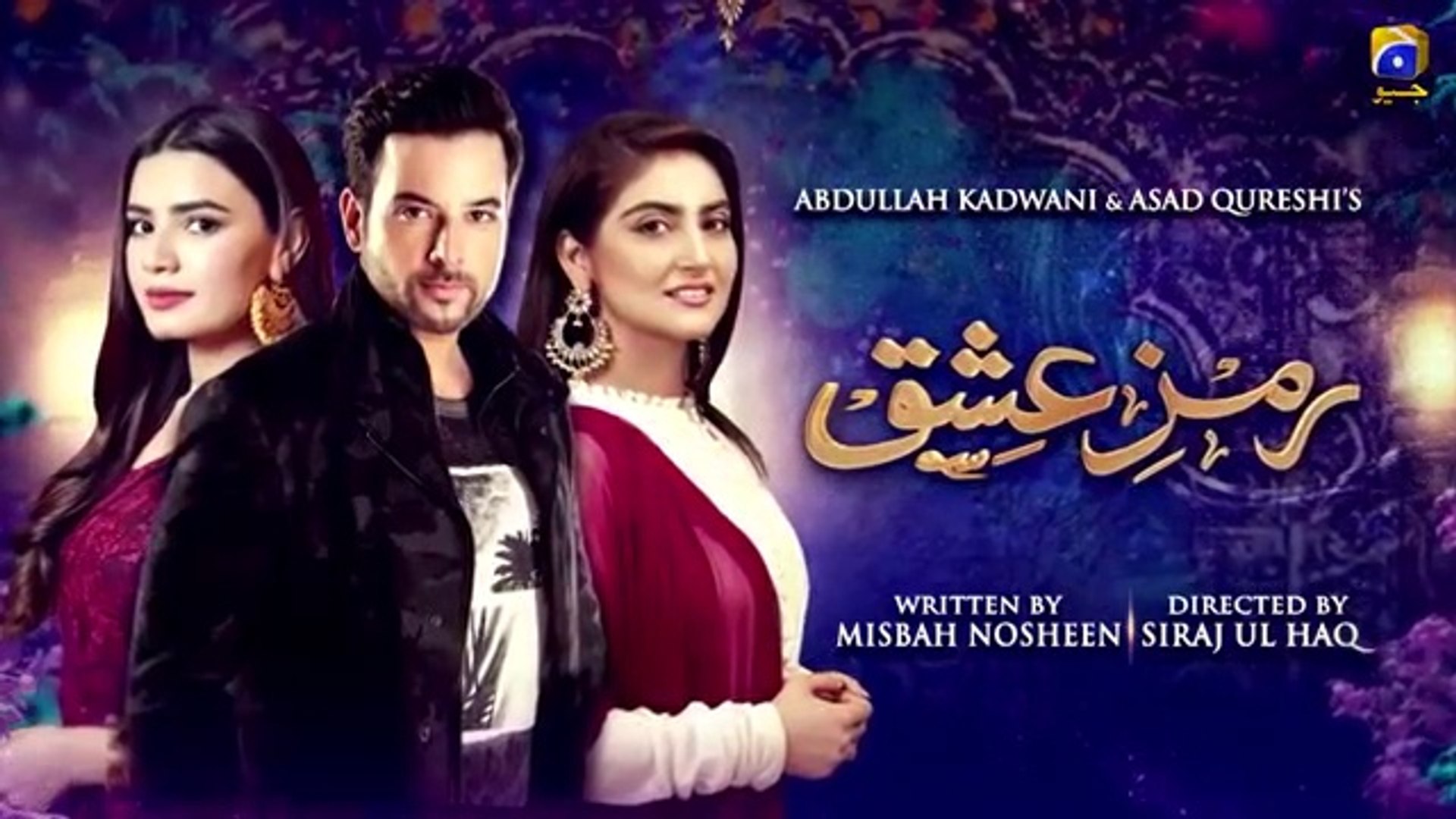 Actors: Mikaal Zulfiqar, Hiba Bukhari and Kiran Haq
Director: Siraj ul Haq
Platform: YouTube
Plot
Roshni the protagonist of this story is an acquiescent daughter of Wajahat Ali and Khadija who forfeits her love for Rayan for the sake of her parents and decides to marry a boy chosen by her parents. As Wajahat passes away in an unfortunate accident, Roshni's estranged grandfather Hashmat Ali comes up as her guardian. Advised by Safia, Wajahat's sister who secretly envied her brother for her own failed marriage, Hashmat cancels Roshni's forthcoming marriage.
Respectful of her grandfather and wanting to mend her family's old differences, Roshni once again sacrifices her own choice and agrees to marry Umar, the son of the family's munshi. Instead of being embraced as a family member, things go from bad to worse for Roshni when she and her husband are treated awfully by her spiteful aunt and her daughter Rania.
Reasons To Watch
★The storyline of this show is emotional yet interesting enough to make you look forward to finding out what would happen next.
★Ramz e Ishq maintains a perfect balance of emotions. It is an emotional roller coaster ride that depicts each and every emotion – from love to loss, from betrayal to revenge, and from remorse to regret.
14. Zindagi Gulzar hai
IMDb Rating: 8.9/10
Actors: Sanam Saeed , Fawad Khan, Samina preetzada
Director: Sultan Siddiqui
Platform: Netflix
Plot
A school teacher was abandoned by her husband with their 3 daughters. He married another woman for the sake of having a male heir. Kashaf, her daughter, despises men. However, Zarun's true love makes her give up such thinking. The whole story is about gender bias and class differences.
Reasons To Watch
★ This drama is a perfect blend of fiery dialogues and realistic ideas. It greatly deals with gender discrimination and the misfortunes faced by women due to male domination.
★The story has a special type of love which convinces Kashaf to let go of her bitter feelings towards men and embrace the warmth she receives which will make you fall in love with the drama.
15. Diyar-e-Dil
IMDb Rating: 9.1/10
Actors: Hareem Farooq, Osman Khalid Butt, Sanam Saeed
Director: Haseeb Hassan
Platform: YouTube
Plot
The story spins around a complicated family with separated parents. The story includes Agha and his two sons. His elder son is engaged to his niece however he's in love with another girl from his class and wants to marry her. Agha asks him to either marry according to the arrangements of leave. His son decides to leave. Agha then forced his second son to marry accordingly. Years later with certain turns of events things bring everyone to where they all started.
Reasons To Watch
★ This remarkable drama ends a note on moral lessons about respect, love and care in relationships.
★This drama is for melodrama lovers. With every character playing their utmost potential,makes it a drama worthy of binge watching.
16. Main Abdul Qadir Hoon
IMDb Rating: 8.7/10
Actors: Fahad Mustafa, Alishba Yousuf, Aamina Sheikh
Director: Babar Javed
Platform: YouTube
Plot
It is a story of a boy named Abdul Qadir who falls in love with a girl next door. This girl eventually takes him to the wrong path where he finds himself getting addicted to drugs and deep into alcoholism. When asks her to marry him,she dumps him for good and leaves. He goes abroad for education where he finds himself falling for a housemaid via whom he starts coming back to the right spiritual path.
He married her but she died due to aids. He came back home broken-hearted and completely new. His mother tried to change him with his old love interest but everything went in vain. This is a beautifully written and directed drama that is appealing to the audience.
Reasons To Watch
★ The viewers can have a magnificent experience by seeing Abdul seeking solace in religion after a heartbreak however ends up finding more that he seeks.
★It is a strry full of emotional rollercoaster which with the powerful dialogues will leave you struck with the drama.
17. Udaai
IMDb Rating: 8.6/10
Actors: Urwa Hocane, Ahsan Khan, Bushra Ansari
Director: Mohammad Ehteshamud din
Platform: YouTube
Plot
The story revolves around a young girl, Meeraba, who somehow with her own potential turns out to be extremely successful after being dumped by her lover. Meerab is the daughter of Sheedan. Meera becomes a very famous singer. A member from her band proposes to her however she refuses as she's still haunted by the traumatic memories of her ex lover.
Reasons To Watch
★ The drama explores class division in the society which makes it completely relatable by the audiences.
★ This drama precisely focuses on the issue of women empowerment. In all the scenarios, socially, financially and emotionally. Which is one of the reasons for greater participation of women viewers.
18. Kankar
IMDb Rating: 8.3/10
Actors: Sanam Baloch, Fahad Mustafa,Maha Warsi
Director: Aabis Raza
Platform: Youtube
Plot
The lead character Kiran, is a cheerful girl in her youth. Unintentionally she ends up attracting the attention of Sikandar. He's from a well to do family and is considered an eligible bachelor. They end up getting married. He sometimes shows his darker side, filled with range which eventually turns into physical abuse. This sadly is a common story of every household in Pakistan. It gets worse with time. She ultimately stands up for herself alone, with zero support from her family and asks for divorce.
Reasons To Watch
★ In the drama, after Kiran asks for divorce, all her friends start telling her about the mistake she's making and the dreadful outcomes of divorce. The fact that these women's fears to stand against violence is surprising. The diction of women empowerment is done remarkably.
★ The story has an endless message for those suffering from domestic abuse with the aim to strengthen them against such brutalities, which is fairly gripping to watch.
19. Chup Raho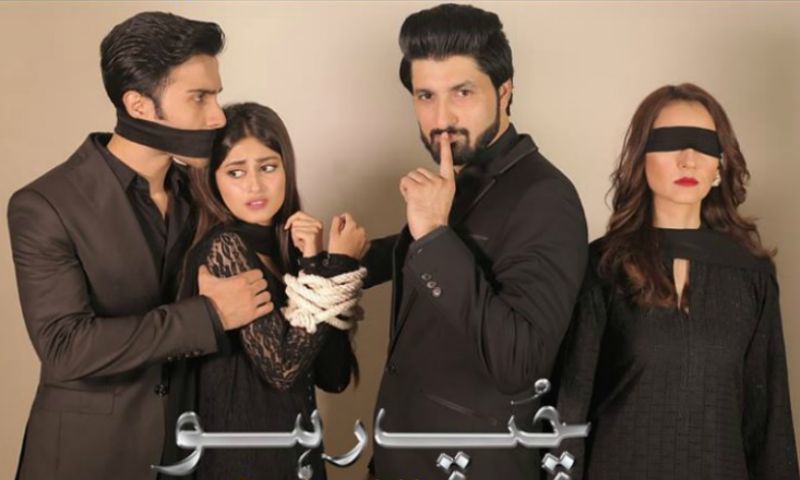 Actors: Sajal Ali, Yasir Nawaz ,Syed Jibran , ,Rizwana
Director: Yasir Nawaz
Platform: Youtube
Plot
Chup Raho Drama is about a rape and its aftermaths. Rameen is raped just before her wedding with Azar .This was an arranged love match between two happy families; Azar is Rameen's wealthy brother in law's younger cousin, just like her he is the poor relative and this makes both of them easy targets. The way a victim and her family are made to carry a burden of shame and guilt is perfectly portrayed in the drama.
The greatest strength of the story is that it is not just about the victim but also the survivor. Rameen on her own will power survives the rape, her family's betrayals and even the mistreatment at the hands of strangers.
Reasons To Watch
★There is a sense of command and authority, the kind of authority that society uses to silence victims, especially women.
★ It's a very relevant topic these days .It's a taboo subject, people do not want to talk about it and do not want to raise their voice against it. This drama will tell the viewers that there is no honour in silence.
20. Meray Qatil Meray Dilbar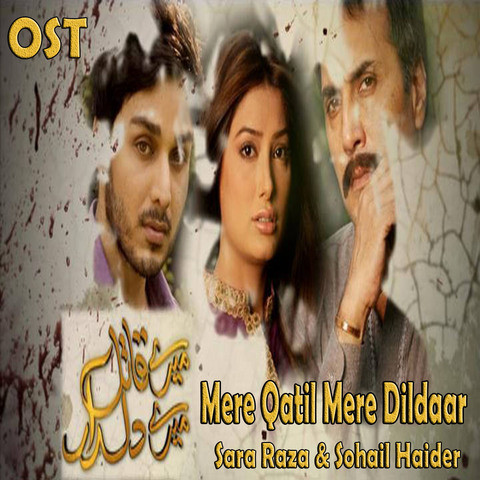 IMDb Rating: 7.8/10
Actors: Mehwish Hayat, Semra Zubair, Adnan Siddiqui
Director: Asmin Ali
Platform: YouTube
Plot
Maham, a working woman, falls in love with Umer and marries him later. She soon discovers that the mysterious guy who was stalking her was her brother-in-law. When this is revealed the whole family chases her out , questioning her character and Umer divorces her. After a series of events she starts her quest of revenge with the whole family who wronged her.
Reason to watch
★ This drama also paints the hardships faced by women under the pressure of the Patriarchal system. This has many relatable elements with real life .
★It is interesting to watch how the only supporter of the marriage becomes the sole reason for the couple's misery. Wrapped in heated argument and suspense , this is a drama worth watching.
21. Akbari Asghari
IMDb Rating: 7.5/10
Actors: Fawad Khan, Sanam Baloch, Imran Abbas
Director: Haissam Hussain
Platform: Dailymotion
Plot
The story is about everyone having ulterior motives except for the elders. It is an amazing combination of tradition and humour. The drama is about two sisters, Akbari and Asghari and their bumpy journey from Western to Oriental life.
Reasons To Watch
★ This drama could make it to your list of best rom-com dramas. The story tells the traits which make one a good wife and bad wife. The dialogue delivery is amazing.
★The best part begins as the two sisters from England marry two brothers from a village and the game is on.
22. Khuda Aur Mohabbat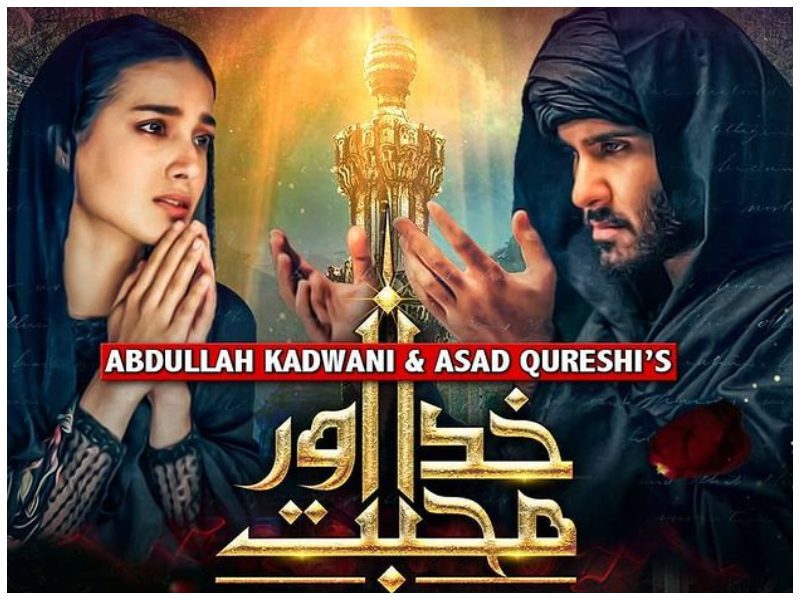 IMDb Rating: 8.7/10
Actors: Usman Peerzada, Imran Abbas, Sadia Khan, Kubra Khan
Director: Anjum Shahzad, Syed Ali Raza Usama
Platform: Youtube
Plot
A boy named Hamad comes to Islamabad after completing his education in the USA. He attains the engagement of his driver's daughter and there he sees Imaan and falls in love with her. Hammad convenes his sister for a meeting with Imaan .Hammad told his parents to ask Imaan's father for marriage of his daughter with him. But his parents insulted Imaan's father.
After this Hamad goes to Imaan's home to apologize but they insulted Hamad and his family because of the money they have. Then Hamad leaves his home and works as a porter at a railway station. After some weeks Imaan and her family reached the station Imaan saw Hamad working as a porter. After this, she blames herself for all the misfortune of Hamad. One day she writes a letter to Hammad to go back to his family but he refuses.
Afterwards, she goes to meet Hamad. But things get more complicated and Hamad again refuses to go back. After this incident, Imaan fell in love with Hamad. But Imaan's father fixed a date for the marriage of Imaan with his nephew. One day Imaan was suffering from a severe fever. When she was not getting well then Imaan's fathers finally sent his nephew to call Hamad and when Hamad came Imaan saw him with a smile and then she died. Seeing Imaan dead Hamad also died with a pair of pearls of Imaan's sandal in his hand.
Reason to watch
★ This drama is based on love,morals and values. We also get to know about conservative culture of Pakistan.
★ Direction is brilliant and a cast & production tool.
23. Suno Chanda
IMDb Rating: 8.9/10
Actors: Iqra Aziz , Farhan Saeed, Nadia Afgan
Director: Aehsun Talish
Platform: YouTube
Plot
The story revolves around two youths who are pestered by their families to get together and marry. However these two are the exact opposite of eachother and full of hate for each other. They come to an agreement to work together in order to cancel their marriage,soon after they find themselves falling in love with each other.
Reasons to watch
★ The drama displays friendship goals and Relationships goals. This amazing script praises such a well written story which was delivered in the most amazing way it ever could.
★ The visuals of the leads along with other actors serves right to us as the audience. The was a great success in both national and international land.
24. Raaz-e-ulfat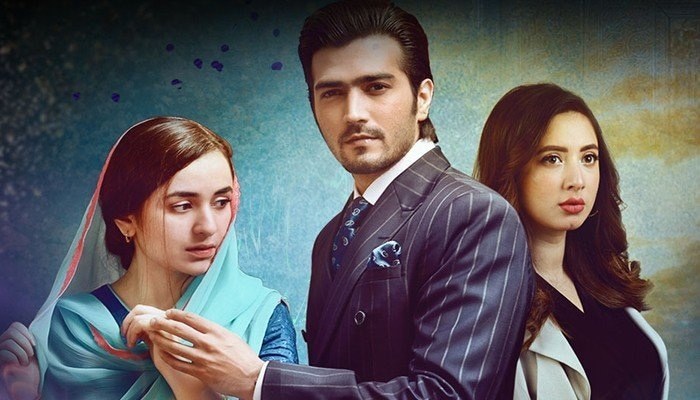 IMDb Rating: 10/19
Actors: Yumna Zaidi, Shahzad Sheikh, Komal Aziz Khan
Director: Siraj-ul-Haq
Platform: YouTube
Plot
Drama revolves around a girl named Mushk from a very conservative family. She befriends a girl named Sehba who belongs to a rich family. She obediently follows her father's every decision until she meets irtaza , a handsome and rich guy. She, with difficulties on the way, sets a marriage date with him. However due to Sehba's unruly nature and evil schemes, she ends up losing her love. His father marries her to his colleague, Ismail, who is a father of two kids, and has an ill sister living with him.
After many turns of events she still cannot stop thinking about her lover. There comes an opportunity for her to return to his side. However now she decides to stay with her husband who showered her with love and respect.
Reasons To Watch
★ The story is full of emotional, simplicity and romantic ends. With this amazing story line, this drama is worthy of binge watch.
★ The amazing starcast has poured all of their talent with superb dialogue and expression delivery. This is one of the reasons why it's Pakistan's highly popular drama.
25. Meray Pass Tum Ho
IMDb Rating: 8.3/10
Actors: Ayeza Khan, Humayun Saeed , Hira Mani
Director: Nadeem baig
Platform: YouTube
Plot
It is a story of love , greed and sacrifice. It revolves around the life of a couple, Danish and Mehwish. They both married a long time ago. Danish's like spins around his wife. However despite having everything, Mehwish is not satisfied with her life. They face twists and turns of fate in their marriage.
Reasons To Watch
★. It is one of Pakistan's most loved dramas with a beautiful storyline revolving around an ordinary couple's married life.
★ The stunning star cast adds up to the reason why you should definitely watch this drama.
26. Alif
IMDb Rating: 9.3/10
Actors: Hamza Abhasi, Khubra Khan, Sajal Aly
Director: Haseeb
Platform: YouTube
Plot
It's a journey of momin and momina who cross paths due to fateful events. Momina wants earn a living for her family's lively and live peacefully. Whereas Momin wants to find him and is looking forward to a rightful life ahead.
Reasons To Watch
★ The story line is very well written followed with the well framed directions making audiences constantly engaged.
★ The drama holds innocence of its own kind. The scene of Momin sending letters in a letterbox in a jungle is especially remarkable.
27. Mehendi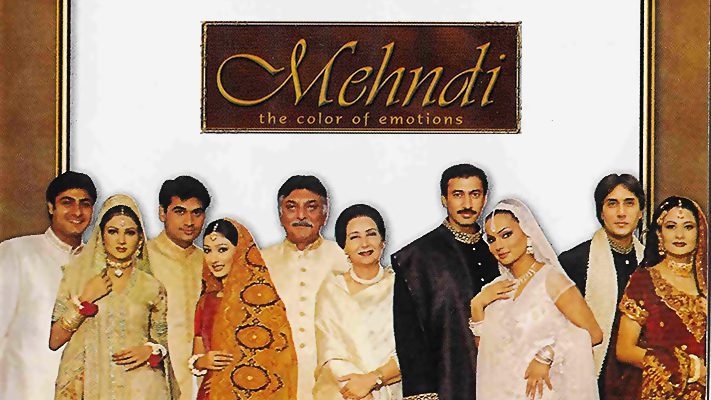 IMDb Rating: 7.8/10
Actors: Humayun Saeed, Fiza Ali, Aisha Uqbah Malik
Director: Mohammad Javed Fazil
Plot
The mother and father marry their four young daughters on the very same day, Alishba, Malaika, Sajjal and Laiba to their respective husbands . However soon after their marital lives bring so many uninvited problems to deal with.
Reasons To Watch
★ The drama teaches lessons of life. It evokes the feeling of desire for Harmony in every character's life.
★ This is one of the classic works famous because of the incredible performance by Humayun Saeed.
28. Ishq Gumshuda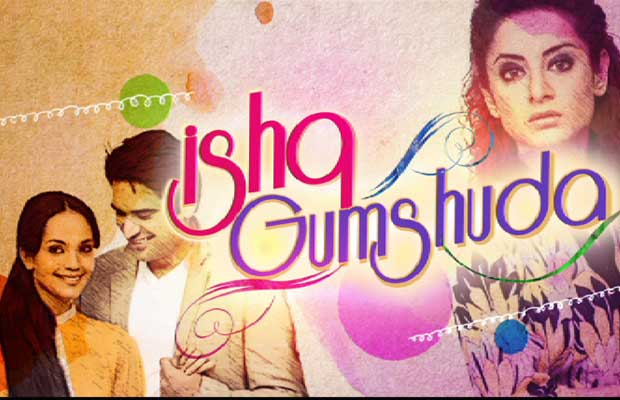 Actors: Asif Raza Mir,Hina Khawaja Bayat,Humayun Saeed,Javed Sheikh,Lubna Aslam,Samina Peerzada, Sarwat Gilani,Shamim Hilaly
Director: Haissam Hussain
Platform: Youtube
Plot
The show focuses on three childhood friends, Ali , Aalizeh and Neha. Their family were close to each other. Throughout the years, Ali and Aalizeh's parents assumed that Ali and Aalizeh would eventually get married. One day, when Ali's mother mentions her desire of seeing Alizeh as her daughter-in-law, Ali realizes his feelings for Aalizeh. But, when Aalizeh comes to know of this talk between their parents, she became upset and refuses to speak to Ali.
At this time, Neha plays the role of peacemaker and get dragged into the mess. Because of the embarrassment of being rejected Ali tells Alizeh that he actually loves Neha and proposes to her. At that time Neha was hesitant but agrees to marry Ali. Alizeh was in the joy that her two best friends love each other and are getting married.
The situation was getting complex, when Alizeh starts realizing her jealousy on seeing that Ali & Neha now have a life of their own and does not include her. She begins to act out, worrying everyone around her, including Neha and Ali. Ali's interest in Aalizeh's life is not unnoticed by Neha and this creates a problem in their marriage. On the other end, Aalizeh begins spending more time with a new friend.
Reason To Watch
1.This drama has an amazing story with genuine feelings portrayed.
2. Ishq Gumshuda is a show that has been spoken about possibly less than other popular shows but it's equally as beautiful and heartfelt because of its delightful storyline.
29. Bedardi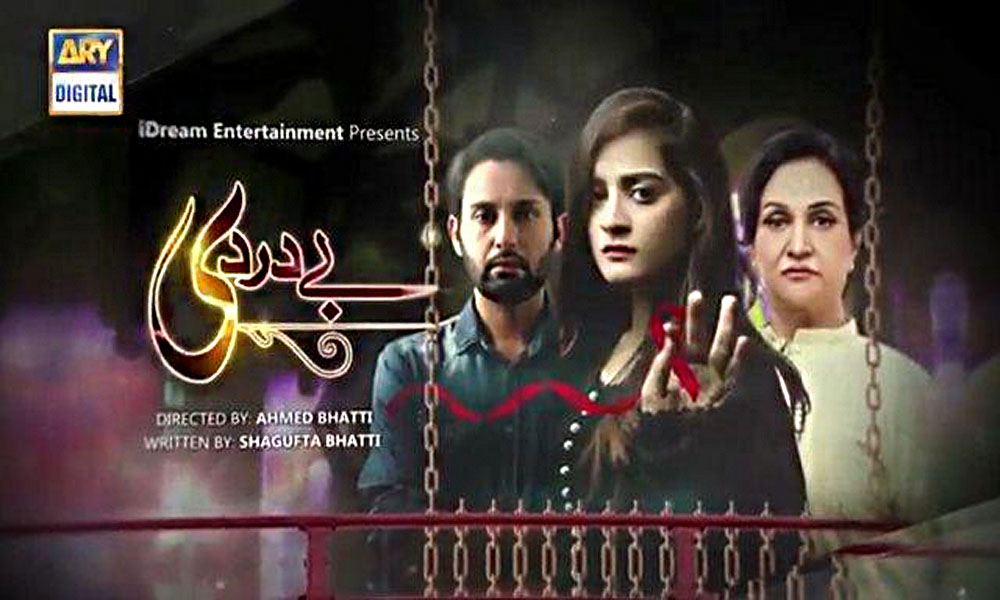 IMDb Rating: 8.5/10
Actors: Aiman Khan, Affan Waheed, Bushra Ansari
Director: Ahmed Bhatti
Platform: YouTube
Plot
It's a story of two individuals who are bound together by fate. The make lead , due his carelessness becomes a carrier of HIV virus, which he us unknown of. When a girl falls far, despite knowing his condition his mother fixes a marriage for these two. The female leads sister happes to commit Suicide after the betrayel of her love interest, who is the male leadss bestfriend. Things turn out of hand as they get married.
Reasons To Watch
★ The drama explores the topic of HIV virus in its own graceful manner.
★ The story will take you together with the flow of events. Despite emphasising on the quote " life is too short to live" ,the drama doesn't give any sense of depressed thoughts.
30. Mannat
IMDb Rating: 8.9/10
Actors: Rabab Hashim, Sami Khan, Zaib Rehman
Director: Amin Iqbal
Platform: YouTube
Plot
Mannat is From a lower middle class family and is raised by her uncle. Her uncle sells her to a wealthy family by getting her married to the only male in that family. The rest of the family consists of only widows. The orphan girl who is in love with someone is now married to a man with a curse. She's expected to give birth to an heir before her husband turns 27. As most of the men die before 27 in the family. As the only educated woman she has to deal with the illiterate womens of the household.
Reason to watch
★ The story delivers the message to have faith in Allah in any kind of hardship.
★The characters played by the whole cast did an amazing job in bringing life into the story.
31. Yakeen Ka Safar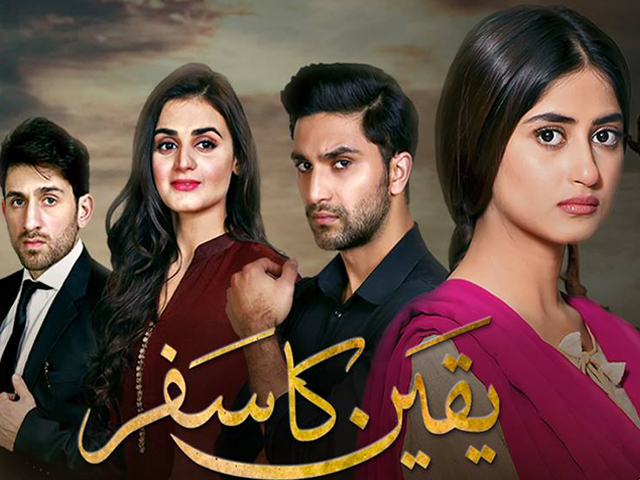 IMDb Rating: 9.1/10
Actors: Ahad Raza Mir, Sajal Aly, Hira Mani
Director: Shahzad Kashmiri
Platform: YouTube
Plot
The story revolves around three families. A girl who witnessed her father killing her mother however she can only keep it to herself. An educated family who finds stanlishgin their presence in the upper class hard. And a girl who is brutally raped by a political heir and his friends and is left alone to meet her demise.
Reasons To Watch
★ The powerful storyline keeps the audience stuck with the syry till the end.
★ It brings a diverse amount of social evils into the picture.
32. Dil-e-jaanam
IMDb Rating: 8.5/10
Actors: Hina Altaf, Zahid Ahmed, Zhalay Sarhadi
Director: Fahim Burney
Platform: Dailymotion
Plot
The drama explores the lives and issues of two cousins who were engaged since childhood, their families, and the people around them very accepting of the arrangements. However, The twists, turns, and shocking developments in the story will take peace from both the protagonists.
Reasons To Watch
★Amazing Actors Portraying Relatable Characters with A fascinating Storyline, and A Great OST that Fits the Drama in every way.
★The lead cast is one of the main reasons for watching this incredible mix of emotional rollercoasters.
33. Dhuwan
IMDb Rating: 9.4/10
Actors: Ashir Azeem, Nayyer Ejal, Nabeel
Director: Sajjad Ahmed
Platform: YouTube
Plot
The story of this drama spinnes around five youth friends, each with a different background, who desires to bring a positive change in society in order to serve their country.
Reasons To Watch
★ The drama gives off the patriotic feeling for the nation with full determination to serve the country.
★ The friendship goals are beautifully portrayed between all 5 main characters.
34. Deewangi
IMDb Rating: 7.9/10
Actors: Hiba Bukhari, Danish Taimoor, Zoya Nasir
Director: Zeeshan Ahmed
Platform: Viu
Plot
Coming from different backgrounds, Nageen and Sultan's encounter turns harsh as an uninvited proposal destroys Sultan's self respect . A Love-hate relationship between Nageen and Sultan makes it impossible to come closer to each other.
Reasons To Watch
★ The intense Love story between the main leads who are two poles apart yet bound together due to circumstances is worth watching.
★ Especially when the protagonists are two incredibly talented actors Danish and Hiba.
35. Khasra
IMDb Rating: 9.1/10
Caste: Nikaal Zulfikar, Junaid Khan, Sarwat Gilani
Director: Shahid Shafaat
Platform: Dailymotion
Plot
The astort is of sila and moonsi, an ordinary couple belonging to a small town. They both live together happily with their life with small income, until one day a rich friend arrives with her spoiled wife who loves to show off her money. Sila starts to get envious of her lifestyle. Sila falls into a situation where she has to choose between love and money.
Reasons To Watch
★ The direction of the drama was able to present the story in a ravishing way satisfying the Audiences.
★ The cast is also a great contributor in making this drama, one of the best known dramas.
36. Qaid-e-Tanhai
IMDb Rating: 8.2/10
Actors: Savera Nadeem, Sunita Marshall, Faysal Quraishi
Director: Babar Javed
Platform: YouTube
Plot
It is the story of two people in a romantic relationship. Ayesha and Moiz who have decided to marry against the will of Moiz's mother. Due to financial issues , making a big decision, Moiz goes out, leaving his wife and daughter Noor in the house, with her mother-in-law and a friend Jawad. The complications arise as Jawad starts to develop feelings for Ayesha and Moiz starts falling in love with Anila.
Reasons To Watch
★The bitter turns of fate describe the husband-wife, mother-daughter, girlfriend-boyfriend and in-law relationships in an incredible manner.
★ The story is written by Umer Ahmed, one of the best Pakistani drama writers.