Nothing is permanent. Only Change is permanent and Change is growth. These few revolutionary thoughts drove Neerav to do something unique when he, along with Saurabh Gupta founded CityFurnish in 2015. A company which facilitates its customers to lease furniture, home appliances, consumer durables, and exercise machines with free door step delivery, free installation and any time replacement. "Time suppleness, quality, comfort and yet easy on pocket kind of goods and services. We are determined to offer to our customers." Neerav outlined the true cause behind the actions of the company.
How did the idea of furniture rental click?
Being an alumnus of Delhi University and a native from Rajasthan. He lived away from home for a long period for higher education. He notices that for students and young people, even though comfort was important, yet furnishing rented homes was actually a big hassle in terms of costs and efforts.
It was not only time consuming and costly but, at the time of moving (which was rather often) getting rid of the used furniture was a depressing event for the owner, as to recover a good selling amount for second-hand furniture is tricky. " I knew that if people would have a temporary option to furnish their homes and make it more comfortable without losing much money. They would go for it. What could have been easier than renting" says Neerav.
When we talk about Numbers?
About statistics, CityFurnish has raised Rs 6.5 crore in funding till date through various sources which include some well-known companies like Times Internet and individual like Jitendra Gupta, Founder, Citrus Pay. CityFurnish generated Rs 4.2 crore in revenue in 2016-17. It touched new heights of Rs 7.5 crore in 2017-18 and is targeting a revenue of Rs 14 crore in the ongoing financial year.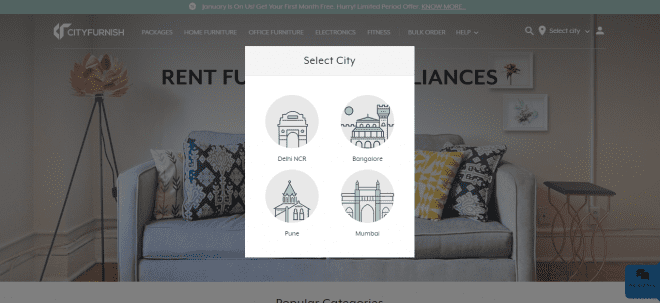 Approach – 
"We are as traditional in our operations as we are modern in our global approach," says Neerav. Following the traditional sentiment, CityFurnish has been profitable from its first year. "Having a very dedicated team who works day and night to maintain things the same way for the years to come, keeps things moving undisturbed" explains Neerav who is born in a long line of successful business owners family.
Quality and Uniqueness of the products – 
Having its own manufacturing unit presents CityFurnish easy opportunities to create products with endless fine details, based on the information that has been gathered directly from the customers over time. "In CityFurnish, customer's comfort and need is the only priority," says Neerav. Quality check and cost control are not major issues for CityFurnish.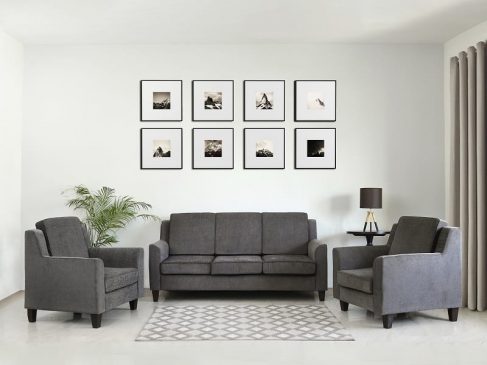 Future Plans – 
CityFurnish is open to the idea of expanding its undertakings to all metropolitan cities in India and later international also. In September 2017, after Delhi NCR, it started providing its services in Mumbai and soon the start-up targets Hyderabad and Chennai too."We have plans to expand to nine more cities by end-2020. A long list of new products also awaits to be introduced on our portal which includes laptops, computers and camping gear," says the founder.
Strategy, Brand Building, and Technology
"Technology and brand building are two of our main focus right now as the competition as our segment is getting intense by some real solid competition with every passing second," Neerav said. "Although there is huge potential in the furniture rental market in future as people are moving fast from buying to renting but to stay put with the competitors like Rentomojo and Furlenco.
we need to take concrete steps towards brand building and technology. We would be raising funds keeping these two requirements in mind." Neerav finished his statement.
The Unique Drive
CityFurnish has an explorer's nature. Looming on our society, the change we have all waited for years is finally here. The company is nothing but ready to keep evolving, and many more climbs to finish. "Right now our usual size of furniture rental is around a year. But, as we all have been observing how people's life choices are taking a complete roundabout on many levels.
we are really interested in introducing products like camera, camping gear, and few other traveling and party utilities, which are best to be rented on a short-term basis but the frequency of renting is high" Neerav explained.
Having said all that,
CityFurnish doesn't want to live in a box, hence, both B2B & B2C type of clients have been targeted and served. This is helpful in targeting and extending business to the larger group of users. The startup claims to be one of the first to start with Office Furniture Rental and partner with Commercial Projects.
Here we are, thinking, it is the crux of everything. But the reality is just the opposite. Because CityFurnish is just starting. It has many more rock and roll plans.
City  Furnish is rolled up to its sleeves to strike. The future market of renting with more force. The ride so far has been bumpy yet pleasant. Neerav Jain and Saurabh Gupta are determined to bring the much-needed change to our society. We know now that freer and simpler ways of a luxurious yet comfortable life are not far away from us.