We all know the feeling of finding the perfect present – the one that brings a smile to your face and makes you feel connected to your friends and family. But what if you wanted to go beyond the ordinary and express your feelings with just one piece of jewellery? Then you should definitely think about getting a solitaire pendant. This beautiful piece of jewellery is more than just a pretty trinket.
It is a symbol of love, kindness, and deep emotion, and a tiny masterpiece that can turn any event into an experience you will never forget. So, if you want to know everything about this amazing pendant, keep your eyes glued to this blog! Here you will discover why a solitaire pendant is the ultimate gift and even a wallet-friendly option if you are on a tight budget.
Why Does a Solitaire Pendant Make the Perfect Gift?
A solitaire pendant is renowned for its striking aesthetic and minimalist design. Here are some of the reasons why it is an ideal gift for your friends and family members:
A Dash of Timeless Elegance: It features a timeless design that stands the test of time. Its simple design makes it appropriate for a variety of occasions, from casual social gatherings to formal occasions.
Versatile Accessory: With so many different shapes and sizes of pendants, it is easy to find one that fits your loved one's personality and style.
Perfect For Daily Wear: Unlike necklaces and earrings that can only be worn on special occasions, a pendant can be worn every day.
Occasions to Gift a Solitaire Pendant
The versatility of a pendant makes it an ideal gift for a wide array of occasions:
Anniversaries: Celebrate years of togetherness by gifting a pendant that symbolises your enduring commitment.
Birthdays: Adding a touch of luxury to a birthday celebration is always lovely, and a solitaire pendant can certainly do that.
Engagements: Declare your love and intention to marry with a beautiful solitaire pendant, which can be a timeless substitute or addition to an engagement ring.
Graduations: Commemorate graduation or other significant accomplishment with a diamond pendant, serving as a reminder of the journey and future successes.
Valentine's Day: A diamond pendant embodies the essence of love and is a timeless Valentine's Day gift.
Budget-Friendly Option
A pendant may appear luxurious, but an affordable alternative exists that will let you express love without breaking the bank.
Enchanting Triad Solitaire Pendant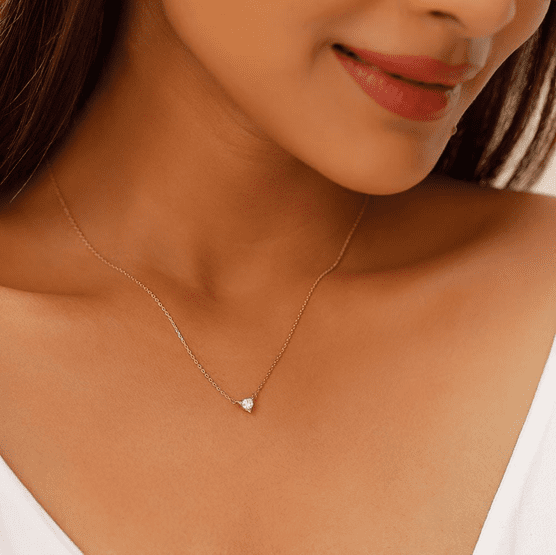 Image Source: Mia by Tanishq
This affordable yet stunning 14kt yellow gold pendant features three beautiful diamonds elegantly suspended from a delicate chain. Each diamond represents a different part of a person's life – their past, present, and future. This beautiful pendant is a symbol of eternal love and shared dreams. Show your loved one how much you care with this enchanting piece that radiates sentiment and sophistication.
Radiant Charisma: The Timeless Enchantment of a Solitaire Pendant
Diamond pendants have an unrivalled charm that makes them the perfect gift for different occasions. The timeless beauty, symbolism, and versatility of the these pendant make them one of the most treasured pieces of jewellery your loved one will cherish forever. Whether you are celebrating a special occasion or simply expressing your love, a pendant speaks volumes about your affection.
If you want to embrace the diamond pendant trend without spending too much, consider the affordable collection of Mia by Tanishq. Each piece is designed to convey elegance and significance, making it an ideal gift for meaningful moments. So, are you ready to give the gift of elegance? Browse the Mia by Tanishq collection today!